USA Softball
2020 USA GOLD National Championship Recaps
2020 USA GOLD National Championship Recaps
Hotshots Premier Nelson (16U) and Birmingham Thunderbolts (18U) are crowned the 2020 USA GOLD National Champions.
Jul 27, 2020
by FloSoftball Staff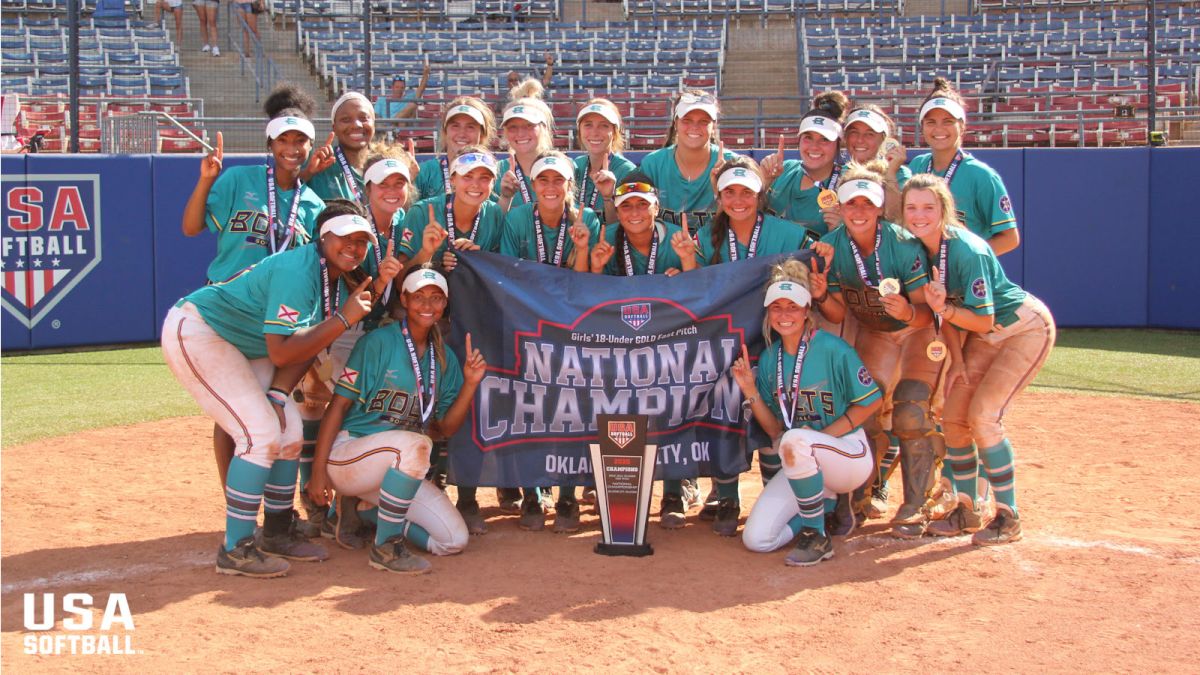 OKLAHOMA CITY – A full week of action came to a close for teams competing in the 2020 USA Softball GOLD National Championships as Hotshots Premier Nelson was crowned the Champion in the 16-Under division (Broken Arrow, Okla.), while the Birmingham Thunderbolts raised the Championship trophy in the 18-Under division (Oklahoma City, Okla.).
After dropping their game against Texas Bombers Gold Burgess, 6-5, on Thursday, Hotshots Premier Nelson had to fight their way back for a rematch. Highlighted by a seven-run second inning in which Ava Brown hit a grand slam, Hotshots Premier Nelson claimed the 8-5 win to advance to the Championship Game.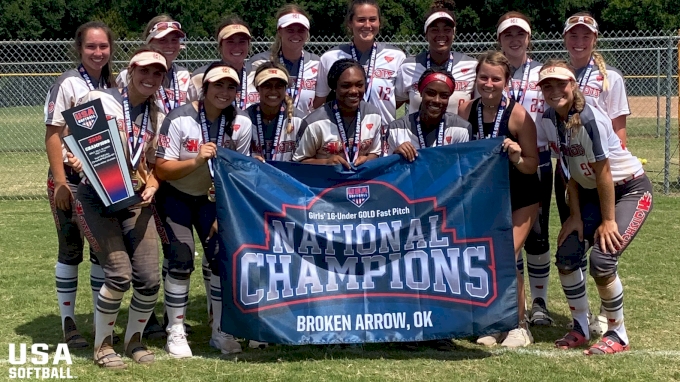 Continuing the momentum, Hotshots Premier Nelson scored five runs on 10 hits to post a 5-2 victory and force an if-necessary game with California Breeze Birch. Firing from all cylinders, Hotshots Premier Nelson pulled away for good in the bottom of the third inning and scored four runs to take a 5-1 lead after three complete innings. Adding to their hit column, Hotshots Premier Nelson went on to plate another four runs in both the fifth and sixth innings to claim a 9-1 (six inning) run-rule victory and finish as Champions of the 2020 USA Softball GOLD National Championship 16-Under division. California Breeze Birch (2nd) and Texas Bombers Gold Burgess (3rd) rounded out the Top 3 in the 16-Under division.
The Birmingham Thunderbolts, Corona Angels, Hotshots Premier Dumezich, and Nebraska Thunder Gold were the four 18-Under teams left heading into Championship Saturday. In the first contest of the day featuring the Corona Angels and Nebraska Thunder Gold in which the winner advanced to the semifinals, the Corona Angels stole the lead late with a five-run fifth inning and came out on top, 7-1. In the semifinals, Hotshots Premier Dumezich plated nine runs on 13 hits while keeping Corona Angels at bay with two runs on their eight hits for a final score of 9-2.
Having lost to Birmingham Thunderbolts, 5-3, Friday evening, Hotshots Premier Dumezich looked to prove they could battle back. A solo homerun by Nelia Peralta helped the Birmingham Thunderbolts take an early 2-0 lead in the first inning. Hotshots Premier Dumezich tied the game before a two-run fourth frame put them ahead, 4-2.
The Birmingham Thunderbolts tied it up again in the sixth inning but the game was pushed into extra innings after a scoreless seventh. Hotshots Premier Dumezich scored their International Tie Breaker (ITB) runner on a RBI single from Katie Cimusz in the top half, resulting in the 5-4 win.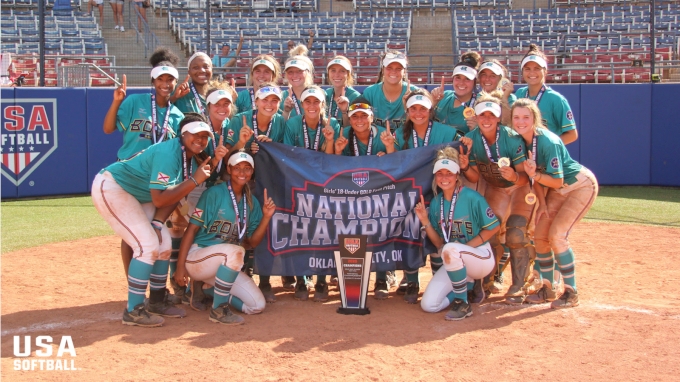 With everything on the line in a winner-take-all matchup, both teams were strong in the circle and kept battling offensively. Annabelle Wildra and Kiley Goff led the Birmingham Thunderbolts with two hits apiece, while Lilly Agan, Natalie Hurdle and Tallen Edwards collected a RBI to put three runs on the scoreboard. While a two-run homerun in the fourth inning from Hotshots Premier Dumezich's Samantha Graeter cut into the Birmingham Thunderbolt lead, both teams held each other scoreless through the seventh inning with Birmingham Thunderbolts coming out on top, 3-2.