2021 PGF National Championships 18U Premier
Rising Star: Hotshots Playmaker 2022 Infielder, UCLA-Commit, Kennedy Powell
Rising Star: Hotshots Playmaker 2022 Infielder, UCLA-Commit, Kennedy Powell
Meet the Hotshots playmaker/human highlight reel 2022 UCLA-commit Kennedy Powell.
Aug 17, 2020
by Stephen Kerr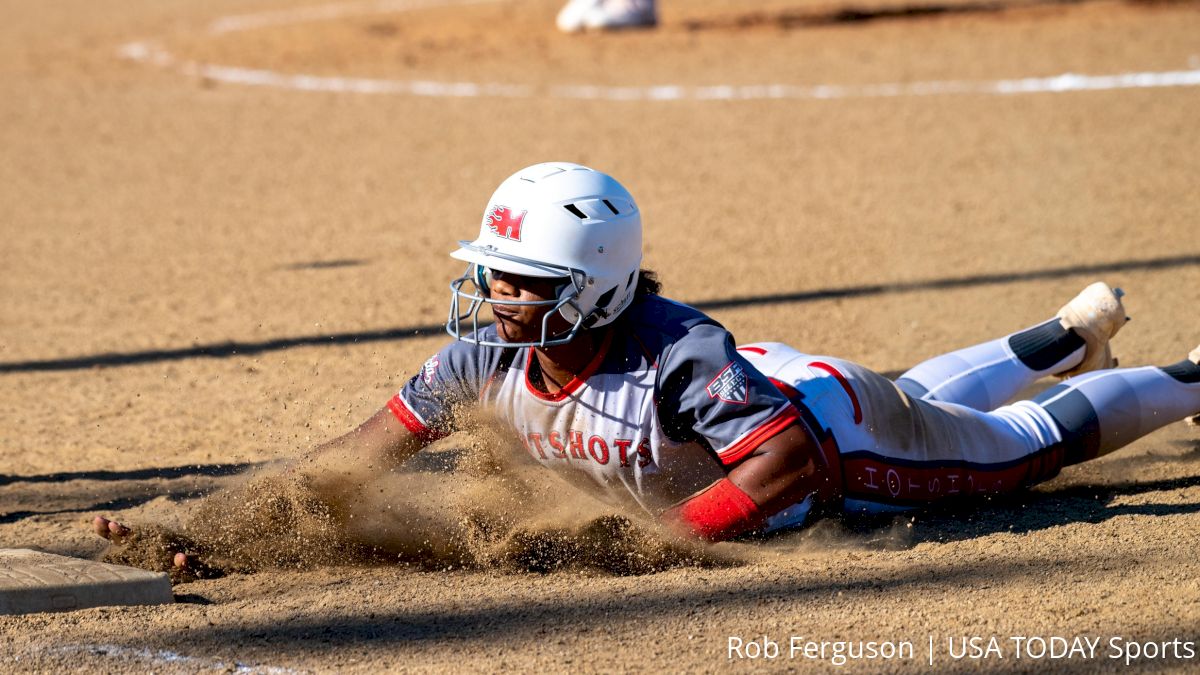 The molding of a champion takes years of hard work, sacrifice, and even a few tears along the journey. No one knows this better than Hotshots Premier-Nelson infielder Kennedy Powell.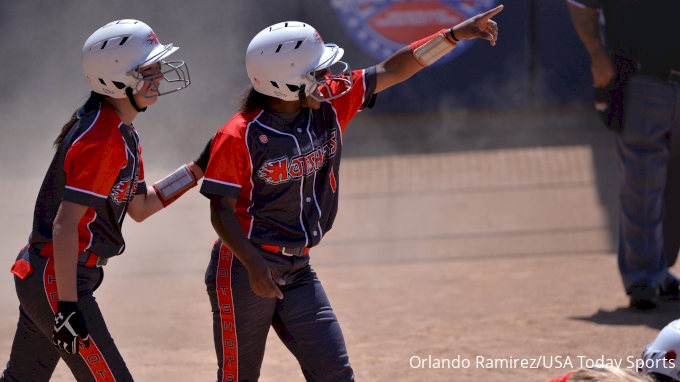 Kennedy's father Eric often worked with her on developing proper throwing form and accuracy when she was younger. Eric, who played quarterback and running back at Bethany College in Kansas, challenged Kennedy to make 10 consecutive perfect throws. She would often get to eight or nine before missing, which meant she had to start over again at one.
"She would cry," recalled her mother Moneshia. "But I feel like it helped her in managing some of the pressure she's had in some of the bigger games."
Neither Kennedy nor her parents could have known then how prophetic those words would be. This summer, the Hotshots captured championships at Top Club Nationals, Triple Crown Southwest, and USA Gold Nationals.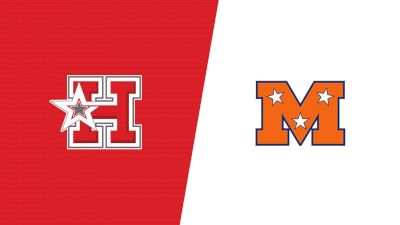 Unlock this video, live events, and more with a subscription!
Get Started
Already a subscriber? Log In
But it wasn't easy. After falling into the loser's bracket at Triple Crown Southwest, the Hotshots battled back to defeat Texas Bombers-Burgess in the finals. At USA Gold Nationals, the Hotshots were knocked into the loser's bracket again with a 6-5 loss to Bombers-Burgess. The two teams met again to play for a spot in the championship, this time with Nathan Nelson's team prevailing 8-5.
In the finals, the Hotshots were tasked with beating an undefeated California Breeze-Birch team twice. They did, taking the first game 5-2 before cruising to a 9-1 victory in the second game to win the title.
Kennedy credits the intensity of Nelson's practices for keeping the team focused, especially when they were on the brink of elimination.
"We have really tough practices," explained the left-handed-hitting infielder who also plays for Conroe (Texas) High. "I think that the mental toughness that Coach Nathan has built in us came out. All the work we put in showed up for us."
That mental toughness was put to the test in a different way for Kennedy during the summer of 2019. While running to first during a game, she collided with the first baseman, hyperextending her left knee. She continued to play through the injury the rest of the summer.
"To see her fight through that injury, go to rehab all last fall, then come out this spring with no high school season, that was pretty cool to see," Nelson said. "She's a doer. She leads by example with her production and being so successful."
Kennedy hit .429 at USA Gold Nationals with 15 runs scored and a team-high 13 stolen bases. But it was her anticipation of a bunt while playing third base in the finals against Breeze-Birch that showed her above-average intelligence of the game.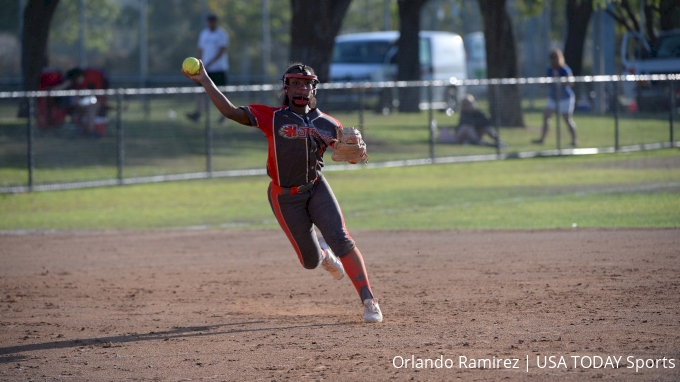 "When the girl came up to bat, I saw the coach whisper to her," Kennedy said. "So I (thought) she was going to bunt. I'm normally up on lefties anyway, so when she squared, I just charged. I knew I had to make that play. After the play, I was on to the next one. I wasn't really worried about the play until I actually saw the video."
The Powell's are a close-knit family. Eric, a postal carrier, is also a Baptist minister. As much as he pushes his children to succeed, he also believes in a strong, God-fearing support system.
"We try to stick together as a family and support each other in everything," Eric explained. "Kennedy grew up with her older sister (Erica) at the basketball court. Now, Madison, the younger sister, is following Kennedy to all the softball fields."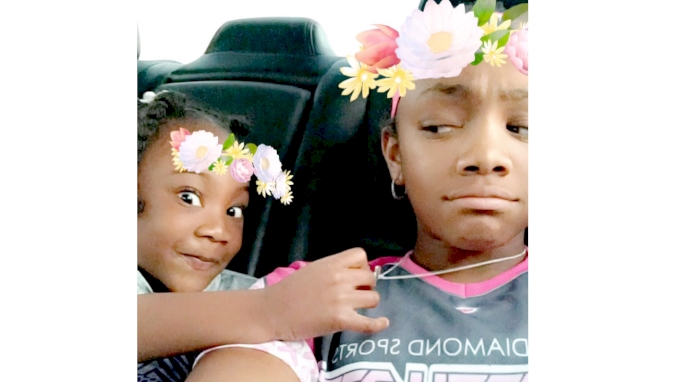 The three championships this summer gave Kennedy a total of eight for her travel ball career, which began with the Hotshots at 10U. Kennedy was part of the team that won PGF Premier Nationals inaugural 10U title. Her side of the trophy case she shares with Erica is running out of space.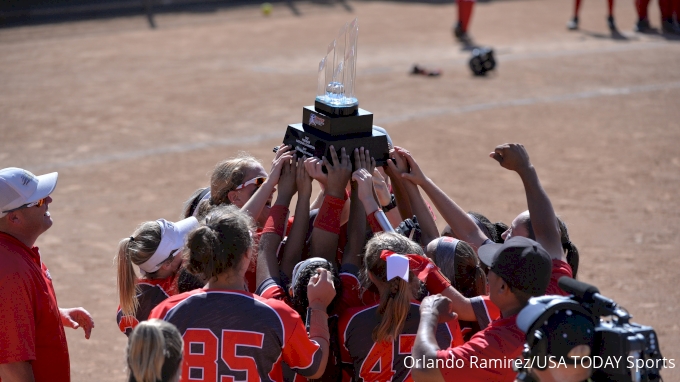 What Kennedy doesn't have room for is complacency, which can sometimes sneak up on even the most disciplined athlete. She credits her parents for teaching her to never take success for granted. That lesson really hit home while playing point guard for Conroe's basketball team last fall. Kennedy tore the PCL in her right knee and was out for three months. Since the injury, she has decided to forego basketball and concentrate on softball.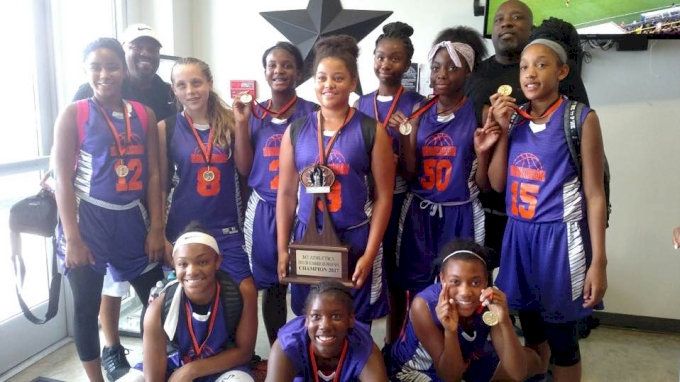 "When I got hurt, I was seeing the game from a different perspective," Kennedy said. "I was sitting on the sidelines, and it was a different view. It was hard, but I learned so many things. I think that helped me a lot coming into the summer."
When Kennedy first began playing softball, she was a right-handed hitter. Before joining the Hotshots, she played for Texas Peppers. A coach suggested she switch to the left side to take better advantage of her speed.
The change was difficult at first. Kennedy considered switch-hitting but decided against it. Her hard work eventually paid off. She batted .545 with 11 RBI, four doubles, two triples, and 22 stolen bases as a freshman at Conroe High. While the team failed to make the playoffs, Kennedy was selected to the All-District second team.
Kennedy has worked hard to become more than just a slapper. She had three homers this summer, the first ones she's ever hit over the fence.
"She has learned to hit for power foul pole to foul pole," Nelson said. "There's times when we have runners in scoring position and she's swinging away with some authority. She's closed that gap in a short period of time."
Kennedy ran summer track for a couple of years, and even qualified for Junior Olympics at age 10. But when she realized the event would conflict with a national softball tournament, she had a tough decision to make. In the end, she chose softball.
"We asked her what made her choose," recalled Moneshia, a nurse. "What she said was, it's an individual thing in terms of track, but with softball, I'm part of a team. So I choose to do my part for my team."
During her eighth-grade year, Kennedy verbally committed to UCLA. She found the recruiting process to be quite stressful, having to constantly communicate with coaches before the rule change. But it didn't take long for her to see the Bruins possessed many of the same values as her own family.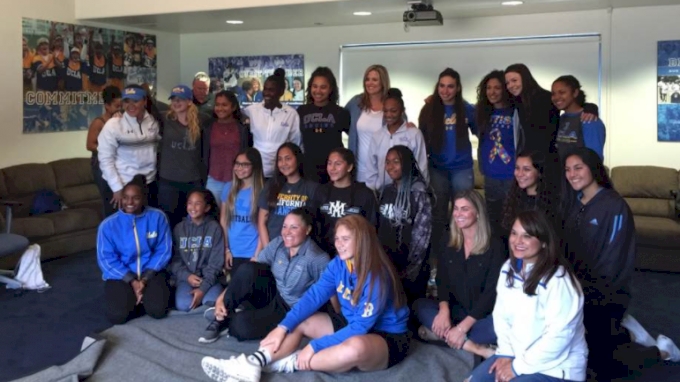 "The coaches, the environment of the school, they are very family-oriented," Kennedy said.
Like many students, Kennedy has had to adjust to a new normal as her junior year of high school begins. Conroe High is starting the year with all-virtual learning, with plans to offer in-person classes for those who wish to attend. But the pandemic hasn't kept her from pushing ahead with the goals she has set for herself.
"I would like to get my GPA a little higher," she explained. "For softball, I want to be the MVP of our district and county, and get our team to the playoffs."