Black History Month Celebration
Rising Star: For 2023 Kayden Henry, Mediocrity Is Not An Option
Rising Star: For 2023 Kayden Henry, Mediocrity Is Not An Option
Kayden Henry could be the best 2023 outfielder in her class playing on the best club in the nation, the Texas Bombers.
Oct 12, 2020
by Stephen Kerr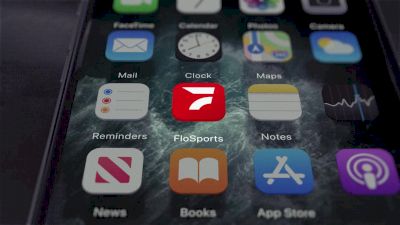 One of the first things you'll notice when scrolling through Kayden Henry's Twitter feed is the post pinned to the top. It's a quote from Bob Shipley, a former Texas high school coach and athletics director. The first sentence is particularly meaningful to Kayden, a left-handed-hitting outfielder for Texas Bombers-Smith:
"If you truly want to be the best you can be, you have to make a decision to break free from living a life of mediocrity."
Making that commitment isn't always easy, especially at age 15. But Kayden has totally bought in, and she wouldn't have it any other way.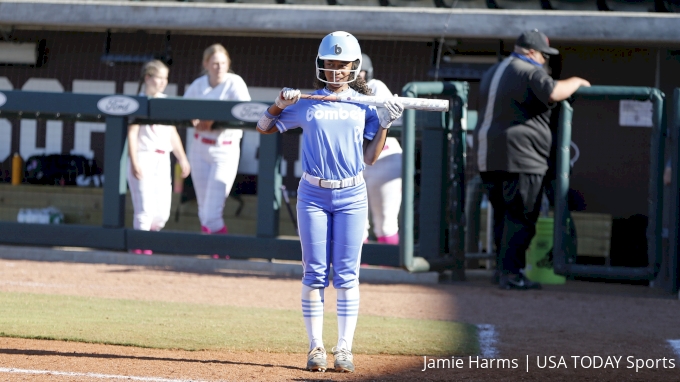 "As an athlete playing at the level we do, you have to make a lot of different decisions and choices to get to the level you want to play at," explained the 5-foot-6 sophomore at Dickinson (Texas) High.
Kayden was born in Abilene, a town 150 miles west of Fort Worth. When she was seven, her family moved to Dickinson, located near Houston. Her exceptional athleticism was evident at a young age. She achieved success in track, gymnastics, volleyball, basketball, and softball. She was winning state championships in track as early as age 10 in both the 100 and 200.
Her mother Karena remembers a cheer team coach in Abilene watching Kayden practice gymnastics. The coach asked Karena if her daughter would be interested in trying out for the cheer team.
At first, Kayden was excited at the prospect. Karena, a former catcher, and outfielder for Eastern New Mexico University and Abilene Christian was not. But she agreed to let Kayden watch a practice. When they saw a girl being thrown up in the air and doing a flip, Karena told her, "If you're going to be in cheer, that's what the coach wants you to do."
"Nope, I'm ready to go," Kayden replied.
When she and her family moved to the Houston area, Kayden discovered the competition in softball was tougher than what she had been exposed to since taking up the sport at age three. But she came to enjoy the experience.
"I think it made me a better player," she said.
Up to that point, Kayden had been a right-handed hitter. But once coaches discovered her above-average speed, they convinced her to switch. She had just started hitting from the left side when she began playing travel ball at age nine.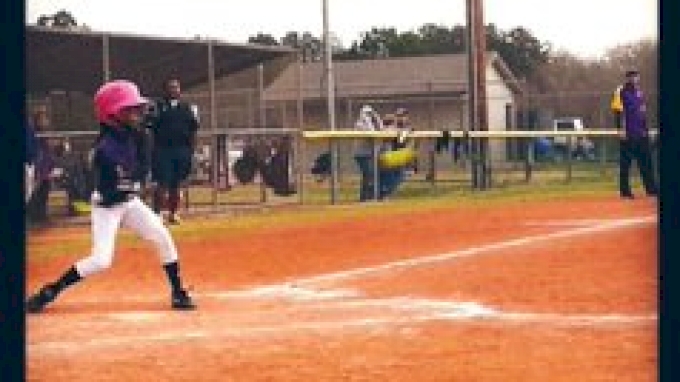 "I was super nervous," Kayden recalled of her first tryout. "I had to use my new abilities and try to meet the expectations to make a good organization."
Kayden played for the Hotshots and Impact Gold before joining the Bombers. During her 14U season, she led the team to third place at PGF Premier Nationals, hitting .482 with nine RBI and eight stolen bases. That same season, the Bombers captured the USAES World Fastpitch Championship.
In the World Fastpitch finals against Tennessee Mojo-Fisher, Kayden smacked an RBI double in the seventh to tie the game, then scored all the way from second on an error.
This past summer, Bombers Smith-Burgess 16U made it to the USA Gold Nationals semifinals in Oklahoma before falling to Hotshots Premier-Nelson. Kayden separated her shoulder during the game while sliding into second, but popped it back into place and kept playing. Once the tournament was over, she took time off for the injury to heal.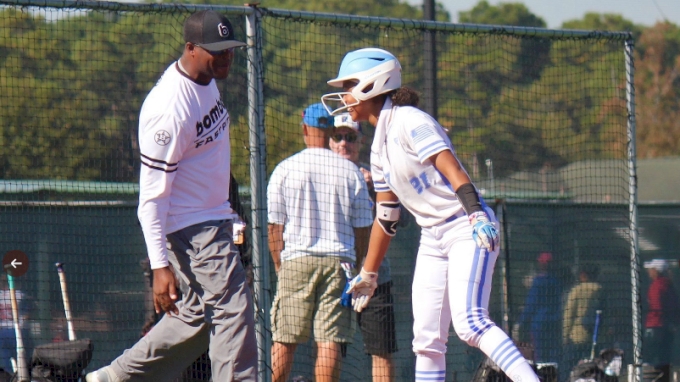 "I think she got one or two hits after that," Bombers coach James Burgess recalled. "That just goes to show you. A big game was on the line, she wants to help her team and contribute. She wasn't going to let that be what took her out of the game."
As a freshman at Dickinson, Kayden batted .521 in 21 games with a .573 OBP, 19 RBI, 35 runs scored and 17 steals without being caught. The Gators were 20-2-1 before the coronavirus shutdown took effect. It was especially disappointing since seven of the nine starters were seniors who wouldn't have the chance to finish their season.
First 18u homerun of the season💣 pic.twitter.com/IZWRz9fiuO

— Kayden Henry (@henry_kayden) September 28, 2020
"It was one of our best group of girls we've had in high school," Kayden said. "It was frustrating for me because this was the game I've been playing, I've been working so hard. But it was also a good challenge because I got to push myself physically to get better on my own."
Kayden's stepfather, Justin 'J.T." Mark, has played a key role in developing her baserunning skills. Mark, a former shortstop at Texas Southern University in Houston, was the first-base coach for Burgess's team last season.
"I would teach her to use her speed, read the catcher," Mark explained. "She had the green light a lot of times. If she felt she could steal, we wouldn't even give her a sign. We trusted her and let her make the decision."
Uncommited 2023 outfielder Kayden Henry. She's different 👀👀👀👀 pic.twitter.com/M0vskVVFSJ

— James Burgess (@coachJBurgess) July 5, 2020
Kayden played third base and shortstop until she was 10. In one game while playing third, she took a line drive off her chest, knocking the wind out of her. After being moved to short, she was hit in the forehead by another hard-hit ball. That's when she realized her skill set was better suited for the outfield, where she could cover a lot of ground. Until last season, she played right field and earned quite a reputation for nailing runners at first base.
"She could play shallow right field, and just gun people out almost like another infielder," Burgess said. "She can play all three (positions). It doesn't matter where you put her. She can track balls down from any one of those."
Kayden is a firm believer in staying loose during practices and games. She's constantly dancing around in the outfield, even between pitches. It's not from a lack of focus; in fact, the constant movement helps her concentration.
October 13, 2019
"It keeps a good vibe," Kayden said. "I like to stay goofy and loose. I don't like to be so intense and stressed in the moment. I don't have to overthink things."
College coaches can't actively recruit Kayden until next September 2021. While some players are chomping at the bit to verbally commit and get on with life, Kayden is content to wait and let the process play out.
"I don't want to feel rushed into anything," she explained.
No player can achieve elite status by themselves. Kayden is quick to credit her parents for all the sacrifices they've made on her behalf.
"They put so much effort into what I do and into the sport," Kayden said. "At the end of the day, if I succeed and reach the level I can, I give it my all."