NCAA
Senior Ciara Bryan Transfers To Louisiana
Senior Ciara Bryan Transfers To Louisiana
Georgia senior outfielder, Ciara Bryan transfers to Louisiana.
Nov 5, 2020
by FloSoftball Staff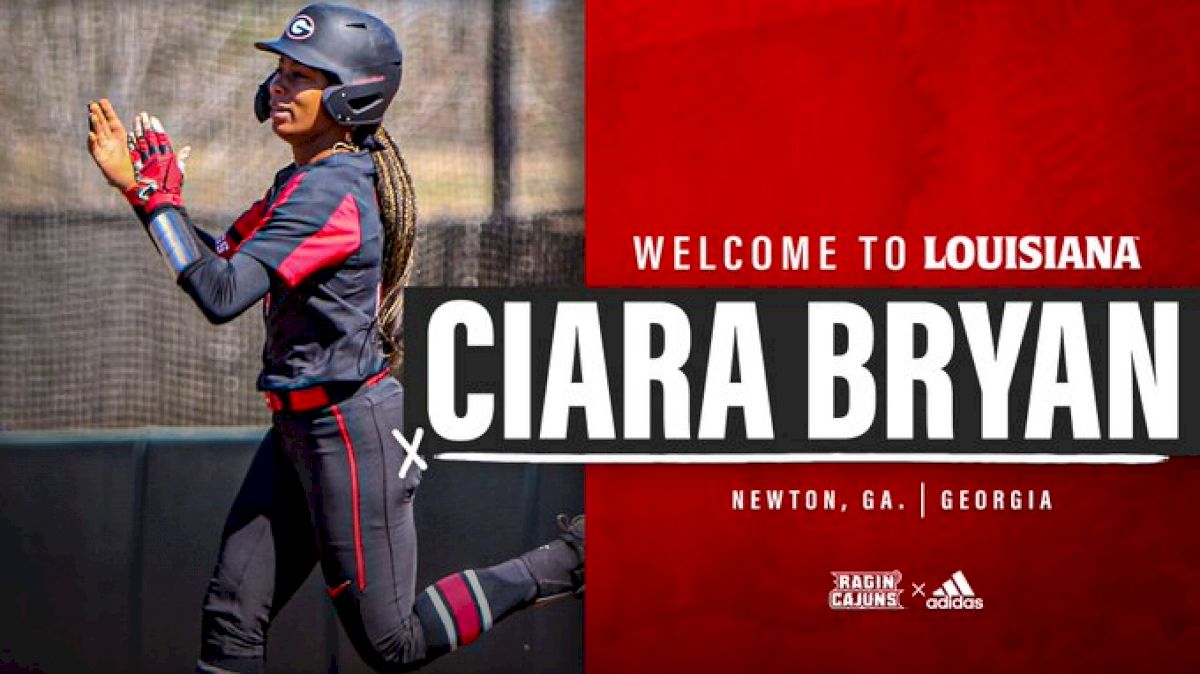 LAFAYETTE – Louisiana Ragin' Cajuns Softball head coach Gerry Glasco added a veteran outfielder and proven left-handed batter to the program's 2021 roster on Thursday (Nov. 5, 2020) with the signing of Georgia graduate transfer Ciara Bryan.
A career .330-plus hitter, Bryan was an All-SEC and NFCA All-Region selection during her three-plus year stay at Georgia. Starring for Bulldogs since she was a freshman in 2017, Bryan appeared in 200 games (193 starts) and produced 50-plus hits, scored 30-plus runs and tallied 25-plus RBI in the last two complete seasons of competition (2018, 2019).
Most recently, Bryan led UGA with 11 home runs, 31 RBI, 33 hits, 39 runs, 74 total bases, an .860 slugging percentage and 15 stolen bases over a span of 28 games in the pandemic-shortened 2020 season. The outfielder's 11 home runs co-led the SEC and ranked fourth nationally.
The Covington, Ga., product will be a senior when she suits up for the Ragin' Cajuns in 2021, utilizing the extra year of eligibility granted by the NCAA to all spring sports participants due to the COVID-19 pandemic.
Bryan is the fifth Division I transfer to sign with Louisiana since the end of the 2020 season. She joins a group that includes Jade Gortarez (Arizona State), Vanessa Foreman (Arizona), Karly Heath (South Carolina), and Jenna Kean (Arizona).
---
Ciara Bryan (L/R, Outfielder)
Classification | Senior
Hometown | Covington, Ga.
Previous School | Georgia
High School | Newton HS
In her collegiate debut season, Bryan posted a .351 average which ranked Top 15 in the SEC. She split her 46 starts among the outfield (18), shortstop (14), designated player (12), and second base (2).
Bryan was an NFCA Third Team All-Southeast Region selection during a 2018 campaign in which finished with a .328 average, 34 runs scored, 59 base hits, and an SEC-best seven triples. It was in this season that she made the complete transition to the outfield, playing 61 games in center field.
In 2019, Bryan was a second-team All-SEC pick after hitting .317 with 11 home runs, five doubles, a team-leading five triples, and 36 RBI. The triples tally ranked 25th nationally and second in the SEC.
Of the 33 hits that she collected in the shortened 2020 campaign, 17 of those went for extra bases (4 doubles, 2 triples, 11 home runs). Bryan led the Bulldogs in numerous statistical categories and started all but three games at the leadoff spot. Her 39 runs scored led the SEC by six, 31 RBI ranked 12th nationally, and fourth in the league, while the 74 total bases co-led the conference and ranked sixth in the country.
Bryan was a Region Player of the Year honoree and an All-American selection by FloSoftball and Premier Girls Fastpitch out of Newton (Ga.) High School. She was named the Defensive Player of the Year as a freshman following that with the Coaches Award as a sophomore and MVP as a junior.
She earned her undergraduate degree from UGA in communications studies in May 2020.
Glasco's Take
"Ciara is a dynamic athlete with extremely rare speed and power. She is a mentally tough and clutch competitor.
She has played in the Women's College World Series and has been developed by one of the most elite coaching staffs in the country.
She has proven to be successful on the field at the highest level, improving every year. Ciara was having an All-American season in the spring when COVID ended her season. Her impact will be huge on our program."
---
FOLLOW THE RAGIN' CAJUNS
Follow the Ragin' Cajuns on Facebook (/RaginCajunsSB), Twitter (@RaginCajunsSB) and Instagram (@Louisiana.SB) to stay up-to-date on all that is happening with Louisiana Softball.