Big 12
Former Baylor Softball Assistant Coach Mark Lumley Dies After Cancer Battle
Former Baylor Softball Assistant Coach Mark Lumley Dies After Cancer Battle
Mark Lumley, who helped Baylor softball make 13 NCAA regionals and four trips to the WCWS in 20 years as an assistant coach, died on Sunday, Dec. 27.
Dec 27, 2020
by FloSoftball Staff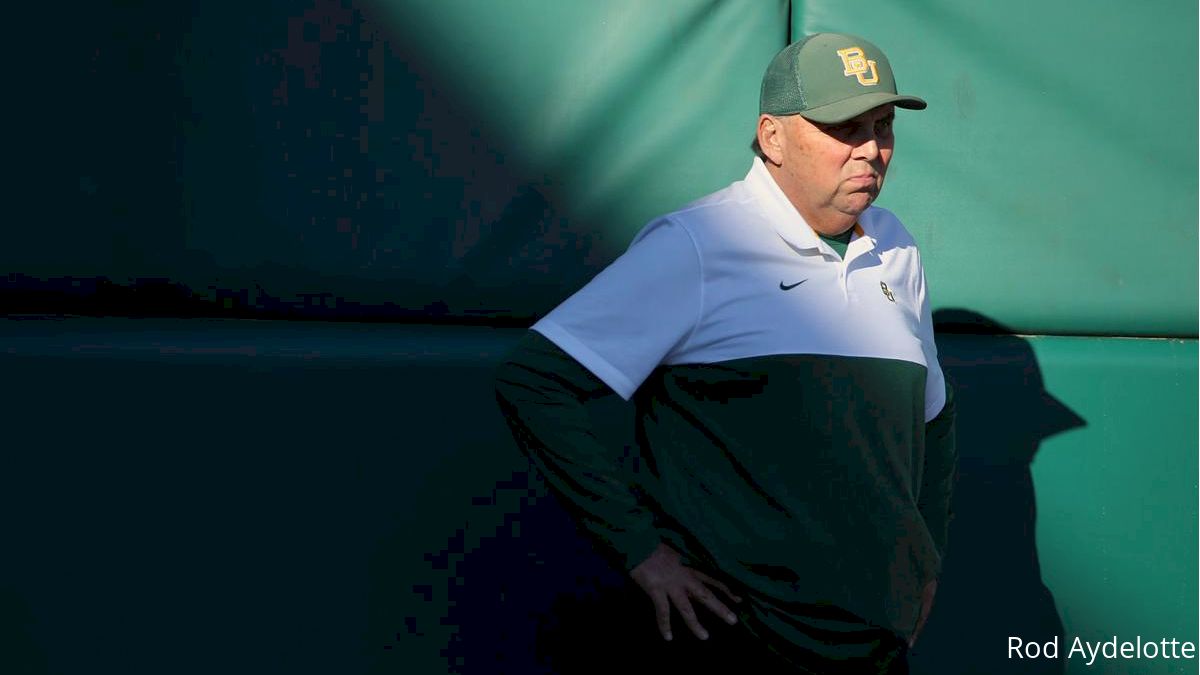 Mark Lumley, who helped Baylor softball make 13 NCAA regionals and four trips to the Women's College World Series in 20 years as an assistant coach, died at 1:45 a.m. Sunday, Dec. 27, after his fourth bout with cancer.
A celebration of life service will be held at 11 a.m. Wednesday at Meadowbrook Baptist Church in Robinson, Texas.
The 65-year-old Lumley had his prostate removed in 2007, went through chemo treatments in 2015 when cancer was found in his lymph nodes and then had surgery in November 2018 for colorectal cancer.
Back on the field coaching full-time during a 2020 season cut short by COVID-19, Lumley found out that cancer had spread to his vertebrae in March.
"That's when they found the cancer in the bone," said Stacey Lumley, Mark's wife of eight years. "Being in the bone, it's horrific. It's just overwhelming, because I hate to see him hurt like that."
Officially retiring from coaching on September 30, Lumley stayed on staff as assistant director of operations for the Lady Bear softball team.
"He was out here at times when he shouldn't have been here, when he should have been taking care of himself," said head coach Glenn Moore, who had Lumley by his side for the last 22 years, first at LSU and then the last 20 at Baylor. "That's who he is. He has always put others ahead of himself. I admire him for how he's been driven by doing that."
A native of Tucson, Ariz., Lumley graduated from the University of Arizona in 1985. As head softball coach at Flowering Wells High School, he led the team to a No. 5 national ranking by USA Today, earned Coach of the Year honors from the Arizona Coaches Association in 1998 and from the Daily Star-Tucson Citizen in 1993 and '97.
Well-respected in the Arizona softball circle, Lumley was inducted into the Flowering Wells High School Athletic Hall of Fame in 2014 with former Baylor All-American Ashley Monceaux.
Longtime University of Arizona coach Mike Candrea, whose team lost to the Lady Bears in the 2017 Super Regional in Tucson, said Lumley "is one of the finest human beings I have ever known."
In Lumley's two years as the hitting coach at LSU with Moore, the Tigers won back-to-back SEC championships and came within one win of reaching the World Series in 2000. That year, LSU finished eighth nationally in batting average (.310), 13th in slugging percentage (.430) and 20th in scoring (5.07 runs per game).
"He taught me so much about life," said Baylor associate head coach Britni Newman, an All-American pitcher at LSU. "He taught me so much about my faith, based on his actions and how he lived his life. And he was very talented as a coach. That's been his calling in life, and he definitely fulfilled it."
Following Moore to Baylor in 2000, Lumley's success elevated to an even higher level in 20 years with the Lady Bears, coaching multiple All-American hitters.
After winning the Big 12 championship and making it to the program's first World Series in 2007, Lumley, Moore and pitching coach Britni Sneed Newman were named the Division I Midwest Region Coaching Staff of the Year by the National Fastpitch Coaches Association.
The Lady Bears went back to the WCWS in Oklahoma City in 2011, 2014 and 2017, with Lumley helping Moore become Baylor's all-time winningest coach across all sports with a record of 775-377.
Moore said Lumley was "closer to me than my brothers, and I have a close relationship with them."
"He's just been by my side for so long now," Moore said. "I have to say, he's the best man I've ever met in my life. I've never seen someone so unselfish and giving and loyal. He just has a heart for people and, in particular, for the players we coach."
Mark is survived by his wife, Stacey, stepsons, Trey, Mason and D.J., and a Baylor Softball family that will forever cherish the memories they shared over the last 20 years.