NCAA
Jackson Vaughan: The Secret To Linfield Softball's Success
Jackson Vaughan: The Secret To Linfield Softball's Success
Jackson Vaughan reflects on two decades of Linfield softball success and how football strikes an unlikely balance.
Feb 2, 2021
by Mark Allister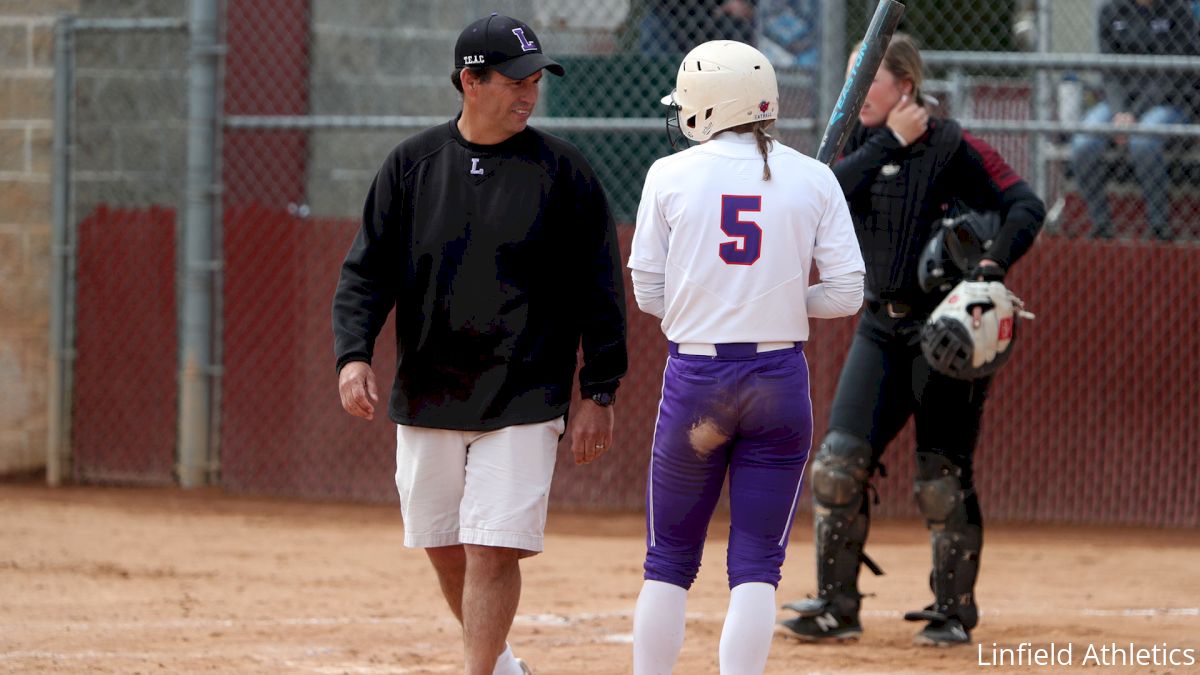 Unlock this article, live events, and more with a subscription!
Get Started
Already a subscriber? Log In
Mark Allister is the author of Women's College Softball on the Rise: A Season Inside the Game. He will be writing on DIII softball this spring and would welcome story ideas and comments at allister@stolaf.edu
---
McMinnville, Oregon lies 40 miles southwest of Portland and is home to Linfield College. The Wildcats powerhouse DIII football program hasn't had a losing season in 64 years, the longest such streak (by far) in NCAA history, in any division. Jackson Vaughan has been part of the coaching staff for the past 24 years of that streak; and in 2015, he was honored as the NCAA Division III Defensive Coordinator of the Year by the website FootballScoop.
Why begin a softball article talking about football? Because Vaughan is also Linfield's head softball coach. In 18 seasons piloting softball, he has assembled a 665-169-3 record, been named Northwest Conference Coach of the Year 11 times, West Region Coach of the Year six times, and NCAA Division III Coach of the Year twice, after his Linfield teams won the 2007 and 2011 NCAA Division III national championships.
Coaching football and softball, Vaughan has dual positions that no one else in college sports currently has. I asked him about the differences and similarities in coaching men and women.
"To me, the differences aren't what most people perceive — coaching is coaching, and all players no matter the sport want to get better, they want feedback, they want to be supported. And there's no difference in toughness."

- Jackson Vaughan
Vaughan does say that in both programs the players want to work hard, but the female athletes are more driven off the field: "It's rare when we have a female athlete who isn't driven to excel in the classroom. The guys are sometimes still trying to find their way a little bit — football's been a major part of their identity but they don't know yet what they really want to do in school or after." Vaughan's experience of each sport as a coach, however, is different.
"Without question, football has more strategy to it," Vaughan said, "and that's my allure. It's a chess match where things vary all the time, not just opponent from week to week, but every play with down and distance. There's so much scheme orientation to it. Softball does have a strategy, but so often the strategy is the one-on-one battle between pitcher and hitter, or setting up situational defenses, or planning how to approach a particular pitcher. Softball to me is the ultimate technique sport because it comes down to your players' skills that they can perform at any given moment."
If intellectual strategizing is football's allure, Vaughan is drawn to softball's possibilities for cultivating relationships. "With a small roster," he said, "I can meet individually with my softball players. We get to know everyone when we go on the road. There are short moments of dead time during practice between hitting stations, for example, and so I get to talk to them then. At Linfield, we have 125 players on our football roster, and we're running our program more like a big business or the military where you need to be very efficient with no wasted minute. So it's bang-bang-bang — you practice, take a break, then meet to view film. Softball's different."
Growing up as a boy, Vaughan knew nothing of fastpitch softball. When he was in fifth grade, his family moved to a 10,000 acre cattle ranch in the tiny town of Hereford, in eastern Oregon. Playing sports was difficult since the nearest neighbor was two miles away and the local school didn't have enough students for anything but a basketball team. In his senior year, he had the itch to do something bigger, so he moved to nearby Baker City. The high school there had over 600 students and played football, which he wanted to do.
After graduation, Vaughan, who had a 4.0 GPA, decided to pursue football and an education across the state at Linfield, a small liberal arts college. After playing one year and then having a major knee injury from which he didn't recover, he ended his brief collegiate career. But the football staff was impressed enough by Vaughan that they offered him a coaching position in football as a student assistant, which he did as a junior and senior.
Vaughan majored in accounting and imagined heading off to make some money in a career. "I went on some job interviews," Vaughan said, "and realized that being in those environments wasn't really what I wanted. So I came back for a fifth year at Linfield, took some Education classes, did my student teaching, got a teaching certificate, and continued to help out with Linfield football. At that point, I thought I'd teach and coach at a high school somewhere, but a job opened up at Linfield and I was hired."
Many head softball coaches have had winding and even surprising career paths; they've had personal journeys that take them hither and yon. Vaughan's journey might also be considered surprising, but it stayed within the confines of the Linfield athletics complex. A year after Vaughan was hired as a football coach, in 1999, the head softball coach, Laura Kenow, needed some help and got authorization to hire an assistant. Wanting a bit more money than he was making coaching only football, Vaughan applied and got the job when Linfield combined a football-softball position.
Three years later, Kenow decided to step aside. A professor in the Health, Human Performance, and Athletics department, she wanted to focus more on her academic interests. Vaughan hadn't really thought before then about being a head coach — he was simply enjoying being an assistant and getting to know the game better — but some of the players approached the Athletic Director and asked that Vaughan be named head coach. And it happened. For the 2002 season, Linfield had a new head coach, who was still learning the game, who was still very young. But people I've talked to say that Vaughan is a sponge who soaks up good ideas from everywhere. He would need to.
"I learned a lot from Coach Kenow," Vaughan said, "and from players, but I knew I had a great deal to learn. So when I was offered the job I asked for extra money to buy videos and books to help my softball education. I also learned from watching other teams, particularly Pacific Lutheran who was in our conference and coached really well by Rick Noren." What Vaughan also had going for him is that he brought to his softball coaching some ideas from football.
In the Northwest in the late 1990s and early 2000s, the dominant DIII softball program was Pacific Lutheran University. In 2002, for example, the Lutes went undefeated in the Northwest Conference and 36-2 overall, won their regional, and finished fourth in the national championship. In 2003, PLU went 32-3, winning their fifth straight conference championship and advancing once again to the national tournament. Their dominance was ending, however, though no one knew it at the time.
Becoming Great
In Vaughan's first two years as head coach of softball, Linfield improved, including going 21-5 in conference in 2003. But 2004 would mark the first of several breakthroughs, when Linfield went 26-2 in conference and 37-9 overall, making the NCAA DIII tournament before losing in the regional final to Chapman.
"When I began," Coach Vaughan said, "coming in from the football program, I wanted to bring certain qualities to softball: emphasis on the weight room, spending more time on individual skills, being more efficient and working harder. Then our winning led to more effort and harder practices. We needed to bring in recruits to help elevate us, of course, and sometimes it helps to get lucky, and we hit on some kids that helped get us to that next level."
I asked Coach Vaughan about his recruiting pitch in those early years. "We were a good team in the conference," he replied, "and so we had something positive to say about being in a winning program. The college was making an investment in the facilities. I tried to convince girls that I was going to work hard and that I had high expectations, and they had an opportunity."
The pitch worked. In 2005 freshmen Stephanie Rice, Jenny Marshall, Amanda Attleberger, and Meredith Brunette would join the program and become perennial all-conference players. They were followed in 2006 by Brittany Miller, who would go on to become an all-time pitching great, as well as Utah State transfer Erica Hancock. The 2005 Linfield team would repeat as conference champions before losing in the NCAA regionals; in 2006 Linfield advanced to its first DIII Women's College World Series.
In 2007 Linfield became a balanced offensive machine to go along with their strong pitching. The combination carried them to the national championship. But it wasn't easy. Sent to Pineville, Louisiana, for an eight-team regional (the NCAA format back then), Linfield lost its second game to Redlands; they then had to win twice on Saturday and Sunday. They did, including drubbing Redlands 17-1 in the final game. In the national tourney, the team lost to Washington University in its third game and had to come again through the loser's bracket. They crunched University of Wisconsin-Eau Claire 22-10 to get to the finals, where they beat Wash U in a doubleheader. Seven players hit over .400 that year and their collective batting average was .388. Miller was the pitching ace, but Hancock was 7-0 in the circle and hit .433 with fourteen home runs. Among the many great players, senior catcher Jena Loop was named the team's MVP, as she hit .441 with 12 home runs and 58 RBIs.
With many of their best players returning and expectations high, 2008's team played strongly throughout the year, going into the West regional tournament ranked No. 4 in the country. But 2008 marked the beginning of Linfield's great rivalry with University of Texas-Tyler, whose program under Mike Reed was emerging as a national power. Five times in the next 11 years, Linfield would be knocked out of the post-season tournament by UT-Tyler, including 2008 and 2009.
In 2010, Linfield entered the post-season ranked No. 8 and sporting a 35-5 record. Perhaps to their good fortune they were sent to the Indianola, Iowa regional at Simpson College. They swept through undefeated and had a strong World Series, finishing runner-up to East Texas Baptist University. 2011 would be even better.
The 2011 Linfield softball team, which had lost only one starter, has to go down in DIII softball history as one of the all-time greatest teams. They won the national championship, went 51-3, and were ranked No. 1 from pre-season until the end. But even the glittering record doesn't reflect their dominance.
In her career for Linfield, Staci Doucette was a four-time All-American and a three-time Northwest Conference MVP, and she still holds the career home run record in DIII softball. As a junior in 2011, Doucette's hitting stat line looked like this: .532 batting average, 21 homers, 80 RBI, and an OPS of 1.696, and this was the one year she wasn't MVP in the conference! Her teammate Emily Lepp, even while playing the demanding position of catcher, put together perhaps the greatest power season in DIII history: .497 batting average, 29 home runs (an all-time season record), 94 RBI, and an OPS of 1.631; she threw in 21 stolen bases just to show that she wasn't a one-dimensional slugger.
The "Bash Sisters" — who accomplished their feats without the aid of steroids — are 1-2 in DIII career home runs, and 1-3 in career RBI. As if they didn't provide enough fireworks, Linfield also had power from Emily Keagbine and Karleigh Prestianni, All-Americans who finished fourth and tenth nationally in home runs. The team set an all-time DIII season record of 103 homers, which broke their own mark of 78 and may never be challenged. If you mostly follow DI softball, note that DIII softball teams can play only forty games before the postseason, which makes these power numbers all the more remarkable.
Still amazing to me that 3 of the top 7 Homerun hitters and 3 of the top 4 RBI producers in the history of NCAA Division III softball all played at Linfield. Even more amazing is that that all three played together from 2010-12 when the Cats won an astounding 139 of 156 games!! https://t.co/3jkZqSfDIk

— Jackson Vaughan (@CoachJVaughan) October 14, 2020
Kayla Hubrich didn't hit for power, but was also First-Team All-American when she hit .403, scored 70 runs, and stole 15 bases. Linfield's pitching in 2011 was strong. Lauren Harvey went 16-0 with an ERA of 1.70, Karina Paavola was 8-1 with a 1.46 ERA, and Claire Velaski, the ace in the circle, went 25-2 with a 1.71 ERA to garner Third-Team All-American honors. And then the pitchers stepped it up in the postseason.
Linfield was sent to the NCAA Regional in Pella, Iowa, where they went 4-0, outscoring their opponents 49-0! Two of those wins were against strong teams, as the Wildcats beat No. 7 Coe College 10-0, and No. 5 Central College, the regional host, 12-0.
At the NCAA National Championship Series, Linfield won its first game 10-0 but then ran into their nemesis, UT-Tyler, losing 4-0 to drop into the losers bracket. But Linfield was never really challenged from there, outscoring their opponents 40-5, which included a measure of revenge in ousting UT-Tyler 7-1 in the semi-finals. The Wildcats beat Christopher Newport 6-2 in the final to win their second national championship in five seasons.
With numerous All-Americans returning (including Doucette, Lepp, and Prestianni), and even more all-conference players, Linfield looked to repeat in 2012, and most people expected them to. But in a rather bizarre year, they went 46-7, losing six times to one team, Pacific Lutheran University, who returned to glory for one final year to win it all.
PLU and Linfield split their four conference games, and PLU took two out of three in the conference tournament. PLU was sent to UT-Tyler for their regional, while Linfield traveled to Bloomington, Illinois, in a regional hosted by Illinois Wesleyan. Linfield easily swept the regional, but in the national championships, PLU knocked them into the losers bracket in the second game, and then beat them in the final game. Linfield finished as the national runner-up.
In 2013 a strong Linfield team, ranked #6 going into the NCAA tournament, got knocked out by UT-Tyler; in 2015 Linfield would get back into the national tourney, finishing fourth when Tufts University won their third straight championship behind perhaps the greatest DIII pitcher of all-time, Allyson Fournier. In following years, Linfield has continued to be a top-ten program but has been going out of the post-season just before the national championships — to UT-Tyler in the super-regionals in 2016 and 2018, and to eventual national champion Texas Lutheran in the 2019 super-regionals.
DIII Anonymity
Despite the great success of Linfield softball, the program isn't widely known, even in the Northwest. Amanda Reser, a senior this year, grew up in Tigard, Oregon, about forty minutes from McMinnville. She played travel ball for the powerful Northwest Bullets organization. "Linfield is nearby," Reser said, "but I hadn't really heard about them until I got the invite to come to a camp. The focus in my travel ball organization was DI and DII softball and getting scholarships."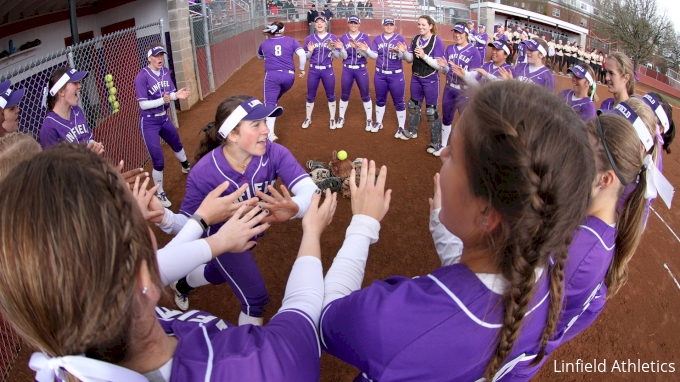 Bullets teams go to numerous showcase tournaments and recommend that their players go to college camps. Reser said that she didn't like camps that much but went to them anyway, and when she went to Linfield's it changed her life's direction. "Linfield's was the best-run camp I had attended. Not only that, but their players were willing to help campers at each station. At other camps, the current players were often in their own cliques, and not very helpful, but the Linfield team was very inclusive and gave constructive feedback. I also liked the campus. I ended up only applying to Linfield."
Reser has a 3.99 GPA with a Finance major and minors in Economics and Sport Management. Other softball players across the country have similar impressive academic credentials, but Reser is doing one thing that I'm guessing no one else is. Following her coach, in a sense, she is a student manager for the football team.
It's become tradition at Linfield that a softball player is a student manager for football. Years ago the team's equipment manager, who is a softball fan and whose wife played, wanted someone who had strong time management skills and understood what being at a long practice was like. He ended up hiring a softball player, and the tradition was born. The job is Reser's work-study position. She is only allotted a certain number of hours by the college, but she puts in considerably more. When I asked jokingly if she felt exploited, she laughed. "I get paid for most of my hours, but I also get paid in good times, and food, and getting to travel with the football team. Mac's wife is one of my professors, and I've gone to their house for dinners, or to watch NFL football games. It's a good job."
Reser's siblings went to Oregon State for the big-school experience, but she wanted something smaller. "I like to connect to other students and to my professors," she said, "to know classmates when I'm walking around campus." Linfield's student body has about 50% student-athletes, and Reser praises her professors for respecting the role of athletics in students' lives. In her three years at Linfield, Reser hasn't seen much game action, performing instead the important role of being a capable reserve and a good teammate. But she says that she wouldn't have traded going to Linfield for anything.
Kam Apling is a fifth-year senior and, like Reser, she hadn't heard of Linfield when she was growing up and attending Glencoe High School, northwest of Portland. "I spent my weekends," Apling said, "watching Alabama and Florida, the DI programs on TV. I didn't know any small schools around me. But when I found Linfield, people did mention that the college had a good softball program, that they had won the DIII national championship twice. I wondered why I had never heard of Linfield, but DIII just isn't talked about a lot."
Apling had coaches who would see her play and talk to her about their schools but would lose interest when Apling said she was determined to be a nursing major in college. Many programs at DI, in particular, discourage players from majoring in nursing, because nursing students have practicums in a medical setting, which takes them off-campus for long hours. But Vaughan told Apling that although it would be difficult, nursing was doable and he was interested in her. She visited the campus, loved the girls on the team that she met, and decided she wanted the small-campus atmosphere. Linfield ended up being the only school that she visited.
The combination of nursing and softball has actually gone well for Apling. "My professors have been awesome, and classes have usually lined up with practice and game schedules. I've had to stay on top of my work, and it's been difficult at times, but overall it's been one of the best experiences I could have had."
Apling graduated last May, and like so many 2020 seniors, she had extra heartache in having the season canceled in March. "We had been in Arizona for our spring break tournament, the NFCA Leadoff Classic, and we had no idea that would be the last time we would play. What would be our final game got rained out, a bit ironic given that Linfield is in Oregon with all its rain and we were playing in Tucson. We got home and certainly knew that COVID was happening, but we didn't know at that time how it would affect sports." On the day of the season's-ending announcement, Apling said, she got to practice after her clinical work, to find her teammates all crying. "The abrupt stop made it so hard," Apling said. "We didn't get to celebrate our last game together or have a senior night, and we also had to leave campus, so we were separated. The whole thing was heartbreaking."
Apling is back for a fifth season, in large part because in 2020-21 Linfield added a graduate program in nursing (and changed its name from Linfield College to Linfield University). "I was able to graduate," Apling said, "become a nurse, and then enroll in the graduate program. I'll have a Master's in Nursing at the end of August." Her decision to return came not only by her luck in having Linfield add the graduate program but because a good friend, Kelsey Wilkinson, made a pact with her. As fifth-year seniors, they would come back only if the other could also make it work.
"I knew I wanted to keep playing," Apling said, and added that a big reason for that comes from the culture that has been created and maintained. "Linfield softball is a family. Not just players, coaches too. Being a family means you push each other to be better each day. We practice long and hard. That is our culture. I think this is why we are able to remain a top contender in the nation year after year."
A Small College With Big-Time Softball Experience
Cheyenne Fletcher came from a small town and small high school and didn't start playing travel ball until her junior year. She was recruited little and late. One coach who did see her play was Coach Vaughan, and he encouraged her to go to a skills camp at Linfield in the winter, stay with a few players, and get a sense of what it might be to attend the college.
Fletcher was impressed by what she saw. "I got to watch a practice," Fletcher recalled, "and see the players work so hard. The practice was incredibly organized, with no one ever standing around. It was unlike anything that I had ever experienced or seen. All the players were buying into what was happening. I had been to other camps where the team chemistry wasn't the best, but I could see Linfield's older players mentoring and teaching the freshmen."
If you're going to be a consistently excellent program, the head coach needs to be able to spot overlooked talent, and then convince that talent to come. Vaughan saw something in Fletcher, and she was impressed enough by him and the program to enroll. Fletcher started in the outfield and led the 2015 team in hitting her freshman year, the Linfield team that finished fourth at the national tourney; she was All-Northwest Conference in each of her four years and the conference Player of the Year in 2017. She is now the assistant coach. As the saying goes, "a pretty good get."
Fletcher's initial impression of Vaughan and the Linfield program has never changed. "Jackson is the most structured, most organized person I've ever been around," she said. "He's also extremely creative so that no one gets bored in practices." Productive practices and the development of talent have been instrumental to Linfield's sustained excellence, but are not the only qualities.
"The culture created here is that as a player you will learn to love and embrace the grind, the chance to get better every day. And furthermore, everyone's going to have a role that will help the team. We emphasize that what happens on the field or who starts doesn't define a player's self-worth."

- Jackson Vaughan
Fletcher majored in Exercise Science at Linfield and also got a strength and conditioning certification. Part of her job is to make individual strength and conditioning plans for athletes and then oversee their efforts. But she knows something else that helps players stay strong: team bonding. Though Fletcher played on great teams, she doesn't most remember the particular games, even important ones — what she remembers is the team being together, or traveling. She remembers the relationships and the team chemistry.
I asked Fletcher what she uses as a recruiting pitch for Linfield, and her succinct answer echoed what I heard inside and outside the program: "We preach that you'll be entering a culture of excellence, that you're going to be treated like you're big-time, and we're going to help you become the best softball player you can be."
Staying Great: Challenges
DIII sports have changed over the past twenty years, in that many colleges decades ago had a participatory model for their teams. A head coach position might be only half-time, with the coach being given numerous other responsibilities, including a teaching load; perhaps a team would have a part-time assistant. But no longer. Many programs want their head softball coach to spend 90%, if not all, of their time on softball, and some programs have multiple assistants.
Vaughan recognizes that being the defensive coordinator in football and the head coach in softball is perhaps too much to do. "In a way it's a curse, doing both," he laughs. "But then I remind myself that it's something no one else gets to do. I get to coach year-round, and my favorite part of the job is practicing with my players, whether in football or softball. That's what's fun, not the recruiting or the administrating."
Vaughan's situation is even more complex in that he has three young children, and he wants to spend time with them. "I love my kids and I want to be with them. You hear the horror stories of coach's kids who play sports and the parent doesn't even attend their youth games. I don't want that." This devotion to family has even shaped career ambitions.
Vaughan's success could have led him to taking coaching jobs at another level, but he likes the town of McMinnville, his wife is a teacher in the school district, and he'd like to raise his children there. Beyond the personal reasons, he also likes coaching DIII athletes, who he says are playing sports for the right reasons, not because they're on scholarship and they have to.
I asked Vaughan what it's been like to be a national power for nearly two decades now, and he said that it's getting harder, in large part because so many DIII programs around the country have gotten stronger. "I think I'm actually a better coach now than I was in 2011," he said. "I think we're good on the culture aspect, and that's what I've improved on the most. I want to emphasize the experience. I want my players to have the kind of experiences that will benefit them for the rest of their lives."