NCAA
Virtual Softball Clinic To Benefit Youth Coaches & Volunteer Coaches
Virtual Softball Clinic To Benefit Youth Coaches & Volunteer Coaches
Bobby Buchanan and Seqznr host Virtual Softball Coaches clinic to benefit youth coaches and support volunteer coaches.
Feb 4, 2021
by FloSoftball Staff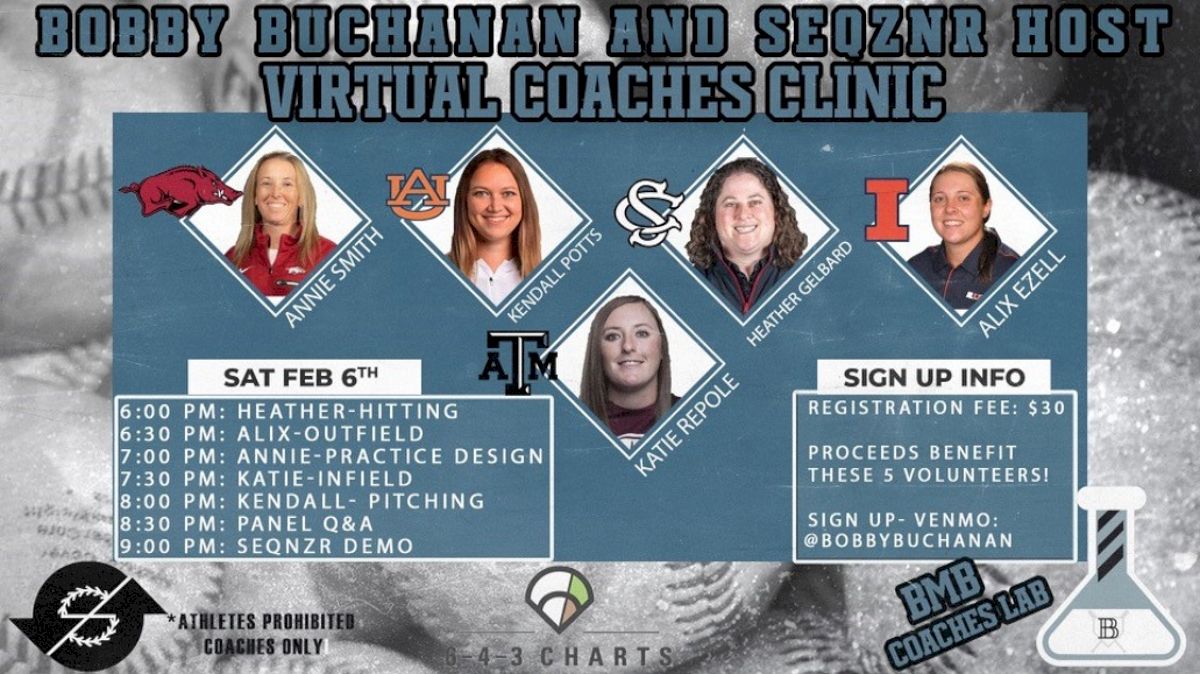 This virtual coaches clinic was 100 percent Bobby Buchanan's idea. He felt called to try and find a way to give back to the game that has given him so much. Bobby started as a volunteer at Texas State University and understands the volunteer lifestyle.
Volunteers earn their money by working camps and clinics, but due to COVID-19 and the resulting dead period volunteers haven't been able to work any camps or clinics in over a year. Given this, the pandemic has been especially hard on volunteers and severely limited their ability to make money. Many volunteers have taken on second jobs to make ends meet.
In an effort to help ease some of the financial burdens volunteer coaches are experiencing, Bobby Buchanan, 6-4-3 charts, and Seqnzr have partnered together to host a virtual coaches clinic this Saturday, February 6th. The virtual coaches clinic will benefit the following volunteer assistant coaches: Heather Gelbard, Alix Ezell, Annie Smith, Katie Repole, and Kendall Potts. All of these coaches will be presenting at the virtual clinic, and the topics they are covering are listed below.
Heather Gelbard (South Carolina)- hitting
Alix Ezell (Illinois)- outfield
Annie Smith (Arkansas)- practice design
Katie Repole (A&M)- infield
Kendall Potts (Auburn)- pitching
The clinic costs $30 and will be over 3 hours long. All participants will receive a recording of the clinic, so if you are unable to watch live you can view the content at your convenience.
This has been done a couple of times recently within NCAA Baseball. The entire B1G conference partner together to put on a clinic every Monday night for a month that benefited their volunteer coaches. In addition MLB coaches like Kai Correa, Darren Fenster, CJ Gillum, and Matt Talarico have hosted similar virtual zoom clinics benefiting some of their favorite volunteer college baseball coaches.
I think events like these, highlight the beauty of our game. In times of need, coaches put aside competitive differences and lend a helping hand.
This clinic will help coaches by getting some of the newest & most innovative ways to run different segments of their practice. We preach to our athletes to be students of the game & for our athletes to work extra; it's only fair that we put that same expectation on ourselves as coaches. These Power 5 coaches will be diving into actual drills, processes & philosophies that they use to make their teams some of the top college softball programs in the country.. meanwhile all for a good cause & a great way to give back to the softball community!
This is event is only for coaches per NCAA rules but this will still greatly impact youth, HS, and college players by having coaches coming to learn from these coaches.
The virtual clinic will also be recorded for purchase as well!
Meet The Coaches
Alix Ezell
Ezell comes back to the Illini following a two-season stint as a graduate assistant on the University of Texas-Arlington softball coaching staff. While in Arlington, Ezell handled video and game data, coordinated all team travel and community service events and managed practice and game day equipment, while also aiding in practice drills and managing recruiting emails amongst various other responsibilities. She also helped lead the Mavs to the 2019 National Invitational Softball Championship.
Katie Repole
Former Louisiana-Lafayette player Katie Repole is the volunteer assistant coach for Texas A&M. Repole's responsibilities include coaching the outfielders, assisting with hitters, video, camps and clinics and on-campus recruiting.

Repole comes to Aggieland after spending the three seasons as an assistant at Virginia working with the outfielders and offense and was the Cavaliers' recruiting coordinator. In Repole's first season with the Cavaliers, she helped lead Virginia to the ACC Tournament for the first time in three seasons as the Cavaliers won nine ACC games, the second-most in school history. The 2017 offense ranked in the top five in the ACC in multiple categories, as catcher Katie Park earned All-ACC honors and was the program's first NFCA First Team All-Region selection since 2013.
Annie Smith
Smith joined the Razorback staff in the summer of 2019 and enters her second season at Arkansas in 2021. Smith brings a wealth of coaching experience to Fayetteville after stints as an assistant at Auburn, LSU, Mississippi State and Missouri and six years as the head coach at Georgia Southern.
Since she began her career, Smith has coached eight All-Americans, 56 All-Conference selections, and 41 All-Region honorees. Her squads have been equally as impressive in the classroom, garnering 123 NFCA Academic Scholar-Athlete honors.
Smith also boasts professional experience, as she was an assistant coach for the Chicago Bandits of National Pro Fastpitch (NPF) in 2017.
Heather Gelbard
Coach Gelbard is now the South Carolina Volunteer Assistant Coach. Gelbard most recently served as the interim head coach of the Panthers for the 2019 season, a role she accepted in October of 2018. Despite the staff change late in fall camp and losing five of the program's top-seven hitters, Gelbard led FIU to a 26-win season and placed a student-athlete on the Conference USA All-Freshmen Team. Before taking over at FIU, Gelbard was the head coach of UMBC from 2017 to 2018. Under her guidance, the Retrievers posted two of the highest team GPAs in program history while also qualifying for the American East Conference Tournament in both her years.
Kendall Potts
Potts is now the volunteer assistant coach for Auburn. After beginning her career at Baylor, Potts played her final two seasons as an Aggie. She appeared in a total of 117 games while at both programs and closed her career with 266 strikeouts and a 37-21 record. During her career, she was a three-time academic honor roll member with recognitions from both the Big 12 and SEC. She also earned a spot on the All-Big 12 Freshman Team in 2015.
Potts was a staple in the circle for the Aggies after transferring into the program as a junior in 2019. She tossed 11 complete games and led the Texas A&M staff with 86 strikeouts in her debut season. As a senior, she started nine contests and fanned 38.