NCAA
Mark Allister's 2021 Division III College Softball Season Preview
Mark Allister's 2021 Division III College Softball Season Preview
Mark Allister previews the 2021 Division III college softball season with region breakdowns and what you should know about the postseason.
Feb 24, 2021
by Mark Allister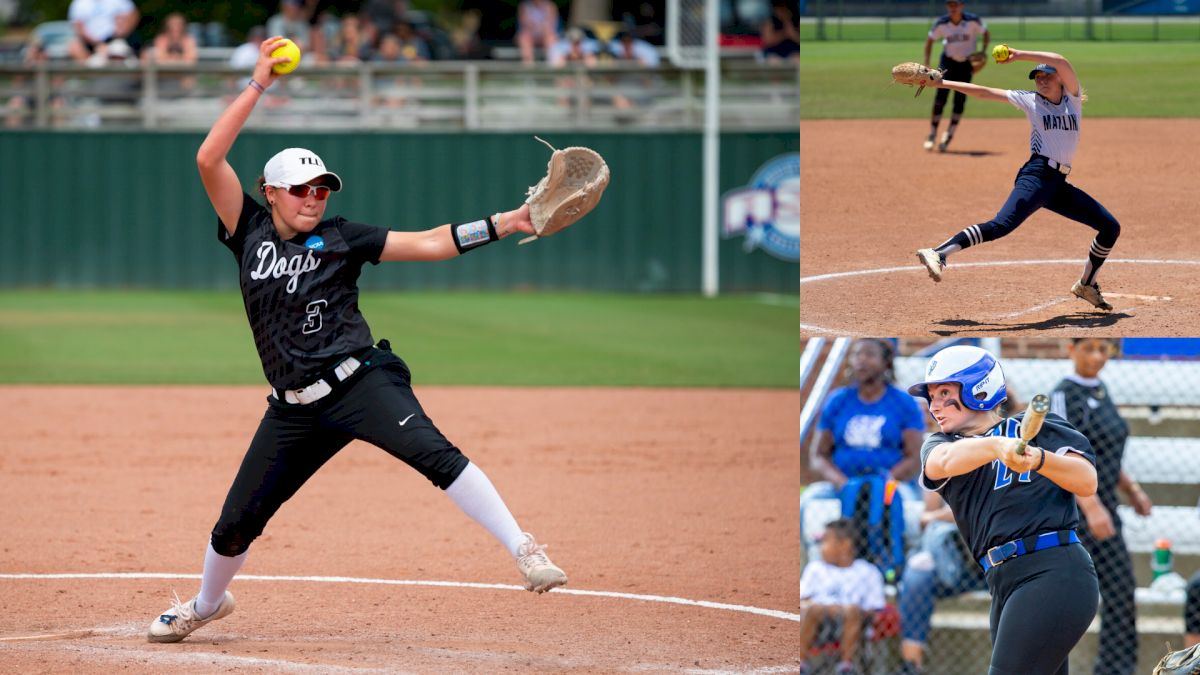 Mark Allister is the author of Women's College Softball on the Rise: A Season Inside the Game. He will be writing on DIII softball this spring and would welcome story ideas and comments at allister@stolaf.edu
---
Unpredictable. Perhaps no word better describes this spring's DIII softball season. Will a conference shut down? Will some schools end up playing fewer than 16 games, the minimum to qualify for the postseason? Will a coach get a positive COVID test right before a conference tournament, or regional postseason play?
Predictable. Perhaps the word that best describes the NFCA's preseason top 10 rankings, where the usual suspects top the list. The West region looks particularly loaded, with East Texas Baptist University at No. 1, Texas Lutheran University at No. 2, and Linfield at No. 6.
West Region
Though ETBU heads this year's poll, any season preview should begin with the defending champion — that's TLU if you need a reminder about 2019 — particularly when they are No. 2 in the ranking and incredibly talented. In 2018 TLU was 39-1 and ranked No. 2 in the country before losing two games in the opening round of the tournament to perennial power University of Texas-Tyler. In 2019 ETBU was ranked No. 2 in the country and was the high seed in the Texas regional, but TLU came through as the underdog. The Bulldogs went on to beat No. 5 ranked Linfield in the super-regionals, and then swept all five games in the championship tourney.
Texas Lutheran won the 2019 championship with great balance: hitting, pitching, a lot of speed. With that balance and only one senior as a regular contributor, their 2020 line-up had looked fully capable of repeating, a dream that was sidelined by COVID. Head coach Wade Wilson's 2021 version looks equally capable. Kelly Jurden is back, and in 2019 she batted .458 and was successful stealing in 61 of 63 attempts.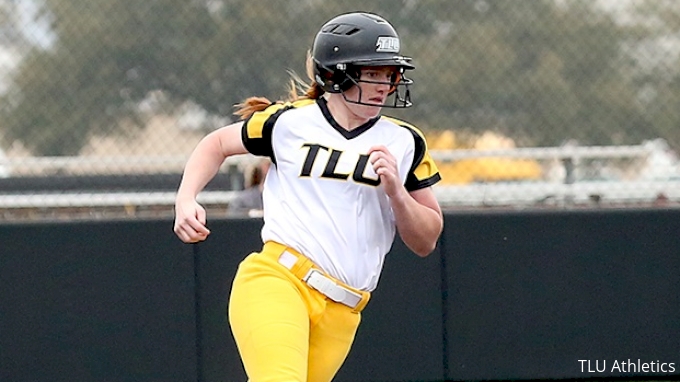 Pitcher/utility Chassety Raines returns; she hit .372 in 2019, began pitching mid-year, and ended the season 10-0. She was named the NCAA DIII Championship Most Outstanding Player. But she won't be in the circle to begin the season, Wilson says, as he has three other outstanding pitchers in senior Kayla Oliveira and sophomores Sydney Oulette and Ashlyn Strother.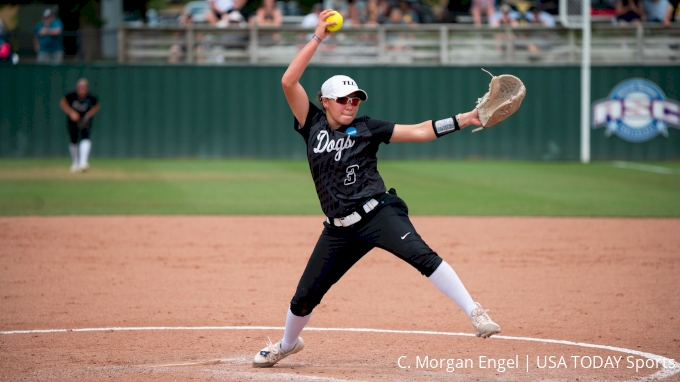 ETBU, like Texas Lutheran, had dreams last spring of what could be. On March 10, 2020, they beat Baldwin-Wallace University to run their record to 15-0, which included going 4-0 the previous weekend at the NFCA Leadoff Classic in Tucson. Top-rated teams there such as Texas Lutheran, Illinois Wesleyan, and Christopher Newport each beat and lost to one another, which cleared the way for ETBU to rise to No. 1 in the final 2020 NFCA coaches' poll.
ETBU should have a strong and balanced hitting attack in 2021, led by Daniella Solis and Mariah Delgado. Pitching will tell the story for their tournament run hopes. A year ago, ETBU's head coach, Janae Shirley, hadn't really recruited any pitching, because she felt she had two of the best in the country, both sophomores. Preslye Cox went 14-2 with a 2.25 ERA as a freshman and followed that up in 2020 by going 5-0 with a 1.75 ERA. This year she needs to be the ace, because ETBU's All-American, Beatriz Lara, transferred to DI Texas A&M-Corpus Christi to be closer to home. Knowing that she was down to one experienced pitcher, Shirley added four new ones last fall, including Ashley Croft, a transfer from UT-Tyler who looks to pick up innings.
2021 Postseason Changes
For economic reasons, the NCAA decided to restrict the number of DIII teams qualifying for the postseason to 47, down from the usual 62. At this point, only five at-large bids will be available. A second big change for the 2021 postseason is the elimination of the usual format: four-team regional sites followed by super-regionals. Instead, the qualifying for the DIII World Series will be in one weekend at eight sites. The West is likely to have a five-team regional, and it would be no surprise if ETBU and Texas Lutheran were fighting it out there, as well as perennial power Linfield College, led by head coach Jackson Vaughan. In past years Linfield, when they aren't winning it all, have had their championship dreams often end with a defeat in Texas.
Linfield will be the favorite in the Northwest Conference, though Jessica Hollen's George Fox team and Whitworth College will contend, as usual. Whitworth's head coach, Bob Castle, is in his second year, and given the importance of winning the conference tournament to advance to the postseason, his team may be the one to move on, as they return the conference's 2019 Co-Pitcher of the year & Freshman of the Year Drea Schwaier-Wolf, as well as All-Conference performers Sara Gayer, Kaylie Lowery, and Maddy Thomas.
Atlantic Region
Whether strong teams will get at-large bids even if they are upset in their conference tournaments, as well as who will get sent to what regional, will loom large not only in the West. The Atlantic region appears equally stacked, with the other three teams ranked in this year's top six and Berry College following close behind at No. 10.
Christopher Newport University and Salisbury University clock in at No. 3 and No. 5, respectively, and to raise the stakes, they are both in the same conference. Christopher Newport's head coach, Keith Parr, is excited about his team, which returns most of their offensive production. As a freshman in 2019, Kaitlyn Hasty was a first-team All-American and the NFCA National Rookie of the Year, hitting nineteen home runs.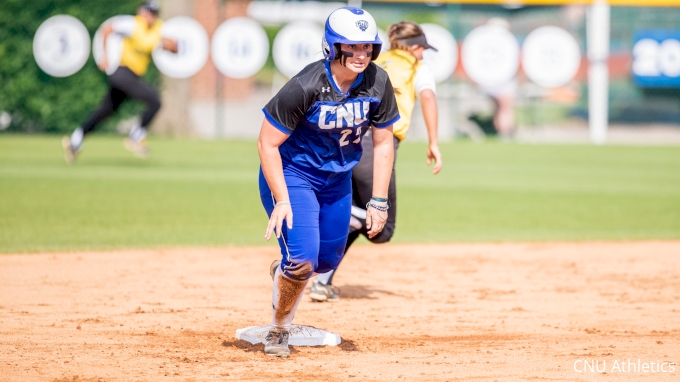 Patty Maye Ohanian as a freshman and sophomore garnered First-Team All-American honors, and both years was one of the ten finalists for the NFCA Player of the Year Award. Parr believes that Bailey Roberts, a junior catcher, might join them this year in national recognition.
CNU returns their starting outfield and added some talented freshmen who will provide depth that might be necessary given that players could end up sitting out weeks if they test positive for COVID or need to be quarantined. In recent years CNU has had stellar offensive numbers — how far their postseason might go will come down to their pitching staff, which Parr believes is relatively untested but very talented. "We have five pitchers that we have confidence in," Parr says, "and we're just wondering which two or three are going to separate themselves."
CNU will play home and away against Salisbury, and those match-ups, with the conference bid likely on the line, will be highly anticipated. Led by legendary coach Margie Knight, Salisbury was the national runner-up three times in the past 18 years. 2021 will be a year when they hope to return to those heights, though under a new coach, former Salisbury pitching great Lacey Lord, as Knight has retired.
In their 17-3 campaign last year, Salisbury had 10 players bat over .300; eight of them return. Salisbury surprised many a year ago because no one knew how good their pitching might be; two freshmen, Savannah Sheats and Lindsey Windsor threw nearly all their innings. They've been tested but not to the extent that playing a full season and a postseason would demonstrate. How good might those two be? This is another storyline for the 2021 season. Because we didn't have a full season last year, some players and teams may surprise everyone and be even better (or worse) than expected.
One such team is Central College in Pella, Iowa, led by head coach George Wares, the winningest softball coach in NCAA Division III history. An NFCA Hall of Famer, Wares has guided Central to four national championships. But the last was in 2003, and he's laser-focused on getting back to the championship. This might be the year.
Like Salisbury, Central relied on freshmen pitchers in 2020. Sydni Huisman, Morgan Schaben, and Skylar Sadler combined last year for a 6-1 record and a 1.16 ERA against a challenging schedule. Huisman looks to be the ace, but how good the freshmen pitchers might have been last year and how good they will become as sophomores are worth following. No. 7 in the preseason poll and the highest-ranked team in the Midwest region, Central College returns starters at seven of 10 positions, led by three-time all-conference center fielder Sara Tallman, who is back for an extra season after the NCAA extended eligibility for all players following the abrupt end to the 2020 campaign. Tallman has a career batting average of .399, and so her extra year gives her a chance to end her career over .400, a coveted mark.
Central Region
The Central region's top team looks to be Depauw University, picked at No. 9 in the country. Depauw has been consistently good for years now; in eight seasons as head coach, Erica Hanrahan has led the Tigers to six straight NCAA appearances, their best team tying for fifth at the 2015 Division III Finals. Her top two pitchers return — Cami Henry, who as a freshman in 2019 went 18-8 with a 2.97 ERA; and Riley Magoon, who as a freshman compiled an 8-0 mark with a 2.10 ERA.
East Region
Writing a season preview piece this year is challenging, as some schools don't have their 2021 rosters on their websites (so I can't see if any fifth-year seniors have returned), and numerous schools don't have their 2021 schedules up yet. No. 8 ranked Kean University in Union, New Jersey is one of those. In her 23 years as head coach, Margie Acker has established Kean as one of the East region's premier programs, alongside their rivals in the powerful New Jersey Athletic Conference (NJAC), Rowan, and The College of New Jersey. The NJAC often gets three teams to the postseason, but won't this year, of course, with the limited opportunities for at-large berths. The conference tournament will be exciting, with teams believing that they have to win it to move on.
The NJAC has 10 teams. The Minnesota Intercollegiate Athletic Conference (MIAC) is fairly typical for DIII in having 12 teams. For schools in such a conference, most of their games this year will be against conference foes. Christopher Newport and Salisbury are exceptions to this because their conference, the Capital Athletic Conference, is small and the schools are spread out around the country. Christopher Newport in conference will be playing only Salisbury and Mary Washington, who are regional, but CNU's location in southern Virginia is close to the many DIII schools in Virginia and North Carolina, schools which they can bus to.
CNU's coach, Keith Parr, likes a scheduling challenge. "I want to get 40 games in," Parr said recently, "and I want to play a difficult schedule, and so we have home and away doubleheaders with some strong teams." CNU opens with a doubleheader at No. 4 Virginia Wesleyan on February 27, and then the two play a doubleheader in Newport News in mid-March. After those four games, one team may have established themselves nationally as a team to beat; or perhaps the schools will have split their games and we'll have to wait until May and the post-season to see who is the stronger.
Virginia Wesleyan was the national champions in 2017 and 2018, behind the two-time Player of the Year and Pitcher of the Year, Hanna Hull. In 2019 Hull had to settle for being only a First-Team All-American, and that VWU could not make it out of their regional, despite having returned most of their stars from the championship teams, demonstrates how nothing is guaranteed in the postseason. Some seniors are back for a fifth year. Hull is one of those — she's enrolled in grad school at VWU. She's joined by fifth-year teammates and starters Jessica Goldyn and Madison Glaubke.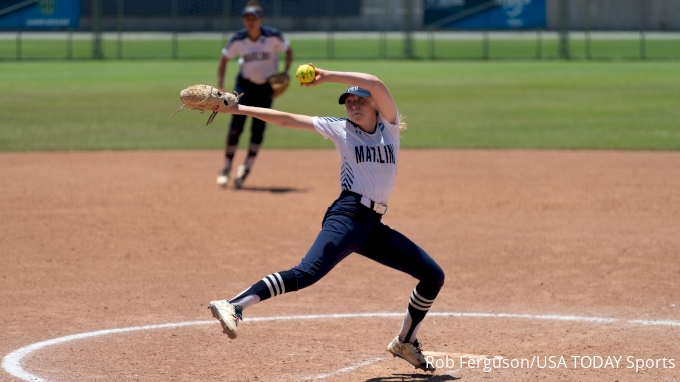 Virginia Wesleyan plays in the strong Old Dominion Athletic Conference, and head coach Brandon Elliott has conference games taking up most of his schedule. But he made the most of his non-conference openings by scheduling four games against CNU and a doubleheader against Salisbury. It seems unlikely that this year's team will lose only three games, as his two champion squads did, but Hanna Hull's return makes the Marlins a leading national contender.
While strong teams in the Atlantic region can play one another out of conference, being able to bus, the same isn't true across other regions. Perhaps the most important storyline for 2021 after COVID — and tied to it — is that there will be far fewer big-time match-ups in March, which usually take place in Tucson or Central Florida. The Tucson Invitational Games was canceled entirely, and THE Spring Games (TSG) in Florida will continue without DIII programs.
THE Spring Games serve particularly well the schools located in cold weather climates who have small budgets and can't afford to travel multiple times. The colleges might play a third or more of their schedule over their spring break, with doubleheaders some days. But most schools in the North or the Midwest aren't allowing their teams to fly this year or even having a spring break.
With a young team, Eastern Connecticut State University finished third in the 2019 DIII World Series, surprising even their head coach, Diana Pepin, who thought they would be a year away from national prominence. 2020, she believed, would be their year, and so the season's cancellation was an even bigger blow than for teams with few expectations. "Last year we had all the pieces to the puzzle," Pepin says, "and so it was pretty devastating to lose the season."
Third-team All-American pitcher Morgan Bolduk, First-Team All-Conference shortstop Sara Pisanelli, and centerfielder Sabrina LeMere, who hit .325 in 2019, all graduated in 2020, and so this year's team, while still strong, has holes to fill. "We have a totally new pitching staff," Pepin says. "Carley Stoker, a transfer from DI Central Connecticut, looks like she will be our #1. I'm working some position players in here and there to eat up innings until I get my #2 pitcher, Alyssa Vilchez, back from injury sometime this spring." Some good news for ECSU is that numerous big bats throughout the line-up return and starting catcher Megan Hodgdon will play a fifth year.
No Ordinary Season
One of the obstacles to overcome for ECSU — as well as numerous other teams in cold-weather climates — is creating a full schedule of games when they won't be playing their customary 10 to 14 games in Florida. "Our school won't allow us to have overnights," Pepin says, "and we can't fly, so it's whatever we can schedule locally." But her situation is different than a college located in a warm-weather climate.
In an optimistic move, Pepin scheduled her opener for March 6, but she says that given the continuing snowstorms in Connecticut in February, "that doesn't look like it's going to happen." Even with mid-week doubleheaders, ECSU won't be playing anywhere near a full slate of forty games. Everyone who cares about softball will be rooting for an early spring so that these cold-weather teams can get in their games without having to cancel because of the weather.
Nearly as unpredictable as COVID are college presidents and their decisions about athletics. Suffice it to say — the presidents' attitudes vary tremendously for how willing they are to make adjustments for sports teams. Some programs have canceled their entire seasons, such as perennial post-season tourney team MIT. Who might play games in the New England-based leagues, the NESCAC or NEWMAC, could change week to week. Checking websites for 2021 schedules — even in mid-February — is a lesson in frustration.
But if fans wanting to watch DIII softball have some frustration right now, imagine what it's like for players. In addition to taking classes, college students should network and socialize, have fun with friends. In our COVID era, all students have sacrificed a "normal" college experience. What's rather remarkable is that for some softball teams, the players have gone far beyond our current social norms.
Texas Lutheran's players are following a protocol to ensure that their season will go on. "Our two catchers," Wade Wilson says, "our two shortstops, pitchers, they can't eat together, they can't be in the dugout together, they work their positions at different times." For the chance to repeat, the players came up with even stricter rules that will apply a month out from the postseason. They won't have contact with any outsiders, even parents. "All the players," Wilson says, "if asked whether they've been within six feet of someone for fifteen minutes or more, will be able to answer no. They've decided not to go out to eat, or to go to a bar. And this isn't the coaching staff enforcing anything. This is what the players have determined." Texas Lutheran is not the only team that has decided to make such choices.
2021 will be no ordinary year, and not just because of the lack of fans at games (for many teams), and the changes in behaviors, and the possibility that being around another student who gets a positive COVID test might make you, and then teammates, sit out for nineteen days. Teams and coaching staffs will be living with unpredictability and anxiety that will never go away. The number of uncontrollables — which usually includes injuries, illness, and weather — has gone up. Anything might happen.
2021 will be a year of great frustration, no doubt, but the softball season will also be a year of great joy, just because it's going to happen for nearly everyone. All the coaches and players I've talked to, for this piece and in past months, have expressed how happy they are to get back on the field, to experience those moments when our COVID-clouded world dissipates and they're back doing what they love.
Tiffany Prager is the head coach at Illinois Wesleyan University. In her first three years there — 2017, 2018, 2019 — she reached the DIII World Series. Last year's team, with numerous players who had played in those championship series, were favorites to get there again and maybe even win it all. Prager has said that her heart broke for all players who had their seasons canceled last year, not just those at IWU.
With the graduation of ten seniors, including numerous starters and All-Americans Ally Wiegand and Sam Berghoff, IWU is considered a strong program but doesn't have the weight of championship expectations. I asked Prager how she was feeling going into this season. Her first response was that she and her team were most of all looking forward to having the opportunity to play. Life's desires have been simplified.
"The goal this year is to have a season. Our thought process is to enjoy and appreciate every moment we have to be together and to compete."

- Tiffany Prager, IWU
Prager's view is good advice for her players as well as all of us who are softball fans. Let's hope that the disruptions in 2021 will be minor and that we'll have the perspective to cope with those disruptions. Let's appreciate every moment this year, for our favorite team as well as all others. Let's not yell at umpires, who don't see with their hearts (as fans do) but with their eyes, and in any case, are doing their best. Let's appreciate the tremendous character of these athletes, who excel on the field and off. Let's be thankful for sunshine and fresh air and our outdoor sport that can still go on.
P.S. — Apology to all those wonderful teams and programs not mentioned here, simply for lack of space. I followed the pre-season rankings in discussing teams, but no doubt surprise teams will emerge and get to the DIII World Series. And in any case, success is not measured only by advancing in the postseason.