2021 THE Spring Games
Rhonda Revelle Captures 1000th Nebraska Softball Win
Rhonda Revelle Captures 1000th Nebraska Softball Win
After defeating Michigan State, Rhonda Revelle reaches the 1000th win at Nebraska softball, the first in Husker Athletic history.
Feb 27, 2021
by FloSoftball Staff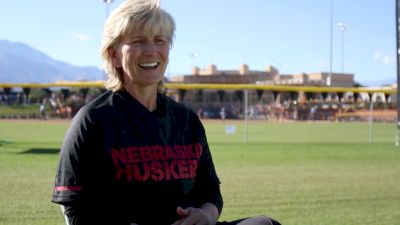 If she's done it once, she's done it a thousand times.
That was the case for Nebraska softball head coach Rhonda Revelle Saturday morning, as the Huskers defeated Michigan State 7-1 to hand Revelle her 1,000th win at Nebraska, a milestone never before reached by any coach in the history of Husker Athletics.
1️⃣0️⃣0️⃣0️⃣ BIG RED WINS@RhondaRevelle has just become the first coach in Nebraska Athletics history to reach 1,000 wins while at the helm for the Huskers.

Congratulations Coach, 29 years in the making‼️‼️‼️ pic.twitter.com/nH7lUkUIE3

— Nebraska Softball (@HuskerSoftball) February 27, 2021


The memorable victory was highlighted by a five-run second inning and a solid combined effort in the circle from senior Olivia Ferrell and freshman Kaylin Kinney. With the win, Nebraska improved to 2-1 on the season.

Ferrell (1-1) earned the start and allowed just two hits in 4.0 scoreless innings, striking out four. Kinney pitched the final 3.0 innings and earned the save, allowing one run on three hits with a pair of strikeouts. Jala Wright (0-2) took the loss for Michigan State (0-3). Wright allowed seven runs in 3.1 innings, but only two were earned.

Offensively, the Huskers totaled 10 hits. Senior Tristen Edwards and freshman Sydney Gray each produced multi-hit games. Edwards was 3-for-4 with two RBIs, while Gray was 2-for-4 with a run and an RBI. Senior Rylie Unzicker and freshman Billie Andrews also had two RBIs apiece, while freshman Abbie Squier doubled scored two runs in her first career start.

Nebraska took advantage of four Michigan State errors in a five-run second inning. Consecutive errors and a stolen base put Huskers on second and third with one out. Gray then delivered an RBI single through the left side to bring home junior Courtney Wallace with the game's first run. Another error loaded the bases before Unzicker scored Ferrell with an RBI ground out. Then with two outs, Billie Andrews lined a two-run single to right to score Gray and Squier. Edwards capped the five-run inning with an RBI single that scored Andrews.

The Huskers pushed their lead to 6-0 when Squier and Unzicker began the top of the fourth with back-to-back doubles, which marked the end of the day for Wright. Alli Walker came on in relief and recorded a strikeout before a two-out RBI single from Edwards made it 7-0.

Kinney entered the game and pitched a scoreless fifth and sixth inning before the Spartans scratched out a run in the bottom of the seventh. By pitching 3.0 innings, Kinney earned her second save in as many games.