Olympics Softball
USA Softball Announces Exhibition Games For U.S. Women's National Team
USA Softball Announces Exhibition Games For U.S. Women's National Team
USA Softball adds four exhibition games for the Women's National Team schedule along with three-game series against world-ranked No. 5 Mexico (March 8-10).
Mar 4, 2021
by FloSoftball Staff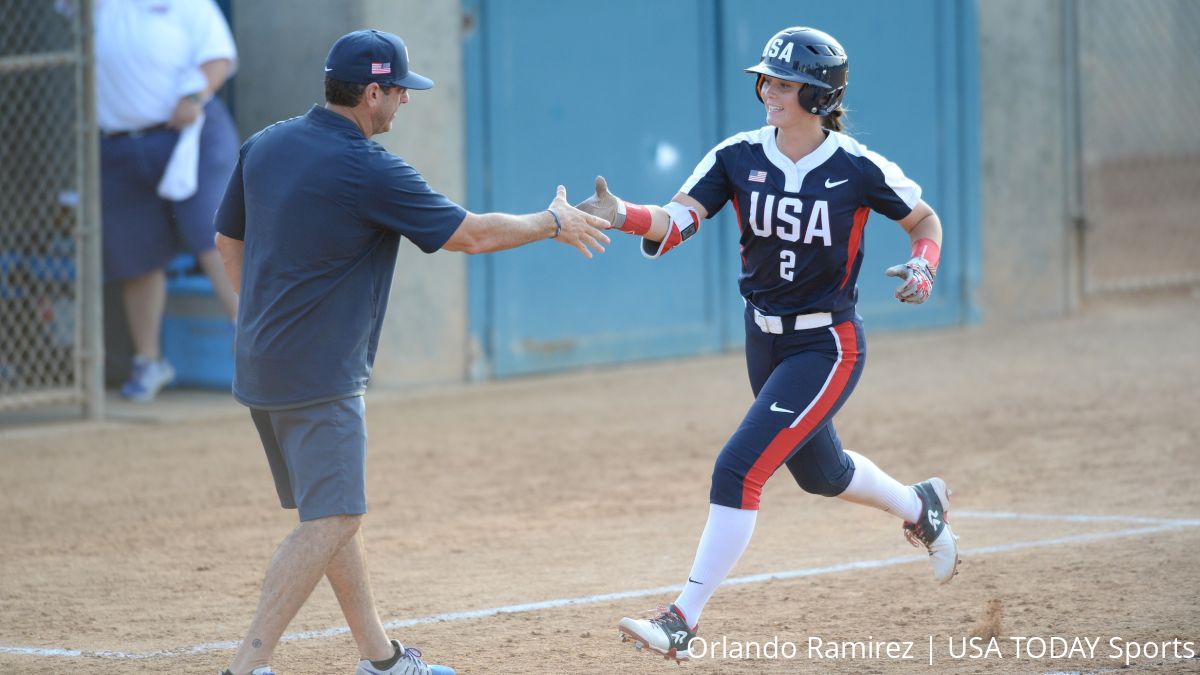 OKLAHOMA CITY – With less than five months until the Tokyo Olympic Games, USA Softball has added four exhibition contests for the U.S. Women's National Team (WNT) in addition to the previously-announced three-game series against world-ranked No. 5 Mexico (March 8-10).
Slated for March 12-14, Team USA is set to compete in three exhibition matchups against the University of South Florida (USF) followed by a solo contest against the University of Florida on March 16. The games are a part of the Stand Beside Her tour, presented by Major League Baseball (MLB), and will provide much-needed preparation for the Tokyo Olympic Games where the sport of softball returns to the Olympic Program for the first time since 2008.
WNT Head Coach Ken Eriksen, who is currently guiding the Bulls in their 2021 collegiate season, will split time and lead the Red, White and Blue for the three-game series held at the USF Softball Stadium. Team USA and USF went head-to-head last February to kick off the Stand Beside Her tour and the U.S. came out on top, 3-0.

Tickets for the games will be limited to a pass list due to COVID-19 restrictions, however live streaming for all three games will be provided through ESPN+ with live stats also available on USASoftball.com.

Set to be held at Katie Seashole Pressly Stadium, Team USA will square off against Florida on March 16 in a 6 p.m. ET solo contest as Gator greats Michelle Moultrie (Jacksonville, Fla.), Aubree Munro (Brea, Calif.) and Kelsey Stewart (Wichita, Kan.) return to their alma mater for the second time following their storied collegiate careers. Previously welcomed back by Gator Nation last February, Team USA and the Gator alums faced off against Florida as part of the "Stand Beside Her" tour, where the Red, White and Blue posted a 5-3 victory.

Tickets for the U.S. WNT vs Florida matchup will be limited to 2021 Florida Softball season ticket holders due to COVID-19 restrictions, however the contest will be streamed through SEC Network + with live stats also available on USASoftball.com. Florida will communicate ticket information to 2021 Florida Softball season ticket holders.

The 18-player roster will be without Rachel Garcia, Dejah Mulipola and Bubba Nickles as well as assistant coaches Laura Berg, Howard Dobson, Tairia Flowers and Heather Tarr who all remain with their respective collegiate teams. Joining Head Coach Ken Eriksen to assist with coaching will be Laura Ricciardone, Kyla Holas, and two-time Olympian Kelly Kretschman.

View the 2020-21 U.S. Olympic Softball Team roster
About USA Softball
USA Softball (USAS) is a 501(c)(3) not-for profit organization headquartered in Oklahoma City, Okla., and is designated as the National Governing Body (NGB) of Softball in the United States and a member of the United States Olympic & Paralympic Committee. One of the nation's largest sports organizations, USAS sanctions competition through a network of Local Associations, which includes all 50 states and select metro associations. USAS is dedicated to providing people of all ages the opportunity to play the game they love at a variety of levels by offering recreational, league, tournament and competitive play for fast pitch, slow pitch and modified pitch. USAS annually conducts thousands of tournaments throughout the country including over 100 National Championships. The USAS umpire program is among the nation's largest and are widely known as the best trained umpires in the game.

As the NGB for the sport of softball, USAS is responsible for training, equipping and promoting the six USA Softball National Teams that compete in events such as the Olympics, Pan American Games, World Championships and other international and domestic events. For more information on USAS, including its founding and history as the Amateur Softball Association of America (ASA), please visit, www.USASoftball.com.