2021 CAA Softball Championships
JMU Dukes Softball Never Backs Down From A Challenge
JMU Dukes Softball Never Backs Down From A Challenge
JMU Head Softball Coach Loren Laporte explains how she handled having a baby, two shortened seasons, and mentally preparing her players to go into battle.
Mar 18, 2021
by Stephen Kerr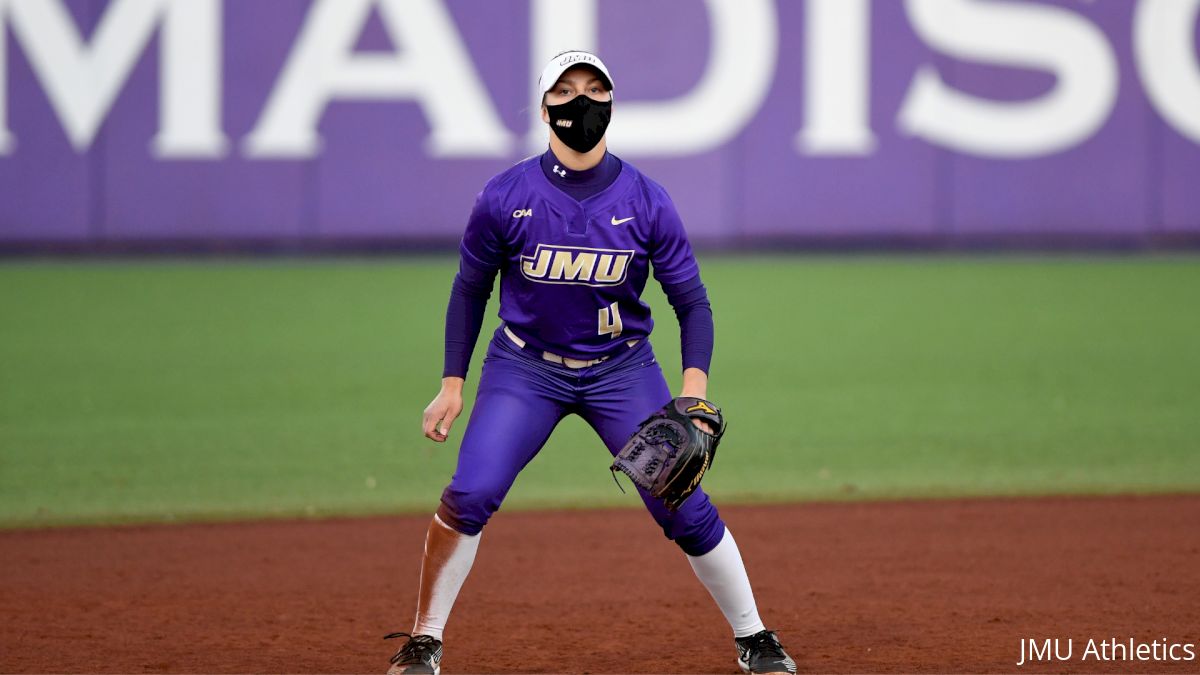 James Madison University head softball coach Loren LaPorte is becoming accustomed to change. The past year has certainly had its fair share. Since last March, LaPorte has experienced a shutdown 19 games into the season, having a baby, a reduced schedule this season, and two games already canceled due to COVID-19.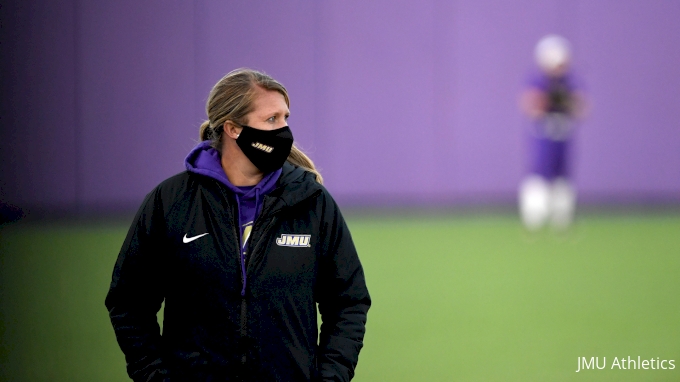 But if LaPorte has learned one thing during her career as a player, assistant, and head coach, something new is always around the corner.
"We talk to the girls all the time about being able to handle change and adversity," explained LaPorte, now in her fourth season running the Dukes program. "How you handle things is going to be based on what happens next."
The past few months haven't been all negative. On September 10, LaPorte gave birth to Harper, her second child. She and her husband Josh also have a son, Holden, born in 2015.
Please allow us to introduce everyone to our newest little Duke!!! 😊💜

Please meet.......

Harper Lyle LaPorte
9/10/20
7.2 pounds
19.5 inches
Born at 6:55pm pic.twitter.com/Rm4AYwKnS0

— JMU Softball (@JMUSoftball) September 15, 2020
This season, the Colonial Athletic Association switched to a divisional format and a shortened schedule to reduce travel. While that decision was due to the ongoing concerns of the pandemic, it also affords LaPorte the luxury of staying close to her family and watching her infant daughter grow.
"It's been really nice being able to spend a little more time at home than I would usually," LaPorte said. "I've been able to spend that newborn time with her that I missed a little bit with my son."
The Dukes were 13-6 in 2020 before the shutdown. Two of those wins came against Top-25 opponents Texas Tech and Missouri. Outfielder Kate Gordon set a new school record for career home runs with 50 and was named to Softball America's Shortened Season College Top 100. Shortstop Sara Jubas became the first JMU softball student-athlete named a CoSIDA Academic All-American.
The team was in Jacksonville, Florida last March when LaPorte received word the weekend games were canceled. It was during the bus ride home that the CAA officially ended the season.
LaPorte did her best to keep the players in a positive frame of mind during the long weeks and months that followed.
"It was something our team and us as a staff had never experienced, but we had to go with it," LaPorte recalled. "It's kind of like the game sometimes. It throws us curveballs that we never know what's going to happen, but it's how we stay together."
The Dukes won their first six games to open the 2021 season, the first two coming against Virginia and George Washington at the UVA Tournament. But a COVID-19 breakout forced them to withdraw from the Liberty Tournament the following weekend. After the two-week layoff, they swept all four games of their own tournament, beating Stony Brook and Rhode Island twice.
As difficult as the past year has been, Jubas is just relieved to be playing games again.
"It was definitely a lot to go through," Jubas said. "It made me sit back and appreciate just being able to play. I think that's been not only my attitude but also our team's attitude this year."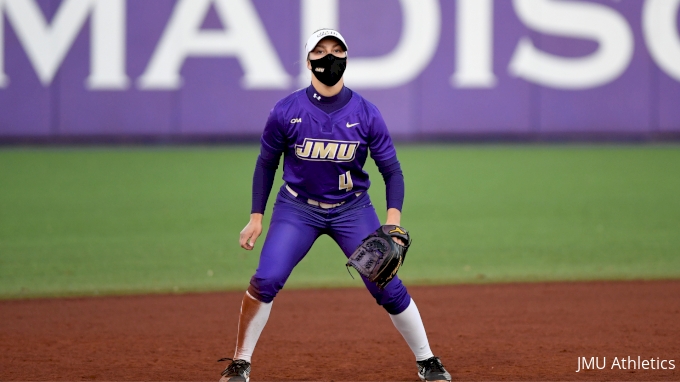 A redshirt junior, Jubas started all 19 of the Dukes' games at shortstop in 2020, batting .439 with five home runs, 14 RBI, and seven doubles. As a freshman, she started every game of the 2018 season, hitting .3.02 with seven homers and 25 RBI. She followed with an even better sophomore campaign, leading the team in batting average (.423), and smashed 14 homers, 62 RBI, and 17 doubles.
Jubas is one of 14 returning letterwinners this season, along with Gordon, outfielder Logan Newton, and pitcher/infielder Odicci Alexander. JMU was selected as the favorite to win the realigned South Division in the CAA's preseason poll, garnering seven first-place votes to total 25 points. They received votes in the NFCA Preseason Coach's Poll and ESPN.COM/USA Softball Preseason Poll.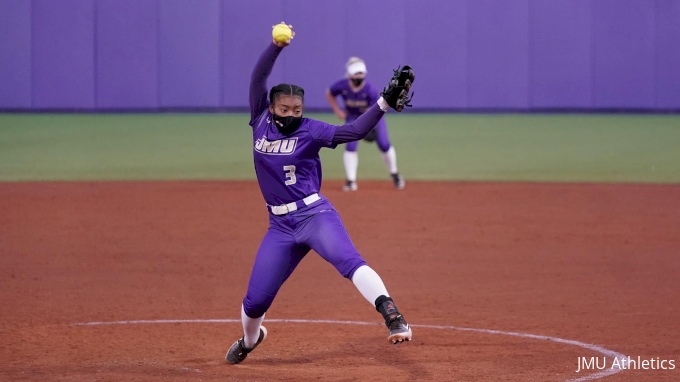 In the circle, LaPorte is counting on Alexander, along with transfers Alexis Bermudez (Bethune-Cookman), Kayla Boseman (Mississippi State), and Alissa Humphrey (Jacksonville). Alexander was named to this season's USA Softball Top 50 Watch List and Softball America's Top 100. She pitched 26.2 innings during the shortened season, going 3-1 with 31 strikeouts.
Boseman and Bermudez joined the Dukes in 2020. Boseman went 2-4 with 13 strikeouts in 24.2 innings last season, while Bermudez finished 6-1 with a shutout. Humphrey picked up wins in her first two appearances as a Duke this season, including one start.
"Offensively, we're pretty strong one through nine," LaPorte said. "Anybody up at-bat can get the job done. What's hard this year is that we're only playing 34 games. The mound time is going to be limited. Our pitchers are going to be fresh, so we're not going to need to use as many."
LaPorte, formerly known as Loren Messick, was an All-ODAC shortstop at Roanoke College. After graduating, she spent the 2009 season as an assistant there before taking a similar position under Mickey Dean at Radford. When Dean took the head coaching job at JMU for the 2013 season, he convinced LaPorte to join him. She worked primarily with the infielders until becoming head coach prior to the 2018 season, after Dean took over the Auburn program.
The biggest lesson LaPorte learned from her years with Dean was the importance of developing a deep understanding of the game.
"As a player, you don't really know the game in and out," LaPorte explained. "But (Mickey) taught me the strategy, what happens in this situation, a pitcher's patterns, little stuff you don't think of as a player. That's what we try to do here."
Building meaningful relationships with players has been a key element to LaPorte's success as a coach. She believes the upperclassmen have a responsibility to instill core values in the younger players. There's also a fierce competitiveness, particularly with this year's team. Even intrasquad scrimmages can be as intense as a championship game.
"We're gritty," said Newton, whose older sister Taylor played for the Dukes as an outfielder from 2014-17. "We will do whatever it takes to win. We have a lot of great pitchers on this staff, and we have a ton of strong hitters in the lineup to keep us in the game."
That battle mentality speaks to the theme of this year's team, "never back down". It has served them well during a year that has forced everyone to live for the moment and not look too far ahead.
But as Newton points out, that's an approach every player should take even in ordinary circumstances.
"Nothing is guaranteed for anyone," Newton said. "That in itself makes you want to just be loose, play to the best of your ability, and have fun. At the end of the day, you want to look back and have no regrets."