NCAA
How Duke Softball Built A Powerhouse In Less Than Four Seasons
How Duke Softball Built A Powerhouse In Less Than Four Seasons
Four seasons in, Marissa Young is leading Duke softball into the top 15 rankings. How did they do it? Just ask Coach Young.
Mar 31, 2021
by Stephen Kerr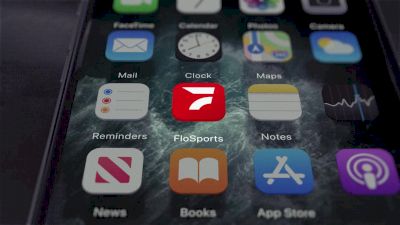 Building a program from the ground up is like building a house. You need a solid foundation, reliable tools, and a team of people tasked with a specific job.
Duke Blue Devils head softball coach Marissa Young has firsthand experience with both situations. In 2015, she was hired to start the school's softball program, which played its first season in 2018. Young and her family moved into a brand new house in 2019. The initial excitement often gives way to the inevitable hiccups and challenges that occur.
"It struck me one day as I did a walk-through with the contractor that we can go through our experience in our program and be that nitpicker who just walks through the house and says, 'this is wrong, fix that," explained Young, who came to Durham after two seasons as an assistant with cross-town rival North Carolina. "(But) I put it on the kids that we've given you the blueprint, we've started the build, and it's your responsibility as members of this family to take ownership of the program and help build things the way you see it needs to be done."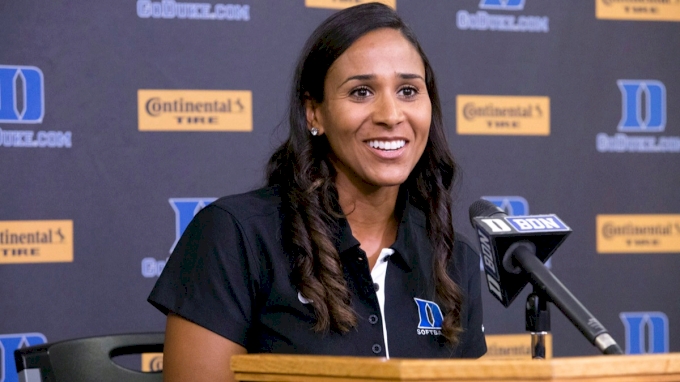 The Blue Devils picked up a win in their very first game, beating Florida Atlantic on the road. They won 29 games, becoming the seventh program in league history to finish its inaugural season over .500. Picked last in the ACC's Preseason Poll, Duke earned the seventh seed in the conference tournament. Raine Wilson, a transfer from James Madison, became the team's first All-ACC First Team selection.
Programs entering their first year typically have low expectations for success. But Young wasn't afraid to challenge the odds. That philosophy is one of the things that convinced Josh Bloomer to join Young's staff as an assistant.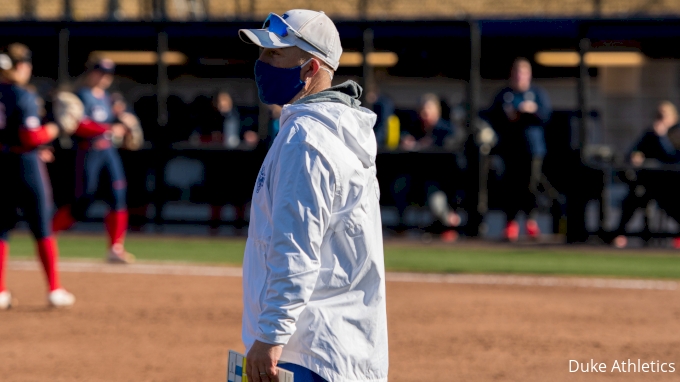 Bloomer, who coached high school and travel softball for over 20 years in Kentucky, was hired in 2019 as the team's hitting instructor. In seven seasons at Louisville Male High, Bloomer compiled a 458-147-4 mark, including a perfect 39-0 season that led to a state title.
"(Marissa) cares about the players way more as people than she does as athletes," Bloomer said. "A lot of people talk about that, but she walks it. We have really bright young ladies who are going to do great things when they leave here."
In 2019, the Blue Devils slipped to 25-31, but still managed to earn their second consecutive spot in the ACC Tournament as the No. 6 seed. They faced a tough non-conference schedule, with appearances at the Puerto Vallarta College Challenge and the Mary Nutter Collegiate Classic.
As challenging as that season was, it would pale in comparison to what would come the following year. The Blue Devils were 23-4 before the coronavirus pandemic put an end to the season. They received votes in the final USA Today/NFCA DI Coaches Poll and earned the first national ranking in program history at No. 25 in the ESPN.COM/USA Softball Collegiate Poll.
"During the season, you put your head down and work, and you're not in tune with the outside world," Young explained. "So there was a part of me that was hoping and praying we'd go home for a few weeks and they'd call us back and we'd get to pick up where we left off."
That didn't happen, and the long layoff was punctuated by another issue: social unrest. Young, the first female Black coach to be hired at Duke, wanted to create a culture that promoted diversity as much as success. The deaths of George Floyd, Breonna Taylor, and others deeply affected her and the team. Since the players were quarantined all over the country, assessing their feelings and needs took on a different form.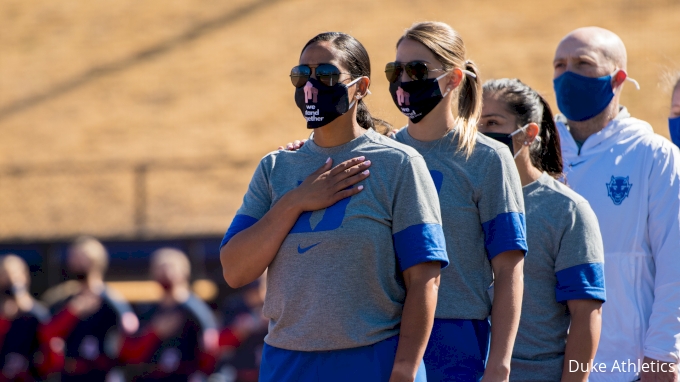 But that didn't prevent Young and her squad from taking action and raising their voices against social injustice. She encouraged players to have an open dialogue and share their pain, fear, and frustration. She organized an 8.46-mile run/walk that players shared on their social media platforms.
Wilson, a catcher/infielder who opted to return for a fifth season, believes that experience made the entire team mentally stronger.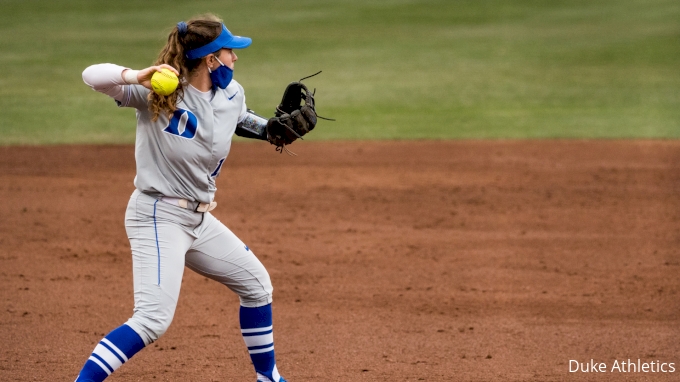 "My teammates came back to campus months later with this fervor to make a difference, to unite, to create change, and to learn," said Wilson, who was named a team captain in her first season at Duke. "Before that, we were unified with each other. But I think we realized it was bigger than softball."
Prior to her stint at North Carolina, Young was an assistant for two seasons at Eastern Michigan, serving as recruiting coordinator and compliance liaison. She spent three seasons as head coach at Concordia University in Ann Arbor, taking a 2-20 program to a .500 record.
As a pitcher at the University of Michigan, Young earned All-America honors three times and was Big Ten Player of the Year in 2003. She left as the program's all-time leader in strikeouts (927), and her 88 career wins became the second-highest in team history.
If Wilson could point to one reason for the program's quick success, it would be the relentless attention to detail by Young and her staff.
"All the little things we do, the charts, the data collection, that didn't start when we started winning," said Wilson, whose 2021 season ended after suffering a knee injury against NC Central on March 4. "That started Year One, Year Two. She works so hard. Coming from another school and having a new experience here… you would never be able to tell she's a successful head coach. That woman is in the weeds of it."
The Blue Devils returned 19 of their 20 players from last season, and have shown no signs of rust from the long layoff. Their 26 victories through the first 29 games included a 20-game winning streak that was snapped after splitting a four-game series at Clemson the weekend of March 27. Their 100th win came March 20 in a 7-3 triumph over Syracuse.
In the first RPI of the season, Duke checked in at No. 9 and has been ranked as high as No. 11 in the USA Today/NFCA Top 25 Coaches Poll.
Junior utility player Kristina Foreman and outfielder Caroline Jacobsen are tied for the team lead in homers with five through 29 games.
Senior right-hander Peyton St. George is 11-1 in the circle with a 1.34 ERA, 12 walks, and 98 strikeouts in 73.1 innings. Junior Shelby Walters (10-1 with a 0.53 ERA in 66.0 innings), threw the first no-hitter in team history in an 8-0 win over NC Central. Walters threw five innings of near-perfect ball, with a hit batter the only baserunner. It was also the game that saw Wilson go down with her knee injury.
Young's goals are just as high as the day she arrived.
"I hope we see Team Four at the World Series this year competing for a national championship," she said. "We want Duke softball to be a perennial powerhouse moving forward."
Like a master architect, Young is putting the building blocks in place to make that happen.