2021 Schutt Sports / NFCA DI National Freshmen of the Year: Top 30 Revealed
2021 Schutt Sports / NFCA DI National Freshmen of the Year: Top 30 Revealed
Here's a look at the top 30 nominees for the 2021 Schutt Sports / NFCA DI National Freshmen of the Year.
May 1, 2021
by Cori Kennedy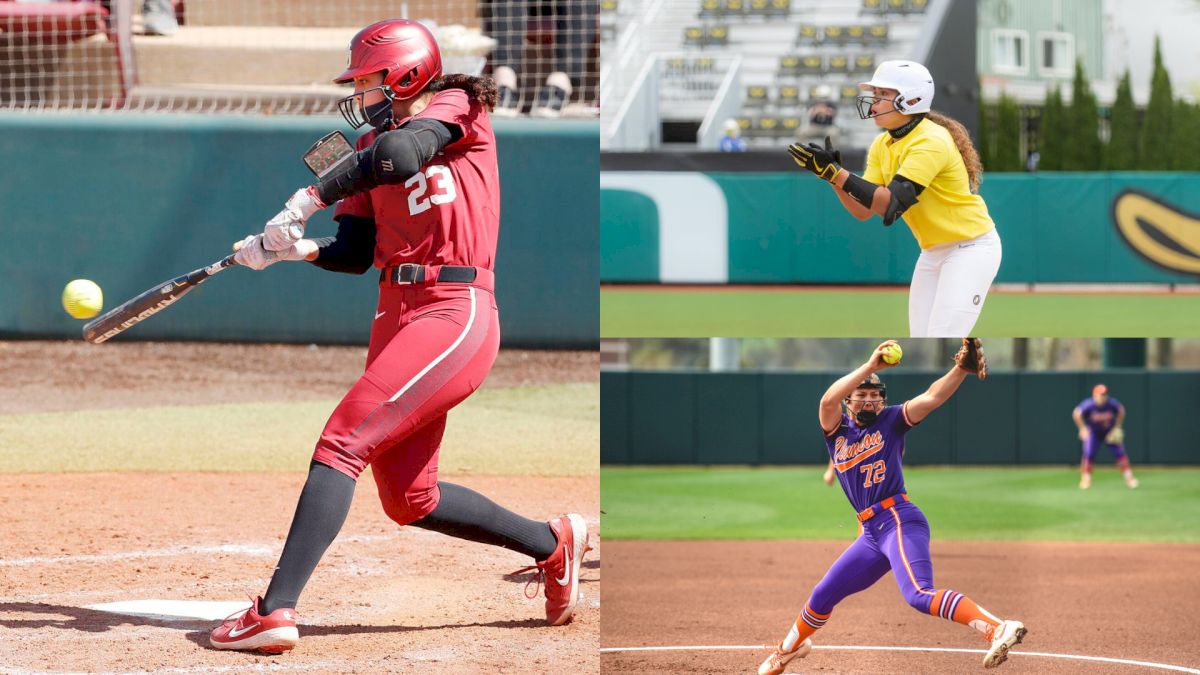 LOUISVILLE, Ky. – Thirty student-athletes are in the running for the 2021 Schutt Sports / NFCA Division I National Freshman of the Year award, the Association revealed on Thursday afternoon. The winner will be announced prior to the start of the 2021 NCAA Women's College World Series in Oklahoma City.
The Schutt Sports / NFCA Division I National Freshman of the Year award was created in 2014 to honor outstanding athletic achievement among Division I freshmen softball student-athletes. To be eligible, student-athletes must be nominated by their member head coach. With the cancellation of last year's season due to COVID-19, candidates hail from the 2020 and 2021 freshman classes. Due to having two freshman classes eligible for the award, an additional five players have been added to the traditional top 25.
This year's finalists hail from 27 different universities and represent 16 NCAA Division I conferences from across the nation. University of Arizona out of the Pac-12 Conference, No. 1 University of Oklahoma from the Big 12 Conference and The Summit League leaders South Dakota State paced the way with two honorees each. It also marked the first two honorees – Cylie Halvorson and Tori Kniesche - for the Jackrabbit program and their conference.
The Southeastern Conference led the way with six honorees, while the Pac-12 earned five. The Atlantic Coast Conference, Big 12, Southland Conference, Summit and Western Athletic Conference each received two nods. Leagues with a selection apiece were the American Athletic Conference, Atlantic-10 Conference, Big West Conference, Colonial Athletic Association, Mid-American Conference, Missouri Valley Conference, Northeast Conference, Sun Belt Conference and West Coast Conference.
Santa Clara University's Ashley Trierweiler is the first representative of her university and the WCC. Wichita State's Addison Barnhard, Clemson University's Valerie Cagle, Dixie State University's Hannah Hughbanks, Miami University's Karli Spaid and University of Central Arkansas' Jenna Wildeman are their program's first honorees. Dixie State, which is in its second year of transition to Division I, is no stranger to the award. In 2015, Janessa Bassett was the Association's first Schutt Sports/NFCA Division II Freshman of the Year.
On May 13, the list will be trimmed down to the top 10 and the three finalists will be released on May 27. The 2021 Schutt Sports / NFCA Division I National Freshman of the Year will be announced on June 1.
In 2021, the NFCA will award National Freshman of the Year honors to a student-athlete from NCAA DI, NCAA DII, NCAA DIII and NAIA. For more information about all NFCA Awards, visit nfca.org.
Schutt Sports/NFCA Division I National Freshman of the Year previous winners
2020 – Award was not presented due to COVID-19
2019 – Danielle Williams, Northwestern
2018 – Jocelyn Alo, Oklahoma
2017 – Rachel Garcia, UCLA
2016 – Amanda Lorenz, Florida
2015 – Paige Parker, Oklahoma
2014 – Annie Aldrete, Tennessee & Kasey Cooper, Auburn
2021 NFCA Division I National Freshman of the Year Top 30
*Denotes Second Year
Addison Barnhard, Wichita State University
Hannah Becerra, California State University, Fullerton
Alyssa Brito, University of Oregon
Valerie Cagle, Clemson University *
Erin Coffel, University of Kentucky
Jayda Coleman, University of Oklahoma
Matalasi Faapito, New Mexico State University *
Shaylon Govan, Stephen F. Austin State University *
Cameron Fagan, Virginia Tech
Cylie Halvorson, South Dakota State University *
Sarah Harness, Southern Illinois University at Carbondale *
Jazmine Hill, Arizona State University *
Hannah Hughbanks, Dixie State University *
Alissa Humphrey, James Madison University
Tiare Jennings, University of Oklahoma
Lexi Kilfoyl, University of Alabama, Tuscaloosa *
Tori Kniesche, South Dakota State University
Olivia Lackie, University of South Alabama
Jenna Laird, University of Missouri, Columbia
Shelby Lowe, Auburn University
Janelle Meoño, University of Arizona *
Devon Miller, Fordham University *
Kiki Milloy, University of Tennessee, Knoxville *
Sharlize Palacios, University of Arizona *
Taylor Pleasants, Louisiana State University *
Karli Spaid, Miami University
Ashley Trierweiler, Santa Clara University *
Alana Vawter, Stanford University *
Grace Vesco, Saint Francis University (Pa.) *
Jenna Wildeman, University of Central Arkansas *