Schutt Sports / NFCA Division II National Freshman of the Year Finalists
Schutt Sports / NFCA Division II National Freshman of the Year Finalists
Here's a look at the 8 finalists selected for the 2021 Schutt Sports / NFCA Division II National Freshman of the Year.
May 19, 2021
by Cori Kennedy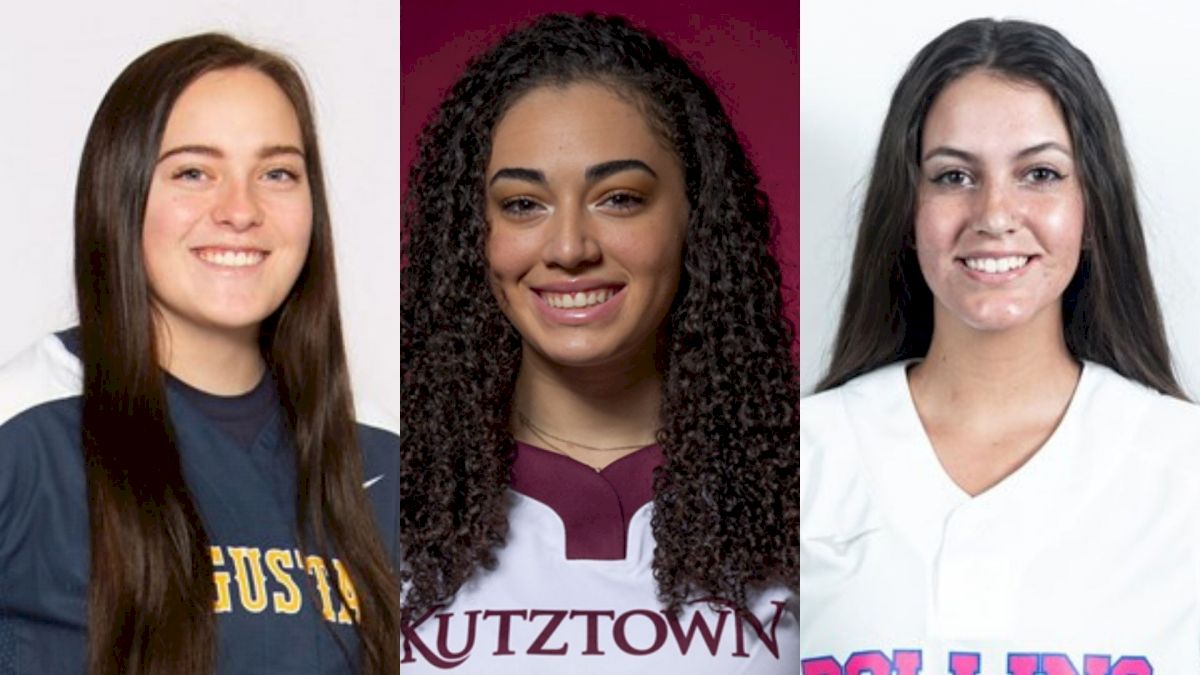 LOUISVILLE, Ky. – Eight finalists, one from each of the NCAA's eight regions, have been selected by the Association's Division II All-America Committee for the 2021 Schutt Sports / NFCA Division II National Freshman of the Year award.
Kutztown's Brianna Hughes (Atlantic), Augustana's Torri Chute (Central), Georgian Court's Alyssa Herrera (East), UIndy's Kenzee Smith (Midwest), Rollins' Ali Shenefield (South), MSU Denver's Shelby Robb (South Central), Columbus State's Caitlyn Canady (Southeast) and Northwest Nazarene's Sidney Booth are now in the running for the award, which will be announced on May 26.
Created in 2015, the award honors the outstanding athletic achievement among freshman softball student-athletes throughout NCAA Division II. To be eligible, student-athletes must come from a NFCA member institution. With the cancellation of last year's season due to COVID-19, eligible candidates may hail from the 2020 and 2021 freshman classes.
Seven of the eight finalists were voted NFCA First-Team All-Region and five honorees captured their league's freshman-of-the-year accolade. A sixth, NNU's Booth, was named the Great Northwest Athletic Conference's Pitcher of the Year.
Six of the eight are representing their institutions for the first time, with Booth also the GNAC's first. Chute is the second Viking (Ashley Mickschl – 2018) and Canady is the second Cougar (Hannah Rose Corbin – 2019) to make the top eight.
Past winners include Janessa Bassett (Dixie State – 2015), Autumn Humes (Harding – 2017), Bailey McKittrick (Central Oklahoma – 2019), Callie Nunes (Concordia Irvine – 2018) and Charlotte Romero (Colorado Christian – 2016).
2021 Schutt Sports/NFCA DII National Freshman of the Year Finalists
Atlantic – Brianna Hughes, Kutztown University of Pennsylvania
Central – Torri Chute, Augustana University
East – Alyssa Herrera, Georgian Court University
Midwest – Kenzee Smith, University of Indianapolis
South – Ali Shenefield, Rollins College
South Central – Shelby Robb, Metropolitan State University of Denver
Southeast – Caitlyn Canady, Columbus State University
West – Sidney Booth, Northwest Nazarene University