2021 PGF National Championships 16U Premier
Preparing For Life On & Off The Field With California Cruisers Caouette
Preparing For Life On & Off The Field With California Cruisers Caouette
How the California Cruisers Sievers/Caouette handle adversity. And get to know the team.
Jun 3, 2021
by Stephen Kerr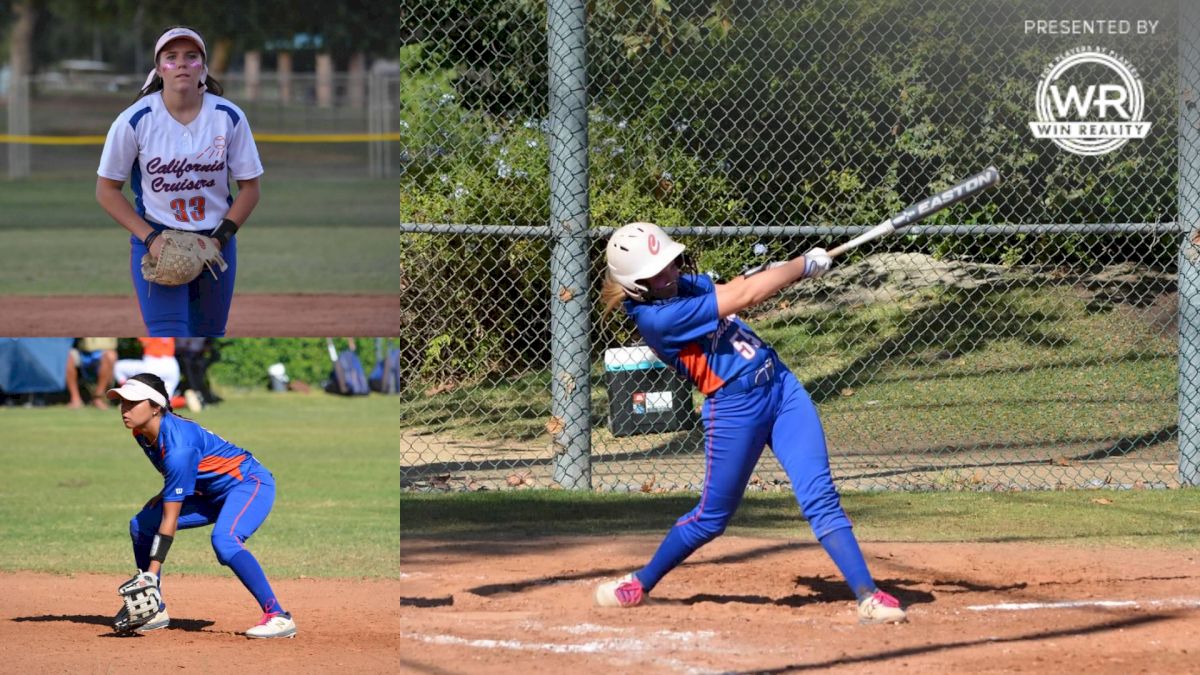 Avery Relph joined the California Cruisers Sievers/Caouette 16U team in the summer of 2019. She had seen them play numerous times during her stint with SoCal Athletics, so she already knew many of the girls had played together for a number of years. It would have been easy for them to be protective of their inner circle, even cliquish.
But Avery (Class of 2022) quickly realized that was not the case.
"This team is like no other," said Avery, a lefthander whose best pitches include a drop curve and off-speed stuff. "As soon as I joined, they treated me as part of the family."
Catcher Dee Maae had a similar experience. Maae (Class of '24) previously played for the Batbusters, Firecrackers, and Corona Angels organizations before joining the Cruisers three seasons ago. Even as an opponent, she could see the powerful bond between the Cruisers players.
"I saw they had great chemistry," she recalled. "When they were communicating on the field, it made me feel welcome, even though I wasn't (with them)."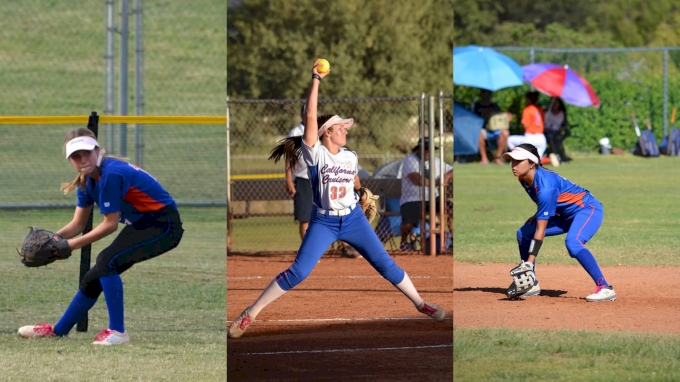 Teams often talk about camaraderie. But Coach Alan Caouette takes it a step further when describing the Cruisers culture.
"They're like a family of sisters," said Caouette, who has coached softball since 2002.
The Cruisers organization was formed in 1994 and has a rich tradition of player development. Jenny Finch is perhaps the most notable of the alumni, but the program has produced a number of All-Americans and Team USA members, including utility player Lauren Lappin (Stanford), infielder Jasmine Sievers (Oregon), and catcher Sahvanna Jaquish (LSU) just to name a few.
In 2015, Caouette approached Mel Sievers, Jasmine's grandfather and head of the Cruisers, about forming his own squad. In its first year of fall ball at the 10U level, the team won only 10 games. But it wasn't long before they became a powerhouse, winning PGF Platinum 12U in 2018 and finishing third in 14U Platinum the following season.
From the beginning, the Cruisers have never wavered from their number one goal: win Nationals every year. But there's another objective that goes beyond softball performance. Players are expected to grow as individuals and do well academically. The fact that over 95 percent of the program's players graduate from the colleges that recruited them is a testament to that commitment.
"My ultimate goal is to build strong students in the classroom and strong women in life," Caouette explained. "I want them to learn to make decisions under adversity. You're going to take knocks and hits, but it's how you respond and how you get up."
The strongest evidence of this came in 2020 when the coronavirus pandemic shut down the entire country. For the first several months, the Cruisers conducted team business in the same virtual bubble as everyone else. Caouette held weekly Zoom meetings and organized virtual workouts related to physical training and softball.
Thirsty for competition, the girls quickly turned the workouts into a contest.
"We just tried to keep it fun, keep them engaged and not worry about all the stuff going on in the world," Caouette said.
The Cruisers were more fortunate than most teams once the summer arrived. Caouette was able to secure a private field in the Mission Viejo area to hold games with other teams in their region. All safety protocols were followed to the letter, and teams were limited to a 100-mile travel radius. But the players were just happy to be competing again.
"We were very lucky to have this field to be able to stay together," shortstop Casey Antrasion recalled. "A lot of us still worked out on our own, but it was such a big blessing to be able to still work with the team during that time."
Sievers/Caouette had a strong fall season, finishing 36-11 and earning spots in the Tulsa Elite Invite, TCS Sparkler, TC Nationals, and PGF 16U Premier Nationals this summer. The roster is loaded with experience. While the offense has some power in its lineup, its greatest strength, according to Caouette, is manufacturing runs.
Chloe Lesko (2023) hits for high average and possesses great range and above-average glovework at first base. Leilani Gonzalez (2023) is a gifted middle infielder with a quick hand-to-throw release and great footwork. Sophie Valle (2022) has great instincts at third base and consistently hits above .400 with power to all fields. At shortstop, Antrasion (2023) has great range, a strong arm, soft hands, and hits with power and high average.
Siena Stickney (2023) has a strong arm that allows her to play the outfield and both middles of the infield. Ollie Hebard (2023) covers a lot of ground in the outfield and makes many plays look easy. Kelly Fyhrie (2022) is an outfielder with great instincts and has fully recovered from a torn ACL that kept her sidelined last season.
The pitching staff is four-deep, led by Caouette's daughter Alex (2023), Avery, Ava Laney ('2023), and Kennedy Hobson (2022). Alex, a PGF All-Tournament Selection, throws with power and has great command of seven pitches. Ava throws in the low 60s and has a devastating knuckleball to go with a changeup. Kennedy is also a power pitcher who throws with pinpoint accuracy.
"We're all very similar in the way we pitch," Alex explained. "We're always there for each other. If I have a bad game, I know Avery will come in and cover for me, and I do the same for her. Same goes for the other pitchers. It's still a competition, but it's never trying to do anything to cancel them out."
The rotation is backed by a solid tandem behind the plate. Dee Maae is a power hitter with top-notch blocking skills and a sub-1.8 pop time. She platoons with Rowan Drew (2023), who also has a sub-1.8 pop time and is developing power to all fields.
The lone newcomer is Gigi Ganje (2024), a five-tool outfielder with outstanding defensive instincts.
Caouette starts each practice with a half-hour of "group time", giving the girls a chance to socialize and have some fun while warming up. It helps keep everyone motivated when it's time to get down to the serious business of softball.
"I figured out long ago that when girls are happy, they play better," Caouette explained. "We try to push them, keep them motivated, happy, and having fun."
The state of California still has a mask mandate until mid-June. But things appear to slowly be returning to a more familiar pattern. The major national tournaments, absent last season, are back. Stickney, for one, is ready for some semblance of normalcy.
"I've learned that I took a lot of things for granted," Stickney said. "Like softball, for example. Over quarantine, I realized how much I really do love that sport. I really do appreciate my team and my coaches."
Winning a championship is rarely easy, and other challenges are sure to come. But the Cruisers have already earned something no one can ever take from them: a sisterhood that will live on long after softball.