Stacey Nuveman Deniz Named Head Softball Coach
Stacey Nuveman Deniz Named Head Softball Coach
Stacey Nuveman Deniz has been named the head softball coach for San Diego State.
Jun 9, 2021
by Cori Kennedy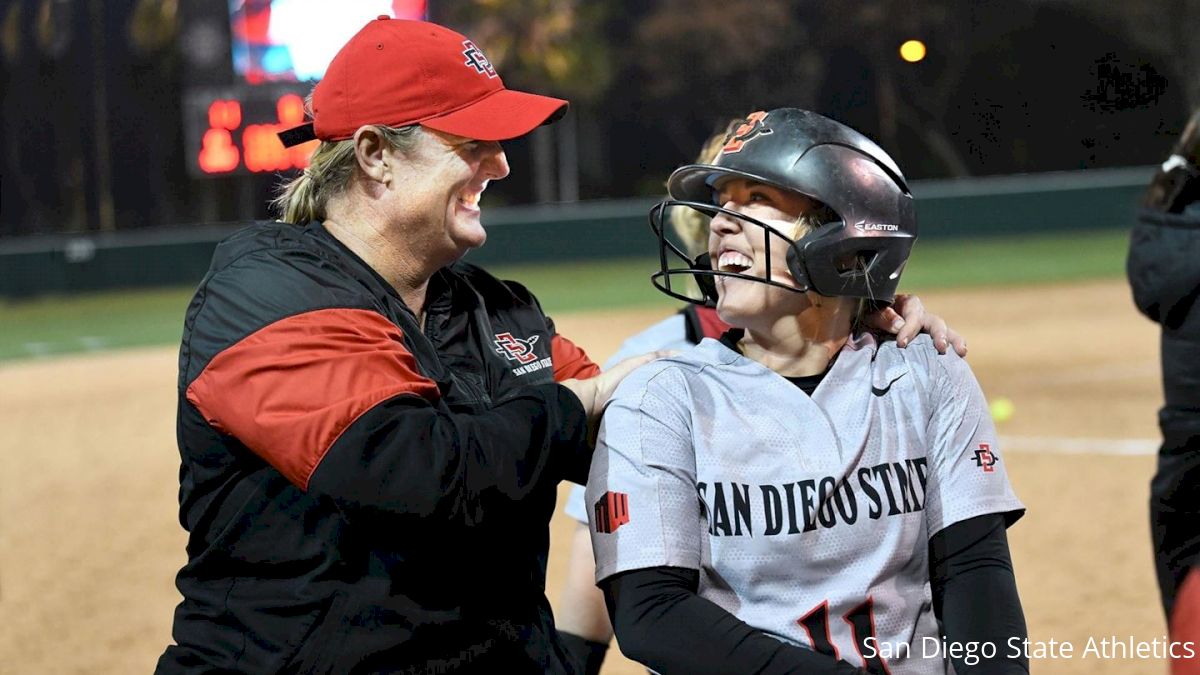 SAN DIEGO -- San Diego State's Stacey Nuveman Deniz has been named the softball head coach, director of athletics John David Wicker announced on Tuesday. A three-time U.S. Olympian, Nuveman Deniz is just the fifth head coach in program history after spending the last 13 seasons with the Aztecs as an assistant, associate head coach and head coach in waiting under SDSU's all-time winningest coach Kathy Van Wyk.

"I am humbled and honored to have this opportunity to lead San Diego State Softball into the future," Nuveman Deniz said. "Kathy Van Wyk spent 25 years building this program, and now it is my turn to take the reins and continue that growth. I would like to thank (SDSU director of athletics) John David Wicker for this opportunity and for the unwavering support he has shown me. The University, the city of San Diego and our incredible community have captured my heart and I truly am an Aztec for Life. I can't wait to get started."

Nuveman Deniz, who was hired at San Diego State following her stint with the U.S. team at the 2008 Beijing Olympics, helped SDSU to seven straight NCAA tournaments from 2009-15 and a combined 398-264 (.601) record in her 13 seasons on The Mesa. Over her first nine seasons as an assistant and associate coach, the Aztecs improved their batting average from .275 in 2008 (the year before she arrived) to a school-record .356 mark in 2017, and also in runs per game (3.98 to 6.61), home runs per game (0.23 to 1.09 (0.92 in 2017)), slugging percentage (.348 to .516) and on-base percentage (.347 to .418).

In 2018, Nuveman Deniz was the head coach of the National Pro Fastpitch's Chicago Bandits, leading the team to the NFP Championship season series in her first year. In the spring of 2010, Nuveman Deniz served as an assistant coach for the Women's National Team Selection Camp, at the Canadian Open Fast Pitch Women's International Championship and at the World Cup of Softball VI. She was also named to the USA Softball Coaching Pool in 2014 and was an assistant coach at the USA Softball Junior Women's (19-Under) National Team (JWNT) Selection Camp in January 2015.

In addition to her two Olympic gold medals (2000 and 2004) and silver medal in 2008, Nuveman Deniz helped the United States National Team to a World Cup championship (2006), two World Championships (2002 and 2006) and two Pan American gold medals (1999 and 2003). Her 2004 Olympic gold medal team, meanwhile, was inducted into the U.S. Olympic hall of fame in July 2012.

Nuveman Deniz was a standout at UCLA, finishing her four-year career with four NCAA records - 90 home runs, .945 slugging percentage, 240 walks and 81 intentional walks. She was a four-time first-team NFCA All-American (1997, 1999, 2001-02) and a three-time Pac-10 Player of the Year (1999, 2001-02). Nuveman Deniz is also ranked first in school history in games played (264), total bases (653) and on-base percentage (.600).

Among the current all-time NCAA leaders, Nuveman Deniz ranks first in home runs per game (0.34), total bases (653) and intentional walks (81), second in slugging percentage (.945), third in home runs (90) and walks (240), fifth in RBIs (299), seventh in batting average (.466)

In 1999, Nuveman Deniz led the Bruins to a national championship, batting .446 during the season with 31 home runs and 91 RBIs. For her efforts in the national title run, Nuveman was named to the all-Women's College World Series team. Nuveman Deniz was inducted into UCLA's hall of fame in October 2012.

Nuveman Deniz has worked at a variety of camps and clinics, and is highlighted in the instructional video entitled, "The Fundamentals of Catching." In addition, Nuveman Deniz has worked color commentary for ESPN, CSTV (now CBS Sports) and FOX Sports. In addition to her on-field accomplishments, Nuveman Deniz also works with several organizations, including the Visalia Miracle League, the Women's Sports Foundation, and the Make-a-Wish Foundation.

Nuveman Deniz graduated from UCLA in 2002 with a degree in sociology and public policy and later earned her master's in kinesiology from Texas Women's University in 2012.

San Diego State finished the 2021 season with a 28-16 record, its ninth-best winning percentage (.636) in program history.