Pac-12
Arizona Softball Names Lauren Lappin as Assistant Coach
Arizona Softball Names Lauren Lappin as Assistant Coach
The Wildcats hire former U.S. Olympian, NPF player and head coach Lauren Lappin as assistant coach.
Jun 23, 2021
by FloSoftball Staff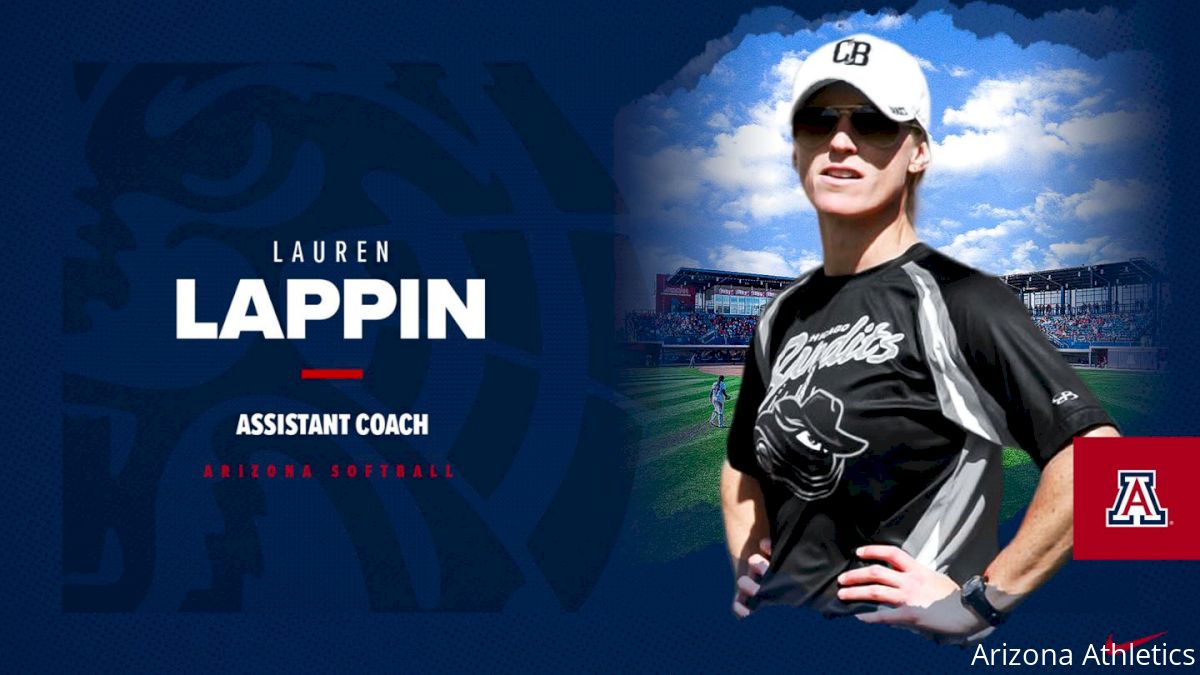 TUCSON, Ariz. – U.S. Olympian, former NPF player and head coach and All-American Lauren Lappin has been hired as Arizona Softball's assistant coach. Lappin has been the head coach for the Chicago Bandits for two years and an assistant coach for University of Missouri - St. Louis softball for five years.

"I could not be more excited to welcome Lauren to the Wildcat Family," said head coach Caitlin Lowe. "Her experience as a player and coach at the highest levels will be a huge asset to our program. She has always impressed me with her ability to make everyone around her better. Her passion and energy for this game is infectious and will no doubt have an immediate impact on our program."

Lappin has an outstanding softball resume, including playing at Stanford, NPF experience and being a member of Team USA. Lappin also has eight years of coaching experience in the NCAA, the NPF and with Athletes Unlimited.

"I am thrilled at the opportunity to join the Arizona Wildcat softball family and the entire UA community," said Lappin. "Caitlin Lowe is one of the best leaders and humans in our sport and I feel incredibly honored to join this amazing staff to carry on the rich tradition of Arizona Softball. I cannot wait to get to Tucson, meet the team, and Bear Down!"

Collegiately, Lappin played at Stanford from 2003-06 and proved to be a force on the softball field at catcher and at shortstop. In the Stanford record books, Lappin remains eighth all-time in batting average (.337) and hits (247), sixth in runs scored (168), seventh in stolen bases (31), third in assists (511), and tenth in triples (8).

In her four years at Stanford, Lappin was a two-time Pac-10 Defensive Player of the Year in 2005 and 2006 and received second- and third-team NFCA All-America honors in 2004 and 2005. Lappin was also named first-team All-Pac-10 in 2004, second-team All-Pac-12 in 2003, and second-team All-Pacific Region in 2006. In 2004, Lappin was a WCWS All-Tournament Team selection as a sophomore.

As an Olympian in 2008, Lappin was a silver medalist with Team USA, led by former head coach Mike Candrea and teammates with Arizona greats: head coach Caitlin Lowe, Jennie Finch, and Lovie Jung. Lappin played with Team USA from 2004-2012 and is a three-time World Cup Champion and a Pan American gold medalist. Following her years playing on Team USA, Lappin went on to serve as assistant coach for the U.S. Women's National Team in 2012.

During her NPF career, Lappin played with the USSSA Pride and the Pennsylvania Rebellion. Lappin and Lowe were teammates on the 2010 USSSA Pride Cowles Cup championship team, and Lappin helped the Pride to another Cowles Cups championship in 2013. She also earned All-NPF honors as a second baseman with the Rebellion in 2014. After playing in the NPF for five years, Lappin announced her retirement in 2015 and helped build the softball program at Chicago's Roosevelt University, where she coached for four years.

Most recently, Lappin served as an assistant coach with UMSL, the head coach for the Chicago Bandits, and a facilitator for Athletes Unlimited. Lappin spent five years as the assistant coach at UMSL, helping the Tritons to a 162-116 record. With Lappin on the staff, the Tritons had three trips to the NCAA tournament and two GLVC tournament championships.

As the head coach of the Chicago Bandits, Lappin led the team to the title of NPF 2019 Regular Season Champions and was awarded NPF Coaching Staff of the Year in 2019 with fellow coaches Amber Flores and Lance McMahon. With Athletes Unlimited, Lappin acted as a facilitator to act as a mentor and support the athletes and captains.

Lappin will join head coach Caitlin Lowe and assistant coach Taryne Mowatt-McKinney to complete the Wildcats' coaching staff.