2021 Colorado 4th of July
What To Watch For At 2021 Colorado 4th Of July Tournament
What To Watch For At 2021 Colorado 4th Of July Tournament
Who's coming to the 16U & 18U 2021 Colorado 4th Of July Tournament? Get the scoop on the teams to watch for.
Jun 24, 2021
by Scott Schultz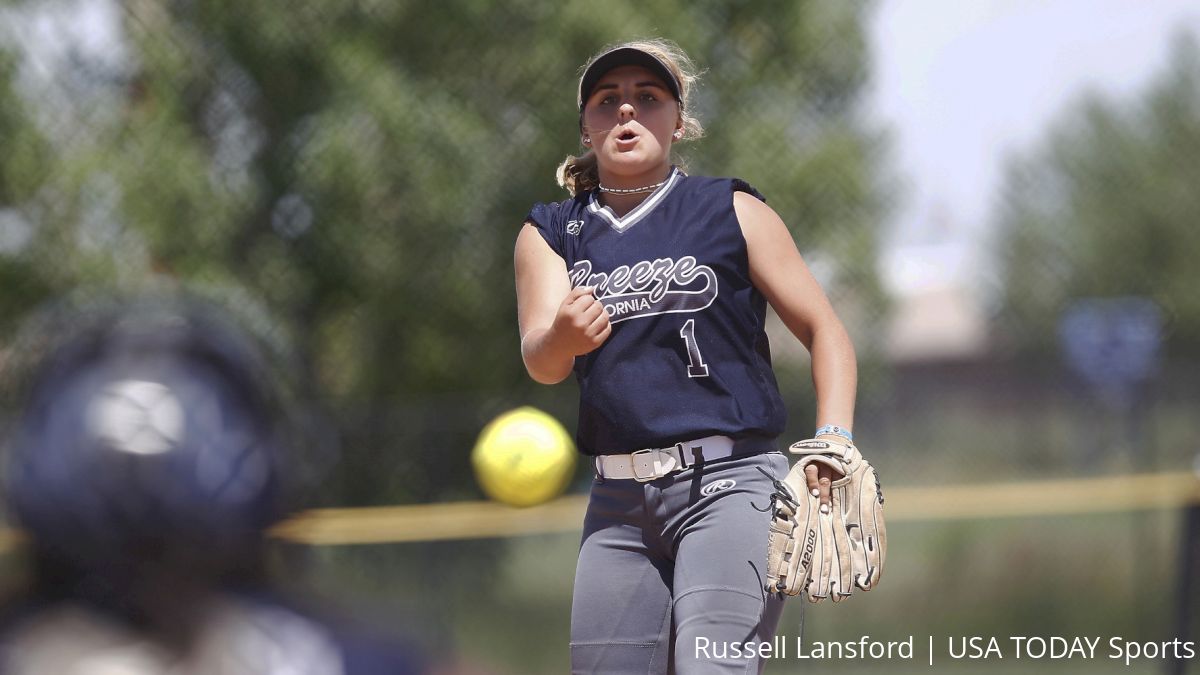 During a one-week span beginning at the end of June and finishing up on the 4th of July, over 800 softball teams will arrive in the greater Denver area. This year the Colorado 4th of July tournament is celebrating its 52nd anniversary, and as always, will feature some of the top club softball teams from across the country.
Below we take a look at some of the notable teams making this year's holiday trip to the Rockies.
16U Division
Coach: Bill Jones
After opening their 2021 campaign as the Co-Champs of the HotShots Invitational, head coach Bill Jones' 16U Texas Sudden Impact squad is heading to Colorado a bit banged up. Despite a couple of injuries, Jones is encouraged, "if they keep growing like we expect it will be a lot of fun down the home stretch."
In the circle, Jones will look to Loreley Linares, Saylor Davis, and Della Jasinski. Linares is a right-hander that features heavy spin, is very difficult to square up against, and is incredibly effective when attacking the strike zone. Davis is coming off knee surgery just nine months ago, and the lefty can fire in the mid-60 range. A newcomer, Jasinski is one of the top 2024 pitchers in the country and can keep the ball down in the zone well, and has historically moved the ball in and out.
At the plate, Outfielder/Middle Infielder Victoria Altamirano is batting close to .500 with 25 RBI and only one strikeout to go along with a handful of home runs against some of the top pitching in the country. Twins Gabby and Alannah Leach cover the ground in the outfield. Gabby is batting over .400 with 20 RBI, 10 walks, and just one strikeout, while Alannah is hitting at a .350 clip using a combination of speed and power to pound it from the 4-spot — both have above average D1 arms and are comfortable at all three outfield positions.
Coach: Lauren Robertson
The Texas Blaze Gold 16u finished the fall becoming tier 1 and were the Fall Gold Cup Champions and in the TFL Final four. They opened the summer competing with some top teams, making a name for themselves, and were a Summer Gold Cup Tier 1 Top-8 finisher.
Coach Lauren Robertson has a pair of aces in the circle in Madison Kloepper and Emma Solis. Solis is known for her dominance from the circle and can control the game, while Kloepper has incredible spin to keep batters off-balance. At the plate, catcher Kelsey Kovar is their most consistent hitter and a leader behind the plate while Gwyn Burnett owns the outfield turf and is a game-changer both on defense and offense.
"This team is rare," said Robertson. "They are bought in and all in for the team! These athletes play for each other and it's fun to watch."
The 2021 Texas Glory 16U Naudin squad is off to a great start this season, sitting at a 15-3 record after winning the Tulsa Elite Invitational a few weeks ago. They have a pair of speedsters that typically top the order who have tremendous hands and are true triple threats.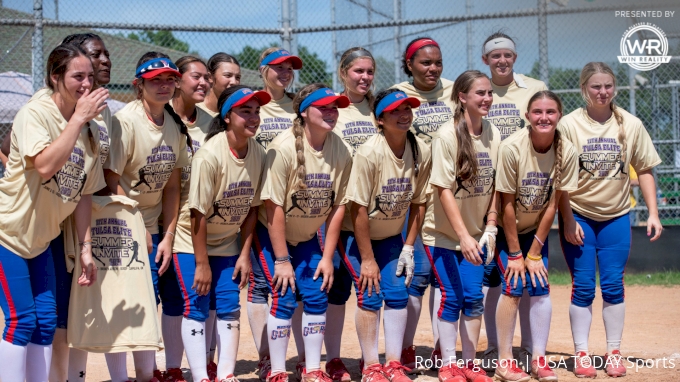 Tia Warsop is a member of the British 18u National Team and is the fastest player in the program, creating a no-fly zone over centerfield while routinely throwing out runners trying to get an extra base. Logan Halleman also features off-the-charts speed and the two of them create havoc by putting heavy pressure on the defense.
Following them are Tori Edwards and Tristan Thompson. Both are big strong versatile athletes who hit for power and are 1st and 2nd on the team in OPS. Tori has five HR's this summer already, clearing the fence once in every eight at-bats. She leads the squad in that category and with 27 RBI. Aubrey Brown also has an OPS of over 1.000.
Coach: Rock Thompson
The Birmingham Thunderbolts Premier has a little of everything, speed, power, and gap to gap hitters. The group has competed in several high-level competitive tournaments such as the Thunderbolts Summer Kickoff Invitational, PGF Show Me the Money (3rd Place Finish) & the Team 1 Elite Invitational.
Coach Rock Thompson's team depends on Claire Cahalan, Ahmari Braden, Ashlynn Campbell & Kiley Weston to set the table with their speed. Camryn Lookadoo, Jamaya Byrum, and Bella Morton to keep things following with their ability to hit for average, drive in runs, and to use their speed to stretch the bases. Chalea Clemmons, Ansley Armstrong, Antonia Henderson, Regan Monroe, and Maggie Daniel to give them much-needed power.
In the circle, the staff keeps the games tight in their own unique way, with Mikie Lieving, Makayla Coffield, Sydney Langdon, Sara Phillips, & Emma Friedel handling the workload.
"This [team] has truly had its ups and downs but most definitely the team is making strides to be a great team," said Thompson. "If each individual continues to understand their own game and value, this will allow each person's individual game to open things up for their teammates."
Coach: Teo Caymol
Coach Teo Caymol's Georgia Impact Premier squad have only lost two games with their entire team being intact, and both were to Top-20 18U teams. The team is made up of players from seven different states, so getting the players all on the field at once has been difficult and didn't happen until June.
They are led by Kylee Johnson, considered one of the best all-around athletes in the 2023 class, playing middle infield and outfield at the highest levels, and at the plate, Reese Knox provides blazing speed and power to the gap from the leadoff spot. In the circle, Lindsey Mullen is a highly sought-after pitcher that has tremendous spin.
"This team should be one of the most sought after in terms of recruiting, already getting interest from top schools around the country," according to Caymol.
More notable 16U teams to watch for include: American Pastime Gold, Atlanta Vipers, OK Athletics Premier Madden, Bombers Gold National Cuyos, DeMarini Aces, EC Bullets Mayfield, Firecrackers Brashear, Impact Gold Jazz, Lady Dukes, LLG Maguire/Corn, and many more.


18U Division
Coach: Lindsey Munoz
So far this season the 18U Lady Magic have put together some solid showings this season playing against some of the top competition in the country. Coach Lindsey Munoz is pleased to have seen some great things from this fairly young team. "Like most teams, you leave your last event with a better idea of your strengths and weaknesses," said Munoz. "We will continue to work on the little things that we feel win and lose games."
Top players for the Magic include shortstop and Arizona commit Tayler Biehl and third baseman Tianna Bell, who has committed to Cal. A trio of PGF All Americans also are on the roster in Dakota Kennedy, Maddie More, and Lici Campbell. Kennedy, also an Arizona commit, covers centerfield, while Moore, a Clemson commit, dominates the middle-infield. Campbell, who is headed to Oregon State, handles duties behind the plate and at first base.
"Our team is hungry for the opportunity to make a splash on the biggest stage," said Munoz. "We've had a lot of individual success in terms of accolades and putting our girls in a good position to have the opportunity to play at the college level, but our goal at this point in the season is to compete for a national championship!"
Coach: Jason Gwyn, Cedric Coleman, Kevin Shelton
Texas Glory 18U coach Kevin Shelton has the type of problem all coaches want. "We have a host of really solid players. It is challenging to say the least to figure how to make a lineup out of this group of 18," said Shelton.
Boasting a 19-1 record so far this season, they have finished third at the TPC Texas State Championship and Won the 2021 Texas Glory Summer Shootout, besting the other 40 teams in the field. They will be continuing the season without their top hitter, Micaela Wark, who suffered a knee injury in the first game of the Texas State Championships.
Oklahoma State-commit Haidyn Sokoloski has been hitting in the lead-off spot and leads the Glory with eight HR's and is 2nd in doubles. Macy Graf leads the active roster with a 1.777 OBPS, and eight players fill their stat sheet with multiple home runs.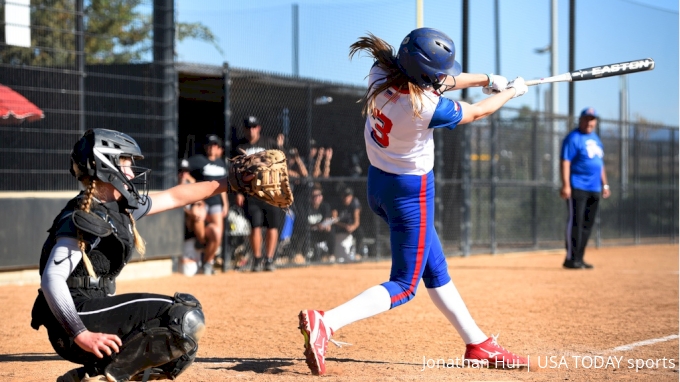 In the circle, Sage Hoover has carried the majority of the load posting a nice 0.95 WHIP and a 1.4K/inning rate, and soon to return is 2021 NM Gatorade Player of the Year Rylee Crandall. The 2021 Oklahoma Gatorade Player of the Year Emmy Guthrie is working her way back from a bout with pneumonia and is expected to return to her high level of effectiveness soon, according to Shelton.
Texas Glory Gold
Coach: Reed Robbins, Chhris Carithers
The Texas Glory Gold squad is 15-4 so far on the young season, having finished third in Silver Bracket for Texas State Championships and were the 2021 Texas Glory Shootout Co-Champs
Cassie Passwaters leads the squad, hitting .465 followed by a host of players hitting over .400. In the circle, Savy Williams has been doing the heavy lifting and Kaylee Davis will be with the Gold squad in Colorado. She has been helping the 18u team with their solid start, posting an outstanding 0.46 ERA.
Coach: T.J. Goelz
After their 3-day weekend boot camp and a tournament playing top national competition, the Tampa Mustangs 18U are 7-3 overall, having captured third overall losing by just a run to the tournament champion and five-time national team Georgia Impact - Lewis.
The Mustangs are led by Florida State commit Madi Frey, a high-level catcher with a cannon arm and incredible pop at the plate. Centerfielder Cassidy McLellan is a 5-tool athlete who is a Gatorade Player of the Year nominee and is being heavily recruited. In the circle, Kylah Berry is a spin specialist who has already beaten 10 national teams, with great command of multiple pitches. Brianna Godfrey also contributes in the circle, hitting the mid-60's while on the rubber and handles middle-infield duties when not pitching.
"They played very well on little rest and showed me they can compete with the best, which is what our program does every year," said coach T.J. Goelz. "Being so new to each other, me and our system is still evident but they are learning fast on the fly. I'd like to see our seasoned hitters have more quality at-bats and when they do we will be very competitive."
CA Breeze Birch 18U Gold
Coach: Jennifer Birch
The California Breeze Birch 18G is loaded with elite level talent. Coached by former Oklahoma Sooner Jennifer Birch and her sister Lisa Wallace (Sherman) who was a standout collegiate player at Middle Tennessee, the sister coaching duo is responsible for years of top-level finishes in the most competitive events available through a philosophy of "Eat or be eaten".
The core Breeze team has been assembled from the greater Sacramento, California area and has been together going on eight years.
The Breeze are anchored by two PAC-12 bound players in catcher/OF Jayla Castro, committed to UCLA and Oregon State bound pitcher/infielder Jenna Birch. The dynamic battery led the team to a 2nd place finish in USA Gold Nationals in 2020 and a 16U Power Pool Championship at Colorado Fireworks in 2019.
Breeze Birch also boasts one of the nation's best defensive infields led by Claudia Medina in the middle, committed to Utah State, and Emily "Mo" Johnson at shortstop/util, headed to UTSA. Rounding out the infield is pitcher/utility Alexis Holihan, an SF State commit. The Breeze picked up speedy lefty slapper, outfielder Grace Johnson, a Portland State commit, who this year was amongst California's leaders in stolen bases and on-base percentage. Isabela Emerling joined the Breeze this season from Universal Garcia. Emerling is headed to Power 5 UNC to play for Coach Pappa and is an athletic catcher who can hit for power and can play corner infield at the highest level.
"We have historically been a defense-first team that can hit for power and average with Jayla Castro leading off, followed by the speedy Grace Johnson in the two-hole," said Birch. "Lexi Holihan is putting up insane numbers offensively and playing the best third base in the 2021 class."
"Our pitching staff relies heavily on Jenna Birch, but has added 2021 RHP Kennedie Magorian (GCU) and 2022 RHP Caroline Grimes (Uncommitted) to the rotation," added Birch.
Coach: Corey Mathis
Coming off a 2020 Fall season with a 33-9-3 record, the Arizona Storm Mathis 18U beat teams like the OCBB Stith, Athletics Mercado Smith, OV Suncats Judge, Impact Gold Jackson, and came away with top finishes at major events like the AZ Storm Invitational, Ronald McDonald in Texas, and the AZ Winter Invitational.
"Defense is our bread and butter," said coach Corey Mathis. "Our middles with Rylee Holtorf and Viviana Martinez and Bridget Donahey and Harper Schoeneweis on the corners make our infield deadly, [and] our outfield lead by Brynne-Jordon Smythe in center gives us a chance every time the ball is in play."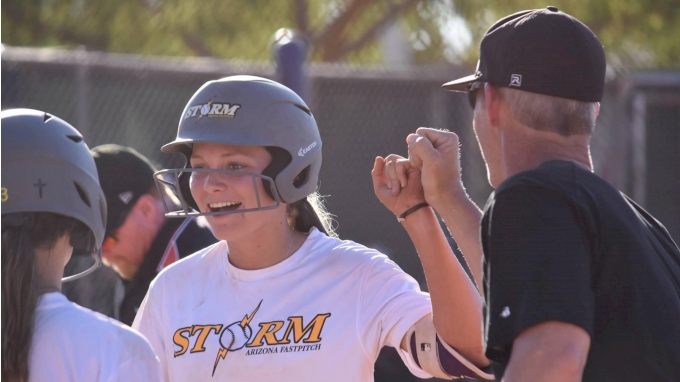 Holtorf is committed to Washington while Martinez, one of the top shortstops in the country, is heading to Texas. Donahey hits in the clean-up spot hits for power and is a potent RBI producer.
In the circle, "our team doesn't have the 70mph flame throwers but they know how to pitch and get outs," said Mathis. "They are four very different individual pitchers but as a staff, they can beat anyone if they work together and pays are made."
"I've coached over half of these kids since they were 10-12 years old. Watching them develop into great young ladies is better than any game we have and will win!!"
West Bay Warriors 18U
Coach: Kelly McDonald
The 18U West Bay Warriors opened the summer at the 7-Innings Elite Invitational hosted by Batbusters Stith and competed with the top teams in the country. The organization started in 2015 and after just two years finished seventh in the nation at the PGF Nationals as a 12U team — the core group from that team make up this 18U team.
The Warriors are led by shortstop Megan Grant, a UCLA commit, along with Arizona commit, catcher/1B/OF Olivia DiNardo. Santa Clara commit Sage Hager leads the squad from the circle, with Lauren Bible, who is heading to play at DIII National Champion Virginia Wesleyan.
Complimenting the group are a pair of uncommitted players, at the moment of course, in RHP Rose Malen and Alex Bunton covering the corner at third base.
"We are competing and playing good softball," said coach Kelly McDonald. "Our lineup has been competing 1-9 which is huge so hopefully our pitching and hitting heats up at the right time during our next 4 big tournaments."
More notable 18U teams to watch for include: OK Athletics Premier Madden, Tulsa Elite, EC Bullets Gold Schnute, Firecrackers Brashear, Firecrackers Rico, Fury Platinum, LLG DPS, Louisville Lady Sluggers - Huecker, Texas Bombers Gold, and many more.