SEC
Ralph Weekly Announces Retirement From Coaching
Ralph Weekly Announces Retirement From Coaching
After a 35-year coaching career, Ralph Weekly announces his retirement. Karen Weekly agrees to an extension, taking over all head coach responsibilities.
Jun 25, 2021
by FloSoftball Staff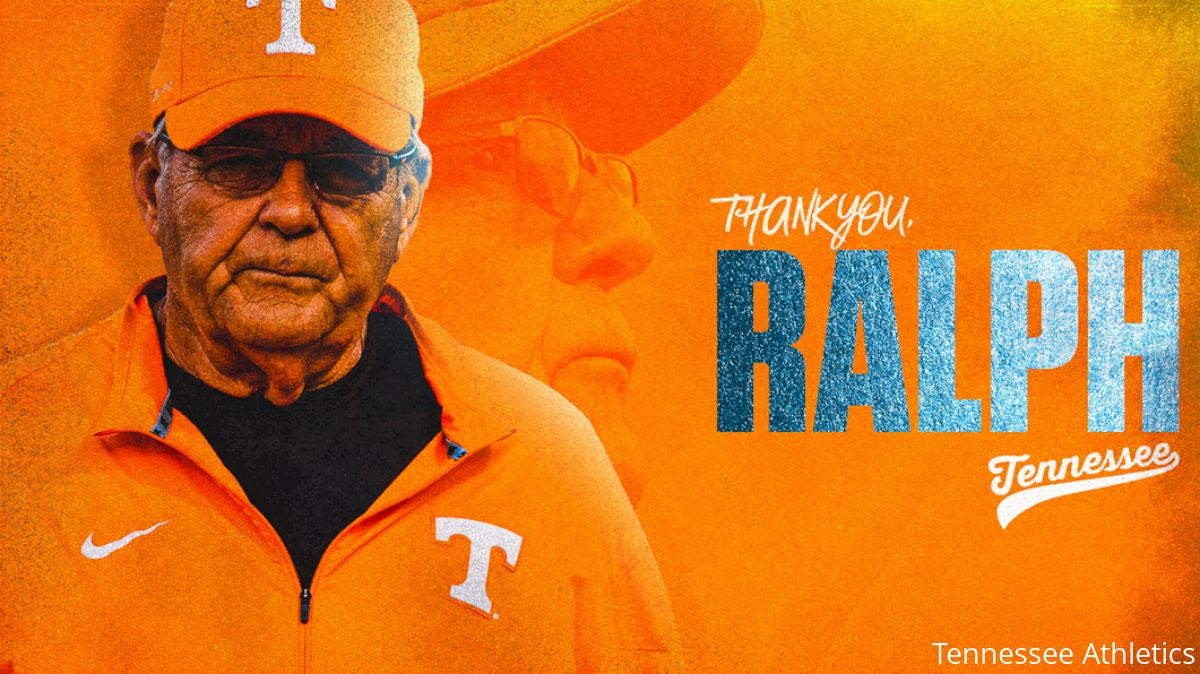 KNOXVILLE, Tenn. – Tennessee softball co-head coach Ralph Weekly announced his retirement Wednesday, after a decorated 35-year coaching career highlighted by 20 years at the helm of the Lady Vols program.

Karen Weekly will assume all head coaching responsibilities after leading the program alongside her husband for the last 20 years. She has agreed to a contract extension through June of 2025.

Tennessee Athletics looks forward to recognizing and celebrating Ralph Weekly during the Lady Vols' 2022 softball season.

"First, I'd like to acknowledge the extraordinary tenure and legacy of Ralph Weekly," Tennessee Vice Chancellor/Director of Athletics Danny White said. "He and Karen have built Tennessee softball into one of the top programs in all of college softball. Ralph has given his all for Tennessee for more than two decades, and he certainly elevated the stature of our program in every facet during that span.

"And with Karen Weekly continuing to lead our program, we are uniquely positioned to maintain the winning tradition that she and Ralph have worked so long to establish. Karen's passion for Lady Vols softball and developing strong young women remains fierce, and we're excited to support her and her staff as they continue to pursue championships."

"I have worked every day since I entered the military at age 17," Ralph Weekly said. "I have had a fulfilling life as a father, husband, student, soldier, special agent, teacher and coach. In every endeavor, I have been surrounded by amazing people whose talents allowed me to succeed and made me a better person. I thank Joan Cronan for hiring us at Tennessee and allowing Karen and I to mentor and coach hundreds of wonderful young women. I was fortunate to work with many fantastic coaches and administrators, to include the legendary Pat Summitt. I thank every player I ever coached for their commitment to excellence on and off the playing field. Each player, male or female, has a place in my heart. I will always be a VFL and cherish the memories I made at each stop. Most of all, I thank my family for their support, patience and counsel. Karen is the smartest person I have ever known. I know she will make Tennessee softball even greater and continue our quest for a national championship."

RALPH WEEKLY LEAVES LASTING LEGACY
Ralph Weekly has a 1,450-481-2 (.750) career record that includes stints at Pacific Lutheran (1986-94), Chattanooga (1995-98, 2001) and Tennessee (2002-2021). He is No. 4 all-time among NCAA softball coaches in career wins.

During Ralph Weekly's tenure at Tennessee, the Lady Vols have become one of the nation's premier programs. UT has reached the postseason every year since 2004, hosted 16 straight NCAA Regionals, advanced to 11 Super Regionals and made seven trips to the Women's College World Series, placing in the top-3 on five occasions, including two national runner-up finishes.

Tennessee captured the 2007 SEC regular-season title under his stewardship and won the SEC Tournament title in 2006 and 2011. Ralph was named SEC Co-Coach of the Year with Karen in 2004 and 2007.

Under the Weeklys, Tennessee and the SEC reached new heights as the Lady Vols became the first SEC team to reach No. 1 in the polls, spending 11 consecutive weeks at the top during the 2007 season. That same season, UT became the first SEC program to reach the best-of-three NCAA Championship Series.

The Weeklys recruited and coached NCAA career strikeout leader Monica Abbott—along with numerous other Lady Vol greats—establishing the framework for an era of success and ascension that led to the construction of Sherri Parker Lee Stadium, which opened in 2008. Between 2004 and 2013, Tennessee put together seven 50-win seasons, including three straight 60-plus-win campaigns in 2005, 2006 and 2007.­

The 2005 season was especially sweet, as UT won a program-best 67 games, made its first WCWS appearance and began its streak of hosting NCAA Regionals.

A 2011 NFCA Hall of Fame inductee, Ralph Weekly is tied with Karen Weekly as the second-winningest coach in Tennessee Athletics history with a 949-300-2 (.759) mark, trailing only the legendary Pat Summitt.

The Weeklys' Tennessee players have earned 38 All-America recognitions, 93 All-SEC or SEC All-Freshman selections and 75 NFCA All-Region picks. The list of accolades also includes Abbott and Madison Shipman being named Honda award winners for softball in 2007 and 2014, respectively. In addition, 14 Lady Vols have been selected in the National Pro Fastpitch Draft.

In addition to his time in collegiate softball, Ralph Weekly won a pair of gold medals with Team USA softball in the 1996 and 2000 Olympics. He also served as the Director of USA National Teams from 1999-2002, and coached Team USA in 15 international tournaments. His teams won gold medals in all 15 events, including four World Championships and two Pan-American championships. Ralph Weekly also wrote the original High-Performance Plan for USA Softball Olympic Teams which allocated, for the first time ever, financial stipends for Team USA members to train and compete for Olympic and World softball championships.

As Director of USA National Teams – both men and women – Ralph Weekly partnered with then San Diego Padres owner John Moores and the City of Chula Vista, California, to fund and build a softball training and competition site for elite athletes at the Chula Vista Olympic Training Center. Team USA softball players trained there for all national and international events from 1998-2008.

Ralph Weekly began his coaching career in the United States Air Force, where he accumulated many championships at a variety of levels. He piloted squads to three All-Armed Forces World Titles, seven state titles at the United States Softball Association (USSA) level and three USSA Western World Championships.

Having retired from the United States Air Force in 1986, Ralph Weekly was the commander of the Air Force Office of Special Investigations at McChord Air Force Base in Washington state in his last duty assignment. He was awarded the Bronze Star and Vietnamese Cross of Gallantry for outstanding service in the Vietnam War. Weekly is a 1973 graduate of Arizona State University and has completed course work for a master's degree in International Relations from Pacific Lutheran.

"It has been one of the great privileges of my life to coach alongside my husband, Ralph," Karen Weekly said. "He is a winner and a builder, leaving a legacy of outstanding programs and facilities everywhere he's coached. He is a champion for women and has fought for equal opportunities for the young women he's coached at every stop during his career. Not many people get to share this journey with their best friend and life partner – I consider myself incredibly blessed. We are fortunate that he will remain as a special advisor to our program and continue to impart his wisdom and experience to the future of Tennessee softball."

KAREN WEEKLY ENERGIZED TO CONTINUE LEADING LADY VOLS
Well prepared and long qualified to assume sole leadership of the program she and her husband have built into a national power, Karen Weekly is conducting a national search for an assistant coach to join a Tennessee staff that includes pitching coach Megan Rhodes-Smith.

A 2018 NFCA Hall of Fame inductee, Karen Weekly boasts a career record of 1,172-397-2 (.746), with 949 of those wins coming at Tennessee. Alongside Ralph Weekly. she is the second-winningest coach in Tennessee Athletics history.

Over her 25-year head coaching career, Karen Weekly's teams have averaged ­47 wins per year and have never won fewer than 32 games in a full season.

The former NFCA President began her coaching career with Ralph Weekly Pacific Lutheran where she served as his top assistant from 1988-94. The Weekly's arrived in Tennessee in 1995 as they took charge of Chattanooga's softball program.

Following seven seasons during which their teams won five Southern Conference regular-season and five SoCon tournament titles and made a pair of NCAA appearances, Ralph and Karen Weekly left Chattanooga for Rocky Top in 2001 to begin their journey of building the Lady Vols into one of the nation's premier softball programs.

What They're Saying About Ralph Weekly:
Mike Candrea – Former Arizona Head Coach
"Ralph has been a great ambassador for our game at the college and International level for many years. His success at Tennessee is a tribute to his passion to help his athletes achieve at the highest levels! Ralph will be missed by many! Job well done!"

Carol Hutchins – Michigan Head Coach
"He has certainly earned his retirement and every accolade that has come his way. He helped build Tennessee into a championship contender and lead Team USA to many gold medals during his career with the national team. Ralph is a champion of the game and one of the greats, and will be remembered because he has left his mark on both collegiate and international softball."

Patrick Murphy – Alabama Head Coach
"Ralph is an icon in the game of softball. He taught me to respect the opponent win or lose and to never make excuses after a loss. All of us at Alabama wish him a great retirement and an open invitation to any game at The Rhoads House."

Jo Evans – Texas A&M Head Coach
"The biggest thing for me is Ralph has always been an advocate for softball and growing the game. His impact on USA softball and impact he has made on Tennessee has been profound."

Rachel Lawson – Kentucky Head Coach
"Ralph Weekly is undeniably a legend in the sport of softball. He has helped grow the game not only regionally and nationally, but internationally. He's coached with class and dignity every step of the way during his illustrious career. Personally, I want to thank Ralph for his friendship over the years and I wish him great health and happiness in retirement."

Dot Richardson – Liberty Head Coach
"Ralph has been an amazing presence in the sport of softball both at the collegiate, national and international levels. I have had the privilege to play for him at the Olympics and to coach against him during his tenure at the University of Tennessee. Ralph loves people and the sport of fastpitch softball. Because of his servant heart, he has been a trailblazer who has impacted the direction of the game. He has been a tremendous force on different committees throughout the years whose decisions have opened doors of opportunity for so many. Ralph cares deeply about making a positive impact in the lives of others both on and off the field and he has. Ralph, you will be missed!"

Monica Abbott – Lady Vol (2004-07)
"Ralph has been a big influence in the sport of softball for so long, he was a big proponent of softball getting into the Olympic games with the 1996 team. His knowledge about the game and pushing the game forward. At the time when Ralph was in his prime there was few and far between where people would be a champion for women athletes and Ralph Weekly one of those. He was a champion for sport, the sport of softball and the sport of female athletes. He believed in a future that not a lot of people always saw and he fought for it. He fought for Sherri Parker Lee Stadium when we were at Tyson Park and he fought hard to get me to commit to Tennessee. Ralph could have been the head coach all alone, but he fought to get co-head coaches. He saw the value in women's sports and pushing the game further and further ahead to kind of where we see it today."

Sarah Fekete – Lady Vol (2003-06)
"It was an honor to play for Coach Weekly. He has given so much to the sport of softball over the last 20-30 years. But, more importantly, he has enriched the lives of so many student-athletes. Thank you for giving to the game and congratulations on your retirement!"

Madison Shipman – Lady Vol (2011-14)
"Ralph was a huge part in turning Tennessee into one of the top softball programs in the country. I want to thank him not only for what he did on the softball field but for what he did for our country off the field. I will forever be thankful for the sacrifices he made in the Air Force to fight for our freedoms and to allow girls like me to play the sport that we love. Ralph, thank you for recruiting me to be a Lady Volunteer and congratulations on a tremendous career."

Meghan Gregg – Lady Vol (2015-18)
"When hearing that Ralph was retiring after such a successful coaching career, I think about the lasting impact he is leaving on Tennessee softball. As a co-head coach, Ralph demanded excellence and grit out of every single one of his players. I feel that Ralph helped shape me into the strong woman I am today. He knew what potential each player had and expected nothing less. These high standards and how much he cared for each one of us always stood out to me. I am excited for Ralph to be able to step back and enjoy the sport that he has spent so many years helping build up and grow. I am thankful to have been coached by Ralph in the sport I love most."

Chelsea Seggern – Lady Vol (2017-21)
"Ralph is a huge part of why the game of softball has grown and is as popular as it is today. He has invested much of his life on creating an opportunity for women to show their physical strength and passion for the game at a high level. When I look back at my time at Tennessee, I have to thank him for not only giving this small town kid a chance at a childhood dream, but for also pushing me to be a great player and an even better person in life. He is a true legend of the game."

Carol Bruggeman – NFCA Executive Director
"Ralph Weekly retires as one of the most successful and decorated coaches in our profession. One of his many accolades includes the highest achievement bestowed upon a coach; a coveted spot in the National Fastpitch Coaches Association (NFCA) Hall of Fame. Throughout his career, not only has he led teams to many championships, he has mentored young women into confident, successful contributors to society. Coach Weekly was a fierce competitor on the field and a friendly comrade off the field. Thank you for all you have done for the game. Congratulations!"

Ron Radigonda – ASA and USA Softball Executive Director (1998-2013)
"Ralph was a tremendous asset to USA Softball and was the architect of our High-Performance Plan that led to gold medals in the Olympics in 2000 and 2004. He was instrumental in recruiting some of the top NCAA coaches into our coaching pool. The combined support of USA Softball, the United States Olympic Committee, outstanding coaches and the unbelievable talent of our athletes led to phenomenal success on the diamond. I certainly wish Ralph the best in his retirement and thank him for his contributions to the sport of softball."

Michele Smith – ESPN Softball Analyst & Two-Time Olympic Gold Medal Winner with Team USA
"I was lucky enough to be a part of the career of Coach, Ralph Weekly on many levels. As an Olympic athlete at two Olympic Games and with ESPN as an analyst. Ralph was always thoughtful of his players and strategic about the game. It was an honor to play for him and work with him to further the great game of softball. I congratulate him on an incredible career!"