USA Softball
2021 U18 USA Junior Women's National Team Announced
2021 U18 USA Junior Women's National Team Announced
18 athletes named to the U-18 USA Women's National Team who will compete at 2021 U-18 WBSC World Cup and Pan American Softball Championship.
Jun 26, 2021
by FloSoftball Staff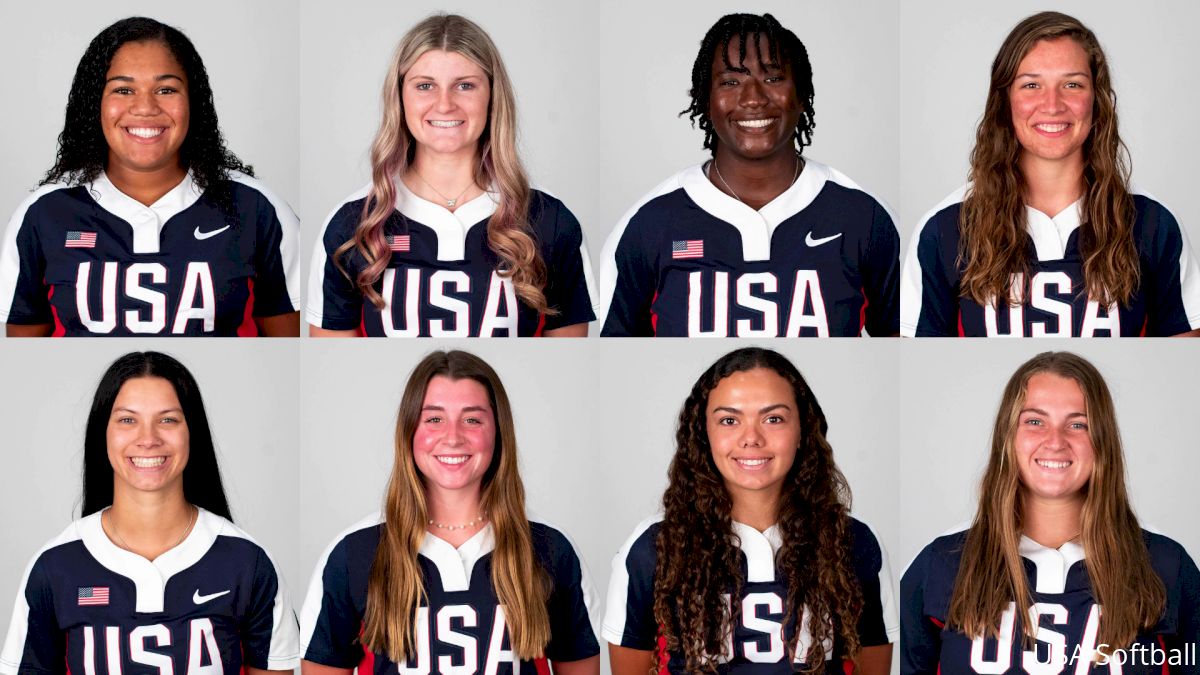 OKLAHOMA CITY – The opportunity to represent the United States as a member of the 2021 USA Softball U-18 Junior Women's National Team (JWNT) became real for 18 athletes following a two-day selection trial process held at the USA Softball Hall of Fame Complex in Oklahoma City, Okla. Selected by members of the Junior Women's National Team Selection Committee (JWNTSC), the 16-player roster and two replacement players will compete at the World Baseball Softball Confederation (WBSC) U-18 World Cup in Lima, Peru August 28 – September 5 and the Junior Pan American Games in Barranquilla, Columbia November 25 – December 5.
| | | |
| --- | --- | --- |
| Name | Position | Hometown |
| Maci Bergeron | C | Rayne, LA |
| Alyssa Brito | IF | Tustin, CA |
| Valerie Cagle | P | Yorktown, VA |
| Raelin Chaffin | P | Bossier City, LA |
| Erin Coffel | IF | Bremen, IN |
| Megan Grant | IF | San Bruno, CA |
| Avery Hodge | IF | Richmond, TX |
| Rylee Holtorf | IF | Peoria, AZ |
| Olivia Johnson | C | Pearland, TX |
| Ashton Maloney | OF | Liberty, MO |
| Mac Morgan | P | Garden City, MO |
| Joecellia Roberts | IF | Modesto, CA |
| Keagan Rothrock | P | Whiteland, IN |
| Mia Scott | IF | Angleton, TX |
| Keely Williams | OF | Cibolo, TX |
| Violet Zavodnik | OF | Murrieta, CA |
| Alissa Humphrey | P | Micanopy, FL |
| Karli Spaid | IF | Chicago, IL |
"I am enthused for this team to display their athleticism and talent," said 2021 JWNT Head Coach Kyla Holas (Pasadena, Texas). "This will be most of the team's first international experience and opportunity to represent the United States of America; however, I feel their attributes balance out well and I look forward to returning back to action after over a year hiatus."
Due to the postponement of the WBSC U-18 World Cup, which was originally scheduled to take place in August 2020, the WBSC extended the age eligibility to allow athletes who were eligible for the 2020 event with the opportunity to participate in the rescheduled event this year. With the extended age eligibility, the 2021 USA Softball U-18 Junior Women's National Team roster includes one member of the 2019 U-17 JWNT World Championship Gold Medal team, six current NCAA Division I student-athletes and 12 committed and/or signed NCAA Division I student athletes – four of which also advanced to the JWNT Selection Trials through the USA Softball High Performance Program (HPP).
"I want to thank all of the athletes who competed in the tryout process. We appreciate the work done by the coaches and the USA Softball staff at the trials and the committee members who were involved in the selection of this year's teams," Holas continued.
Led by Head Coach Kyla Holas and Assistant Coaches Suzy Brazy (Huntington Beach, Calif.) and Lisa Navas (Tarpon Springs, Fla.), the Red, White and Blue will look to claim a fourth-consecutive WBSC Junior Women's World Championship title, having won the previous three World Championships in 2015, 2017 and 2019. Additionally, the 2021 U-18 JWNT roster will compete for the gold medal at the Junior Pan American Games.
For more information on the USA Softball National Teams program, visit USASoftball.com.
About USA Softball
USA Softball (USAS) is a 501(c)(3) not-for profit organization headquartered in Oklahoma City, Okla., and is designated as the National Governing Body (NGB) of Softball in the United States and a member of the United States Olympic & Paralympic Committee. One of the nation's largest sports organizations, USAS sanctions competition through a network of Local Associations, which includes all 50 states and select metro associations. USAS is dedicated to providing people of all ages the opportunity to play the game they love at a variety of levels by offering recreational, league, tournament and competitive play for fast pitch, slow pitch and modified pitch. USAS annually conducts thousands of tournaments throughout the country including over 100 National Championships. The USAS umpire program is among the nation's largest and are widely known as the best trained umpires in the game.
As the NGB for the sport of softball, USAS is responsible for training, equipping and promoting the six USA Softball National Teams that compete in events such as the Olympics, Pan American Games, World Championships and other international and domestic events. For more information on USAS, including its founding and history as the Amateur Softball Association of America (ASA), please visit, www.USASoftball.com.