Kiki Stokes Named Head Softball Coach at Upper Iowa
Kiki Stokes Named Head Softball Coach at Upper Iowa
After three seasons with the NCAA Division I Jackrabbit softball program at SDSU, Kiki Stokes is taking over as head coach at Upper Iowa.
Jul 6, 2021
by FloSoftball Staff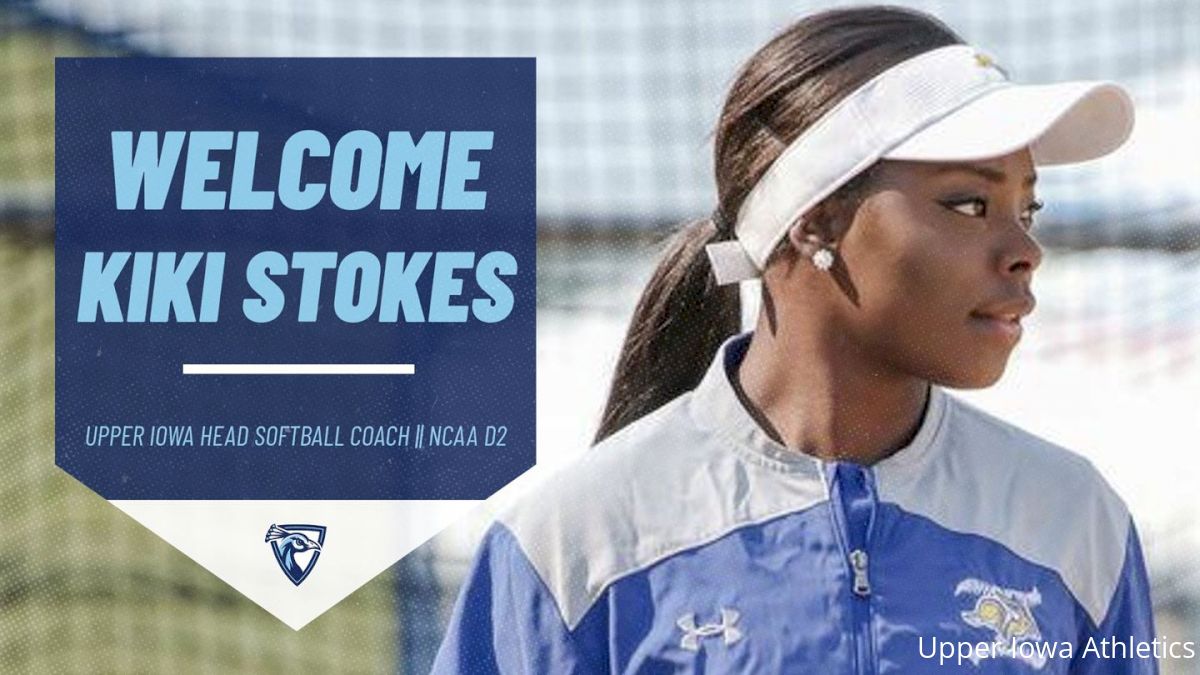 Upper Iowa University's Vice President for Athletics Rick Hartzell announced that Kiki Stokes is the new Head Peacock Softball Coach. Stokes comes to Upper Iowa after three seasons with the NCAA Division I Jackrabbit softball program at South Dakota State University in Brookings, South Dakota.
"We couldn't be more excited to announce our new leader of the softball program at UIU," said Hartzell. "Kiki will bring a tremendous work ethic to the team and help lead us back to the top half of the Northern Sun Conference. She will have the trust of the players from the start with her outstanding competitive background at Nebraska and her coaching experience at two high-quality, NCAA Division I universities."

Stokes takes over the Peacock softball program after Ashley Hickman left Upper Iowa to become the head coach at Western New Mexico State University earlier this summer.

"I would like to first say thank you to Vice President for Athletics Rick Hartzell for all of the conversations about this incredible opportunity and for entrusting me to lead these young women," said Stokes. "I'm really excited to meet all the student-athletes, coaches, and Peacock nation! Upper Iowa is a special place with a great tradition. I am truly humbled to be here and get the softball program back to a championship level."
Stokes served as an assistant coach at SDSU from 2019 until departing for the top position at Upper Iowa. She was a part of the team's 37-win season and second-straight postseason appearance in 2019, working primarily with the team's defense. 2020's squad won 15 games and posted a .652 winning percentage before COVID-19 precautions ended the NCAA's Division I softball season nationwide. This past season, the Jackrabbits posted their most successful season in program history going 43-8 including a 21-1 record in the Summit League. The season ended with a 2-1, 10-inning loss to Stanford University, just a win shy of the NCAA Division I Fayetteville Regional championship.

"We are going to do great things here," Stokes continued. "There's a great deal of talent in the Midwest and the state of Iowa has a great pool to recruit from. I'm looking forward to igniting a spark and setting a standard for excellence and passion for the game that's going to make Peacock Softball a fun program to follow."

Stokes was a two-time All-American for the University of Nebraska during her four-year playing career with the Husker softball program from 2013-16. She left Lincoln, Neb. with a career .350 batting average and the program record in runs scored (200). Stokes is also third in Nebraska history for walks (120) and sixth in hits (233).

"My style of play is simple," said Stokes. "It starts with student-athletes being bought into the process and trusting the preparation. We are going to have a fundamentally-sound defense with a mixture of great arms in the circle. On the offensive side, we will have a ton of speed and power at the plate."

The new Peacock head coach set single-season program records in runs (66), hit-by-pitches (17) and on-base percentage (.532) in her junior season. As a senior, Stokes became only the third Husker to hit over .400 in consecutive seasons, thanks to a career-high 74 hits; she hit .409 in her last season. As a player, she helped Nebraska to a seventh-place finish at the 2013 NCAA Women's College World Series.

Stokes was a two-time NFCA All-Midwest Region First Team selection, a two-time All-Big Ten First Team performer and served as the Huskers' team captain her final two seasons.

Stokes began her coaching career as a volunteer coach for Nebraska in 2018, working with the outfield and helping with opponent scouting.

"I would not have the opportunity to be in this position without a lot of great people who have helped me throughout my career," stated Stokes. "Specifically, I would like to thank South Dakota State University Head Softball Coach Krista Wood for playing a really big role in my coaching career. Being under her lead the last three and a half years has prepared me for this moment. In addition, the University of Nebraska Head Softball Coach Rhonda Revelle has played an integral role in my life over the past decade both on and off the field. I'll forever be grateful for her guidance in this field."

The Olathe, Kansas native was drafted into the National Pro Fastpitch league in 2016 and led the Houston Scrap Yard Dawgs to its first league championship in 2017.

Stokes graduated from Nebraska with a bachelor's degree in child, youth and family studies in May 2017.