SEC
Tony Baldwin Announces Completion of Georgia's Coaching Staff
Tony Baldwin Announces Completion of Georgia's Coaching Staff
Georgia softball legends return to complete Tony Baldwin's coaching staff.
Jul 14, 2021
by FloSoftball Staff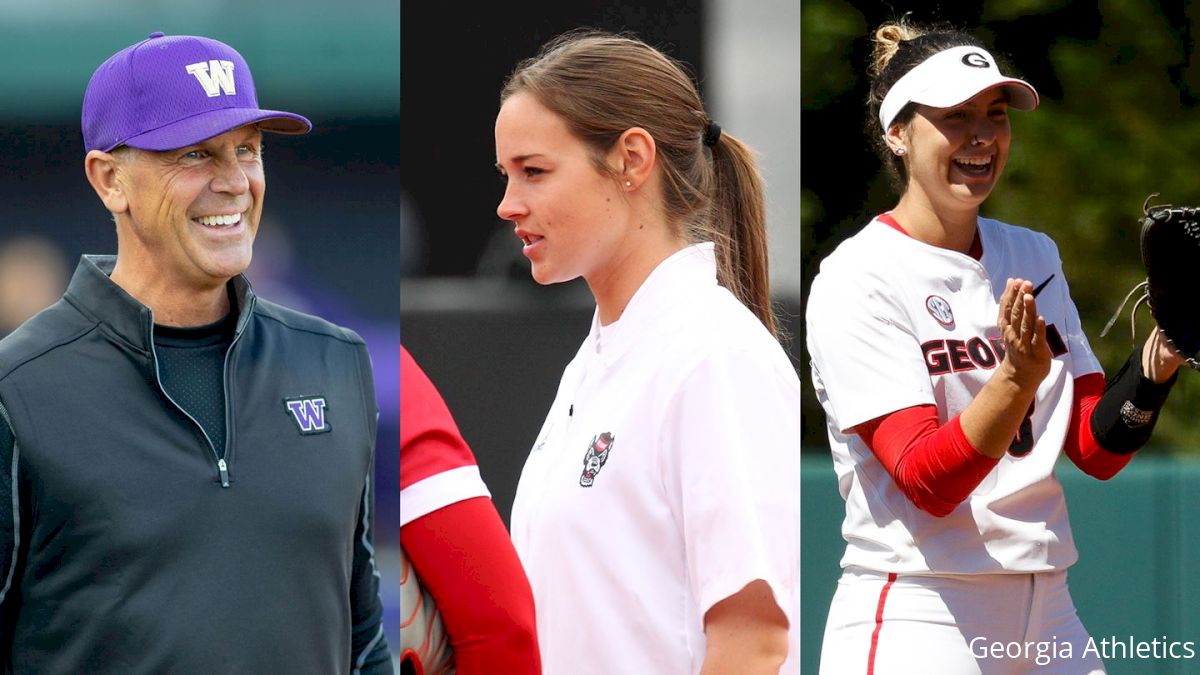 Written by Georgia Softball
ATHENS, Ga. – University of Georgia head softball coach Tony Baldwin has announced the completion of his coaching staff featuring an NCAA national champion in J.T. D'Amico and a pair of Georgia greats in Chelsea Wilkinson and Alyssa DiCarlo.
D'Amico will head up Georgia's defensive efforts and will serve as its recruiting coordinator. Wilkinson will coach the pitching staff and DiCarlo will serve as the volunteer coach, assisting with offense.

"I'm excited to announce the completion of our staff by bringing on J.T., Chelsea, and Alyssa," Baldwin said. "You win with people and these three are high character individuals, they're builders and investors of people, and I'm excited for them to work with our student-athletes. I believe we've brought the best of the best to Athens on this coaching staff. J.T. is arguably one of the best defensive coaches and recruiters in the country while Chelsea and Alyssa are two of the best to ever play softball for the University of Georgia. The three of them will bring an incredible mix of knowledge and experience to our program and student-athletes."

J.T. D'Amico – Assistant Coach (Defense, Recruiting Coordinator)
J.T. D'Amico comes to Athens with a resume including a 2009 NCAA National Championship, an NPF Cowles Cup Championship, five Pac-12 Defensive Player of the Year awards, and five Pac-12 All-Defensive Team members.

D'Amico has spent the last 13 seasons on staff at Washington as the Huskie's defensive coordinator and recruiting coordinator. He coached three-time Defensive Player of the Year Sis Bates and current Olympians Jenn Salling (Canada) and Ali Aguilar (USA). As a team, Washington has committed fewer than 45 errors six times including a program record 24 in 2021, six fewer than the previous record. The Huskies finished first or second in fielding percentage in the Pac-12 eight times in D'Amico's tenure, finishing second in the nation in 2013.

He also served as the recruiting coordinator for the Huskies putting together top recruiting classes in recent years. The 2019 class included National Gatorade Player of the Year, and Georgia native, Kelley Lynch from East Coweta High School. The UW 2021 recruiting class includes arguably two of the top four prospects in the class by most national services.

In 2013, D'Amico added head coach of the USSSA Pride of the National Pro Fastpitch league to his resume, guiding the Pride to the NPF Cowles Cup Championship that season. The Pride featured NPF Defensive Player of the Year Ashley Charters that season. Prior to Washington, he was the head baseball coach at Eastlake High School from 1998-2008. D'Amico earned his degree in Applied Management from Grand Canyon University.

"Am honored and humbled to come help Tony Baldwin and the University of Georgia," D'Amico said. "A heartfelt thank you to all of the people at the University of Washington who are in and close to the softball program. I'm very excited and looking forward to meeting everybody and learning how things are done!"

Baldwin on D'Amico: "J.T. is widely known as one of the top defensive coaches in the country and has a great way of connecting with student-athletes. He will be a tremendous asset to our program. He's a tireless worker and recruiter and builds relationships with coaches and future student-athletes across the country and within the state of Georgia. J.T. brings a wealth of experience and softball I.Q. in competing with success at the highest level of college softball."

Chelsea Wilkinson – Assistant Coach (Pitching)
Chelsea Wilkinson returns to Athens following a stint at NC State from 2019-21. Wilkinson will put on the Red and Black once again after wearing the G from 2013-16. In her first season in Raleigh, Wilkinson helped lead NC State to 31 wins in the regular season and reach the ACC Championship semifinal for the first time since 2013.

Under Wilkinson's tutelage, Sydney Nester was one of only three ACC pitchers to reach 10 wins in the shortened 2020 season and was ranked a top-40 pitcher by D1Softball. Sam Gress became only the second freshman pitcher in program-history to throw a no-hitter, doing so in five-innings against North Carolina A&T that same season. In 2021, Nester (102) and Abby Trahan (98) finished 11th and 12th respectively, in the ACC in strikeouts. Trahan was responsible for 12 of the Pack's 26 wins last season.

Nester concluded her Wolf Pack career top 10 in several career categories including strikeouts per seven innings (7.06), wins (31), total strikeouts (344), opponent batting average (.227) and ERA (3.32).

Wilkinson's name can be found scattered all over the Georgia record books. She earned NFCA All-America status in 2014, was a three-time All-Southeast Regional honoree, and was a four-time All-SEC performer. She was named the MVP of the SEC Tournament after guiding the Bulldogs to their lone tournament title in 2014. She finished her player career ranked in top 10 categories including wins (97), appearances (173), games started (136), complete games (74), shutouts (35.5), saves (6), innings pitched (839.2), and strikeouts (897).

"Words cannot express the excitement I have to be returning to Athens and wearing the G again," Wilkinson said. "Having played for Coach Tony, I know the incredible leader and person he is. I am so excited for the opportunity to join this incredible staff and program. I cannot wait to get to work and continue building upon the winning tradition of Georgia Softball. Go Dawgs!"

Baldwin on Wilkinson: "Chelsea is a great communicator and builds great rapport with her student-athletes. She has a grasp on what Georgia softball is all about and knows what it takes to have success at Georgia, in the SEC, and in the postseason. She's a student of the game, a hard worker, and is going to be a great mentor and teacher for our pitchers. We're excited to have her back in the Red and Black."

Alyssa DiCarlo – Volunteer Coach (Offense)
One of the best hitters in Georgia softball history, Alyssa DiCarlo returns to Athens as the Bulldogs' new volunteer assistant coach. DiCarlo will assist coaching Georgia's hitters in her first collegiate coaching job.

DiCarlo played for Georgia from 2016-19. In those four seasons, she was a two-time All-American, three-time All-Southeast Region, four-time All-SEC, and two-time USA Softball Player of the Year top 25 finalist. She owns Georgia career records in RBI (252), home runs (68), total bases (544), and extra-base hits (128). She also appears in top-10 categories including batting average (.378), games started (246), at bats (728), runs (196), hits (275), doubles (55), walks (121), and slugging (.747) and on base percentage (.470).

DiCarlo graduated from UGA in 2019 in Mathematics.

"I am so excited and thankful for this opportunity to start my coaching career at Georgia," DiCarlo said. "I look forward to being part of this program once again and continuing the rich tradition that is Georgia Softball."

Baldwin on DiCarlo: "I'm so excited to get Alyssa back on campus and involved with our program. She was outstanding in her brief time as a student assistant as she completed her degree. She has a great understanding of hitting and our offense is going to benefit from working with her. I believe she is going to be one of the up-and-coming hitting coaches in our sport."