2021 PGF National Championships 18U Premier
What To Watch For At The 2021 PGF Nationals Premier 18U
What To Watch For At The 2021 PGF Nationals Premier 18U
Arizona Storm, Beverly Bandits, Hotshots, Thunderbolts, and more will compete at PGF Premier Nationals 18U. Here's what you should know.
Jul 22, 2021
by Scott Schultz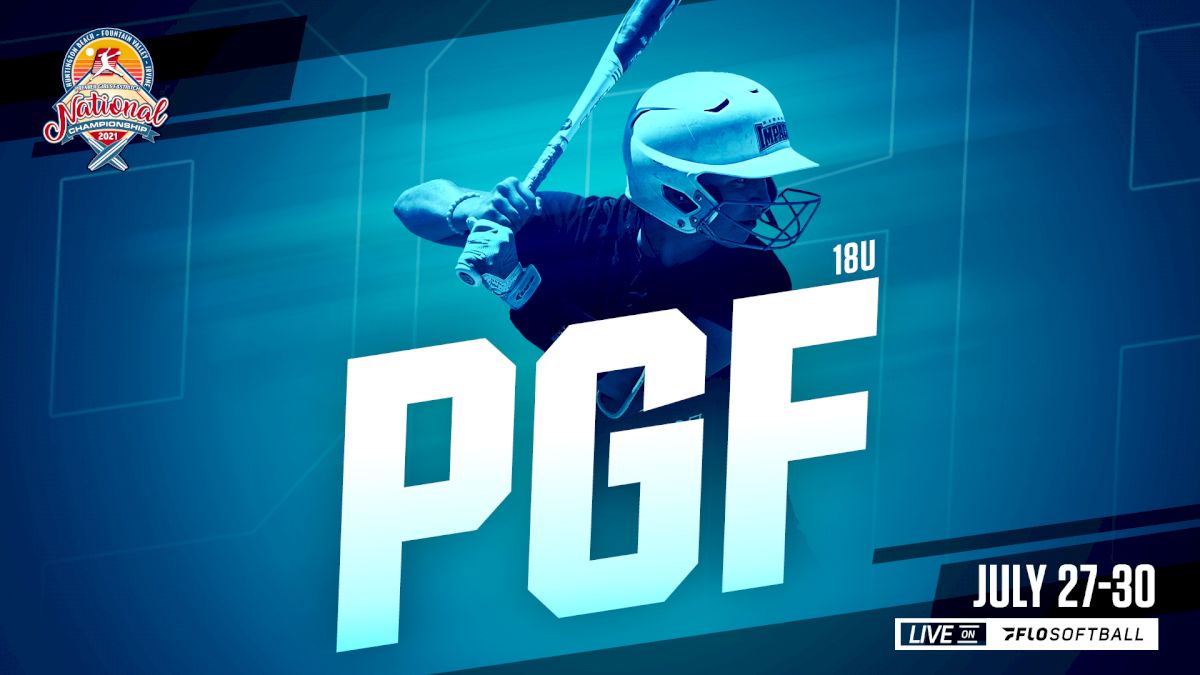 Give us the ocean cool breeze, the fruit lady, and late nights of amazing softball. Premier Girls Fastpitch Nationals is finally here. FloSoftball will be streaming all eight fields from Huntington Beach Sports Complex from July 27-30 and from July 30-31 we will stream the Platinum Championships. Below we take a look at some of the top teams that will be playing over the weekend.
Coach: Corey Mathis
After putting up a 33-9-3 record during 2020, the Arizona Storm Mathis has been prepping most of this season for the PGF tournament. Last season they beat teams like the OCBB Stith, Athletics Mercado Smith, OV Suncats Judge, Impact Gold Jackson, and came away with top finishes at major events like the AZ Storm Invitational, Ronald McDonald in Texas, and the AZ Winter Invitational.
Coach Corey Mathis is pleased with his team's performance so far this season. "Things going well, things that could be better?" said Mathis. "Summer has been much better offensively. We are working on our mental game more and more each day."
"We had the opportunity this summer to go from Zoom into June to So Cal A's invitational to Chicago for the Demarini Invitational to TC / USA Nationals to PGF." he added. "We have used this time to play the best teams in the country in preparation for PGF Nationals."
Coach: Chad Moran
A trio of DI commits leads the Beverly Bandits DeMarini Moran squad into the PGF tournament. Jane (Birdie) Kronenberger (Notre Dame), Sarah Stone (Kentucky), and Kami Kortokrax (Ohio State) will be the key players for coach Chad Moran.
"All three are big strong kids that all hit for power at a high level and a high average," said Moran. "[All] three are strong leaders as well and I look for them to contend for All Americans at the next level."
"Our season to this point has been a lot of fun, it's been a grind with our travel, but we have been right in the mix of some big tournaments," added Moran. "PGF is the granddaddy of them all so we are looking to finish what has been a great 11 months together."
Beverly Bandits Premier Skeens
Coach: Casey Skeens
The Beverly Bandits Premier Skeens is looking to show everyone that the Midwest loves to play softball, and is planning to come out strong. They are led by second baseman Easton Lotus, a Louisville commit, and a sister pitcher/catcher duo in Austy and Skipp Miller. Austy brings the whole package to the field, both at the plate and behind it. Skipp is committed to Ohio U and has elevated her game in the off-season, developing a change-up that can be seen at any count.
"My team is full of really good softball players but also really good teammates, and so far this season my team chemistry is the strongest," said coach Casey Skeens. "The girls really love each other and want to win together so it's been awesome to see. This team loves to come from behind so they can never be counted out."
Coach: Rocky Thompson
Standing at 26-10-3 on the season so far, the Birmingham Thunderbolts Premier enter the season's final tournament at the PGF Nationals. They've finished high in two of their five tournaments, including Top Club Invitational and a top-4 finish and an Independence Day Tournament where they were the runner-up.
Coach Rocky Thompson feels every player has contributed to their success this season but did single out one area of play, "the way the pitching staff has held their own to give the offense an opportunity to support them on the offensive end has been amazing to watch," said Thompson.
"This is a very gritty team. These are some awesome young ladies to meet and be around. They have really taken some pride in all the small things in the game and supporting one another through it all."
Hotshots Premier - Dumezich
Coach: Mel Dumezich
The Hotshot Premier features a veteran team with 11 seniors (and 5 juniors) and is excited to close their travel ball careers at PGF Nationals. This senior class has been very successful as they have won 15 National championships throughout their career.
This summer's squad has been led by Louisiana commit Sam Landry from the circle, having been one of the top pitchers in the country. She boasted wins over Nebraska Gold, Texas Bombers, Wichita Mustangs, and Impact Gold. At the plate a pair of Texas commits in catcher Reese Atwood and first baseman Katie Cimusz, leading the team in average and home runs. Sam Greater, a Louisiana commit has also performed well at the plate.
Coach Mel Dumezich is pleased so far, "We have been happy with our progress as we have gotten closer to PGF Nationals. We have tried to play the toughest schedule we could find to prepare us and believe we have accomplished that goal. Our pitching has been very good and we want to see our girls be more consistent offensively as we have a good combination of speed and power."
Coach: Beth Singleton
With 15 of the 16 on their roster committed to play at the college level, the Nebraska Gold National has some depth. As such, coach Beth Singleton doesn't really have any top players, as they all take turns being the standout player.
Of those committed, 2021 pitcher Jordyn Bahl is heading to Oklahoma, and 2022 pitcher Ruby Meylan is off to Washington. There are also three Gold National players headed to San Diego State, with catcher Brooke Dumont (2021), infielder Mia Jarecki (2021), and outfielder Kaelan Schultz (2022) set to play in the sunshine state.
Some highlight finishes for them are the Boulder IDT Champions, Top Gun Invite Champions, and the Demarini Invite Final Four (tournament rained out before semis)
"Our season has gone well so far, the girls have built up great chemistry and it shows on the field," said Singleton. "While we have been without their skills in the lineup due to injuries both Rylan Ewoldt and Mia Jarecki have made huge contributions in the dugout as player-coaches and we really appreciate their impact and team-first approach."
Coach: T.J. Goelz
For coach T.J. Goelz, this season's Tampa Mustangs have seen growth and development throughout the season. Catcher/3B Kirsten Caravacca has been anchoring the lineup in the three spot and has been strong from the plate with timely hitting. A pair of 2023 players in OF Cassidy McLellan and SS/C Addyson Bruneman are getting attention. While Kelsey Vogel and Emily Chiarella are the top hitters in average, and ace Kylah Berry has been leading the way from the circle. Berry has over 150 K's, a 19-4 record, and a 1.07 ERA.
"The season has exceeded my expectations," said Goelz. "I knew we had talent but we didn't have experience at 18U Premier level so I was worried how quickly they would adapt."
With the five events so far this year, they have a third-place finish at the PGF Show me the Money and at the JO Cup, a second-place finish at the TCS Southeast Nationals, and a first-place finish at the Atlanta Legacy Invitational.
"We need to get better defensively on routine plays and need all of our pitchers to throw more strikes and less free passes," said Goelz. "If we do that, we are going to be tough to beat."
"This team keeps getting better. They have bought into the system, accountability, and expectations well. They are being prepared for college softball and are still having a great time with each other this summer."