Olympics Softball
Japan Tops USA for Olympic Gold | Canada Earns Bronze
Japan Tops USA for Olympic Gold | Canada Earns Bronze
Team USA falls to Japan as hosts capture their second consecutive gold medal. Canada takes home bronze after beating Mexico in a 3-2 thriller.
Jul 28, 2021
by FloSoftball Staff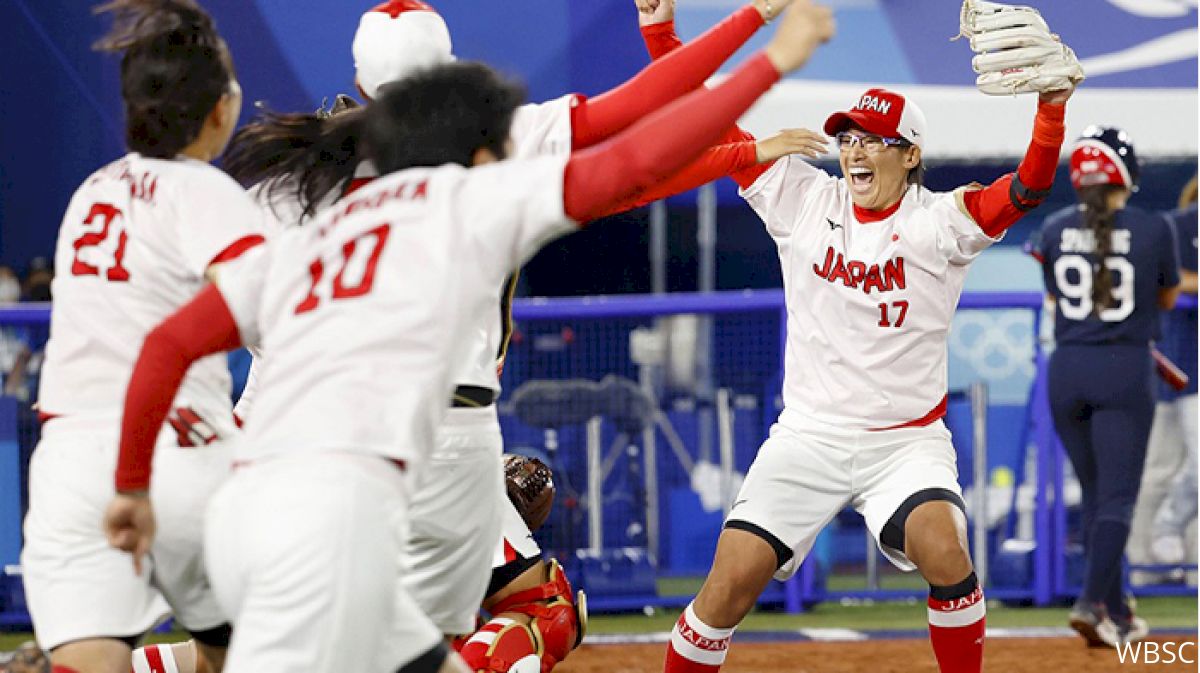 Japan captured its second consecutive gold medal with a 2-0 win over the United States at the Tokyo 2020 Olympic Games. Yukiko Ueno provided six shutout innings and her squad scored single runs in the fourth and fifth innings to earn the shutout victory.
Ueno allowed two hits, struck out five and walked two in a combined shutout with Miu Goto, who surrendered one hit, fanned one in one-plus innings of work.
A two-out RBI infield single by Mana Atsumi off Ally Carda broke the scoreless deadlock in the fourth. An inning later, Yamato Fujita greeted relief pitcher Monica Abbott with a two-out run-scoring single to rightfield to double Japan's lead.
Fujita finished 2-for-4 with six of her teammates recording one hit apiece.
USA's best chances to score came in the bottom of the first inning. Two runners reached third base, but the Eagles were unable to get the timely hit. Janie Reed tripled off the wall with one out, but was erased when she tried to score on a wild pitch. Amanda Chidester, who struck out on the play, reached first and eventually made it to third on two more wild pitches. However, Ueno struck out Valerie Arioto to end the threat.
In the sixth, the U.S. put runners on first and second with one out on singles by Michelle Moultrie and Reed. Once again, Japan was able to get out of it this time with a little bit of luck. Chidester lined a ball off Yamamoto's arm at third base, but the ball was caught by Atsumi at shortstop and she doubled up Moultrie at second. It was the second double play of the game for Japan.
After exiting following Moutrie's leadoff single in the sixth, Ueno reentered and twirled a perfect bottom of the seventh.
Reed registered two of the United States' three hits. Carda suffered the defeat in 2.2 innings of relief, allowing both runs on three hits with two strikeouts and a walk. Cat Osterman started and twirled two shutout innings (2 hits, BB), while Abbott finished the final 2.1 innings (3 hits, 2 K).
Bronze Medal Game
Canada edged Mexico, 3-2, to win bronze the country's first medal in softball. Kelsey Harshman hit a go-ahead sacrifice fly in the bottom of the fifth inning to give Canada the win in a dramatic game with intermittent rain falling throughout the contest.
Canada grabbed a 2-0 lead in the bottom of the second on a two-out RBI single by Emma Enztminger. Brittany Cervantes put Mexico on the board in the top half of the third with an RBI single, plating Sydney Romero.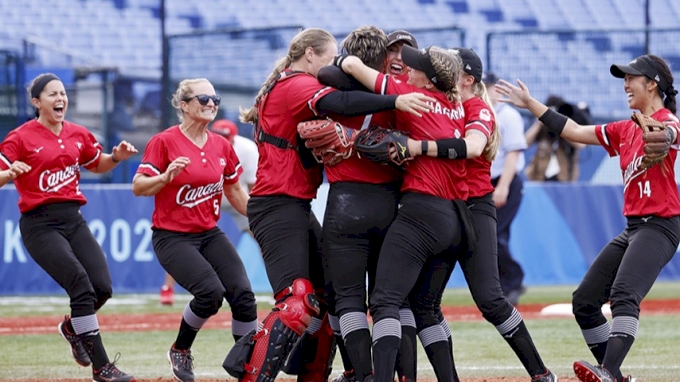 Another two-out hit by Mexico tied the contest at 2-2 in the fifth. Suzannah Brookshire delivered the base knock, which also put runners at the corners. Danielle Lawrie entered for Jenna Caira and forced a groundout to third.
After Canada regained the lead on Harshman's sac fly, Lawrie secured the victory with two more shutout innings. She earned the win with 2.1 scoreless innings, allowing one hit, while fanning four.
Sara Groenewegen started in the circle for Canada, allowing a run on three hits with three strikeouts and a walk over three innings. Danielle O'Toole went the distance for Mexico. She surrendered just one earned run on six hits with three punchouts and a walk.
After the game, Jenn Salling and Lawrie retired from the National Team, leaving their cleats at Yokohama Stadium home plate as a symbolic way to say goodbye to the game.