2021 Easton/NFCA Assistant Coaches of the Year
2021 Easton/NFCA Assistant Coaches of the Year
Easton/NFCA have announced the 2021 Assistant Coaches of the Year Recipients. Have a look at the award winners.
Sep 29, 2021
by FloSoftball Staff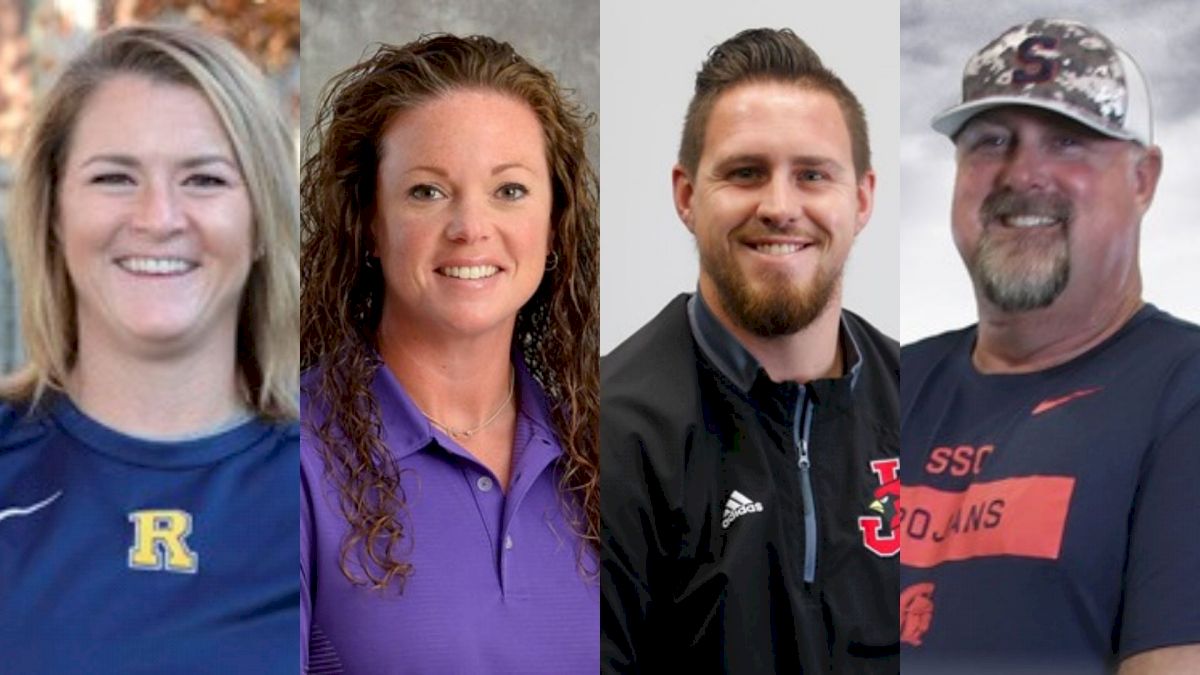 LOUISVILLE, Ky. — The 2021 Easton/NFCA Assistant Coach of the Year recipients were announced on Tuesday afternoon. Garnering honors this year are Jennifer Herzig (James Madison University / DI), Matt Jackson (William Jewell College / DII), Mary Karen Wheat (University of Rochester / DIII), Becky Martinez (Siena Heights University / NAIA), TJ Webb (Seminole State College / NJCAA DI), Stacey Birdsong (Parkland College / NJCAA DII), Vivi Marquez (Rock Valley College / NJCAA DIII), Morgan McGee (Santiago Canyon College / Cal JC), Clint Hoelscher (Papillion-LaVista High School) and Frank D. Iovine (New Jersey Ruthless 14U-Lensch / TB).
These awards salute the efforts of coaches from the various NFCA membership categories for their tireless dedication to the sport of softball and to the continued education, growth and development of young women, both on and off the playing field.
The winners were nominated by NFCA member coaches and selected by a panel of their peers on the NFCA Awards Committee.
NCAA Division I: Jennifer Herzig, James Madison University
Herzig, who enters her 10th season with JMU, serves as the program's hitting coach and is the primary pitch caller, while also working with the outfielders and catchers. She coordinates scouting reports and leads the program's recruiting process. Herzig was pivotal in the Dukes' run to the 2021 Women's College World Series and a national semifinals appearance (wins over Oklahoma and Oklahoma State), along with a fifth Colonial Athletic Association championship, third NCAA Regional title and first-ever Super Regional title. A respected teacher and instructor, she is avidly sought out to lead camps and clinics throughout the country. According to Virginia Wesleyan head coach Brandon Elliott, Herzig, who is humble by nature, is a relentless recruiter and student of the game, while focusing on making sure her student-athletes garner the attention and accolades for their successes.
NCAA Division II: Matt Jackson, William Jewell College
Jackson, in his fourth year with the program, is the recruiting coordinator and focuses on hitting, outfield and assisting with pitcher and catchers. While being a part-time employee, he works extremely hard at recruiting, and is committed to the student-athlete experience, philosophy of William Jewell College and the NCAA. Known to his peers as a high-energy, high-character and hard-working coach, Jackson is a student of the game, gathering as much knowledge as he can, while also sharing his knowledge with others. In 2021, Jackson was recognized by Extra Inning top 100 coach.
NCAA Division III: Mary Karen Wheat, University of Rochester
Wheat joined the program in 2020 and has made an immediate impact, helping guide the Yellowjackets to their second NCAA Championship appearance in program history, along with Liberty League regular-season and tournament titles. She played a pivotal role in welcoming 12 top-notch recruits for 2021 and one securing on Division I transfer. Wheat supports all on-field training, which includes throwing batting practice. According to head coach Margaret Yerdon-Grange, having two live arms every day in practice helped the hitters excel at the plate, producing their program's best offensive year. In addition to her on-field duties, Wheat handles the team's social media accounts, which is an important piece of the puzzle for recruiting and alumni/fan engagement. Coach Yerdon-Grange truly believes that Wheat's contributions and dedication helped the Yellowjackets reach the NCAA Championship.
NAIA: Becky Martinez, Siena Heights University
Martinez enters her 17th season on the Saints' bench. Serving as the lead assistant coach, she is involved in all aspects of the program, which includes recruiting, fundraising, practice plans, budget, field maintenance and academics. Martinez, who is part-time and has always been a crucial part of the program, stepped up and took over for head coach Laura Klutsartis during the 2021 campaign, who took an extended absence after contracting COVID. Klutsartis emphasized that she is "insanely lucky" to have Martinez in her program. Knowing that she would take care of the student-athletes on the field and in the class room helped Klutsartis recover both physically and mentally. She is very important and crucial to the program and more importantly the lives of the student-athletes. Additionally, Martinez makes herself available, while juggling a full-time job. She takes vacation time to travel on weekday trips and sacrifices her free time to be with the team.
NJCAA DI: TJ Webb, Seminole State College (Okla.)
Since joining Seminole State three years ago, Webb has played a pivotal role in the Trojans becoming a top-five national program, earning a No. 1 regular-season ranking during two of the three seasons, and posting a 111-9 record. Working with hitters and as the recruiting coordinator, they led the country in batting average, slugging and on-base percentage, while finishing second in home runs, and fifth in RBI and runs scored. According to head coach Amber Flores, Webb is a tenacious recruiter, all-around great human and a lot of credit for program's recent success must go to him.
NJCAA DII: Stacey Birdsong, Parkland College
Birdsong, in his first year with the program, was instrumental in Parkland's 51-7 record and first NJCAA DII National Championship appearance (seventh place) since 2012. He tutored five NFCA All-Americans, four NJCAA All-Americans, and Parkland's Female Athlete of the Year. Involved in all aspects of the team, Birdsong focused on in-game defensive positioning for first base and outfielders, hitters and catchers during practice, and recruiting. He was pivotal in Parkland's academic success (highest team GPA in athletic department) by running study tables and doing grade checks, while also taking care of strength and conditioning, driving the bus, scheduling and field maintenance.
NJCAA DIII: Vivi Marquez, Rock Valley College
Marquez, who joined her alma mater's coaching staff in 2019, is responsible for coaching the hitters and catchers, while also being heavily involved in the recruitment and placement of the student-athletes. Under her guidance, RVC's offense was topped NJCAA DIII in runs scored, doubles, triples, home runs and slugging, and recording the second-best batting average. Marquez was critical in the development of 2021 Diamond Sports/NFCA NJCAA DIII Catcher of the Year Jenna Green and Schutt Sports/NFCA NJCAA DIII Player of the Year Kelli Riordan.
Cal JC: Morgan McGee, Santiago Canyon College
Returning to her alma mater, McGee focuses on outfielders, tutoring half of a dynamic SCC defense. She also dedicates an exorbitant amount of time to other duties, which includes coaching hitters, recruiting, tutoring student-athletes, running camp, assisting in the recruiting and transfer process, and field maintenance. With head coach Lisa Camarco being diagnosed with cancer prior to the 2021 season, McGee stepped up and took as much burden off of Carmarco's plate as possible. According to Camarco, her dedication made it possible for her to juggle all the doctor's appointments, surgeries, showing up and coach the team, while trying to beat the disease.
High School: Clint Hoelscher, Papillion-LaVista High School (Neb.)
Hoelscher has been the Monarchs' assistant coach for 15 seasons, playing a pivotal role in six state championships, five state runner-up finishes and three third-place state showings. Papillion-LaVista has totaled four District titles and seven Metro championships, while posting a 457-66 record. A great teacher, he has served in almost all aspects of the program and wants what's best for his players. According to head coach Todd Petersen, Hoelshcer is a very decorated assistant coach, who works very hard and is very passionate about what he does. It does not matter whether he is in the limelight.
Travel Ball: Frank D. Iovine, New Jersey Ruthless 14U-Lensch
Iovine assists in all training and coaching, while scheduling 10 to 18U tryouts and arranging specialized training outside the organization. He organizes uniforms, tournaments, hotels and equipment and handles the finances. Iovine is the NJ Ruthless webmaster, creating player profiles and administers several team apps. According to head coach Linda Lensch, Iovine elevates the team every time they get together. He is Lensch's right hand and dives into training year round, making her job easier. Focused on teaching fundamentals to the first-year 14U team, Iovine made a difference in the team's batting, from focusing on basic mechanics to learning to drive to different fields and situational hitting. His tutelage played a significant role this past season in the team winning its first-ever championship, playing competitively and notching wins at FPN Nationals and Aunt Rosie's International Tournament.