Athletes Unlimited Softball Unveils 2021 All-Defensive Team
Athletes Unlimited Softball Unveils 2021 All-Defensive Team
Nine players were recognized for outstanding defensive efforts during Athletes Unlimited Softball Season 2.
Sep 29, 2021
by FloSoftball Staff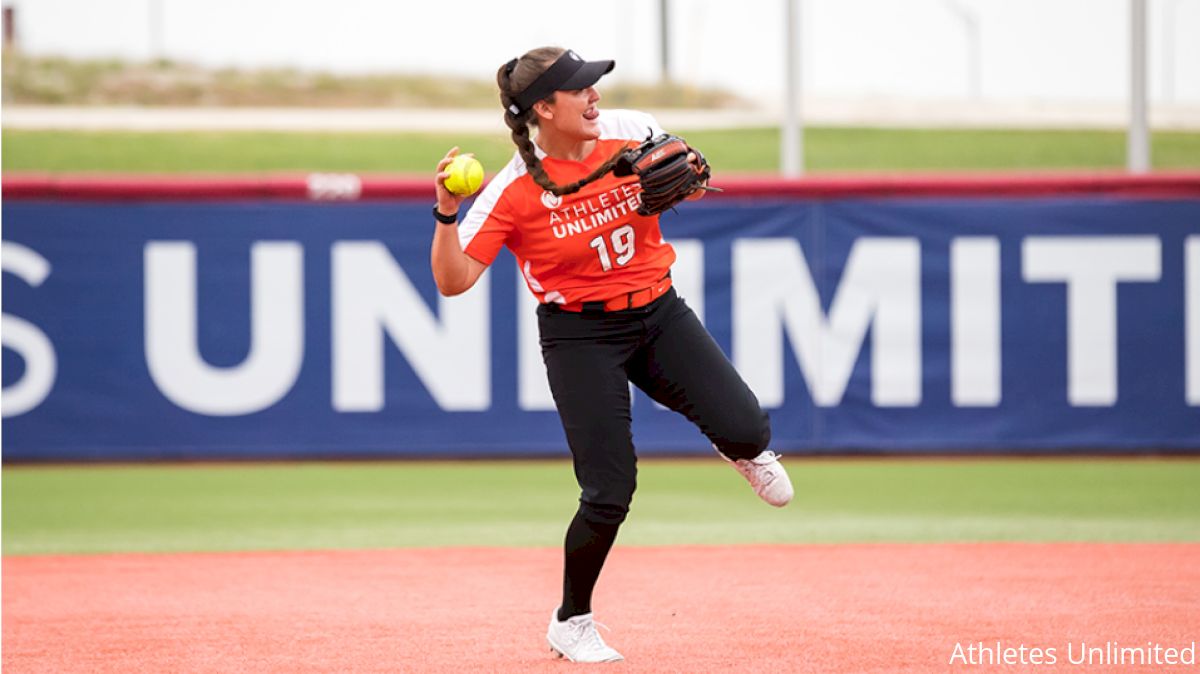 ROSEMONT, Illinois – Athletes Unlimited Softball today named nine players to its inaugural All-Defensive Team prior to the final games of its second season. One of the nine members of the team will also be selected as the GEICO Defensive Player of the Year, as determined by a player and Unlimited Club fan vote, which runs through tonight's first game that starts at 7 p.m. ET. In addition, the ballot will determine the Rookie of the Year honoree from among the league's 13 eligible players.
The 2021 season will wrap up with two big games tonight – Team Jacquish vs. Team Eberle at 7 p.m. ET on FS1, followed by Team Chidester vs. Team Ocasio at 10 p.m. ET on CBS Sports Network. Also highlighting the final game will be the legendary Cat Osterman's last outing as a player, putting a cap on an illustrious career that has included three Olympic medals and the first-ever Athletes Unlimited championship.
2021 Athletes Unlimited All-Defensive Team:
Pitcher – Aleshia Ocasio
Catcher – Gwen Svekis
Corner Infielder – Amanda Chidester
Corner Infielder – Tori Vidales
Middle Infielder –Ali Aguilar
Middle Infielder –Anissa Urtez
Outfielder – Aliyah Andrews
Outfielder – Amanda Lorenz
Outfielder – Haylie McCleney
Utility – Hannah Flippen
With the exception of the pitcher, All-Defensive Team members must have played in a minimum of 60 percent of innings at that position. Selections were voted on by all 61 players in the league after the completion of game 28 on the penultimate day of the season yesterday.
On the rookie side, the 13 eligible players are in their first year of professional softball: Odicci Alexander (pitcher), Aliyah Andrews (outfielder), Sis Bates (middle infielder), Ciara Bryan (outfielder), Carrie Eberle (pitcher), Alyssa Denham (pitcher), Amber Fiser (pitcher), Jessie Harper (middle infielder), Dejah Mulipola (catcher), Bubba Nickles (outfielder), Gina Snyder (pitcher), Kayla Wedl (middle infielder) and Sami Williams (middle infielder).
Following today's voting by players and members of the Unlimited Club, the 2021 GEICO Defensive Player of the Year and Rookie of the Year will be announced live during the closing ceremony of season two this evening.
"We salute and commend the members of our inaugural All-Defensive Team, as well as all of the league rookies. These two groups helped deliver some of the most exciting and competitive professional softball the world's ever seen," said Jon Patricof, CEO and co-founder of Athletes Unlimited. "We now look forward to getting Athletes Unlimited fans involved in selecting our 2021 GEICO Defensive Player of the Year and Rookie of the Year from these exceptional groups."
About Athletes Unlimited
Athletes Unlimited is a new model of pro sports where athletes are decision-makers and individual players are champions of team sports. Athletes Unlimited literally changes the game with faster play and new team rosters every week, delivering next-level competition and engagement in which every moment counts. The first season of women's softball took place in 2020 and the first season of women's indoor volleyball was completed in March 2021. The inaugural season of women's lacrosse launched in July 2021, followed by the second season of softball in August. Season two of volleyball will be played in early 2022. For more information, visit AUProSports.com.