2022 Puerto Vallarta College Challenge
Six-team Field Announced for 2022 Puerto Vallarta College Challenge
Six-team Field Announced for 2022 Puerto Vallarta College Challenge
The 2022 Puerto Vallarta College Challenge is gearing up as the six-team field of D1 softball powerhouses and high-achieving mid-majors are announced.
Oct 29, 2021
by FloSoftball Staff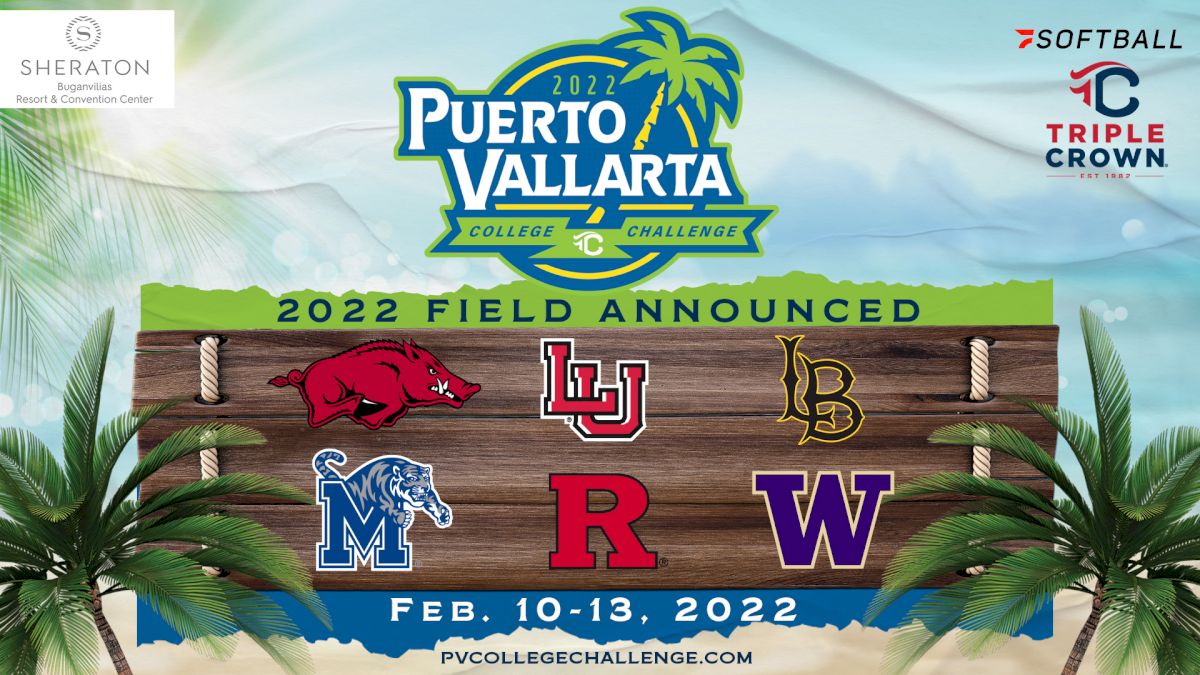 FORT COLLINS, CO — Tournament officials have secured an impressive six-team field of Division I softball powerhouses and high-achieving mid-majors, all gearing up for the Puerto Vallarta College Challenge slated for Feb. 10-13, 2022.
Scheduled to attend in 2022 are the programs from Arkansas, Lamar, Long Beach, Memphis, Rutgers and Washington. This is the third time Washington has made the trip for the event; it will mark the second trip for Arkansas, Long Beach and Rutgers.
All games will be livestreamed through FloSoftball; details will be announced in early 2022. Officials are already contracting teams for 2023, when the event hopes to return to two February sessions.
The PV College Challenge began in 2015 and has evolved into one of the premier tournaments designed to launch the softball season. It was the first-ever D-I softball event held outside the United States and has included programs from coast to coast — Auburn, BYU, Nevada, Notre Dame, Oklahoma, Ole Miss, Oregon, Tennessee and Texas are just some of the other programs who have played in Puerto Vallarta. The Mexican Olympic team also played in the tournament in 2020.
Games are played at Nancy Almaraz Stadium; many teams and their fans will book rooms at the newly refurbished and oceanside Sheraton Buganvilias Resort and Convention Center, which is walking distance to the stadium.
"The Puerto Vallarta College Challenge is up and running," said event director and Triple Crown Sports founder David King. "The community is excited to have back one of the most competitive events of the year, and as director, I am more than ready to be a part of our dream tournament."
About Triple Crown Sports
Based in Fort Collins, CO., Triple Crown Sports has been producing events in youth athletics and the college ranks for 40 years. TCS runs both the preseason and postseason WNIT basketball events and produces the men's and women's Cancun Challenge tournaments in November, which have been recognized by Sports Illustrated as a top-5 destination tournament for D-I basketball programs.