Big 12
Standout Catcher Julia Cottrill Transfers to Oklahoma State
Standout Catcher Julia Cottrill Transfers to Oklahoma State
Oklahoma State officially announces catcher Julia Cottrill has transferred from Florida to the Cowgirls.
Dec 1, 2021
by FloSoftball Staff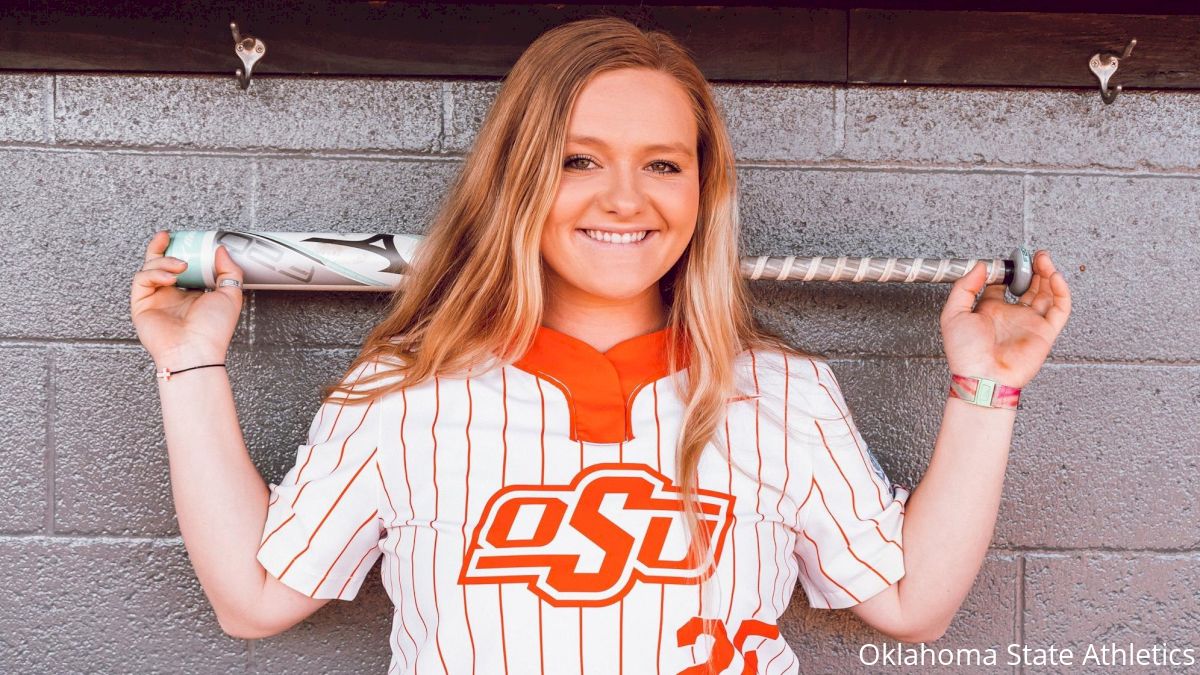 STILLWATER – Decorated catcher Julia Cottrill has joined the Oklahoma State softball program after two years at Florida, it was announced today.

Cottrill earned NFCA All-Region honors and was a member of the Southeastern Conference All-Newcomer team during her time with the Gators.

A junior who is eligible to play for OSU in 2022, Cottrill is the daughter of OSU assistant coach Jeff Cottrill.

"It's good to be home," Cottrill said. "I've always the admired the culture and atmosphere at Oklahoma State and I'm grateful to get to be a part of it. It just so happens to be a plus that my childhood hitting coach is on the staff."

In 2021, Cottrill started in 50 games for the Gators at catcher and tallied a .992 fielding percentage with 22 assists; she also halted seven stolen base attempts and made only two errors. She batted .294 with five home runs, 26 runs batted in and 10 doubles.

In her COVID-shortened freshman season at Florida in 2020, Cottrill batted .323 with a .446 slugging percentage.

Cottrill is the latest in a line of successful players from powerful programs to transfer to Oklahoma State in recent years, joining Samantha Show (Texas A&M), Alysen Febrey (Georgia), Carrie Eberle (Virginia Tech) and Hayley Busby (Virginia), all of whom went on to earn All-America honors as Cowgirls.

More on Julia Cottrill:

Catcher | 5-8 | Junior | Stillwater, Okla. | Andover Central HS | Florida

Honors and Awards
2021 SEC Academic Honor Roll
2021 All-SEC Newcomer Team
2021 SEC Newcomer of the Week (March 30)
2021 NFCA All-Southeast Region Third Team
2020 SEC Freshman of the Week (March 10)
2020 SEC First Year Academic Honor Roll
2019 U-19 USA Women's National Team Selection
2019 U-19 WBSC World Cup Gold Medalist
2019 USA International Cup Bronze Medalist

2021 (Sophomore at Florida): Earned NFCA All-Southeast Region third team and All-SEC Newcomer team selections… Named SEC Co-Newcomer of the Week after driving in seven total runs via three doubles and her first collegiate home run in a .500 (7-for-14) showing over a four-game stretch that included a single game with then-No. 22 UCF and three-game series sweep over then-No. 13 LSU… Hit a two-run walk-off home run in the bottom of the seventh inning against Texas A&M to clinch the SEC Regular Season Championship for the Gators… Tallied 10 multi-hit games and eight multi-RBI games on the year and pieced together an eight-game hitting streak from April 18 - May 1.

2020 (Freshman at Florida): Started in 25 games for the Gators and registered a .323 average at the plate with 11 RBI, 10 runs scored, eight doubles and 12 walks… Scored the game-tying run in the bottom of the 2nd inning of the Gators 3-1 win over FGCU and a career-high five assists – which included throwing out a pair of Eagles base runners… Produced a career-high three hits in the Gators 2-1, 11-inning win over Auburn in game two of the series and threw out her third runner in a week's span in game one against the Tigers… Finished the shortened 2020 season tied for eighth in the nation, third in the in the SEC, amongst freshmen with 8 doubles… Drove in a career-high three RBI in the Gators win over SE Louisiana on February 16… Hit a pair of doubles in a win over Nebraska on February 23.

High School: Capped her club ball career off with a gold medal at the 2019 WBSC World Cup as a member of the USA Junior Women's National team… Garnered PGF All-America Southwest region recognition and represented Team East in the 2019 PGF All-American game… Led her club team – Georgia Impact (Lewis 18U) – to the PGF National Championship title in 2018 and earned Oklahoma Fastpitch Coaches Association All-State honors… Named the Central Oklahoma Athletic Conference 6A Offensive Player of the Year and earned The Oklahoman's Big All-City second-team honors – the second of her career – in 2017… Selected to the 2016 Central Oklahoma Athletic Conference 6A First Team and The Oklahoman's Big All-City Second Team in her freshman year at Andover Central High School.