USA Softball
U18 Women's National Team Claims Junior Pan Am Championship Over Mexico
U18 Women's National Team Claims Junior Pan Am Championship Over Mexico
Undefeated 6-0 record, the USA Softball U-18 Women's National Team (WNT) claimed the gold medal at the 2021 Junior Pan American Games.
Dec 2, 2021
by FloSoftball Staff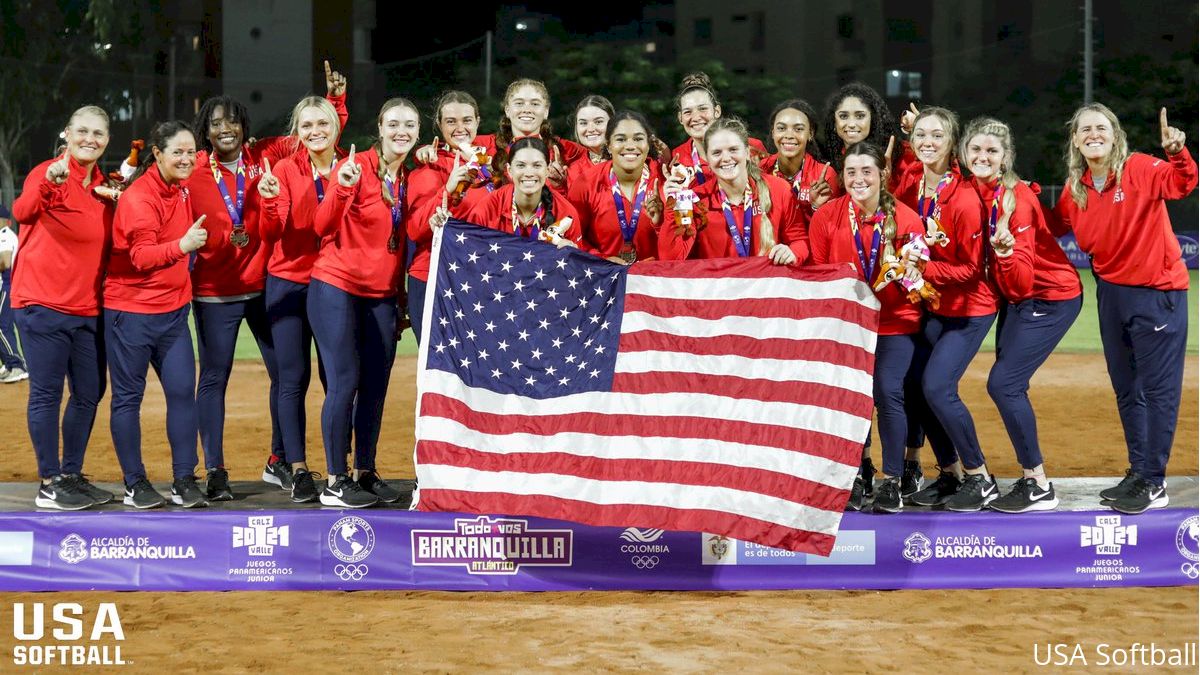 BARRANQUILLA, Colombia –– After recording a 10-0 (four innings) run-rule victory over No. 4 Mexico and finishing the tournament with an undefeated 6-0 record, the USA Softball U-18 Women's National Team (WNT) claimed the gold medal at the 2021 Junior Pan American Games. Valerie Cagle (Yorktown, Pa.) led the charge tonight, tossing a perfect game while striking out eight of the 12 batters she faced. The U.S. offense combined for 11 hits with Olivia Johnson (Pearland, Texas) going 3-for-3 and Erin Coffel (Bremen, Ind.) and Violet Zavodnik (Murrieta, Calif.) each accounting for two hits apiece, including a long ball from Zavodnik to keep the U.S. home run streak alive at six games.
"I am so proud of these athletes for their grit throughout our quest to the podium," said U-18 Women's National Team Head Coach, Kyla Holas. "They have met every challenge faced before them and really came together as a team. We are very appreciative of the opportunity to compete in the Junior Pan American Games and can't thank Barranquilla enough for their support during our stay. We're looking forward to heading to Lima for another great week of softball."

Cagle came out firing in the circle, issuing three quick strikeouts to retire the side in order and send the U.S. plate. After a line out to centerfield from Keely Williams (Cibolo, Texas), Kinsey Fiedler (Summit, Mo.) saw four straight balls to put the first runner of the game on base for Team USA. A pop-out would look to slow the U.S. momentum, but Zavodnik battled through a tough at-bat to crush a ball over the centerfield fence and give the Eagles an early 2-0 lead. Johnson kept the rally going with a double to left field, but a strikeout would end the inning.

A quiet second inning from both sides kept the score 2-0 and sent Team USA back into the field where Cagle picked up her fifth strikeout in the top of the third. At the plate again for the Red, White and Blue, Fiedler drew another walk to get things going in the bottom of the frame. Coffel followed suit with a base hit to put two runners on for the U.S. before a sac bunt from Zavodnik and a defensive miscue allowed Fiedler to score with Coffel and Zavodnik both advancing on the play. With runners in scoring position, Johnson delivered a single over the head of the second baseman to put the Eagles up 5-0. Another sac bunt from Maci Bergeron (Rayne, La.) would move Johnson to third, setting the stage for Haidyn Sokoloski (Flower Mound, Texas) to drive a ball to left field and tack on another run for Team USA. A groundout and a fly out would end the inning, but not before the U.S. pulled ahead, 6-0.

Continuing her dominance in the circle, Cagle silenced another three Mexico bats via a strikeout, bringing her total to eight K's through four innings. Williams came out strong for the Eagles in the bottom of the frame with a single to right field and a stolen base to spark the already hot U.S. offense. Coffel continued the momentum with her second base hit of the day, scoring Williams and advancing to second on the throw. With the score now 7-0, Zavodnik kept the foot on the gas, doubling to left field to add another run to the U.S. lead. A pitching change switched things up for the Mexico defense but would not slow down the Eagles as Johnson drove a hard ground ball to centerfield to plate Zavodnik and bring Team USA within one of the run-rule. Joecellia Roberts (Modesto, Calif.) gave the U.S. another base runner after being hit by a pitch, allowing Johnson to advance into scoring position. Karli Spaid (Chicago, Ill.) entered the game as a pinch hitter in the bottom of fourth and came up big with a clutch single to left field to score Johnson and claim the 10-0 run-rule victory over No. 4 Mexico.

The Red, White and Blue dominated the 2021 Junior Pan American Games, shutting out all six of their opponents while scoring a combined total of 71 runs. The U.S. offense proved superior with a team batting average of .460 and a total of 63 hits – including 13 home runs. Zavodnik led the offense, hitting an impressive .643 (9-for-14) with three home runs, five walks and a .737 on base percentage. Coffel racked up nine hits of her own while slugging two home runs and tallying seven RBI. The U.S. pitching staff put on an outstanding performance in the circle, allowing only five hits in the tournament while combining for a remarkable 0.00 ERA and striking out 62 batters in 30 innings pitched.

In addition to claiming the gold medal at America's first-ever youth continental multi-sport event, tonight's victory earned Team USA a berth to the 2023 Santiago Pan American Games. The USA Softball U-18 Women's National Team will continue their travels tomorrow as they head to Lima, Peru for the World Baseball Softball Confederation (WBSC) U-18 Women's World Cup. Scheduled for Dec. 6-12, the U.S. will look to claim a fourth-consecutive WBSC Junior Women's World Championship title, having won the previous three World Championships in 2015, 2017 and 2019. The official schedule of the WBSC U-18 Women's World Cup can be found on USASoftball.com.

About the World Baseball Softball Confederation
Headquartered in Lausanne, Switzerland -- the Olympic Capital -- the World Baseball Softball Confederation (WBSC) is the world governing body for baseball and softball. WBSC has 208 National Federation and Associate Members in 135 countries and territories across Asia, Africa, Americas, Europe and Oceania, which represent a united baseball/softball sports movement that encompasses over 65 million athletes and attracts approximately 150 million fans to stadiums worldwide annually.

The WBSC governs all international competitions involving official National Teams. The WBSC oversees the Premier12, World Baseball Classic, Baseball World Cups, Softball World Cups and Softball World Championships, as well as baseball and softball events at the Olympic Games.

For more information, visit www.wbsc.org, which is available six languages: English, French, Japanese, Korean, Spanish and Traditional Chinese.