2022 Puerto Vallarta College Challenge
Washington Softball Preview: Perennial Contenders Come Back Strong
Washington Softball Preview: Perennial Contenders Come Back Strong
Washington Huskies softball program looks to roar back to the Women's College World Series with Gabbie Plain and a lauded freshman class.
Jan 17, 2022
by Briar Napier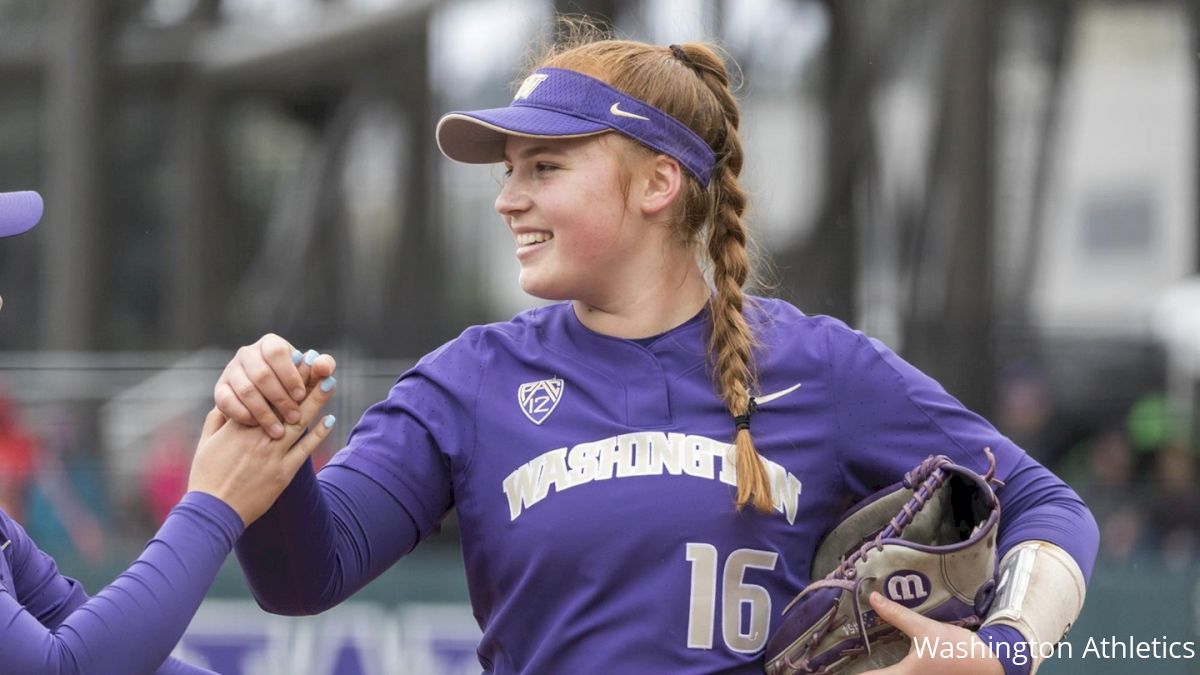 Sometimes, you've just got to tip your cap to who you're facing.
On the surface, Washington softball being denied a fourth consecutive appearance in the Women's College World Series last season seems like a bummer, especially considering the Huskies were one of only nine teams in the country to finish with 45 wins or more.
However, they ran into Oklahoma in the Super Regionals. The Sooners looked near-unbeatable for most of the year, finishing 56-4 and rewriting numerous NCAA records en route to a third national title since 2016. You've got to be on your game and more to beat the Sooners, and over two games in late May in Norman with a trip to Oklahoma City on the line, UW was not.
That doesn't mean it'll be permanent, however, especially with the personnel the Huskies have.
In advance of Washington's opening games of the 2022 season next month at the Puerto Vallarta College Challenge in Mexico, take a peek at what the Huskies bring to the diamond as they gun for their 15th appearance in the Women's College World Series this year.
Hitting
If there was one word to describe the Huskies batting from the 2021 season, it would be "reliable." Washington's team batting average (.321) and on base percentage (.404) both ranked within the top 15 in America last season as it and Women's College World Series finalist Arizona were the Pac-12's only two teams to bat over .320 with an OBP of over .400.
Senior infielder Baylee Klinger was a major part responsible for that, with the All-Pac-12 first teamer and second-team All-American finishing with a team-leading .416 average to go with 16 home runs and 53 RBI. Between her, outfielder Sami Reynolds and infielder SilentRain Espinoza, the Huskies get three of their top-five hitters back from that elite unit. If they can help transform UW into something similar to what fans saw during a dynamite start to the season last year—in which the Huskies won their first 22 of 24 games and hit seven runs 12 times in that span—coach Heather Tarr's team should be alright. Expect some power in those bats, too: Klinger and Reynolds both hit double-digit home runs in 2021, with Klinger's slugging percentage a very good .792, one that improved to .836 in Pac-12 play.
Pitching
Fifth-year senior Gabbie Plain was the star of the show on the mound for the Huskies in 2021 and she's back again in Seattle for an encore performance. The reigning Pac-12 Pitcher of the Year and First-Team All-American has thrown two perfect games and six no-hitters in her decorated Huskies career, cementing her status last year as maybe the nation's best hurler with a NCAA-best 32 wins and an awesome 1.45 ERA.
The Aussie also threw for far more innings than any player listed among the nation's top-10 last year in strikeout-to-walk ratio (6.88) while polishing her game up at the international level with her country at last summer's Tokyo Olympics, though Australia failed to repeat or better its bronze medal from the 2008 Beijing Olympics (softball was not on the Olympic program in 2012 and 2016). Nonetheless, it's hard not to see the three-time All-Pac-12 First Teamer again being absolutely dominant against most opponents as Washington's undisputed ace.
No UW pitcher besides Plain threw for more than 52 innings last season, but fifth-year senior Pat Moore was decent in a pinch, going 4-0 with a 3.38 ERA.
X-Factor
There are few things that give a bigger jolt to the arm of a program than nabbing an elite recruit. Well, Washington happens to have the No. 1 freshman recruit of them all this year.
Kinsey Fiedler, a 5-foot-7 shortstop from Lee's Summit, Missouri, was a longtime Huskies commit, named as the top recruit in FloSoftball's 2021 Hot 100 rankings and awarded the Greater Kansas City Sports Commission and Foundation's Sportswoman of the Year last summer, an honor she shared with Kansas City Chiefs tight end Travis Kelce on the men's side.
That's not bad pedigree on its own, but being a four-time All-State selection while hitting over .400 with a 1.578 OPS as a high school senior is pretty solid, too. Fiedler is the crown jewel of a stacked Washington freshman class, a portion of the roster that if they come up to speed quickly could make the Huskies even more dangerous.
Infielder Rylee Holtorf was the Gatorade Player of the Year in Arizona her senior year, Texan catcher/first baseman Olivia Johnson slugged over .700 for both her junior and senior seasons and Californian third baseman Angie Yellen was a four-year high school starter.