2022 Mark Campbell Collegiate Invitational
Mark Campbell Invitational: Sooners, Bruins Square Off In WCWS Rematch
Mark Campbell Invitational: Sooners, Bruins Square Off In WCWS Rematch
A WCWS rematch from last season featuring national champs Oklahoma and powerhouse UCLA is the highlight of this year's Mark Campbell Invitational.
Jan 19, 2022
by Briar Napier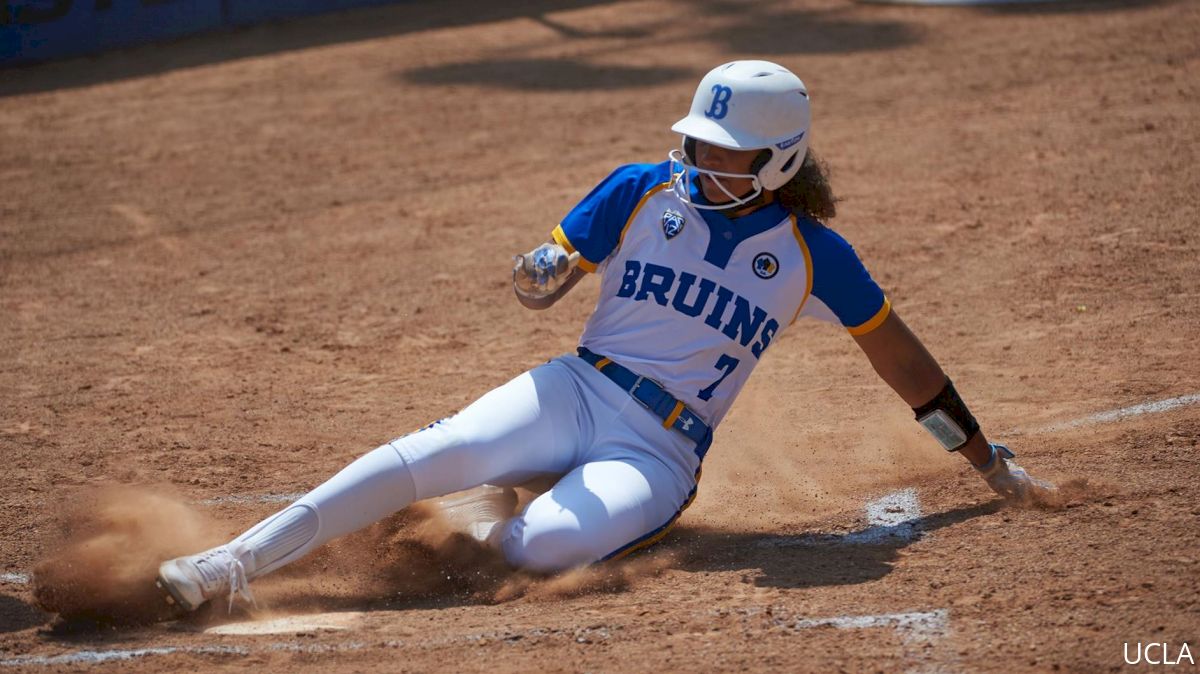 What's just as good (if not better) than a high-stakes game between two of the country's most historic softball programs at the end of the season?
Getting it at the beginning of the season.
Sure enough, a Women's College World Series rematch from last season featuring defending national champs Oklahoma and longtime powerhouse UCLA is the highlight of this year's Mark Campbell Invitational from Feb. 11-13 at Bill Barber Park in Irvine, California. The five-team event features some of the very best players and programs in the country.
And though the matchup between the Sooners and the Bruins is undoubtedly the main event, there's plenty of other softball to go around, too. OU will play four games in the invite, and UCLA will play two (including the game against each other), with a plethora of opportunities to catch early-season softball—on FloSoftball, specifically—and the personnel to watch over the grind of the regular season.
But just who and what is gaining attention heading into one of the country's most stacked early-season events?
Check out below what to watch for on every program in the Mark Campbell Invitational:
NOTE: Games are listed in Pacific Time and are subject to change.
Oklahoma Sooners
Last season: 56-4 (16-1 Big 12), won national championship over Florida State
The lowdown: Where to start? The Sooners last year had one of the greatest seasons in college softball history, romping to the program's fifth national title with new NCAA records in a plethora of categories including home runs, batting average, and many others. The scary part is OU might be even better this year. The Sooners' trio of NFCA First Team All-Americans from last season—second baseman Tiare Jennings and outfielders Jocelyn Alo and Jayda Coleman—all return, as do both second-teamers in catcher Kinzie Hansen and shortstop Grace Lyons. Pitching may be slightly weaker than last season with the departures of ace Giselle Juarez—the Women's College World Series' Most Outstanding Player—and 17-game winner Shannon Saile, now an assistant coach. Sophomore right-hander Nicole May (14-2, 3.05 ERA) is probably the slight favorite to be OU's new everyday hurler, though freshmen Jordyn Bahl (the reigning Gatorade National Softball Player of the Year) and Emmy Guthrie (Oklahoma's Gatorade Player of the Year) will be right on her tail.
Games in Mark Campbell Invitational:
vs. Loyola Marymount, 3:45 p.m. Feb. 11
vs. Mississippi State, 6:30 p.m. Feb. 11
vs. UCLA, 4 p.m. Feb. 12
vs. UC San Diego, 11 a.m. Feb. 13
UCLA Bruins
Last season: 47-7 (19-2 Pac-12), lost in Women's College World Series to Alabama/Oklahoma
The lowdown: The 12-time national champions didn't quite have the spark late last season, like when the team won the 2019 title, but a sixth consecutive WCWS appearance is by no means shameful. Nonetheless, the time has come to find a way to replace legendary Bruin utility/pitcher Rachel Garcia, who as a two-time NFCA National Player of the Year was one of the best in UCLA's storied program history. Fortunately for coach Kelly Inouye-Perez, redshirt junior pitcher/first baseman Megan Faraimo (19-3, 1.10 ERA) is living up to lofty expectations as one of the country's finest on the mound as a First Team All-American. Fellow first-teamers Aaliyah Jordan (.317 avg./.456 OBP/.563 SLG) and Maya Brady (.333/.435/.696) are back, too, both of which were major pieces in the Bruins averaging over six runs a game in 2021. How they fare in a WCWS rematch against the Sooners to cap off the weekend will be telling of each team's early-season trajectories—and possibly a preview of what's to come later this year in Oklahoma City.
Games in Mark Campbell Invitational:
vs. Mississippi State, 1 p.m. Feb. 12
vs. Oklahoma, 4 p.m. Feb. 12
Mississippi State Bulldogs
Last season: 35-25 (8-15 SEC), lost in Stillwater Regional to Oklahoma State
The lowdown: The Bulldogs' 2021 campaign can be defined best as a season of streaks. Mississippi State dropped nine straight games in March, being swept in series against rival Ole Miss, then-No. 5 Florida and No. 15 Arkansas. Then at the beginning of May, it won seven straight, with two victories each against South Carolina and No. 17 Tennessee, followed by a three-game sweep of No. 22 Georgia. Bringing all of it together will be high on the mind of third-year coach Samantha Ricketts, but she'll have to do it without the help of power hitter Fa Leilua, who graduated after being one of just 14 players in America to hit for 20 home runs or more. But if grad student catcher/infielder Mia Davidson can get back to anywhere near the levels of her 2019 season (when she blasted a school-record 26 home runs), MSU will be in business; she tallied 17 dingers last season with a .311 average, good for third on the team.
Games in Mark Campbell Invitational:
vs. Loyola Marymount, 1 p.m. Feb. 11
vs. Oklahoma, 6 p.m. Feb. 11
vs. UCLA, 1 p.m. Feb. 12
vs. Loyola Marymount, 9 a.m. Feb. 13
Loyola Marymount Lions
Last season: 22-21 (10-5 West Coast Conference), no postseason
The lowdown: On the offensive side of the game for the Lions, there were noticeable amounts of potential—albeit inconsistent amounts—last season. Infielder Andrea Gonzalez, shortstop Megan Dedrick and first baseman Alyssa Daniell all put up All-WCC First Team campaigns in 2021, with the trio combining for 46 of LMU's 137 RBI last year. But considering the amount of games the Lions played, that averaged out to just three RBI per matchup, which sometimes wasn't enough insurance for fellow first-teamer and pitcher Marina Vitalich (14-10, 2.26 ERA) to work with. Vitalich is graduated now, leaving right-handed sophomore Alessandra Samperio (4-5, 4.13 ERA) as the top returner on the mound, though three freshman pitchers—Savannah Hooks, Madison Askins and Jessica Hubbard—lie in wait, ready for an opportunity to show off their stuff. LMU may have also struck gold on the transfer market in former Central Florida infielder Georgia Blair, who started 47 of the Knights' 53 games at shortstop with 11 home runs, over half of the Lions' team total (20) from last season.
Games in Mark Campbell Invitational:
vs. Mississippi State, noon Feb. 11
vs. Oklahoma, 2:45 p.m. Feb. 11
UC San Diego Tritons
Last season: 16-19 (12-12 Big West), no postseason
The lowdown: For its first-ever season in Division I in 2021, things could've gone a lot worse for UC San Diego. There were some growing pains the Tritons had to go through—like when they lost eight straight games in April—but they finished the year winning seven of eight games and placing fourth within a solid Big West. The stakes are now raised in Year 2 of D-I play, not only because UC San Diego is going through a stacked non-conference schedule, but other schools also have a better idea of how it operates. Do-it-all utility player Bobbi Aguirre was and still should be a big part of that, batting .371 while splitting time at multiple positions including third base and designated player last season. Left-handed sophomore Gabby Williams should be primed for a big second year in the program after earning an All-Big West Freshman Team selection, earning it after going 6-1 with a 2.32 ERA and team-leading .243 batting average allowed.
Games in Mark Campbell Invitational:
vs. Oklahoma, 11 a.m. Feb. 13