2022 Puerto Vallarta College Challenge
Arkansas Softball Preview: The Hogs Have Arrived
Arkansas Softball Preview: The Hogs Have Arrived
The Women's College World Series is in the hearts and minds of the Arkansas softball team after a disappointing finish last season.
Jan 20, 2022
by Briar Napier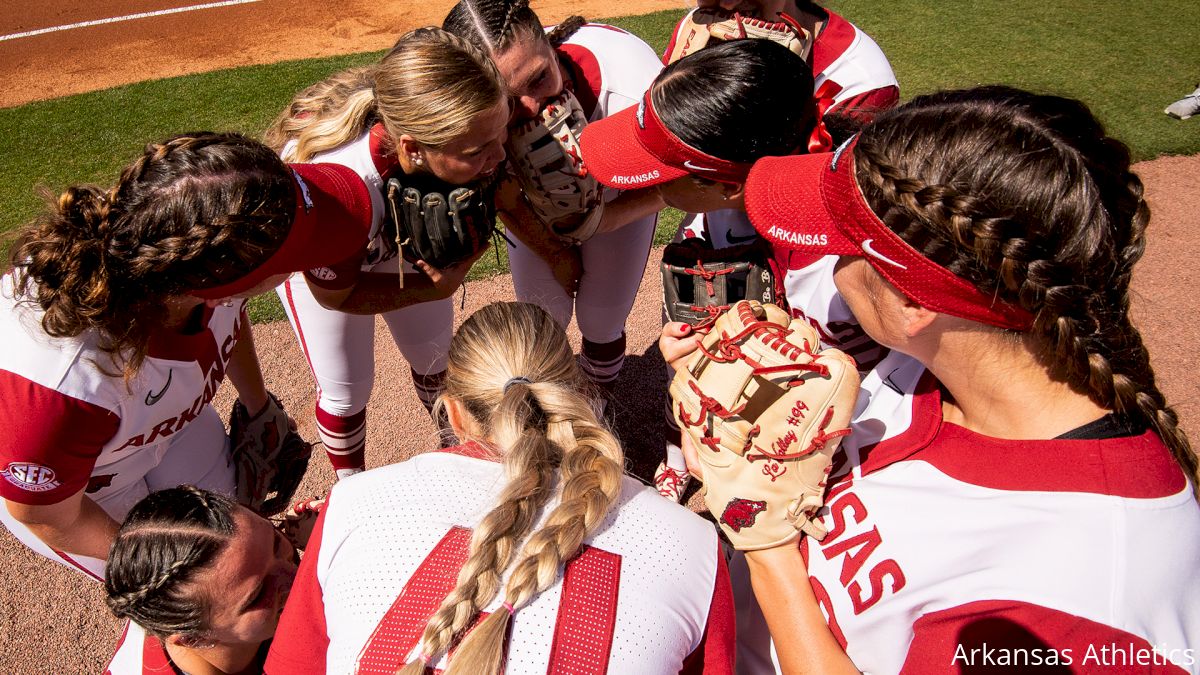 Arkansas softball preview: Can the Hogs finally get over the hump and make it to Oklahoma City?
Arkansas softball is quickly taking itself to new heights.
A middling program for much of its existence, the Razorbacks cracked the 40-win barrier for the fourth time in school history last season and clinched the Southeastern Conference's regular-season title for the first time, hosting a Super Regional and planting their foot on the doorstep of the sport's top teams.
What eluded the Hogs, however, was a trip to the Women's College World Series and a shot at the national championship in Oklahoma City. With numerous key pieces returning, silverware is undoubtedly on the minds of those on the roster.
But whether that dream can be realized or not depends on the production of Arkansas' talent throughout the season—and if they are up to the task of being legends in Fayetteville.
Here's what to look out for from Arkansas this year as the team returns one of the most stacked rosters in school history for 2022.
Hitting
Replacing the offensive equivalent of a stick of dynamite in now-graduated shortstop Braxton Burnside—who hit .357, had a third-best nationally 25 home runs and an .892 slugging percentage en route to a First Team All-America nod—seems almost unfair at first, until you realize the Hogs' power doesn't stop with her.
This team averaged 1.76 homers a game in 2021, which tied for fourth in America. In fact, Burnside was one of four different players who hit double-digit home runs, two of which return in Second Team All-American infielder Danielle Gibson (.355 avg., 15 home runs, 51 RBI) and redshirt senior Linnie Malkin (.265 avg., 18 home runs, 45 RBI), who often played as the Razorbacks' designated player last season.
Sophomore third baseman Hannah Gammill (.297 avg., nine home runs, 27 RBI) looked on pace for an even-more stellar freshman year until injuries limited her playing time. As Arkansas' leading hitter with runners in scoring position (.435 avg.) from last year, she could prove to be a vital piece of the Hogs' attack, especially later in the season. Oh, and on top of all that, redshirt senior outfielder Hannah McEwen was an All-SEC First Teamer in 2019 and was second on the team last year (behind Burnside) in on base percentage (.476). Good luck trying to stop absolutely everyone in the Hogs' lineup, because there are multiple dangerous weapons.
Pitching
Redshirt senior right-hander Mary Haff has been terrorizing SEC hitters for years at this point, and that standout talent was rewarded with a First Team All-America selection to go along with the SEC Co-Pitcher of the Year award shared with Alabama's Montana Fouts. Haff doesn't have the strikeout prowess Fouts does—she tallied 198 punch-outs compared to Fouts' national-best 349—but is about as good as it gets when it comes to closing out games. Haff's wins (26) and saves (5) ranked seventh nationally, while the Floridian threw just two wild pitches in 198.1 innings, making her a lethal hurler in relief as she went 9-0 from 15 appearances in the bullpen with a 0.72 ERA.
A big part of Arkansas' rotation from last year graduated in right-hander Autumn Storms (7-2, 1.42 ERA). However, Tennessee left-handed transfer Callie Turner (18-10, 2.50 ERA, 103 strikeouts in 33 starts for the Vols) is a strong replacement for Haff's second fiddle. Plus, redshirt sophomore right-hander Jenna Bloom (8-2, 4.01 ERA, 51 strikeouts in 57.2 innings) showed flashes of elite strikeout power last year on her way to the All-SEC Newcomer Team, though also likely needs to get her ERA down and improve her control (20 walks, six wild pitches).
X-Factor
Somewhat surprisingly, considering the total amount of talent Arkansas had on its roster last season, the Razorbacks were a bit lackluster against the best of the best in America.
Arkansas went 3-6 against top-15 opposition in 2021, including its final two losses of the year to then-No. 11 Arizona in a NCAA Super Regional that the Hogs hosted. As the No. 8 team in the D1Softball Top 25 Preseason Rankings released Tuesday, there's clearly plenty of respect for what coach Courtney Deifel's team can do. However, the Hogs have never made the Women's College World Series, a proverbial monkey on the back of the program that is one of the biggest things limiting Arkansas from often being mentioned with the elites of the sport like Oklahoma, UCLA and Arizona, among others.
Arkansas' schedule is once again chock-full of top-ranked matchups, such as two games against No. 7 Washington and the numerous series against ranked SEC foes like Florida, LSU, Tennessee and Kentucky. Much like last season, how the Hogs perform in those matchups could be a telling sign for how postseason play—and proving they finally belong among the top programs—may go.