2022 Mark Campbell Collegiate Invitational
Oklahoma Softball Preview: Sooners Stars Return, Ready To Repeat
Oklahoma Softball Preview: Sooners Stars Return, Ready To Repeat
As the No. 1-ranked team and the favorite to repeat as national champs, Oklahoma will garner a lot of attention this season.
Jan 26, 2022
by Briar Napier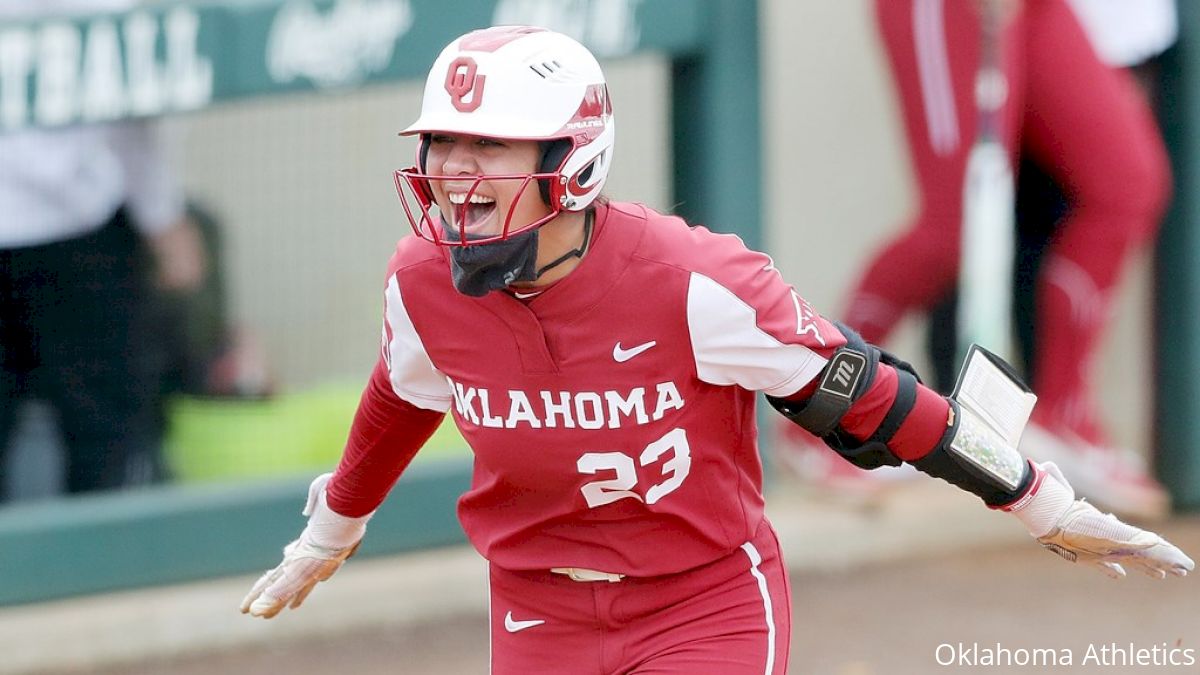 Watch Oklahoma softball this season with an expectation of fireworks.
That has both a figurative meaning as a metaphor for Oklahoma's record-setting offense—more on how that operates down below—and a literal meaning as OU celebrated a monster 56-4 year last season with a national championship and becoming the queens of college softball for the fifth time in school history.
To evoke the cliche, many Sooners games have video-game numbers that feature scores more appropriate on an Xbox than an actual, real-life softball game. Such is the juggernaut that longtime and legendary OU coach Patty Gasso has built, where some Sooners scores make you do double takes. But as the No. 1-ranked team in the D1Softball Top 25 Preseason Rankings and the favorite to repeat the feat as national champs, Oklahoma's might on the diamond will garner a lot of eyeballs.
Here's what to watch for this year as the Sooners look to one-up a record-setting 2021 with another historic season.
Hitting
There's quite a bit to discuss in this section. Not only did Oklahoma feature one of the greatest hitting seasons in NCAA history this past season, but the sheer volume of contact, power and discipline all throughout the lineup was at a level never seen in college softball.
Just look at all the national single-season records OU broke to quickly understand, such as team batting average (.405), total home runs (161), on-base percentage (.490) and slugging percentage (.778). Now for the scary part: of the seven players on the OU roster who hit at least 10 home runs last season, six return including the nation's No. 1 (Jocelyn Alo, 34), No. 2 (Tiare Jennings, 27) and No. 5 (Kinzie Hansen, 24) homer hitters from 2021.
No team in the country had—or likely still has—the guns on the pitching front to match the arsenal Oklahoma brings to the fray, as OU was held to under four runs just once (by James Madison in the opening game of the Women's College World Series). The pogram hit double-digits an astounding 30 times in 60 games, including an NCAA single-game record 13 home runs in a season-opening 29-0 demolition of UTEP last season.
Pitching
If you have the personnel that can keep up with Oklahoma's onslaught of offense (good luck with that, by the way), the Sooners' pitching is slightly weakened from a year ago with some potential in the ranks—but also much to prove.
Now-graduated left-hander Giselle Juarez was OU's ace after she arrived from Arizona State in 2019, proving her worth to the program among a sea of elite hitters by winning the WCWS' Most Outstanding Player Award last season. With her out of the picture and right-hander Shannon Saile (35-5, 1.49 ERA in three OU seasons) now an assistant coach, sophomore right-hander Nicole May (14-2, 3.05 ERA last year) is now the most proven arm in the Sooners' rotation, but as a member of the All-Big 12 Freshman Team last season, OU could certainly be stuck with worse options.
Where things get interesting are the recruits. Right-hander Jordyn Bahl will almost certainly be making a major impact from Day 1 as the consensus No. 1 recruit in America and last year's Gatorade National Player of the Year, but the trick is finding out how much she'll carry on her shoulders right away as a freshman on a stacked program. Freshman hurler Emmy Guthrie—the Gatorade Oklahoma Softball Player of the Year—could realistically break into the mix, too, leaving for some interesting decisions for Gasso in the season's opening weeks.
X-Factor
The Sooners had a fortunate string of good health last season, especially with its heavy hitters. OU's trio of NFCA First Team All-Americans (Alo, Jennings and Jayda Coleman) each played and started in all 60 of the Sooners' games, ensuring opposing pitching staffs never got a break or an off day when facing the Sooners' touted offense.
Three other players featured in all 60 games, as well, all of which are returning in Hansen, reigning Big 12 Defensive Player of the Year Grace Lyons and WCWS All-Tournament selection Mackenzie Donihoo. After reaping the spoils of having likely the most loaded batting lineup in NCAA history last year—and with ‌personnel returning to repeat or eclipse the feat—how will the Sooners react if a significant player goes down with injury? What if the COVID-19 situation in college athletics evolves (as it did in college basketball this year) and OU is forced to miss a chunk of time in quarantine?
Sure, Oklahoma has probably the country's deepest lineup, and you don't win five national titles like Gasso has by not making in-season adjustments. But if the Sooners have to face some issues beyond just blowing out another program, it could be intriguing to see how they react.