2022 Mary Nutter Collegiate Classic
Mary Nutter Collegiate Classic: Top Teams Fight It Out In California
Mary Nutter Collegiate Classic: Top Teams Fight It Out In California
In an exciting start to the season, eight top ranked collegiate softball teams will clash in Cathedral City, California for the annual classic.
Jan 28, 2022
by Briar Napier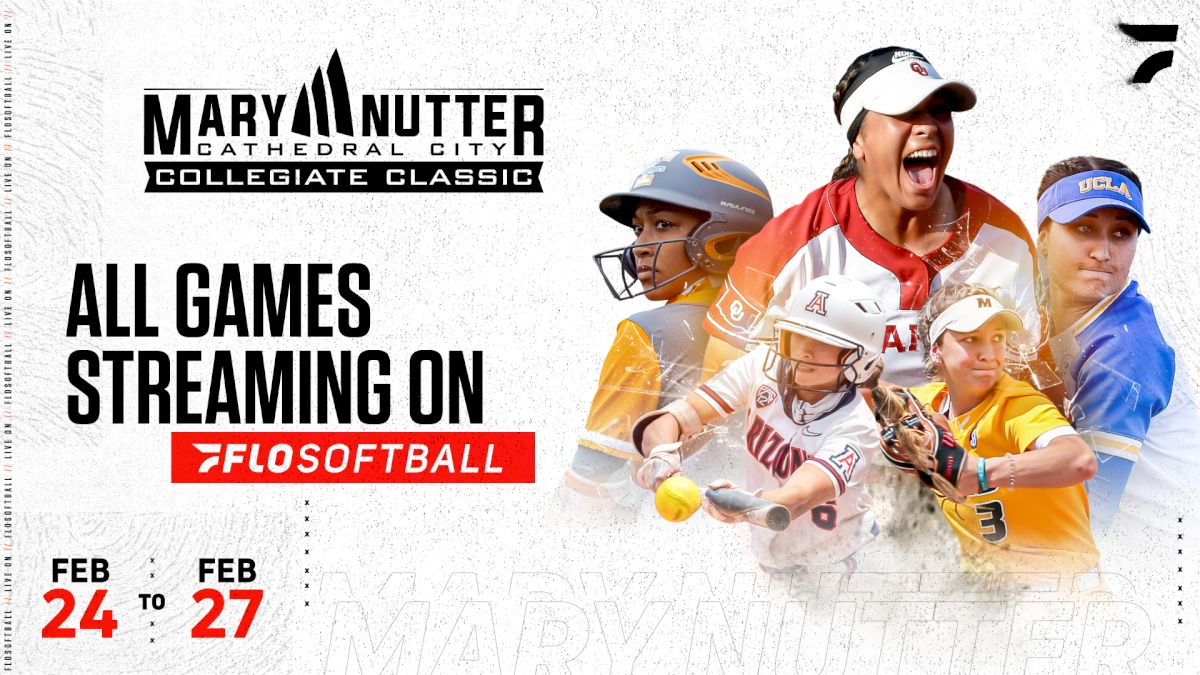 If you were waiting for a perfect time to get your early-season softball fix, this is it.
In a stacked field featuring eight teams ranked in the D1Softball Top 25 Preseason Poll—four of which are placed in the top 10—the nucleus of college softball during the weekend of Feb. 24 to 27 will be at the Big League Dreams Complex in Cathedral City, California, a massive setup featuring scaled-down Major League Baseball fields, a setting worthy of the cream of the crop of college softball.
Can't get out west? FloSoftball has got you covered with the entirety of the tournament being streamed live here.
Here's what to look out for from the top-25 ranked teams in the Mary Nutter Collegiate Classic field this season.
NOTE: All start times are listed in Pacific Time and are subject to change.
Oklahoma Sooners
Preseason ranking: No. 1
Last season: 56-4 (16-1 Big 12), won national championship over Florida State
The lowdown: Oklahoma was borderline unfair last season and may be even closer to unbeatable this season. The Sooners last year largely cruised to the program's fifth national title with new NCAA records in numerous offensive categories including home runs and batting average. The Sooners' trio of NFCA First Team All-Americans from last season—second baseman Tiare Jennings and outfielders Jocelyn Alo and Jayda Coleman, who started all 60 games—all return, as do both second-teamers in catcher Kinzie Hansen and shortstop Grace Lyons.
Pitching may be slightly weaker than last season with the departures of ace Giselle Juarez (the Women's College World Series' Most Outstanding Player) and 17-game winner Shannon Saile, now an assistant coach. Sophomore right-hander Nicole May (14-2, 3.05 ERA) is probably the slight favorite to be OU's new everyday hurler, though freshmen Jordyn Bahl (the reigning Gatorade National Softball Player of the Year) and Emmy Guthrie (Oklahoma's Gatorade Player of the Year) will be right on her tail. Expect plenty of blasts out of the park from the Sooners; Alo, Jennings and Hansen hit a combined 85 home runs, which by itself (against every other team's full lineup) would've ranked 11th in the country.
Games in the Mary Nutter Collegiate Classic:
vs. Cal State Fullerton at 12:30 p.m. Feb. 25
vs. Long Beach State at 3 p.m. Feb. 25
vs. Arizona at 10 a.m. Feb. 26
vs. Tennessee at 12:30 p.m. Feb. 26
vs. Utah at 9 a.m. Feb. 27
UCLA Bruins
Preseason ranking: No. 4
The lowdown: News flash: The most successful softball program in NCAA history is still really, really good. After the Bruins won their 12th title in school history in 2019, they couldn't repeat the feat in the school's sixth straight WCWS appearance last year as they ran into the buzzsaws of Alabama and Oklahoma. Legendary Bruin utility/pitcher Rachel Garcia is a massive influence to replace, who as a two-time NFCA National Player of the Year was one of the best in UCLA's storied program history. Fortunately for coach Kelly Inouye-Perez, redshirt junior pitcher/first baseman Megan Faraimo (19-3, 1.10 ERA) is living up to lofty expectations as one of the country's finest on the mound as a reigning First Team All-American.
Fellow first-teamers Aaliyah Jordan (.317 avg./.456 OBP/.563 SLG) and Maya Brady (.333/.435/.696) are back, too, both of which were major pieces in the offense. UCLA faces just two of the eight top-25-ranked teams in the Mary Nutter Collegiate Classic, but it's part of a loaded first month of the schedule for the Bruins that includes dates with other elites in Oklahoma, Florida State and Texas.
Games in the Mary Nutter Collegiate Classic:
vs. Iowa State at 5:30 p.m. Feb. 25
vs. Texas Tech at 8 p.m. Feb. 25
vs. Tennessee at 3 p.m., Feb. 26
vs. Baylor at 5:30 p.m. Feb. 26
vs. Missouri at 11:30 a.m. Feb. 27
Washington Huskies
Preseason ranking: No. 7
The lowdown: While most college softball programs saw their players spend the offseason working on their games at home or the team facility, Washington had one representing her country at an Olympics. Yep, Huskies ace Gabbie Plain (the reigning Pac-12 Pitcher of the Year) was named to the Australian national team for the Games in Tokyo last year, where her country finished fifth. And in bad news for Washington's opponents: Plain is back stateside. She led the country last year with 32 wins, finished with a miniscule 1.45 ERA and can cement her status as a campus legend with another monster year.
In the batter's box, infielder Baylee Klinger should once again be the main driver of UW's offense (.416 avg./.507 OBP/.792 SLG last year) after a stellar year in being named a Pac-12 First Teamer and a Second Team All-American. Also watch for freshman shortstop Kinsey Fiedler to potentially break into the mix. The Missouri native was named as the No. 1 overall recruit in the FloSoftball 2021 Hot 100, an honor that several former All-Americans—such as Oklahoma State's Miranda Elish and Florida's Amanda Lorenz—have earned in the past.
Games in the Mary Nutter Collegiate Classic:
vs. San Diego State at 6 p.m. Feb. 25
vs. Loyola Marymount at 8:30 p.m. Feb. 25
vs. Missouri at noon Feb. 26
vs. Northwestern at 2:30 p.m. Feb. 26
vs. Iowa State at 9 a.m. Feb. 27
Missouri Tigers
Preseason ranking: No. 10
The lowdown: A consistent program for nearly two decades—the Tigers have only missed the postseason twice since 2003—coach Karissa Anderson's team was a game away from its first trip to the WCWS since 2011, but ran into Second Team All-American Odicci Alexander and James Madison in the Columbia Super Regional. Shortstop Jenna Laird (First-Team All-SEC, SEC Freshman of the Year) and outfielder Brooke Wilmes (Third Team All-America) return to play a larger role in the Tigers trying to get to that point, and further, yet again. The two started all 59 of the Tigers' games and played key roles in the Tigers having the second-best batting average (.320), second-most home runs (91) and most RBI (342) in a loaded SEC.
Pitching was solid, too, as no hurler on the roster had worse than a 3.97 ERA for the season last year. Right-handed junior Megan Schumacher had the lowest at 2.69 as she's back in the rotation for 2022 as she and fellow right-handers Jordan Weber (12-7, 2.82 ERA) and Laurin Krings (11-3, 3.68) should all get frequent starting nods on the bump this season.
Games in the Mary Nutter Collegiate Classic:
vs. Oregon at 12:30 p.m. Feb. 25
vs. Texas Tech at 5:30 p.m. Feb. 25
vs. San Diego State at 9:30 a.m. Feb. 26
vs. Washington at noon Feb. 26
vs. UCLA at 11:30 a.m. Feb. 27
Arizona Wildcats
Preseason ranking: No. 15
The lowdown: If you were a college pitcher facing the Wildcats last spring, you didn't want to throw to redshirt sophomore outfielder Janelle Meono. The 5-foot-4 Californian marked a sensational start to her college career by hitting .439 as a freshman, winning the Pac-12 Freshman of the Year Award and the batting title. She squeezed in a 27-game winning streak from March 11 to May 2, as well, being a consistent force in one of the nation's best offenses (6.32 runs per game).
That might was helped out by four different Wildcats knocking in double-figures in home runs last season, with the second-most of the bunch coming from redshirt sophomore catcher Sharlize Palacios (18 home runs, 57 RBI) who is returning for 2022. In the pitching rotation, Alyssa Denham's 19-8 record and 1.95 ERA is a lot to replace, but redshirt senior Hannah Bowen (10-4, 2.06 ERA, .91 WHIP) did well in the times she was called upon and should be the ace as the lone upperclassman hurler on the roster.
Games in the Mary Nutter Collegiate Classic:
vs. California Baptist at 12:30 p.m. Feb. 24
vs. Cal State Fullerton at 3 p.m. Feb. 24
vs. Bethune-Cookman at 10:30 a.m. Feb. 25
vs. UC Davis at noon Feb. 25
vs. Oklahoma at 9 a.m. Feb. 26
Oregon Ducks
Preseason ranking: No. 16
The lowdown: Quack quack, the Ducks are back … maybe. Since making the WCWS in 2018, Oregon went a disappointing 22-30 in 2019 then had a promising 22-2 start shuttered due to COVID-19 in 2020. Last season's return to the NCAA Tournament was a step back on the right track, but probably not the type of accolades that coach Melyssa Lombardi's team is used to after previously making five WCWS appearances under current Texas coach Mike White.
If the Ducks do indeed aim to return to Oklahoma City, it'll probably be thanks to a stellar season from fifth-year left-hander Brooke Yanez, who was named to First Team All-Pac 12 and as a Third Team All-American for a 22-6 record and 268 strikeouts, second in the league behind Washington stud Gabbie Plain. But no matter how Oregon tries to slice it, outfielder Haley Cruse's prowess on offense—as the only player in school history to lead the team in hitting all four years—will be greatly missed. Senior infielder Allee Bunker (.342 avg., 10 home runs, 49 RBI) will probably be responsible for carrying much of the batting load on her shoulders until someone else on the roster steps up.
Games in the Mary Nutter Collegiate Classic:
vs. Northwestern at 10 a.m. Feb. 25
vs. Missouri at 12:30 p.m. Feb. 25
vs. Seattle at 5 p.m. Feb. 26
vs. Cal State Fullerton at 7:30 p.m. Feb. 26
vs. Long Beach State at 11:30 a.m. Feb. 27
Tennessee Volunteers
Preseason ranking: No. 18
The lowdown: As long as Ashley Rogers is a Lady Vol, Tennessee is going to be a tough team to beat. Her 26 wins were tied for seventh nationally and tied for second in the SEC, finishing as the league's champion in ERA (1.32) and opposing batting average (.132) as the senior was often lights-out playing for her home-state program. There's no reason to expect Rogers to slow down in her last hurrah, especially with the program aiming to get back to the WCWS for the first time since 2015.
To make matters even better for coach Karen Weekly's team, all three hitters that finished with an average of over .360 last season—Ashley Morgan, Amanda Ayala and Kiki Milloy—return for 2022 to make up one of the SEC's most stacked and proven lineups. On top of all that, graduate infielder Ivy Davis may not have hit for average (.282) but definitely did for power, knocking in a team-leading 16 home runs with a .626 slugging percentage.
Games in the Mary Nutter Collegiate Classic:
vs. BYU at 1 p.m. Feb. 25
vs. UC Davis at 3:30 p.m. Feb. 25
vs. UC San Diego at 10 a.m. Feb. 26
vs. Oregon State at 3:30 p.m. Feb. 26
vs. Oklahoma at 12:30 p.m. Feb. 27
Northwestern Wildcats
Preseason ranking: No. 23
The lowdown: In 2022, Wildcats coach Kate Drohan will now have spent a quarter-century involved with the Northwestern softball program—‌including a four-year spell as an assistant. A legendary career for Drohan that includes back-to-back WCWS appearances in 2006 and 2007. Could Year No. 21 as the Wildcats' leader prove to be one of her best? Second baseman Rachel Lewis (.336 avg./.492 OBP/.606 slg.) was a unanimous All-Big Ten selection for a reason, and she's back in the fold as the most key piece of the Wildcats' attack.
But can pitcher Danielle Williams finally recapture some of the historic form from her historic 2019 freshman season? The California native was named the NFCA National Freshman of the Year with a 31-8 record and 1.55 ERA in 2019, putting up one of the greatest seasons by a Wildcat ever on the mound, regardless of class. Though her next full season in 2021 was anything but bad (17-7, 2.21 ERA), it didn't turn as many heads. If Williams shows some of the elite potential she's flashed at times in Evanston, it could be another historic year in Drohan's long and successful career.
Games in the Mary Nutter Collegiate Classic:
vs. Oregon at 10 a.m. Feb. 25
vs. San Diego State at 3 p.m. Feb. 25
vs. Washington at 2:30 p.m. Feb. 26
vs. Cal State Fullerton at 5 p.m. Feb. 26
vs. Texas Tech at 9 a.m. Feb. 27