2022 Mary Nutter Collegiate Classic
Mary Nutter Collegiate Classic's Best Hitters Feature Plenty Of Power
Mary Nutter Collegiate Classic's Best Hitters Feature Plenty Of Power
Two Sooners headline the list of the best hitters at this year's Mary Nutter Collegiate Classic.
Feb 4, 2022
by Briar Napier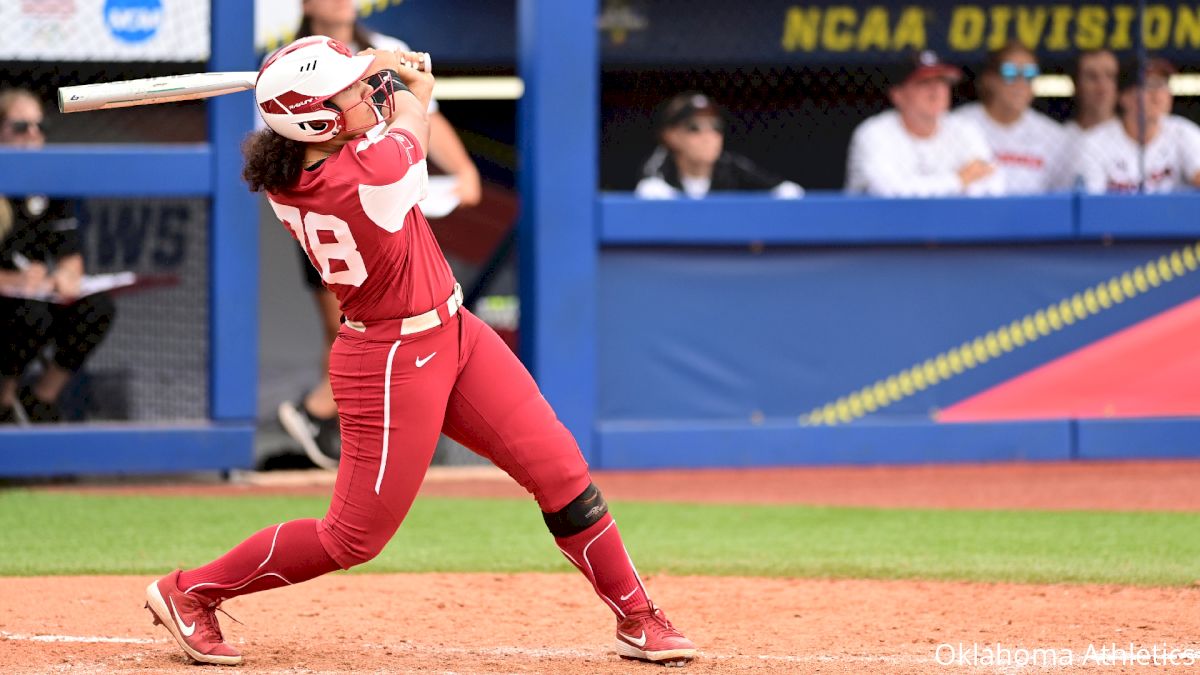 If you like plenty of offense in your softball, the Mary Nutter Collegiate Classic is probably the event for you.
Not only is the greatest-hitting college softball team of all-time (last year's Oklahoma) in the field, but almost all of the main drivers behind the Sooners romp of a run to the national championship return. Worried about getting bored of the Sooners? There's plenty of other drivers of the ball for all kinds of tastes—power, contact, consistency and much, much more.
It's a loaded field at the Mary Nutter once again from Feb. 24 to 27 in Cathedral City, California, one which won't bring any shortage of stardom but an abundance of spectacular plays. Who are some of the top bats to watch out for? Look no further for a list of five, all of which you can check out any time during the event on FloSoftball.
Jocelyn Alo, R-Sr., UTIL, Oklahoma
Last season's national home run queen was the only player in America to break the 30-homer barrier in 2021, with a few extra bombs on top of it for a career-high 34 blasts. It stands as both the new OU and Big 12 single-season record. The Hawaiian enters her fifth year in Norman with 88 home runs, needing eight more to pass Sooners legend and all-time NCAA record-holder Lauren Chamberlain for first on the career home runs list. Barring injury or another significant disruption, Alo should break the mark somewhere in the middle of the 2022 season. But don't get Alo mistaken as a player that can only swing for the fences—her .475 average last season was a career high and fourth nationally among players that appeared in at least 40 games, while her slugging percentage was an absurd 1.109, making her one of just three players in the country to average at least a base per at-bat.
Listing two Oklahoma players in a row may seem like bias at first glance, but the historic year the Sooners had hitting the ball in 2021 makes it more understandable. And if it weren't for her own teammate in Alo, it would likely be Jennings that could be considered ‌the best hitter in America. The California native had one of the finest freshman seasons in college softball history
in 2021, hitting 27 home runs for second in America while breaking the NCAA freshman single-season RBI record (92) and nabbing OU single-season records with 52 extra-base hits and 25 doubles. In addition, she's one of the other two players (besides Alo) to slug over 1.0—a mark she finished at almost exactly, to make up a duo that will continue to terrorize opposing pitchers well into 2022. Last year's NFCA National Freshman of the Year could be set for another explosive season in Norman as the Sooners pursue a second consecutive national championship—and more hitting records to break.
Hatti Moore, Gr., C, Missouri
The grad student is entering her fifth year starting behind the plate for the Tigers in a college career that's just gotten better and better as time has gone on. Moore's batting average and slugging has improved with every year in Columbia. However, 2021 was the true breakout campaign as she hit .320, slugged .657 and smashed a team-high 17 home runs. But, Moore is listed among some of the nation's top hitters competing at the Mary Nutter because she has something no one can teach: the clutch gene. She's proven huge in big moments throughout her career—such as a six-RBI game in the 2019 Los Angeles Regional and a two-homer in a 2020 upset of then-No. 8 Minnesota—but possibly one-upped herself by going 7 for 9 with four RBI throughout last year's Columbia Regional, punching the Tigers' ticket to the Super Regionals. Against a slate of elites in Cathedral City including Washington and UCLA, can Moore get going at the right time again?
Janelle Meoño, R-Soph., OF, Arizona
Being crowned the Pac-12 hitting champion—while playing in a league featuring routine college softball elites such as UCLA and Washington—is a monumental achievement. Meono earned the top spot in the conference in 2021 as a freshman. After a middling 2020 in which the Californian only hit .205 in 44 at-bats before the season shut down, Meono burst open in her first full year in Tucson by averaging a league-best .439 en route to being named the Pac-12 Freshman of the Year. She was remarkably consistent, holding a 27-game hitting streak that spread from March to May, and was about as reliable a base hit as anyone in America, with 61 of her 72 hits being singles. An NFCA Third Team All-American a year ago, any improvement in her already-elite offensive numbers will surely have her in the running for a second- or even first-team nod.
Ivy Davis, Gr., INF, Tennessee
Arizona won't play Tennessee in this year's edition of the Mary Nutter, but while looking around Big League Dreams Complex the Wildcats may catch sight of a familiar face. Davis transferred from Tucson to Rocky Top after the 2020 season was shuttered early and became the Volunteers' answer at shortstop from the jump, starting 57 games while leading UT with 16 home runs and 47 RBI. It was a career year for the fifth-year senior that went a bit under the radar as the Vols finished seventh in a loaded SEC and were unceremoniously knocked out in three games of a regional they hosted, limiting the amount of eyes that saw the Californian excel in her first season in Knoxville. Tennessee has back-to-back dates just two and-a-half hours apart with the Nos. 1 (Oklahoma) and 4 (UCLA) teams on Feb. 26 at the Mary Nutter, however, and if Davis can get it done against them, attention will begin to flock toward her.