2022 Northern Lights Southern Nights
Entering Season, Mizzou's Larissa Anderson Has Rebuilt Tiger Mentality
Entering Season, Mizzou's Larissa Anderson Has Rebuilt Tiger Mentality
A self-described disciplinarian, Anderson demands the highest level of competitiveness, a fact she is quick to point out to potential recruits.
Feb 9, 2022
by Stephen Kerr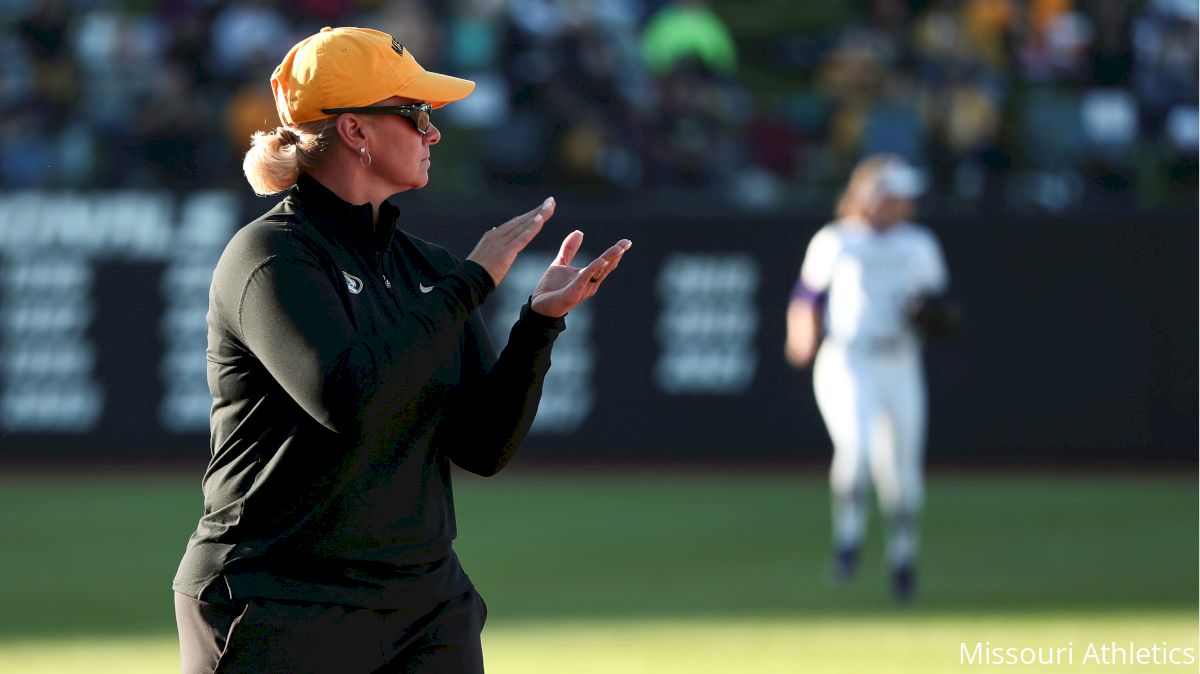 When NCAA sanctions against the Missouri softball program were upheld in 2020 following an academic cheating scandal, head coach Larissa Anderson became nervous. The program would not only be banned from both SEC and NCAA postseason action, but players would be allowed to transfer without having to sit out a year.
An appeal in March of 2019 allowed the program to participate in postseason play that year. But when the appeal was denied the following November, Anderson braced herself for the wave of departures she was sure would come.
To her surprise and relief, not one player chose to leave.
That resolve would be put to the test again several months later, when the coronavirus pandemic shut down the season after the Tigers had played just 26 games. Players whose spring sports were cut short would be allowed to change schools and were given an extra year of eligibility.
Again, no one transferred.
"That year was pretty difficult," recalled senior first baseman Emma Raabe. "We went through a lot together, and I think we all just wanted to stay together. From start to (finish), we were going to play like every game was our last and like it was a championship. That was our only choice at that point."
It was also a testament to the loyalty the team had developed for Anderson since she took over the program prior to the 2019 season. A self-described disciplinarian, Anderson demands the highest level of competitiveness, a fact she is quick to point out to potential recruits.
"The first thing I say to any recruit that sits in the office is it's not easy to play here," Anderson said. "I'm tough, I'm very structured, very disciplined. There's a Mizzou way to do things. Either you're going to do the Mizzou way or you're not going to fit in, and that's OK."
Prior to her arrival in Columbia, Anderson spent 17 years at Hofstra, the final four as head coach. She posted a 130-73-1 record during that four-year span with a pair of NCAA Tournament appearances. She also served two seasons as an assistant at LIU Post, where she helped the Pioneers to a combined 75-33 record. As a player, she was a regional All-American outfielder at Gannon University, where she also served as a graduate assistant for one season.
When she was offered the Missouri head coaching job, Anderson was told getting to the Women's College World Series was not an immediate priority. The culture was in serious need of repair following the departure of Ehren Earleywine, who exited less than two weeks before the start of the 2018 season. Under interim head coach Gina Fogue, the Tigers stumbled to a 29-28 record and finished last in the SEC. Several players had transferred by season's end, and the cheating scandal was like a proverbial axe waiting to fall.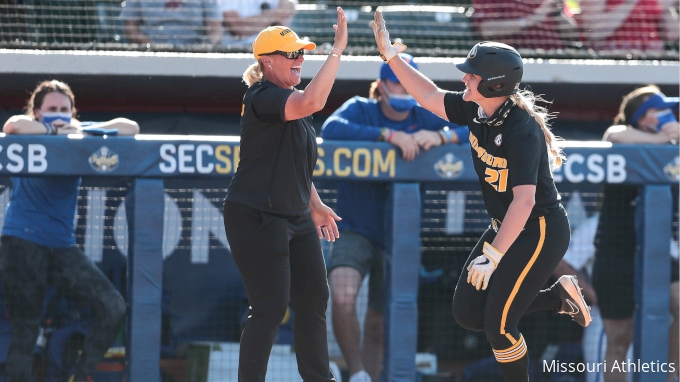 The Tigers finished 35-25 in Anderson's first season, the most since 2016. They earned a spot in the Los Angeles Regional, pushing host UCLA to a winner-take-all game. But during one stretch that saw the Tigers lose a midweek home game to a mid-major school, Anderson was not happy with her team's effort. In the locker room after the game, she challenged the players to ask themselves why they were there.
"That was the turning point," Anderson recalled. "I was embarrassed with the product we put on the field. I was embarrassed with their effort, their attention to detail and their ownership. They didn't play with a lot of pride."
Raabe was a freshman that season. While she had committed to the previous coaching staff, she was coming in with a coach who had a new, fresh approach.
"I was new with her, so I had no preconceived notions or expectations," Raabe said. "That first year was a strict schedule and strict regimen. We have this hard work, blue-collar philosophy. It didn't matter if you were a freshman, senior, junior, whatever. You were on the same level, and you were going to put in the work. I think that's translated well in my last four years."
The Tigers were 19-6 and undefeated in SEC play before COVID-19 canceled the remainder of the 2020 season. Since the postseason ban only covered that year, the shutdown offered a reprieve of sorts.
The 2021 season was Anderson's best to date. Mizzou finished 42-17, 15-9 in conference play, and appeared in its first Super Regional since 2016. The Tigers fell to James Madison, who went on to become the first unranked team to make the WCWS semifinals. It was also the first time the Tigers had hosted a Super Regional since 2013. Mizzou Softball Stadium set a new attendance record during the final game of the Super Regional with a sold-out crowd of 2,686.
Six Tigers were picked for NFCA All-region honors, a school record. Center fielder Brooke Wilmes, who hit .373 with 79 hits, 55 runs, 16 doubles, 13 homers and 55 RBI, earned NFCA Third Team All-American and First Team Southeast All-Region honors. The team set new program records in homers (91), and fielding percentage (.979). They also led the nation with a 1.37 ERA during the NCAA Tournament. Following the season, Anderson was rewarded with a contract extension that will run through 2026.
"This is a well-deserved extension for Larissa," Director of Athletics Desiree Reed-Francois said in a statement. "Excellence is our standard and she has built our softball program into one of the best in the nation. Under her direction, the team has shown improvement every season, been successful in the classroom, recruited at a high level and had a thrilling postseason run in 2021."
All starters from last year's squad are returning, including Wilmes, reigning SEC Freshman of the Year Jenna Laird, fifth-year senior Hatti Moore and Raabe.
At shortstop, Laird made quite a splash during her rookie season. She batted .369 with eight home runs and 38 RBI. She was even more impressive during SEC play with a .410 batting average, third in the conference. This season, she was one of three Tigers named to the Preseason All-SEC Team, along with Moore and Wilmes.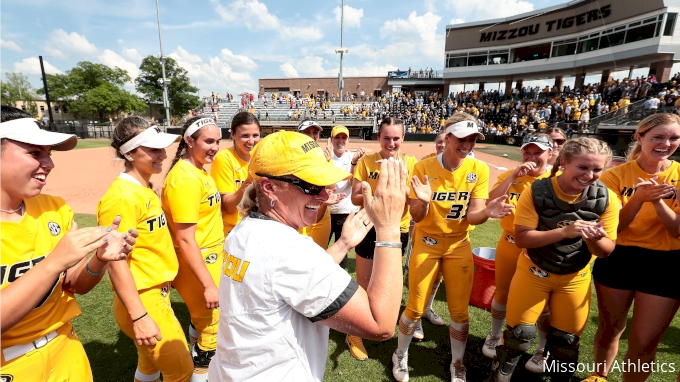 As last season's starting catcher, Moore tied for third in program history for a single season with 17 home runs. She was one of two Tigers to drive in at least 50 runs, and led the team in walks.
Raabe batted .269 with 11 doubles, nine homers, 33 RBI and 28 walks. In the seventh inning of the SEC Tournament semifinal against Florida, she hit a three-run homer to put the Tigers ahead 6-5. The Gators ended up winning the game on an error.
In the circle, junior righthander Jordan Weber is back, along with sophomore righty Laurin Krings. Weber, the Mizzou ace last season, went 119.1 innings with a 2.82 ERA and 105 strikeouts. She recorded a 0.90 ERA in the postseason, and pitched the 40th no-hitter in program history against Iowa State that sent the Tigers to the Super Regional.
As a freshman, Krings went 11-3 with a 3.68 ERA over 29 appearances with 13 starts. She led the team with 122 strikeouts and a 3.3 K/BB ratio.
Juco transfer Addie Lange, a catcher from Volunteer State Community College in Tennessee, headlines the crop of newcomers. In 66 games, she hit .459 with 32 home runs, 123 RBI and had a 1.023 OPS. Infielders Kara Daly and Julia Crenshaw also join the team this season.
"They're pushing our upperclassmen," Anderson said. "They're making them that much better and challenging them."
Experience will be a plus if the Tigers hope to take the next step and get to Oklahoma City for the first time since 2011. This season's schedule features 15 opponents that reached last year's NCAA Tournament, including three WCWS participants.
While the Super Regional loss to JMU was tough to swallow, Raabe believes the team is stronger because of it.
"Last year gave us even more confidence," she explained. "We started to see (that) we're making it to the next step. It's not just a dream, it's a reality, it's an expectation. Taking what worked last year and putting it towards this season is going to be a big part of what causes our success."