2022 Mary Nutter Collegiate Classic
Waiting Has Paid Off For Tennessee's Ashley Rogers
Waiting Has Paid Off For Tennessee's Ashley Rogers
Rogers has already earned SEC Co-Pitcher of the Week honors this season after posting a 2-0 record and picking up a save in three appearances.
Feb 17, 2022
by Stephen Kerr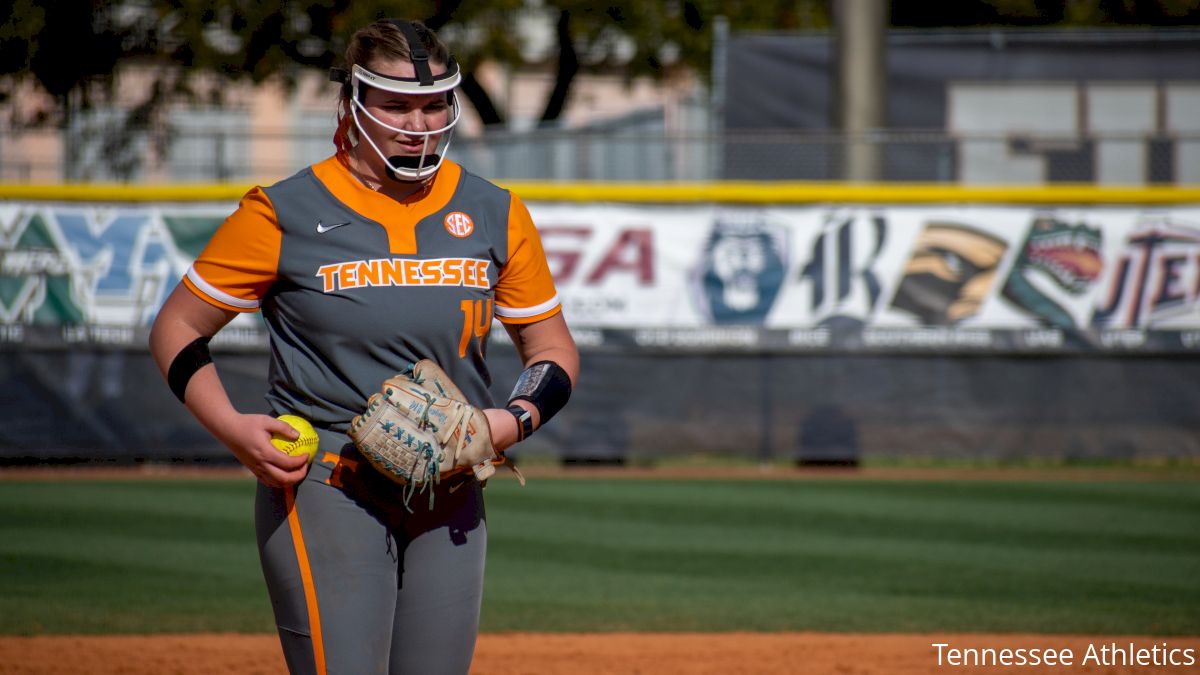 After her freshman season ended in 2019, Ashley Rogers had already cemented herself as one of the top young pitchers in college softball. An NFCA All-Southeast Region and All-SEC First Team selection, Rogers posted 21 victories, third-best in the conference and 41st in the nation. Her 1.94 ERA was best on the team and put her seventh in the SEC.
Then came the fall season. One day at practice, Rogers began experiencing pain in her lower back. She thought little of it at first, chalking it up to the rigors of fall ball. She took a week off during Christmas break, but the pain persisted. That's when the decision was made to shut her down to start the 2020 season.
Rogers worked hard during rehab and was scheduled to make her first start against Texas A&M in mid-March. Just as the team was about to leave for the trip, the season was abruptly halted by the coronavirus pandemic.
"One of our girls was walking down to go to the plane and (she was told) to come back," recalled the 5-10 senior from Athens, Tennessee.
Rogers would have to wait until the start of the 2021 season to get back in the circle. But even that wasn't without a glitch. The Lady Vols were scheduled to open the season at the Kickin' Chicken Classic in South Carolina until rain washed out the tournament.
As difficult as the waiting was, Rogers believes she learned a lot from the experience. It allowed her time to develop into a better player by being on the sidelines and seeing the game from a different perspective.
"I have a lot more respect for other facets of the game now more than just physical and mechanical," Rogers said. "I was always taught growing up you finish what you start. That mentality from a young age is something that has helped me become who I am today."
When Rogers finally got back in the circle last season, she solidified her spot as the team's ace, finishing 26-10 with 25 complete games, eight shutouts and three saves. She was the SEC leader in ERA (1.32), OBA (.132), and innings pitched (217.1). She ranked fifth in the NCAA with 296 strikeouts, and her 3.19 hits allowed per seven innings led the conference and ranked third in the country.
"The 2020 season was probably a blessing in disguise for Ashley and us in terms of her not being able to throw," Lady Vols head coach Karen Weekly said. "To get that year back… I'm just so grateful that she has this year and next year. Last year, she was in a better place health-wise, but this year she's in an even better place."
Rogers didn't grow up with softball as her sport of choice until high school. She played basketball at Fairview Christian Academy. But the school didn't have a softball team, so she co-opped with Meigs County to play softball. It was the father of a basketball teammate who first noticed how tall and athletic she was and convinced her to become a pitcher.
"Even my family was kind of pushing me that I could be a really good softball player if you put your mind to it," Rogers recalled. "I was a good pitcher, but I didn't devote tons of my time to it."
Rogers dominated at Meigs County High, leading the team to three TSSAA Division I Class AA state championships. She ranked 12th in FloSoftball's 2018 Hot 100 and was a two-time Tennessee State Gatorade Player of the Year. In 2017, she set a TSSAA State tournament record with 80 strikeouts, and set a career school record with 1,401.
In early 2016, while playing for the Tennessee Fury travel team, Rogers began working with Brandon Carr, a pitching instructor for Fury 18U Platinum and Chattanooga State University. In her first lesson, her velocity increased by three miles per hour. But Carr became more than just a pitching coach. After Rogers' father passed away suddenly when she was 16, Rogers looked to Carr as a father figure.
"He's definitely become one of my confidants in my entire life, even outside softball," Rogers said. "He's helped me through many tough times. Softball can be a roller coaster ride, and he's helped me all throughout my career."
Weekly isn't afraid to use Rogers in relief. In last season's opener against Eastern Kentucky, she earned her first save, striking out five of the six batters she faced to close out a doubleheader. In March, she came in and escaped a jam against LSU that set up Ivy Davis' walk-off home run. During a May 2 game at Auburn, Rogers threw six innings of relief to earn the win with no runs or walks and six K's.
"No matter what role I'm put in, you have to set the tone," Rogers explained. "That's the most important thing, going out there and making your presence known on the field. I could be doing horribly, but you still have to have the body language and act like you're running the field, because you are."
Rogers and Weekly both take an analytical approach to the game. When Rogers' older brother Andrew served on the team as a student manager, he told Weekly the best way to challenge her was to "poke the bear" and get under her skin. More often than not, Rogers comes back with added intensity.
"Andrew would always tell me whenever you go out to the mound and challenge her, the next pitch usually has three or four (additional) miles an hour on it," Weekly said with a chuckle. "She pitches better when she's mad. Sometimes you just need that little jolt."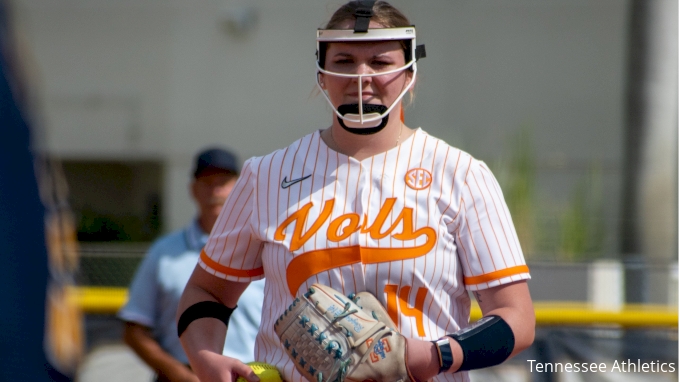 The Lady Vols finished 42-15 in 2021, including series wins over No. 8 Kentucky, No. 21 Georgia, South Carlina and Auburn. It was their 18th consecutive full season with 40-plus wins, and they reached the SEC Tournament semifinals for the 16th time in program history.
In the first round of the conference tournament, Rogers tossed a career-high nine innings with 13 strikeouts in a walk-off win over Texas A&M. She struck out 12 in a one-hit shutout victory over Arkansas in the quarterfinals, and started the Knoxville Regional with a complete game effort against Eastern Kentucky.
The Lady Vols suffered a tough 6-4 loss to Liberty later in the regional. Rogers allowed four earned runs in 4.0 innings with four walks and five strikeouts. The big blow came in the fourth, when Liberty freshman Savannah Channell smacked a grand slam over the left field wall to wipe out a 2-0 Tennessee lead.
The loss, which ended the season, still turns Rogers' stomach. But like all other setbacks, it gave her an opportunity to look back over the entire season and find ways to improve her game.
"She's a true competitor," Tennessee pitching coach Megan Rhodes Smith said. "Once she processed (the loss), she went right back to work and knew exactly what she wanted to do and what it was going to take for her to be an even better pitcher this year."
The Lady Vols began a new era following the retirement of Weekly's husband Ralph. Rogers is grateful for all she has learned under his guidance.
"Ralph is obviously one of the most successful and legendary coaches in all of softball," Rogers said. "He's made his mark on this program, and we're going to take what he brought, run with it, and go even further. It was an honor to play for him."
Rogers has already earned SEC Co-Pitcher of the Week honors this season after posting a 2-0 record and picking up a save in three appearances at the Felsberg Invitational in Miami. She struck out 20 in 13.0 innings and posted a 0.00 ERA. But experience has taught her that the season is a long, uphill climb to Oklahoma City in June.
"We're all working together and we realize what it's going to take to get to where we want to go," she said. "I think we have that in our minds and the roles we're each going to play in achieving that goal."