BIG EAST Softball
Butler, Seton Hall Share #BIGEASTsb Weekly Accolades
Butler, Seton Hall Share #BIGEASTsb Weekly Accolades
Seton Hall's Janae Barracato wins BIG EAST softball player of the week.
Feb 21, 2022
by FloSoftball Staff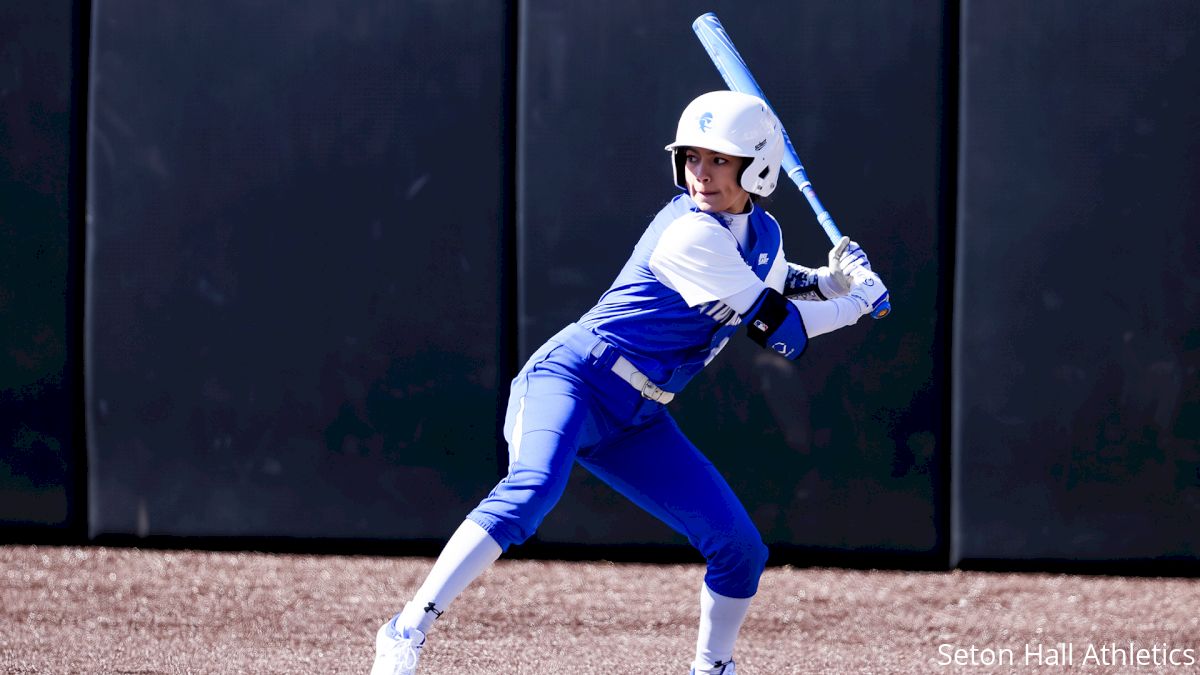 BIG EAST Softball Player of the Week
Janae Barracato, Seton Hall, Gr., UTIL
Seton Hall's Janae Barracato was a force at the plate this past weekend, batting a BIG EAST-best .615 en route to a 3-1 weekend for the Pirates at the Retriever Round Robin at UMBC. The graduate also led the conference this past weekend in on base percentage (.667), base hits (8) and doubles (3), while her six runs scored was second best in the league. Barracato had three multi-hit performances, including a 3-for-3 effort with a double and two runs scored against St. Joseph's on Sunday.
BIG EAST Softball Pitcher of the Week
Karli Ricketts, Butler, Sr., P/DP
Butler's Karli Ricketts did not surrender a run in 13 innings of work this past weekend for the Bulldogs. The senior scattered just six hits across her two starts, both of which resulted in Butler victories. Ricketts shut down Hofstra over six innings on Friday, allowing just four hits while striking out 10. The following day against Monmouth, Ricketts went the distance, allowing just two hits and striking out six.
BIG EAST Softball Freshman of the Week
Lauren Caye, Seton Hall, Fr., OF
Seton Hall's Lauren Caye burst onto the scene this past weekend, clubbing three home runs as part of the Pirates' big offensive showing at the Retriever Round Robin hosted by UMBC. Caye entered Sunday's game against UMBC in the fifth inning as a pinch hitter, and proceeded to hit one over the wall for her first career home run in her second career at-bat. Later in the same inning, the freshman slammed a three-run home run to give her two on the day. In the second game of the doubleheader against St. Joseph's, Caye would hit another three-run home run to help the Pirates to a victory.
BIG EAST Softball Weekly Honor Roll
Reese Guevarra, UConn, Gr., OF
Guevarra hit .444 with one home run and two RBI for the Huskies this past weekend. On Sunday against James Madison, she went 2-for-3 with one run scored.
Emma Rosonke, Creighton, So., OF
Rosonke tied for the most RBI this past weekend with eight. The sophomore hit .400 on the weekend, hitting two home runs and two doubles while amassing 14 total bases across Creighton's 4-1 weekend
Brooke Johnson, DePaul, Jr., 1B
Hit three home runs this weekend and drove in eight runs. Went 3-for-4 with two home runs and six RBI in Friday's win over Iowa.
Kayla Dunn, Georgetown, Fr., P
Allowed just one earned run over 17.2 innings of work while striking out 14. Across her three appearances, Dunn limited opponents to a .103 batting average.
Kari Shedrick, Providence, Fr., OF
Hit .462 over five games this past weekend, the second best batting average in the conference over that span. The freshman had a walk-off single in game one of Saturday's doubleheader against Morgan State, propelling the Friars to a 3-2 win.