2022 Mary Nutter Collegiate Classic
Oklahoma Vs. Arizona Preview: Sooners, Wildcats Square Off
Oklahoma Vs. Arizona Preview: Sooners, Wildcats Square Off
In an early season elite matchup, Oklahoma will take on Arizona at the Mary Nutter Collegiate Classic.
Feb 22, 2022
by Briar Napier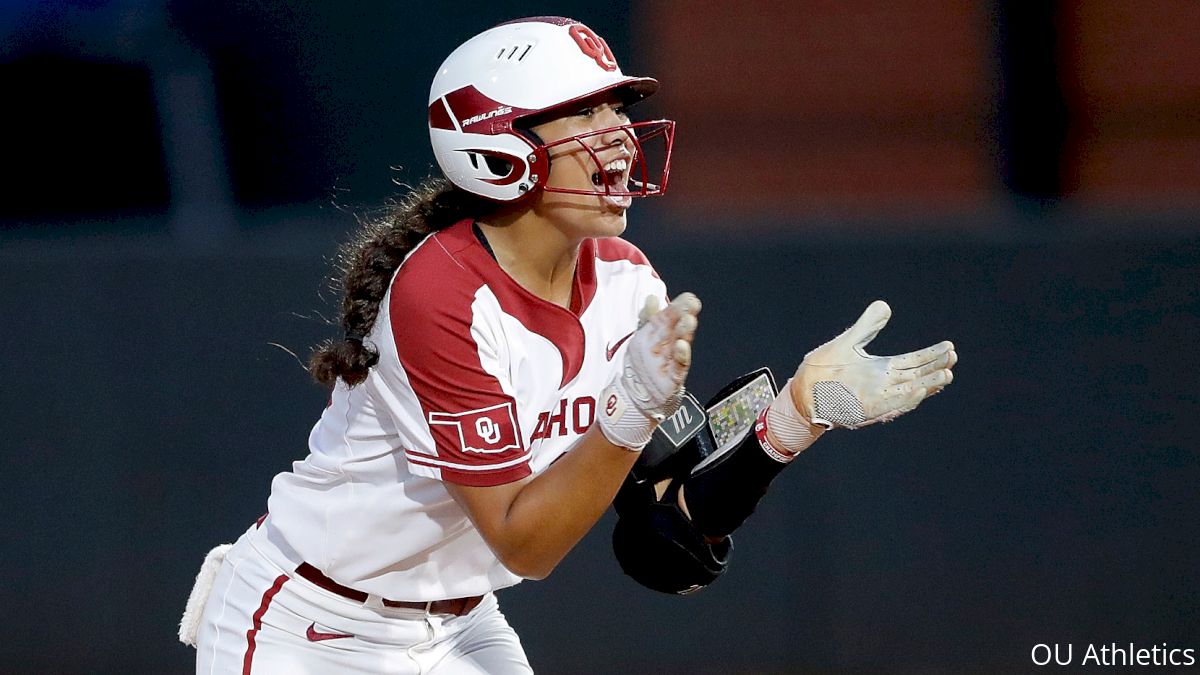 Want to watch a Women's College World Series preview in February?
Just take a peek at what's to be the de-facto main event at the Mary Nutter Collegiate Classic this weekend in Cathedral City, California. There's two teams coming off trips to Oklahoma City last season chomping at the bit to repeat the feat in 2022.
There's Oklahoma, the defending queens of college softball, that loves to break hitting records about as much as it loves breaking opposing pitchers' spirits. And there's Arizona, only behind UCLA in all-time national championships and looking to make it a three-peat of WCWS appearances for the first time in Tucson since the run of six straight from 2005 to 2010—a run which included two of those national titles.
Both schools have lofty goals, but they'll have to get through each other first to reach them. Here's what to expect from each team in advance of their titanic tussle at 10 a.m. (PT) Saturday, Feb. 26.
Oklahoma Sooners
2021: 56-4, national champions
2022 (so far): 10-0
The Lowdown
Thought Oklahoma couldn't possibly keep up its record-setting form from 2021—when the Sooners rewrote the NCAA offensive record books en route to a fifth national championship in school history? Think again. OU returned just about all of the heavy hitters from last year's team including senior utility Jocelyn Alo, who hit her 95th career home run against Texas State last Sunday to tie Sooner great Lauren Chamberlain's all-time NCAA record. Alo should almost certainly break it sometime during OU's five-game run at the Mary Nutter and maybe before the clash with the Wildcats, which comes after games against Cal State Fullerton and Long Beach State. But if the native Hawaiian is still sitting at 95 homers when the Arizona game comes around, the already-high stakes of the possible WCWS preview could go completely off the charts with historic proportions.
Oklahoma is outscoring opponents 95-2 through 10 games with a nation-leading 25 home runs, a familiar spot for the Sooners after they hit an NCAA-record 161 home runs last season. Six players already have multiple blasts on the year—including Alo and infielders Tiare Jennings and Jana Johns—but maybe the most chilling part of OU's roster is the sudden dominance of its pitching staff. The Sooners' pitchers in 2021 had a 1.94 ERA, a top-20 mark that was undoubtedly an underrated part of OU's game, as the historic hitting stole much attention. Thus far in 2022, that ERA is 0.00, making Oklahoma the only team in America to not allow an earned run this season.
Whether it's been sophomore returner Nicole May, superstar freshman Jordy Bahl or North Texas transfer Hope Trautwein starting on the mound, all have been dominant, throwing a combined 87 strikeouts to just 18 hits and 15 walks between them. And Oklahoma hasn't just beat up on cupcakes, either: UCLA (who is itself in the national title hunt) had no answer for Bahl, the reigning Gatorade National Player of the Year in high school, as the Nebraskan threw a four-hit complete game while striking out 14 in a 4-1 win Feb. 12 against a Bruins squad chock-full of award winners.
The Sooners may truly have no weaknesses this year, and it's up to Arizona and the rest of the foes on the schedule to try and figure them out.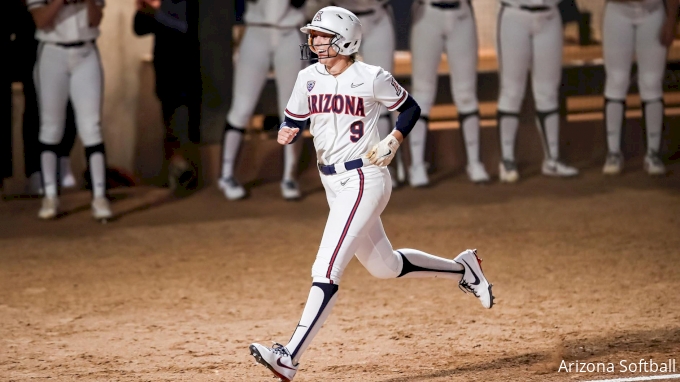 Arizona Wildcats
2021: 41-15, lost in Women's College World Series to Alabama/Florida State
2022 (so far): 7-2
The Lowdown
The sheer power and volume of the offensive options Oklahoma has is unlike any college program in the country this season, and maybe even ever in college softball history. To compare the two would maybe be a bit unfair, but it definitely shouldn't minimize what the Wildcats consistently bring to the batter's box. Arizona has already hit the double-digit run mark in four of its nine games and has players in tow that like to bat runs in for fun: Sharlize Palacios, U of A's redshirt sophomore catcher, already has 17 RBI to put her tied for third in the country as of Monday afternoon. On top of that, two other players—utility Allie Skaggs (13) and infielder Carlie Skupin (10)—have already cracked double-digit RBIs to kick off 2022. And that's all while reigning Pac-12 batting champion Janelle Meono is starting a bit slow out of the blocks, batting a solid .346 average, but with all of her hits being singles.
The most important distinction between Arizona and Oklahoma at the moment, however, is that the Sooners have passed their early-season test against elite opposition in the win over UCLA. The Wildcats have not. In a WCWS rematch against an old foe in No. 2 Alabama on Feb. 12, the Crimson Tide wiped the floor with U of A, winning 11-0 in five innings as Ohio State transfer Ashley Prange blasted two home runs. With a chance to redeem itself against another ranked school in No. 16 Kentucky this past Saturday, it was the SEC's Wildcats which emerged on top in a 7-6 victory in which UK smacked 12 hits.
Arizona's pitching is by no means awful right now, as many teams would take a 2.46 team ERA with what appears to be an emerging ace in sophomore Devyn Netz (0.47 ERA, 10 strikeouts in 15 innings). But for those like the Wildcats with dreams of hardware and aspirations for Oklahoma City, it's not good enough—and the Sooners have made their name the past two seasons by taking advantage of overwhelmed hurlers.
On the bright side for Arizona, there's no grander opponent for coach Caitlin Lowe-Nagy—in her first season leading her alma mater after the retirement of NCAA all-time wins leader Mike Candrea—to prove her and her team's worth against than No. 1 Oklahoma, but only if the Sooners don't make it a blowout first.