2022 Mary Nutter Collegiate Classic
For Jocelyn Alo, Home-Run Record Is An Unbelievable Dream Come True
For Jocelyn Alo, Home-Run Record Is An Unbelievable Dream Come True
Oklahoma's Jocelyn Alo looks to break the NCAA Softball record for home runs at this weekend's Mary Nutter Collegiate Classic.
Feb 23, 2022
by Kyle Kensing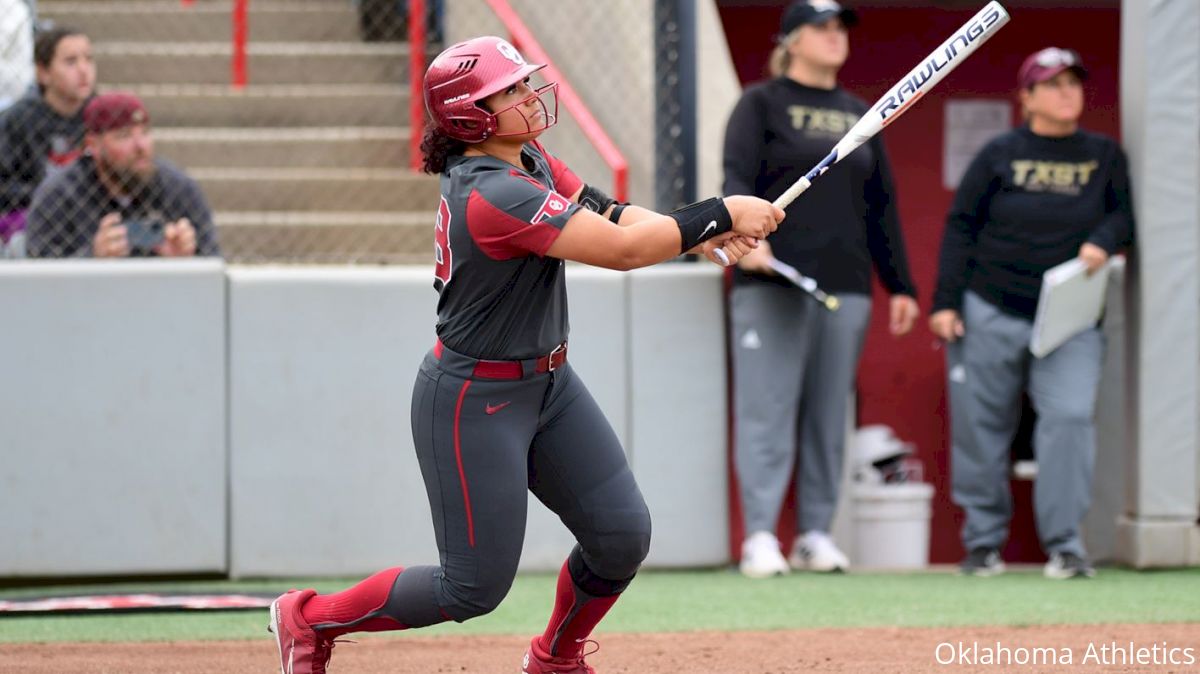 Just about every youngster who takes up a sport dreams of reaching the pinnacle, but the dreams becoming reality may have sounded unbelievable to Oklahoma's Jocelyn Alo.
"My younger self would be like, 'Yeah, alright,'" said Alo, taking herself back to envision a future that includes a national championship and belting 95 career home runs in the present.
"Me being from Hawaii, you don't really hear of a lot of people doing the kind of things I've been doing."
The Hauula native is right, though technically, few from anywhere have done what she has in her college career. Actually, just one other hitter has ever accomplished as much at the plate as Alo: Lauren Chamberlain.
Chamberlain set the NCAA record for career home runs in her time at Oklahoma, spanning 2012 to 2015. With one more swing of the bat, Alo will pass the fellow Sooner, with whom she currently shares the home-run crown.
That swing will likely be made at the Mary Nutter Collegiate Classic in California's Coachella Valley. The reigning national champion Oklahoma begins a challenging weekend Friday with a doubleheader against Cal State Fullerton and Long Beach State.
The Sooners are 10-0 to start 2022, and Alo—who came into the campaign virtually assured of setting the home-run record, given she hit 30 and 34 in each of the last two full seasons—made her pursuit of history much easier with seven dingers already.
She tore through pitches at the Houston Classic, blasting five over three games and two against both McNeese and Houston. Alo's performance earned her national Player of the Week recognition.
👑 𝐖𝐡𝐨 𝐞𝐥𝐬𝐞? 👑

Jocelyn Alo named Louisville Slugger/@NFCAorg DI Player of the Week.#ChampionshipMindset » https://t.co/TQlXz598Br pic.twitter.com/FARkY7ogBb

— Oklahoma Softball (@OU_Softball) February 22, 2022
The honor is certainly meaningful, but pales in comparison to the magnitude of making history. A young Jocelyn Alo may not have believed such a feat was possible, but that next home run will put her in company with a childhood hero.
"I remember I had this Barry Bonds jersey I would wear over my [softball] jersey," Alo, an avowed San Francisco Giants fan said. "Barry Bonds was my guy."
Bonds holds the Major League Baseball record at 762 home runs hit over 9,847 at-bats. With 95 homers in 606 plate appearances, Alo more than doubles the rate at which she knocks it out compared to her childhood inspiration Bonds' pace.
Bonds is one historically significant batter whose jersey Alo has donned. The other may soon be Chamberlain's.
Reflective of what Alo called "a Sooner sisterhood thing," Chamberlain has worn a custom-made Alo jersey to support Jocelyn in her chase of the record.
"As soon as she got one, I told my guy to go make me a Lauren Chamberlain [jersey]," Alo said. "I'll probably have it done for one of these home games to honor her…She's had this record for a while now, and I just feel like I kind of owe it all to her."
Alo said Chamberlain "recognized [her] potential when the two first met in Alo's freshman season. Their initial meeting occurred in Palm Springs, so there's a certain poetry to Alo breaking the record in the same place at the Mary Nutter Classic.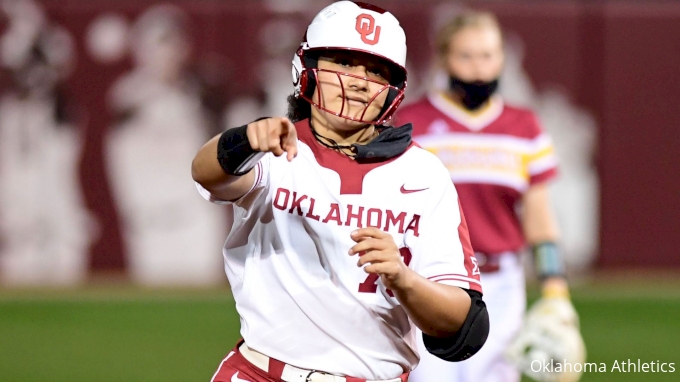 "I heard she [was] coming [to Oklahoma], and I just knew she was different," Chamberlain said of Alo. "[At] the Mary Nutter Classic, watched her play and afterwards we kind of chatted a little bit about how [her] freshman year's going so far, what's different, all that stuff.
"She had mentioned all the comparisons," Chamberlain added. "We had talked about how badly she wanted to be the one and only Jocelyn, not the next Lauren…and how important it was for her to write her own story and create her own narrative."
And the story Alo's still writing is unprecedented. She is well on pace to become the game's first-ever 100 home-run hitter, and the Sooners look more than capable of running it back in Oklahoma City.
Chamberlain said she receives tweets regularly asking for replicas of her Alo jersey, which Chamberlain added will happen once there's a plan for the future Queen of Crash to earn some royalties for their sale.
Just like Alo donned her Barry Bonds jersey early into her softball journey, there will be kids sporting the Crimson-and-Cream No. 78 when they start their own odysseys on the diamond.
"I'm just a lucky girl whose dreams came true," Alo said. "The things I'm doing now, I hope I can continue to inspire other girls and boys to go out there and chase their dreams because you never know what can happen."