2022 THE Spring Games
THE Spring Games Offer New Starts & Chances To Build
THE Spring Games Offer New Starts & Chances To Build
Division I programs roll into THE Spring Games Madeira Beach round, Feb. 25-27, with intentions of keeping a hot streak alive, or getting back on track.
Feb 25, 2022
by Kyle Kensing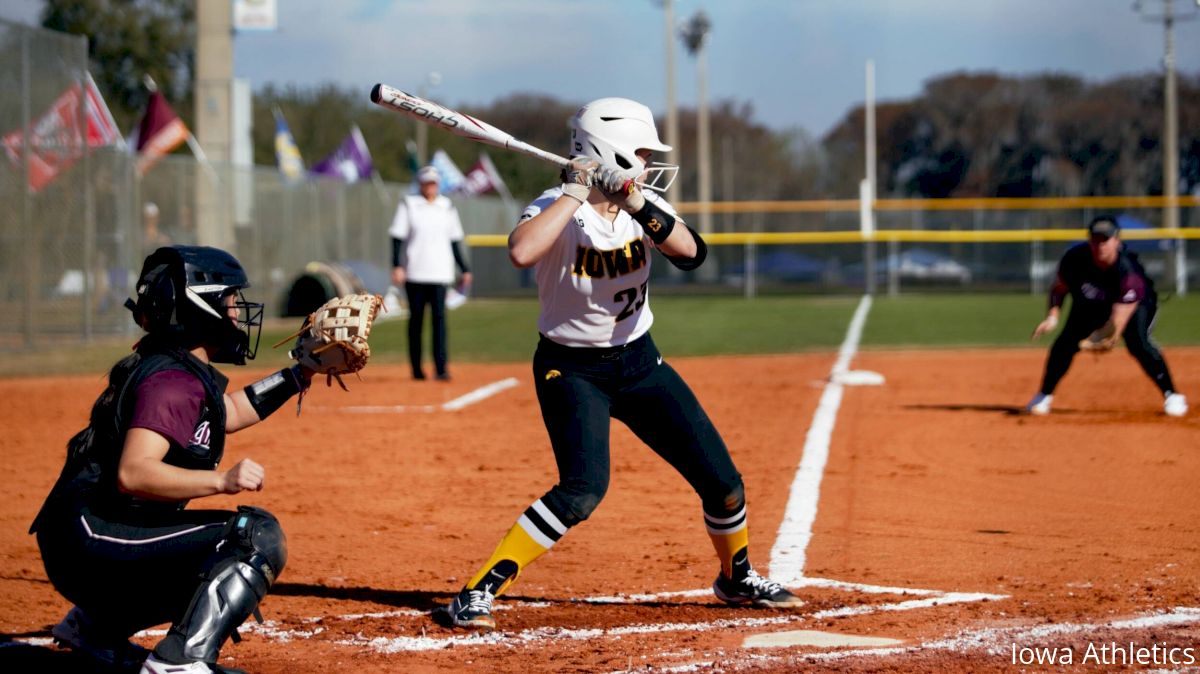 Iowa coach Renee Gillispie's pursuit of 900 career wins is among the leading storylines heading into the Feb. 25-27 round of Div. I competition at The Spring Games.
The Hawkeyes open the tournament's full weekend slate with North Florida, and Gillispie heads into that contest with 897 after a 6-3 start to the season.
Big Ten Conference counterpart Rutgers is also in action at The Spring Games, riding a five-game winning streak after a perfect showing at last week's Pirate Clash in Greenville, North Carolina.
There's plenty more programs beyond the Big Ten taking to Leesburg, including Notre Dame out of the ACC, a tough Florida Gulf Coast squad and Ivy League hopeful Princeton.
Princeton Vs. Rutgers
Friday, Feb. 25 at 4 p.m. ET
This New Jersey matchup takes place in Florida as Rutgers and Princeton square off on Friday.
Princeton received a first-place nomination in the Ivy League's preseason poll. The Tigers played a truncated schedule in 2021 due to COVID-19, so The Spring Games mark a welcomed return to action. Cate Bade made two steals in just two games last year—the sophomore from Plano, Texas could be one to watch in Princeton's first full season since 2019.
Rutgers opened the season facing a pair of top 10-ranked opponents in Mexico, Arkansas and Washington, and lost those games. Since then, the Scarlet Knights have been on a run and they come into The Spring Games red hot.
Gabrielle Callaway has belted a pair of home runs over Rutgers' last five games, and she's one of four Scarlet Knights headed into The Spring Games batting .333 or better on the young season.
Notre Dame Vs. Iowa
Friday, Feb. 25 at 6:30 p.m. ET
Notre Dame can propel itself into the Top 25 with a strong showing at The Spring Games. The Fighting Irish enter the weekend fourth among teams Receiving Votes in the latest USA Today poll after scoring impressive wins last week over No. 21 LSU and No. 11 Texas.
Abby Sweet has been electric for Notre Dame early in the season with a .464 batting average, nine RBI and three home runs. Karina Gaskins has driven in a whopping 14 runs to pace the Fighting Irish, and starting pitcher Payton Tidd boasts 19 strikeouts and a 2.85 ERA through four starts.
Iowa has criss-crossed the continent thus far in 2022, opening with an impressive 3-0 showing at the Northern Lights Invitational two weeks ago in Florida, including a 7-0 blanking of a Top 25-ranked Liberty squad.
The Hawkeyes then traveled to San Diego last week and went 3-2, the losses coming to DePaul and Oregon State.
Nia Carter, Brylee Klosterman and Grace Banes all have at least 11 hits thus far on the season, and the trio join slugging leader Tristin Doster in boasting OPS above 1.000 through the first nine games.
Rutgers Vs. Florida Gulf Coast
Saturday, Feb. 26 at 1:30 p.m. ET
Every vote in the ASUN Conference preseason poll went to Liberty, save one. That exception was bestowed on Florida Gulf Coast, a team probably better than its 6-5 record.
The Eagles have run a gauntlet this season with four total matchups against Clemson, Texas and Missouri—all ranked in the top 15—and an Austin Peay bunch receiving Top 25 votes.
FGCU split its two matchups with powerhouse Texas thanks to preseason All-ASUN honorees Reedy Davenport and Emily Estroff. The duo combined for five RBI against the Longhorns. Davenport is one of three Eagles batting .353 or better on the season thus far, a pace set by Cana Davis and her team-highs of .435 and .609 slugging.
Given the high level of competition both FGCU and Rutgers have faced so far in 2022, meeting each other should offer a measuring stick at this juncture in the campaign.
Siena Vs. Cornell
Saturday, Feb. 26 at 1:30/4 p.m. ET
A pair of Upstate New York programs meet in what is the opening weekend of the season for both.
The Saints and Big Red can learn plenty, particularly in their transplanted regional showdown. They are picked to finish in the lower halves of the MAAC and Ivy League, but return some impressive veteran talent. Siena's Emma McLaughlin drove in a team-high 25 runs last season and started 33-of-34 games.
Mikala Fletcher produced an OPS of .785 in 19 appearances in 2021 and stole a pair of bases, while Isabella Pardo went 6-of-7 on stolen-base opportunities.
For Cornell, the doubleheader with Siena on Saturday is bookended with a Friday contest against FGCU and a Big Ten back-to-back Sunday of Iowa and Rutgers. The Big Red did not play in 2021 and only completed nine games—including a 2-3 showing at The Spring Games—before COVID-19 ended the 2020 season.
The lengthy layoff puts an especially high premium on Cornell's roster getting comfortable. Fortunately for the Big Red, it's not an entirely new look. Celia Macari hit .375 with a .625 slugging percentage before the pandemic, and Emily McKinney drove in 14 runs as a freshman starter in 2019.
North Florida Vs. Princeton
Sunday, Feb. 27 at 11:30 a.m. ET
An interesting team to keep an eye on at The Spring Games is North Florida. The Ospreys were picked to finish just seventh in the 12-team ASUN, but have stormed to an 8-3 start in 2022. What's more, two of those three losses came to national championship contender Florida.
Paige Pfent, Shannon Glover and Kayla McGory are all batting .323 or better through 11 games and have combined for 19 RBI with four home runs. McGory boasts a .966 OPS and .613 slugging percentage, and is 3-for-3 on stolen-base opportunities.
Pitcher Erin Kyle has a 1.85 ERA through five starts and an opponent batting average of .245. Halle Arends and Morgan Clausen, who have pitched a combined 36 ⅔ innings, have struck out 38 total batters.