Big Ten
Carol Hutchins Reclaims Winningest Coach In NCAA Softball
Carol Hutchins Reclaims Winningest Coach In NCAA Softball
Michigan Head Softball Coach Carol Hutchins recorded her 1,675th career win on Feb. 25 becoming the winningest coach in NCAA softball.
Feb 27, 2022
by Kyle Kensing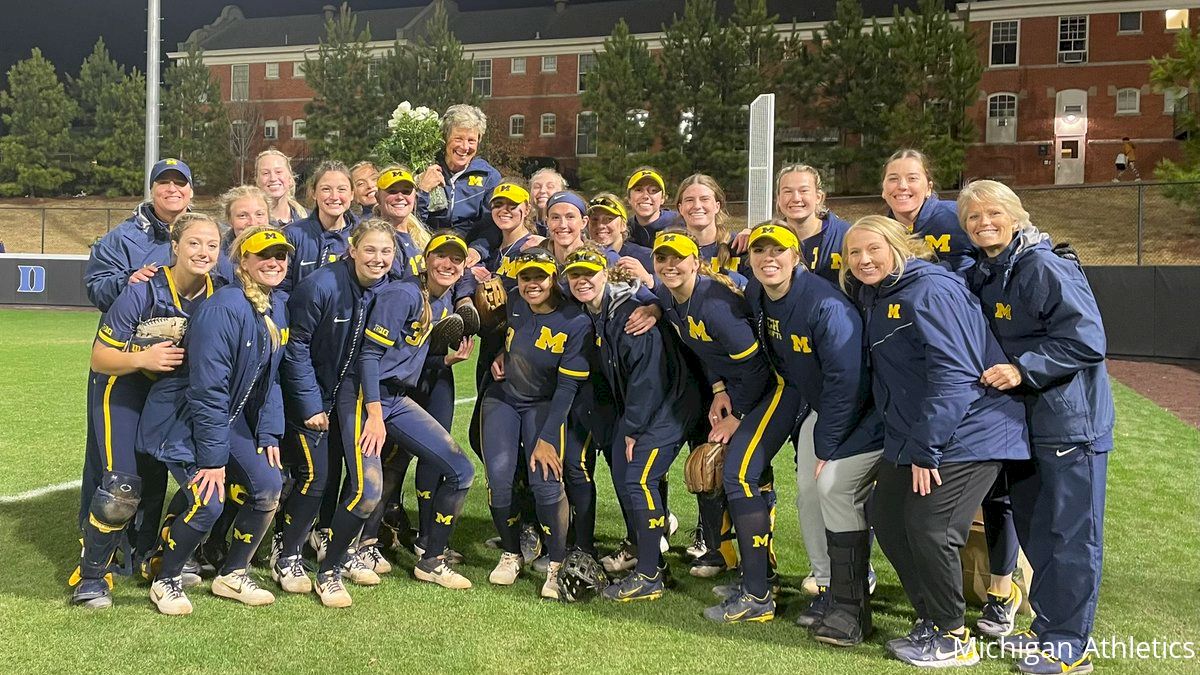 College softball has a new benchmark for success in Carol Hutchins.
The Michigan coach recorded her 1,675th career win on Feb. 25 in a 3-0 Wolverines win over Northern Kentucky at the Duke Invitational. Hutchins passed Hall of Famer and recently retired Arizona coach Mike Candrea for the record.
Candrea offered up his best wishes in a video message following the Michigan win.
From one 🐐 to another, congratulations to @UMCoachHutch! pic.twitter.com/e5jJotzugU

— Arizona Softball (@ArizonaSoftball) February 25, 2022
The Wolverines tacked on another W under Hutchin's career win column for good measure, beating Duke 3-2 later in the day.
Hutchins' remarkable career includes 22 Big Ten Conference Championships, 18 Big Ten Coach of the Year awards, a pair of National Coach of the Year honors, and a Women's College World Series title in 2005. Michigan downed perennial powerhouse UCLA to become the first-ever program from east of the Mississippi to win the national crown.
That same season, Hutchins reached 900 career wins. After pitcher Jennie Ritter congratulated Hutchins on the achievement, the Detroit Free Press reported the coach said, "Get me a couple of other milestones, like a victory in the College World Series."
"One thing you have to know about coach is that she always says it's about us, not her," Ritter told the Free Press.
A pioneer in the game, Hutchins' reclaiming the record she held once before etches her name indelibly into the history of a sport she's helped shape.
But Hutchins makes an impact that goes beyond the diamond. She is an advocate for women's collegiate sports, using her position as a legendary figure to push for opportunities equal to those of men's programs.
"It became exposed during the weight-room incident at the [NCAA] women's basketball tournament," Hutchins said on an NBC TV interview last June, referring to photos of lackluster, makeshift equipment set up at team facilities in the Texas bubble. "Who would ever have thought two yoga mats and a couple of weights would suffice for the male players? Nobody would have given that a thought, they would have said, 'They're going to have to train while we're here.'
"It begins with how you're thought of that level by the NCAA," she added. "It begins on college campuses, as well."
College softball's visibility continues to grow each year, evident in the record-breaking TV viewership recorded during last year's WCWS. The championship rounds averaged 1.2 million viewers, the largest in the event's history.
Hutchins' place on softball's mountaintop and role in building the sport's reach places her in company with luminaries like John Wooden and Pat Summitt, both of whom were at the forefront in transforming men's and women's college basketball. Hutchins received an award bearing Summitt's name in 2016 – 10 years after Hutchins' Hall of Fame induction – as a coach who "exhibits the character and courage" of the late Tennessee hoops Hall of Famer.
No matter how big the game becomes, it will always owe a debt of gratitude to Carol Hutchins.
Winningest once again!

Congrats on 1,675, @UMCoachHutch! Here's to many more! 👏👏#GoBlue | #NCAASoftball pic.twitter.com/tvyARdndtF

— Michigan Softball (@umichsoftball) February 25, 2022