2022 THE Spring Games
How Tufts Softball Builds A Winner One Piece At A Time
How Tufts Softball Builds A Winner One Piece At A Time
Tufts softball coach Lauren Ebstein likes to compare a softball season to a puzzle. Players and coaches are tasked with putting it together piece by piece.
Mar 2, 2022
by Stephen Kerr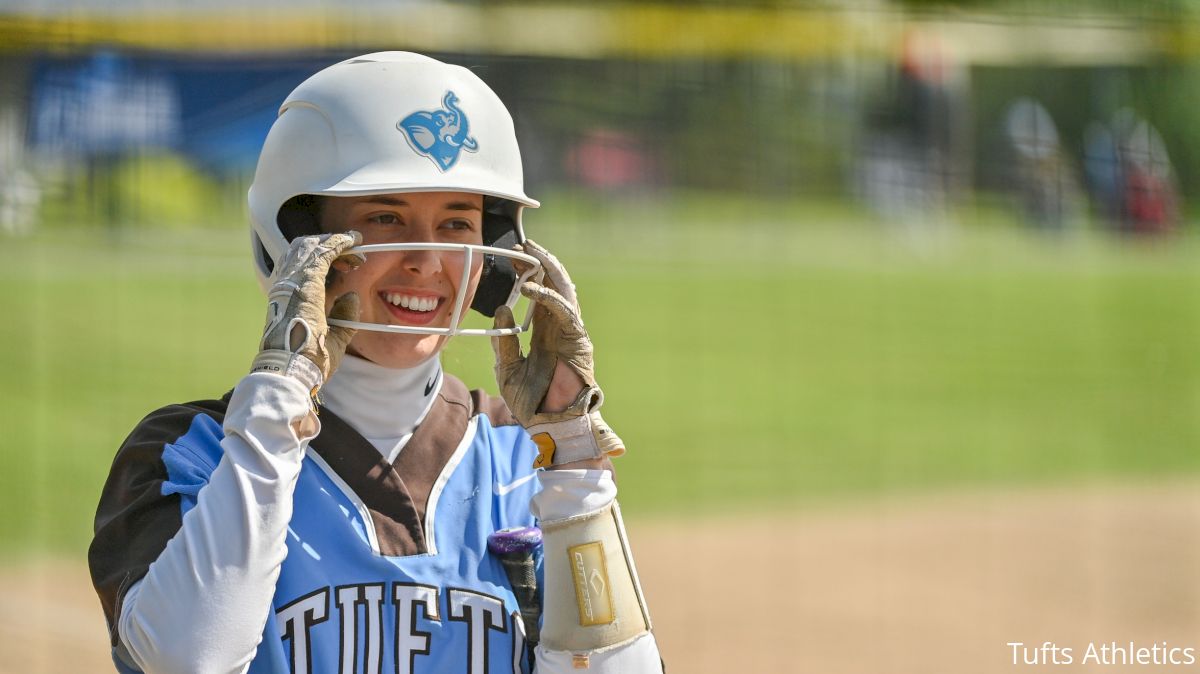 Tufts University head softball coach Lauren Ebstein likes to compare a softball season to a puzzle. Players and coaches are tasked with putting it together piece by piece, day by day.
The past couple of years have often felt as if some of those pieces were either missing or didn't fit. At the beginning of 2021, Ebstein wasn't sure she would have a puzzle to solve at all. Numerous schools and conferences had reduced their spring sports schedules or canceled their seasons altogether. The Jumbos had to wait until March before they finally got the word they would be able to play.
Teams in Division III don't typically have fall ball. But in another first, Tufts was allowed to have a fall season, so players got in plenty of practice time while they waited.
"Our motto last year was 'day by day', because we felt so much that we needed to just take things as they came," said Ebstein, who also serves as the school's assistant director of athletic communications.
"Going with the weekly changes was a really big deal. These are high-academic kids who loved having everything planned, so last year was against everything they know and stand for."
Once it became official there would be a season, the Jumbos made the most of it. They finished 21-7 and captured the NESCAC and NCAA Regional titles. Ebstein and her staff were voted NFCA Regional Coaching Staff of the Year. Senior Kristina Haghdan was the NESCAC's Pitcher of the Year, senior Emma Della Volpe received Defensive Player of the Year honors, and pitcher Sophia DiCocco was named Rookie of the Year.
The conference championship was the Jumbos' second straight and 12th in program history. They swept the Regional in four games to earn a trip to the Division III College World Series for the first time since 2015 (when they won their third straight national championship). The season ended with losses to defending champion Texas Lutheran and Wisconsin-Oshkosh.
Not the ending we dreamed of but so proud of this group. They battled through the mayhem of this last year and brought our program back to the national stage. Thank you seniors, you absolutely left it better than you found it. #jumbopride #tusb2021 #daybyday pic.twitter.com/dLLVJ6DBkC

— Tufts Softball (@TuftsSoftball) May 29, 2021
"I think the main difference between any other season and the season we had last year is the sense of gratefulness and appreciation everybody on the team felt," Tufts infielder/catcher Josie Steinberg recalled.
"It was just through the roof. Having to go so long without being able to play or physically being next to each other, having to wear masks all the time, having to practice in separate groups… the gratefulness, you could just feel it."
A former pitcher who graduated from Tufts in 2007, Ebstein returned to the coaching staff in 2014 where she served as associate head coach until being named interim head coach in November 2018. In her first season, Ebstein guided the team to a 32-10 record and its 11th conference title. The team hosted an NCAA Regional before bowing out in the final. The interim tag was removed from Ebstein's title following the season.
Out of the 22 players on the roster that year, 10 earned Academic All-NESCAC honors for achieving grade point averages of 3.5 or higher. Ebstein has built her team culture around embracing academics and athletics.
"We decided a long time ago that we didn't need to pick just one to be good at," she explained. "We always say there's days you miss school for softball and there's days you miss softball for school. Both of them are at the top of our list, and we don't have to put one up against another."
The culture is one of the things that drew Kat Yuzefpolsky to the Jumbo program. Yuzefpolsky, a sophomore outfielder from Altadena, California, knew she wanted an East Coast school. She was immediately drawn to the family atmosphere the team and the campus offered.
"Even being there for less than a few hours, I immediately felt like coming here I'd have a second home," said Yuzefpolsky, a two-time All-Conference selection at La Salle College Prep High School. "I've made a second family here with my team and with friends outside of Tufts softball as well."
Community service is an important aspect of the Tufts program. The team has volunteered at Habitat for Humanity and homeless shelters in the New England area. This fall, the Jumbos held a Home Run Derby, where swings could be purchased by bringing cans of food to be donated to a local pantry. This spring, they will designate causes to support two conference weekend games.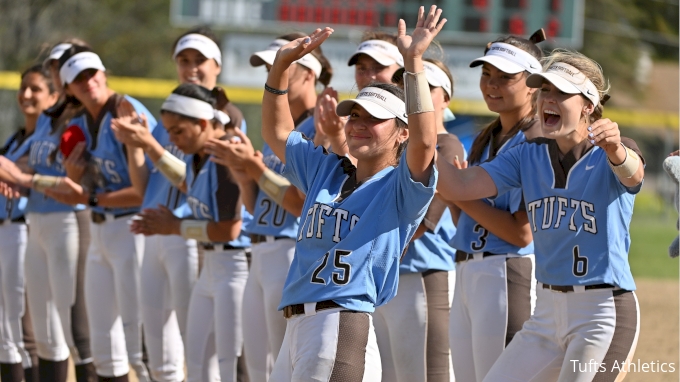 "We're trying to give our team a little more ownership," Ebstein explained.
"I think it brings our team together around something other than softball. That builds our relationships and helps them realize that while we're competing for a national championship, there's definitely things that are bigger than that out there."
Ebstein credits former Jumbo coach Cheryl Milligan for developing her coaching philosophy. Milligan, now the head coach at Army, spent 15 seasons leading the Tufts softball program. Under her guidance, the Jumbos became the first team in NCAA DIII history to win three consecutive national championships (2013-15). The 2015 squad finished a perfect 51-0, tying the NCAA DIII record for most wins in a season. Ebstein was on staff for the 2014 and '15 squads.
"We talk all the time, whether it's about team stuff or life stuff," Ebstein said of Milligan. "She's been a huge part of where I am today."
Even with COVID-19 still lurking, the start of the 2022 season feels a bit more normal. The Jumbos have their locker room back, something they had to do without last year. Being able to practice without many of the restrictions from the 2021 season is making a huge difference.
"It's almost a relief to see their ability to deal with that small sense of uncertainty," Ebstein said.
"Campus life is just so much different than how it was last spring. I think they're in a good place as far as hitting their stride."
This year's squad is a bit younger than the one that went to the College World Series last season. Steinberg and Yuzefpolsky are two of the five returning starters. Steinberg, whose sister Mia also played for the Jumbos before graduating following last season, hit .321 in 23 games with 10 RBI, 13 runs scored, and tied for third on the team with 25 hits. Yuzefpolsky played in all 28 of the team's games, batting .293 with 12 RBI.
Center fielder Michelle Adelman is back after hitting .349 with three homers and 17 RBI in 26 games. Rachel Moore will once again anchor third base, batting .299 with eight RBI and 12 runs scored in 27 games last season.
DiCocco returns in the circle, finishing 2021 with an 11-1 record, 1.22 ERA and 40 strikeouts in 68.2 innings. She tossed a one-hit 1-0 shutout against Husson to win the NCAA Regional and send the Jumbos to the WCWS.
Three of the four Regional victories came during the team's last at-bat. In a 2-1 win over Eastern Connecticut, Mia Steinberg fielded a grounder at shortstop, faked a throw to second, and caught the runner in a rundown that resulted in an out. Knowing her sister was close to finishing her final season made that play particularly special for Josie.
"Being part of our team is finding the joy and successes of others," Josie said.
"But when one of your family members is doing that, it feels like a win for you, too."
Yuzefpolsky believes this year's team is as prepared as anyone for the season ahead.
"We're holding ourselves to higher standards because we know what we're capable of," she said.
"Obviously, we want to get back to the national stage, (but) we want to get 1 percent better every day. Our team motto this year is 'Piece It Together'. Using all these little things to get back to where we were last year is something we're really focused on."
The pieces are there. Now, all that remains is to complete the puzzle.