2022 THE Spring Games
Streaking Southern Miss And More Look For Momentum At THE Spring Games
Streaking Southern Miss And More Look For Momentum At THE Spring Games
Another week of sunshine and swings, palm trees and pitches awaits as a new crop of teams descend on Madeira Beach for THE Spring Games.
Mar 2, 2022
by Kyle Kensing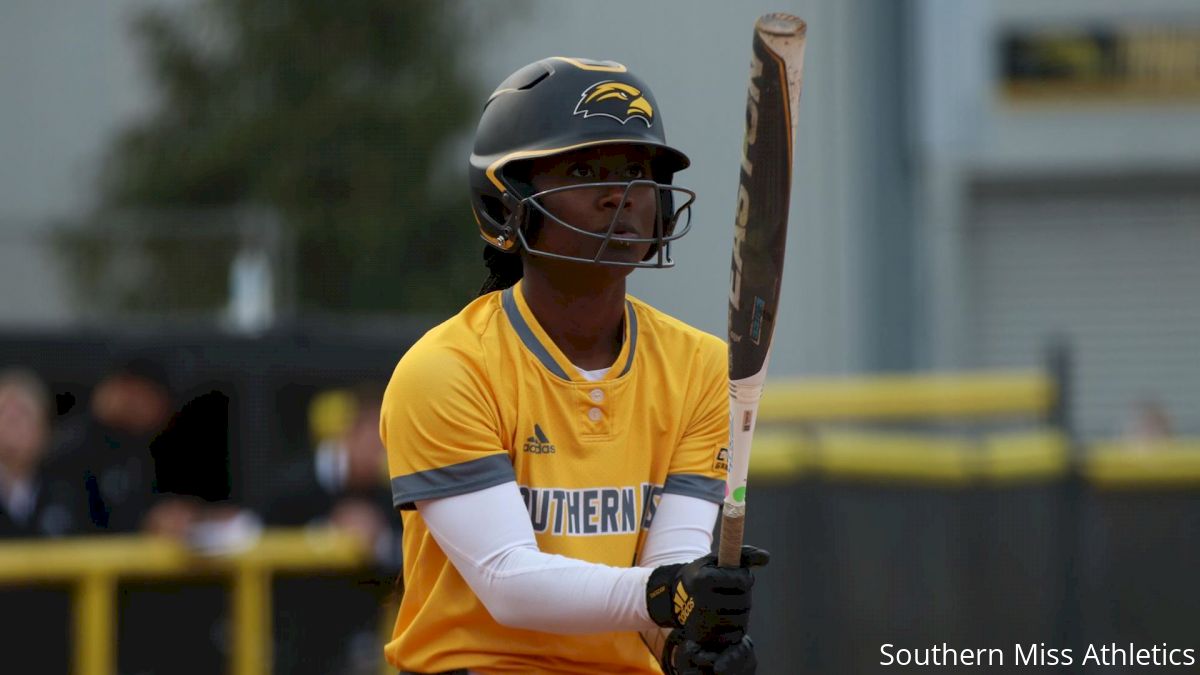 Another week of sunshine and swings, palm trees and pitches awaits as a new crop of teams descend on Madeira Beach for THE Spring Games.
The first March slate of THE Spring Games run from Friday through Sunday, though Long Island and Central Michigan remain to play in midweek games that carry into March 8.
Central Michigan Vs. Southern Miss
Friday, March 4 at 11 a.m. ET
This week in THE Spring Games opens hot with a streaking Southern Miss team—a winner in six of its last seven games—against Central Michigan. The Chips have been on the upswing in their own right, winning 3-of-4 ahead of THE Spring Games, including a 5-4 decision over the Big Ten's Maryland Terrapins last week in the Myrtle Beach area.
Shannon Stein is off to an impressive start for Central Michigan, batting .450 with a 1.522 OPS in seven games. She's hit three home runs and driven in nine to build a 1.000 slugging percentage. Stein and teammate Michaleigh Vallimont are both hitting better than .400, with Vallimont at .412 in six games.
Southern Miss pitcher Morgan Leinstock has made eight starts on the season and gone the distance seven times with a 1.51 ERA, .94 WHIP and opponent batting average of just .197.
UAlbany Vs. Georgia Southern
Friday, March 4 at 4 p.m. ET
Georgia Southern's trip to THE Spring Games marks a return to action after almost two weeks on hiatus. The Eagles were forced to withdraw from last weekend's Georgia Classic in Athens due to COVID-19 concerns.
They'll look to use THE Spring Games as a springboard to get back on track, starting with a matchup against UAlbany.
The Great Danes' pairing against Georgia Southern is their second contest on Friday, following an 11 a.m. ET affair against Middle Tennessee. UAlbany has played a light schedule thus far with just five games, going 2-3 over that stretch.
Morgan Petty is off to a strong start at the plate for the Great Danes, batting .400 with an .867 slugging percentage and two home runs. Faith Shirley has set the pace for Georgia Southern, hitting five home runs. That's tied for No. 31 in the nation, but could be much higher if the Eagles had not gone on hiatus.
Teammate Jess Mazur has belted an additional five home runs to help Georgia Southern rank in the nation's top 50 for round-trippers per game.
Southern Miss Vs. Radford
Friday, March 4 at 4 p.m. ET
Southern Miss' outstanding pitching faces a test Friday against Radford. The Highlanders boast one of the nation's best home-run hitters in Cori McMillan, a freshman who has already knocked five out his season.
McMillan and Jordan Moss, who has hit three home runs, and Madison Canady are all batting north of .350 through 10 games. McMillan's ability to get on base when she's not mashing home runs has also been dangerous for opponents; she's 3-for-3 on steal attempts.
Georgetown Vs. UAlbany
Saturday, March 5 at 1:30 p.m. ET
A team to keep an eye on throughout THE Spring Games is Georgetown. The Hoyas rank No. 21 nationally in home runs per game at 1.29, thanks to the quartet of Abby Smith, Alyssa Chavez, Savannah Jones and Cameron Kondo.
Each of the four have hit from three to five homers on the season, with Smith setting the pace. Chavez and Smith both have OPS better than 1.000, while Jones and Kondo are not far behind in the .900s.
Radford Vs. Middle Tennessee State
Sunday, March 6 at 9 a.m. ET
MTSU started the season slow, a byproduct of playing three games against nationally top 10-ranked opponents as well as an always-tough Stanford bunch. The Blue Raiders come into THE Spring Games having won 3-of-4, however, building momentum for the six-game slate on deck this weekend.
Corrina Dodd has pitched four complete games in five starts for MTSU, striking out 19 and holding batters to a collective .195 average. Her .82 WHIP ranks among the best of any pitcher appearing at this week's edition of THE Spring Games.