2022 THE Spring Games
Putting Players First Is The Secret For The College Of New Jersey
Putting Players First Is The Secret For The College Of New Jersey
When she visits potential recruits, TCNJ coach Sally Miller first focuses on what that player is looking for, rather than what the school can offer.
Mar 4, 2022
by Stephen Kerr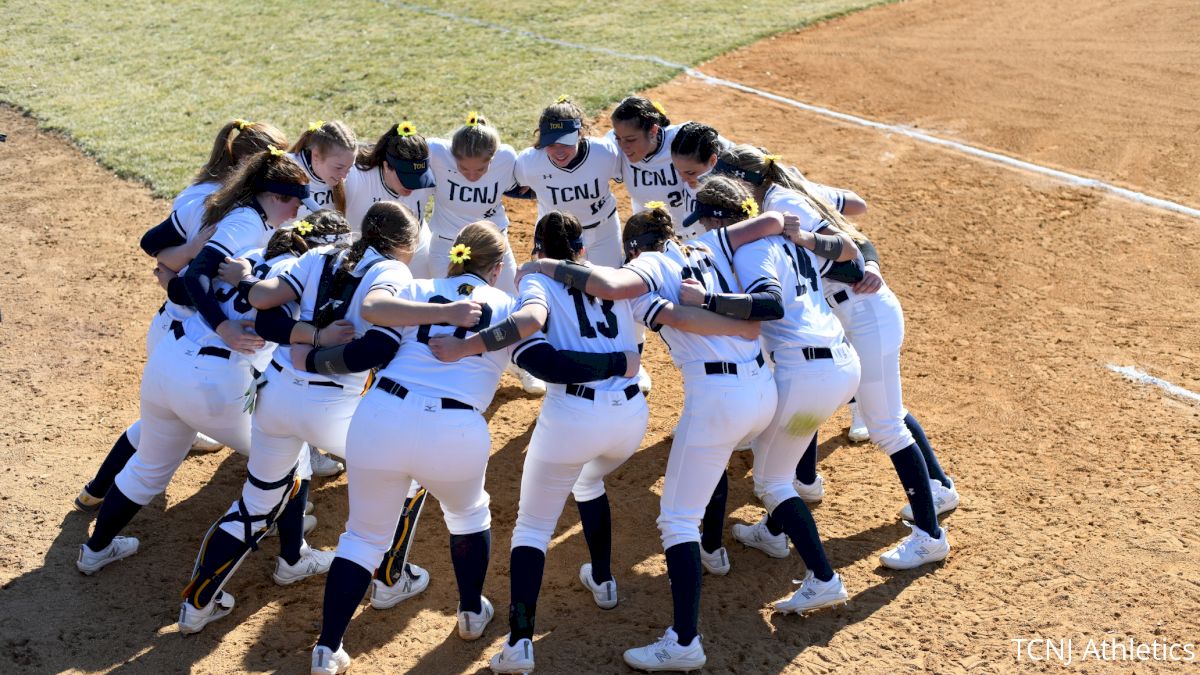 When Sally Miller took over as The College of New Jersey's head softball coach in 1996, she had already served on the coaching staffs of several prominent NCAA Division I programs including Princeton, Michigan State, and Indiana.
A former third baseman for the University of Iowa from 1986-89, Miller helped the Hawkeyes earn a Big Ten Conference title and a berth in the NCAA Regional. Her track record as an assistant was certainly on a path to a head coaching position at the Division I level.
But her experience in the Ivy League got Miller thinking about a change of direction. She decided a Division III school would be better suited to her philosophy of putting students first.
"Looking back at Princeton, I enjoyed coaching those kids so much," Miller recalled. "I was searching for a place that supported athletics and a good school that wanted to coach student-athletes."
After accepting the job at TCNJ (then known as Trenton State), Miller was taking over a program that had seen tremendous success under head coach Dr. June Walker, who won five Division III national championships and finished second seven times in her 22 seasons. In the summer of 2012, the school named the softball stadium Dr. June Walker Field, which had opened six years earlier.
Even with her previous success as a D1 assistant, Miller knew she would have big shoes to fill.
"I didn't want to let anybody down," she explained. "I didn't want to let (athletic director) Kevin McHugh down for hiring me. I didn't want to let any of the alums down. I put tons of stress on myself, as most coaches do."
As it turned out, Miller needn't have worried. In her first season, the Lions won their sixth national championship. They have made two more College World Series trips along with 11 NCAA Tournament appearances. Miller's 635-325-3 record and .661 winning percentage rank her among the winningest active coaches in Division III.
When she visits with potential recruits, Miller focuses first and foremost on what that player is looking for, rather than diving into the usual spiel about what the school can offer.
"I didn't really understand that until a couple of families told me that the conversations had been different," Miller said. "I know what we have and I know what we're looking for. But until they can communicate with me what they're looking for, it's (about) their happiness. They've got to figure out what it is that makes them happy every day and what they're looking for before I can tell them about TCNJ."
When junior outfielder Kaci Neveling decided to transfer from Holy Cross after her freshman season, she wanted a school closer to home. It didn't hurt that both of her parents were TCNJ alums. Her mother, Michelle Carlson-Neveling, played softball and is a member of the TCNJ Athletics Hall of Fame.
Kaci had considered the Lions during her initial recruiting visits, so she had some familiarity with Miller, as did her mother.
"Once I got into the transfer portal, (Coach Miller and I) spoke and we were still on the same page from when I was being recruited," recalled the Egg Harbor, New Jersey native, who hit .453 to rank second in the New Jersey Athletic Conference (NJAC) and scored a league-leading 35 runs. "Honestly, I love the fact that I can still play softball at such a high level and academics is still super important, something Coach Miller stresses every day to us."
Fifth-year senior third baseman Lauren Conroy has had the benefit of learning the hot corner from a former third baseman in Miller. Conroy, a middle infielder at Matawan Regional High School in Aberdeen, New Jersey, has learned to trust the process of getting to the next level, thanks to Miller's guidance.
"One of the biggest things (for me) is reading the ball off the bat and where the hitters are in the box," Conroy explained. "Pre-pitch planning is one of the biggest things she teaches us and getting the timing down."
A two-time All-Region honoree and All-American in 2019, Conroy batted .363 last season with a team-leading four home runs and 27 RBI. Her .675 slugging percentage was second in the NJAC, and her 22 walks led the conference.
Conroy and Neveling are two of five returning starters from a Lions team that finished 26-5 in 2021 and captured their second straight conference championship. They advanced to their third straight NCAA Division III Tournament before losing in the regional championship game to eventual national champion Virginia Wesleyan. Miller and her staff were named NFCA East Region Coaching Staff of the Year for the second consecutive season.
Jaclyn Carifi is back after a stellar sophomore season in which she received First Team All-Region and Second Team NJAC honors. Carifi, who played second base but will switch to center field this season, was fourth in the conference in batting average (.403) and sixth in runs (24). In the Lions' sweep of the NJAC championship over Kean, she went 4-for-6 with a pair of runs scored.
Conference Rookie of the Year Julia Mayernik returns behind the plate after being named Second Team All-Conference. Mayernik, whose sister Megan played shortstop for the Lions from 2017-20, was TCNJ's catcher for all but one inning. She hit .325 with 14 RBI and 18 runs scored while making just one error behind the plate.
Sophomore Julia Kinnally returns at shortstop after hitting a sparkling .383 with 16 RBI and 14 runs scored. She was named to the All-Tournament Team at the NCAA Regional after going 8-for-17 (.470) with two RBI and three runs scored. She also made several outstanding plays at shortstop.
Miller believes Kinnally was under the radar despite her breakout freshman year.
"I think by the end of the season, people are really going to know her name," Miller said.
The biggest losses for the Lions came in the circle with the departure of Alanna Namit and Eliza Sweet. Miller is counting on junior Ally Schlee to anchor a rotation that includes three freshmen. Schlee went 3-0 with a 2.28 ERA in three starts and 10 appearances last season.
"It's going to be a collective staff," Miller said. "It's certainly not going to be one or two kids."
Versatility was a big key to last season's success, and will be a big factor for this year's squad.
"We had a lot of young players come up big for us," Neveling said. "We couldn't have asked for anything more. Having people moving in and out of positions is something we're going to be looking at this year as well."
Adjusting to different roles will certainly be required if the Lions hope to get back to the NCAA Tournament and take the next step to the College World Series.
"Trusting our athletic ability and teamwork when people are getting moved around a lot, as long as we're working as a team, we'll be good," Conroy said.
"We have a very young team this year. Getting experience is one thing, but having upperclassmen and even sophomores who have experience stepping up leading the team… that will show everyone what our team and program is about."