2022 THE Spring Games
For Saint Anselm, Pitching, Defense Are Name Of The Game
For Saint Anselm, Pitching, Defense Are Name Of The Game
Since her first season, Coach Jill Gagnon has led the Hawks to six appearances in the NE10 postseason tournament, winning it in 2019 and 2021.
Mar 10, 2022
by Stephen Kerr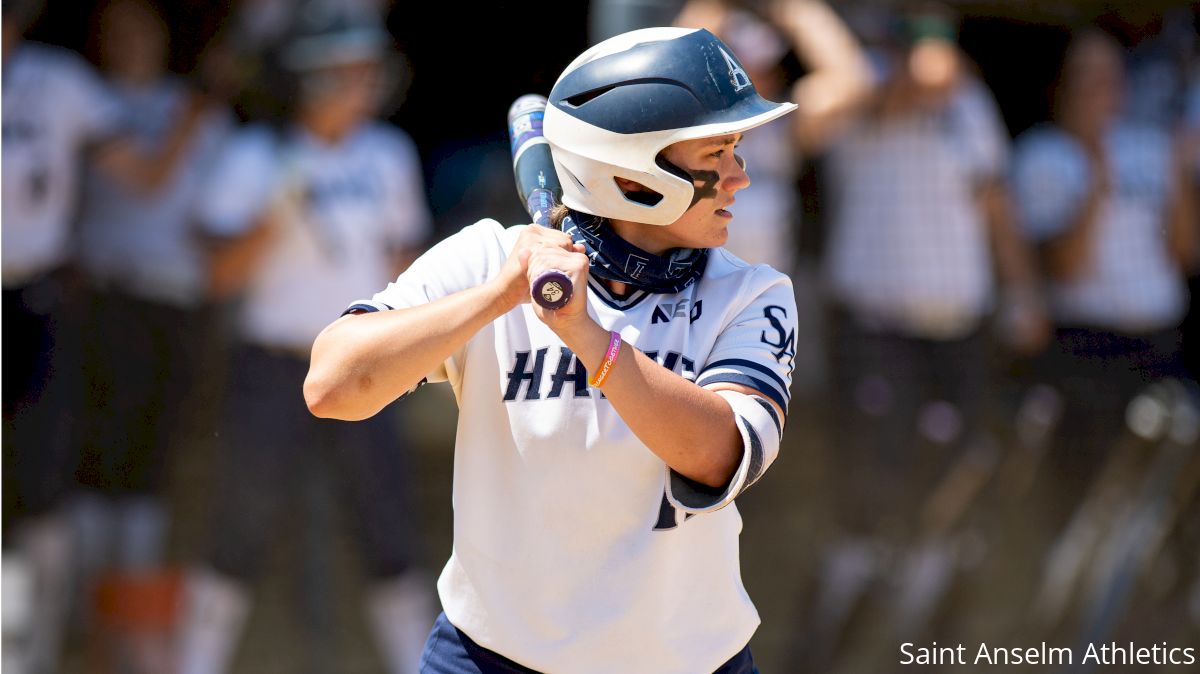 Saint Anselm Hawks head softball coach Jill Gagnon knows a thing or two about pitching. Gagnon—entering her ninth season as the winningest coach in program history—was a First Team All-Northeast-10 and NFCA All-American East Region First Team selection as a pitcher at Merrimack College in 2009. Prior to arriving on the Hawks' staff as an assistant in 2013, she served as a pitching coach for UMass Boston for three seasons.
So when the Hawks finished 33-7 and went to the eight-team NCAA Division II National Championship last season, it's no surprise that pitching was the big factor in that success. The rotation hurled a spectacular 19 shutouts, a new program record. The team ERA was 1.01, the best in its history. Senior Morgan Perry earned Schutt Sports/NFCA Division II Pitcher of the Year honors, going 20-3 in 138.2 innings.
Even the final loss of the season came down to a walk-off squeeze bunt in the seventh inning against the University of North Georgia, who advanced with a 1-0 victory and sent the Hawks home.
"At the end of the day, as much as it's a team sport, you're in the circle by yourself and you've got to be able to execute," explained Gagnon, who led the team to its second appearance in the National Championship last season.
"For me, it starts with the demeanor on the mound. That's a lot of what I look for in recruiting, not just mechanics and the intangibles as far as pitching goes. (It's about) what kind of mindset and demeanor do they have, if they're down or if they don't have their best stuff."
Gagnon grew up down the street from the Saint Anselm campus. After her three seasons with UMass Boston, she considered giving up coaching to pursue other opportunities. But she couldn't pass up the chance to coach at a school and a conference she was familiar with from her days at Merrimack.
"I think (the NE10) is a phenomenal conference and provides a lot of opportunity for the student-athletes who play in it," she said.
"They've had a lot of success across the board athletically, and that was something that was really appealing to me."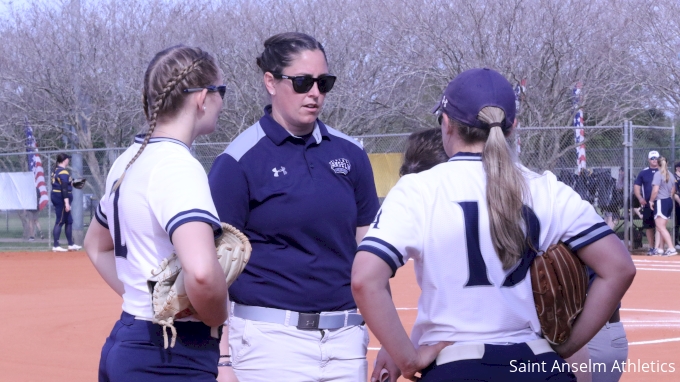 Gagnon became the third head coach in three seasons for a program that was struggling to recruit top players. At one point, the school considered moving to Division III. But Gagnon brought the same intense competitiveness she had as a pitcher to the coaching side, and the team is reaping the benefits.
Since her first season, Gagnon has led the Hawks to six appearances in the NE10 postseason tournament, winning it in 2019 and 2021.
The 2018 squad was perhaps her best coaching job to date, as the Hawks went all the way to the Division II National Championship Series with just five upperclassmen. They won their first-ever East Region title with a perfect 5-0 record. The Hawks fell to Southern Indiana in the National Championship final to finish as the runner-up.
"That was definitely a magical run," Gagnon recalled.
It was also no fluke. The Hawks tallied a 134-34-1 record from 2018-21. They finished 21-3 in conference play last season, allowing just five runs through the five games of the NE10 Tournament. Gagnon and her staff picked up its second NFCA East Region Coaching Staff of the Year award after winning their first in 2018.
Seven players were named to All-Conference teams last season. Two of them, senior shortstop Bre Klaiber and junior second baseman Kylie Fitzpatrick, return as team captains in 2022.
Klaiber, a transfer from LIU Post prior to the 2020 season, slashed .417/.523/731 in 2021 with eight homers, 30 RBI, 29 runs scored, 79 total bases and 24 walks. She led the conference in batting average, on-base percentage, RBI, total bases and walks. She was named Northeast Division Player of the Year and selected to the NFCA All-East Region First Team.
Following the merger of LIU Post and LIU Brooklyn in the fall of 2019, Klaiber entered the transfer process. In the Hawks' run to the 2018 National Championship, they defeated the Pioneers. When Klaiber decided to transfer, Saint Anselm was first on her list.
"If you can't beat them, you better join them," the Ironton, Ohio native said with a chuckle.
"It ended up working out great. Aside from softball, the team was amazing. They were really friendly and open, just took me in like a family member."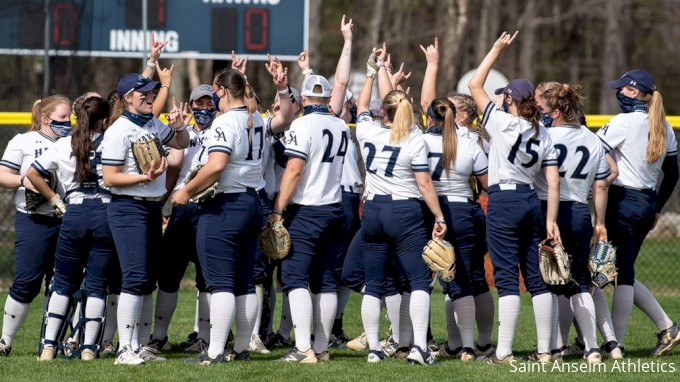 Fitzpatrick, who played both softball and field hockey at Timberlane Regional High School in Danville, New Hampshire, started in all 40 of the Hawks' games last season, slashing .333/.377/492 with two home runs, 20 RBI and 34 runs scored. She tied for the conference lead in doubles (12) and was named to both the NFCA All-East Region First Team and D2 CCA All-East Second Team.
As solid as her offensive numbers were, Fitzpatrick's defense was even more impressive. Last season, she made just one error in 103 chances for a .990 fielding percentage, earning NE10 Northeast Division Defensive Player of the Year honors for the second straight season. In both the pandemic-shortened 2020 season and 2019, she turned in a perfect 1.000 fielding percentage.
Fitzpatrick is quick to deflect any success she has at second base to her teammates.
"I wouldn't be able to do it without them," she explained.
"Every play I make, there's someone on the other side of it. I attribute it to the pitching staff, too. They give us the opportunities to make those outs."
Third Team All-Conference sophomore catcher/outfielder Gracie O'Hara is also back after a standout freshman season where she slashed .292/.336/.491 with three homers, 17 RBI, 23 runs scored and six doubles. But the pitching staff got a lot younger with the departure of Perry. Sophomore Haile Hicks is the only one returning in the circle who made an appearance last season. She pitched in just one game, going two innings with two strikeouts and giving up two hits.
Getting a young staff to learn quickly while keeping its confidence hasn't been easy. The Hawks started 2022 losing four of five games at the Florida Tech Invitational before their next three games were canceled due to bad weather. That gave them nearly a month layoff, most of which has been spent practicing indoors.
"You've just got to stay positive," Gagnon said. "It's tough. You're under the microscope when you're a pitcher. If you get hit a lot, it's hard."
The Hawks are by no means pressing the panic button. Three of the five games were decided by one run. If Klaiber has learned one thing playing for Gagnon, there will always be things outside your control.
"I couldn't control that my first program was cut," Klaiber said.
"I had ankle surgery in January before last season, and I couldn't control that. (Coach) had to teach me how to keep those emotions in check and not let myself spiral out of control."
Fitzpatrick is confident the team will figure things out as the rest of the season unfolds.
"We're definitely young but not inexperienced," she said.
"We have players that were ready to hop in those positions last year. Just getting them some experience and trying them out different places will be a challenge, but I think we're going to be able to find the right balance."