2022 St. John's vs Villanova
BIG EAST Softball Preview: Is Butler's Superb Start Sustainable?
BIG EAST Softball Preview: Is Butler's Superb Start Sustainable?
BIG EAST softball programs kick off conference-play with Butler leading the way and former champions falling behind.
Mar 16, 2022
by Briar Napier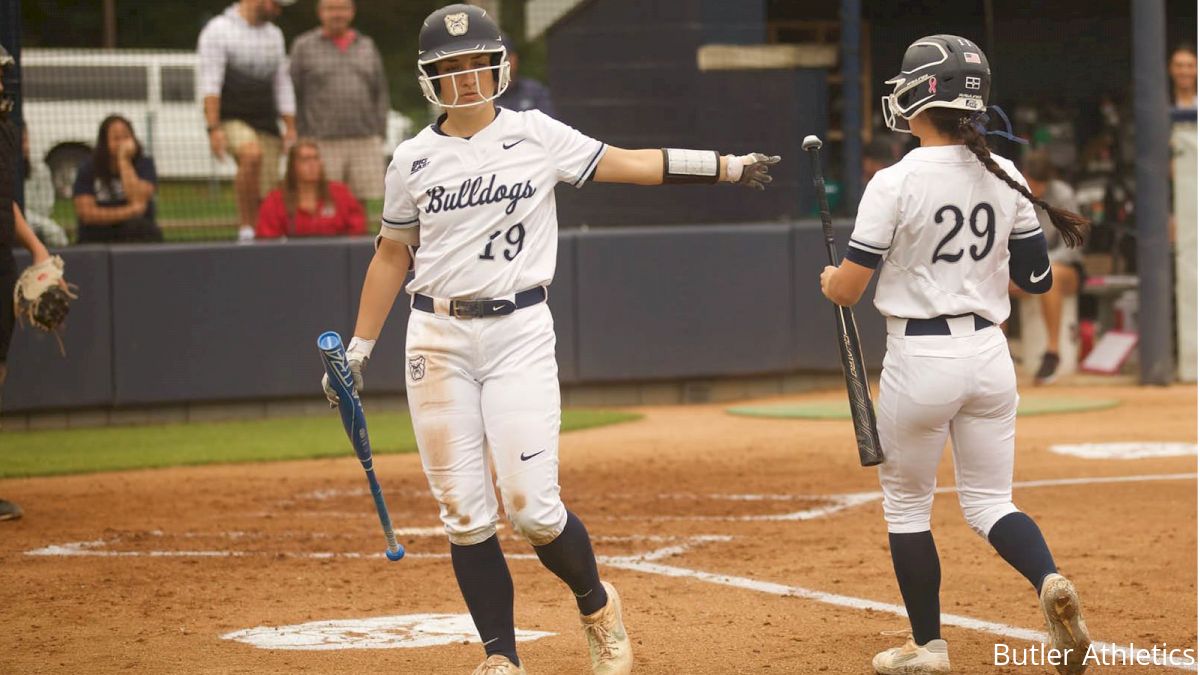 The BIG EAST softball scene can best be described as a jumbled mess right now.
The defending champion is trying to fight its way out of a slump, while a team that hadn't crossed over 20 wins in a half-decade could cross that threshold by the end of March. So if your March Madness bracket is busted and you're ready to switch from the hardwood to the diamond, there's plenty of heating up on the softball scene across the league during the season on FloSoftball.
As BIG EAST play gets underway officially for all nine teams this week, take a look at what's been going on across the conference heading into what should be a competitive couple of months.
NOTE: All records and statistics are updated as of Monday morning.
St. John's Red Storm
Current record: 3-16 (0-2 BIG EAST)
The lowdown: It's been a rough go for the Red Storm thus far. St. John's three wins have come against the likes of Fairfield, Saint Joseph's and Morgan State—far from a gauntlet of squads—as the team's struggle to put runs on the board is liable to make for a long season in BIG EAST play.
Of the 292 teams ranked in NCAA official statistics, the Red Storm are 290th in batting average (.158) and 286th in scoring (1.29 runs per game), a fact that is not helped by the fact St. John's has currently shown it has a below-average pitching staff (4.34 team ERA), too. Freshman utility player London Jarrard (.381 avg., 8 RBI) has been a bright spot, but much of the outlook is bleak from there as the Red Storm have hit just one home run in 19 games. By comparison, 41 other teams nationally have averaged at least one homer a game this year.
Villanova Wildcats
Current record: 8-14 (0-2 BIG EAST)
The lowdown: Unlike the team above them, the Wildcats have no problems showing off their power at the plate, hitting a respectable 19 home runs thus far this year. Villanova's problems come elsewhere, and for the reigning BIG EAST champion, it's a bit alarming.
Since going 4-0 at East Carolina's Pirate Invitational last month, 'Nova has gone 1-7 since, with the offense tending to dry up, six of the losses had the Wildcats scoring three runs or less. Nonetheless, Villanova certainly has the personnel to catch some teams slipping. Senior shortstop Megan Kern was named as a BIG EAST Player of the Week last month for her performances in the perfect Pirate Invitational and has largely maintained that good form with a .362 avg., five home runs and 12 RBI. But this team went 37-15 a year ago and returned the BIG EAST Player and Pitcher of the Year (Paige Rauch) for this go-round. Villanova, picked to win the league again in the preseason coaches' poll, will need to get out of its current slump—and quick—if it's hoping for any sort of repeat.
Creighton Bluejays
Current record: 10-8 (0-1 BIG EAST)
The lowdown: The Bluejays have a knack for overwhelming some pitching staffs, evidenced by the fact that they currently hold the top spot in the league in on-base percentage (.402) and have the second-best team batting average (.314) in the conference. Junior infielder Kailey Wilson (.367 avg., .694 slugging, 16 RBI) looks to be backing up the unanimous All-BIG EAST First Team selection that she earned last season, while sophomore outfielder Cayla Nielsen could be poised for one of her own as she leads Creighton in batting average (.379) while her 1.35 runs per game currently ranks third nationally.
Pitching could be better (4.13 team ERA), but it's still a top-half mark currently in the league and a statistic that could very much dip down once the Bluejays get into the meat of conference play. Junior Mikayla Santa Cruz (5-5, 3.43 ERA, 49 strikeouts) is the ace in the rotation, but freshman Alexis Wiggins' (3-1, 3.97 ERA, 33 strikeouts) growth in her role may prove vital to if Creighton's pitchers can give its batters enough insurance to win games consistently.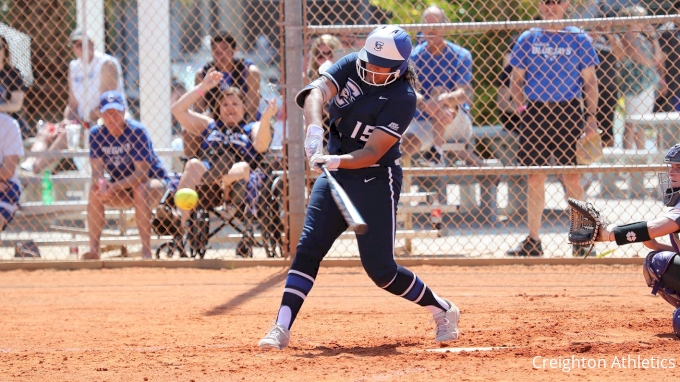 DePaul Blue Demons
Current record: 10-12 (0-0 BIG EAST)
The lowdown: DePaul has a massive opportunity on its hands, but right now it's unclear if the Blue Demons have the urgency to take hold of it. As preseason favorite Villanova is slumping, the other team to garner first-place votes in the coaches' poll—none other than DePaul—hasn't really been convincing of high marks across the league, either. A 5-0 start has led to a 5-12 record since, and though there have been some tough cookies on the slate (including two highly-regarded teams in Oklahoma State and Florida), the Blue Demons are likely wishing that they had some extra confidence heading into league play. Junior first baseman Brooke Johnson (.373 avg., 22 RBI) looks to be living up to expectations as an All-BIG EAST Second Team selection this past season. TDePaul did go 13-1 against BIG EAST foes in 2021, so maybe a big run is coming once the Blue Demons get cracking against conference competition.
Seton Hall Pirates
Current record: 8-9 (1-2 BIG EAST)
The lowdown: The current top-scoring team in the league, the Pirates cross home over six times a game on average this season and have battered opposing pitching staffs, reaching double-digit runs on five occasions so far this season. However, there are signs that Seton Hall's bat-swinging may be a bit inflated, as Providence proved in each teams' opening BIG EAST series when it held the Pirates to one run in each of the final two games.
How accurate that is will come with time and more Seton Hall games, but a .332 team batting average—currently 16th in the country—is nothing to be ashamed about. Junior Abby Wingo (.389 avg.) and freshman Lauren Caye (.379 avg., five home runs), both outfielders, have been major reasons for that success. But the pitching staff much, which is currently holding a below-average 4.52 ERA, will have to keep up. In a bit of a ruckus of a BIG EAST right now, Seton Hall could easily fight its way to the top—or fall down into the league's basement.
Providence Friars
Current record: 12-6 (2-1 BIG EAST)
The lowdown: Picked to finish second-to-last in the BIG EAST by the league's coaches, the Friars have gone out and eclipsed their win total from the past two seasons combined (two postponement-heavy seasons, granted) by mid-March. Some of the names on Providence's schedule aren't exactly heavy hitters in the softball world, but winning its opening series against Seton Hall was an impressive start to a league campaign for a Friars team that didn't get their second BIG EAST win until late April this past season.
Sophomore infielder/utility Jacque Harrington, who had just a .220 batting average and three home runs in 2021, has exploded onto the scene as Providence's offensive catalyst with a team-high .389 avg. and 12 RBI. Sophomore Tori Grifone and senior Daniela Alvarez have been solid on the mound, as well, with both holding ERAs under 3.00 with over 45 innings pitched for each. The Friars have the makings of a surprise in the BIG EAST, but can it be maintained for the next couple of months?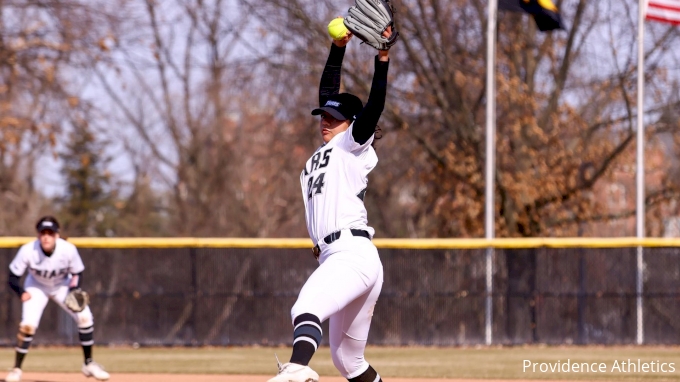 Georgetown Hoyas
Current record: 10-11 (1-0 BIG EAST)
The lowdown: Georgetown hasn't managed to finish above .500 since 2014, but through much of the non-conference schedule so far has gotten off to a good start. BIG EAST play will determine if that trend holds, but the Hoyas have been a fun team at times this season—a welcome sight considering Georgetown played a shortened schedule in 2021.
Graduate catcher/outfielder Alyssa Chavez, a transfer from Saint Louis, looks poised for a big final collegiate season in the nation's capital as she currently leads the Hoyas with a .403 batting average and 19 RBI. She makes one of a trio of Georgetown sluggers to have already hit at least five home runs this season, along with grad infielder Savannah Jones and grad catcher/first baseman Abby Smith. However, pitching must improve as the team's ERA at the moment ranks last in the BIG EAST (4.66), though freshman Kayla Dunn (3.52 ERA) has made waves individually in her first year, striking out 76 batters in 59⅔ innings to be the conference's current leader.
UConn Huskies
Current record: 11-10 (2-0 BIG EAST)
The lowdown: The Huskies certainly haven't been afraid to take on some of the nation's top competition thus far this season. It may prove invaluable toward UConn's chase for a first BIG EAST title since 2001. Coach Laura Valentino's team beat a Missouri team in its season opener that has hung around the national polls all year, then tested its might against a selection of teams that made the NCAA Tournament in 2021 including Northwestern, James Madison and Oregon. Though UConn went 0-5 against that trio of teams, the point is to beef up the Huskies' competition so that the BIG EAST isn't so daunting, evidenced by the Huskies' 11-1 and 8-0 wins against St. John's in a Friday doubleheader.
Reigning BIG EAST Freshman of the Year Jana Sanden—though in a bit of a hitting slump with a .194 average—is still being ridiculously proficient when she makes contact with 14 RBI on just 12 hits (!) this season, while freshman pitcher Elise Sokolsky (3.63 ERA) has performed well even with the competition jump. After being two wins away from the NCAA Tournament in 2021 (losing the BIG EAST Softball Championship Game to Villanova), UConn is looking to complete the feat this time around and get back to a Regional for the first time in over two decades.
Butler Bulldogs
Current record: 14-7 (2-0 BIG EAST)
The lowdown: What's been the key to Butler's stellar start in 2022? For one, Karli Ricketts looks to have completely evolved into a bonafide ace. An All-BIG EAST First Team pick a year ago, the senior from Indianapolis has been unhittable to most batters, posting the conference's current top ERA at 1.20 with just a .154 batting average allowed. That pace didn't slow down in her league opener against Villanova in the first game of a Friday doubleheader, where Ricketts went the distance and struck out eight on one earned run allowed in Butler's eventual sweep.
She's the catalyst for a Bulldogs rotation that's currently the BIG EAST's best (2.62 ERA), but will the offense prove consistent enough to make the rotation's life easier? It's a unit that's not prone to blowups—Butler hasn't scored more than seven runs in a game all season—but still crosses home an average of over four times per game, with senior outfielder Bri Avery (.385 avg.) and sophomore outfielder Monique Hoosen (.283, 12 RBI) being some of the main contributors to that figure. Alas, it's going to be the pitching that'll carry the Bulldogs this year, and if the good vibes on the mound can keep going throughout the league season, you might just see Butler in a Regional in May.