2022 Delaware vs UNC Wilmington - DH, Game 1
CAA Softball Preview: Is UNCW The Next James Madison?
CAA Softball Preview: Is UNCW The Next James Madison?
After an all-timer of a season last year, James Madison has come back to earth, while other CAA teams are eyeing the top spot as conference play begins.
Mar 16, 2022
by Briar Napier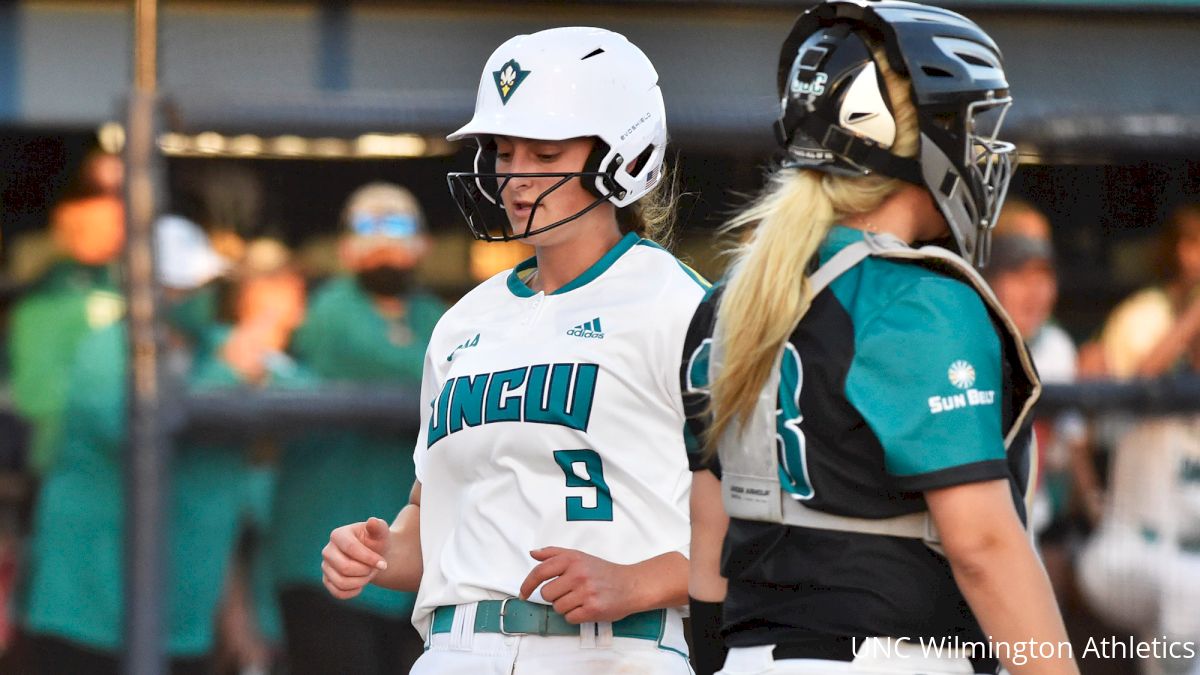 Few expected to be the Colonial Athletic Association to be the talk of the college softball world late last year.
But for reasons mentioned below, that indeed happened. Who says that the conversation and hubbub about the league has to stop now, months on?
A competitive league that looks to be brewing up an especially-competitive chase for the regular-season crown in 2022, those who now have eyeballs on the CAA after its teams' recent histories can expect to see plenty of shifting across the league table as the weeks drag on.
Who will prevail, however, will be left up to those same teams to decide.
What's there to know about CAA softball as the league heads to conference play later this month? Take a peek below with previews on all of the Colonial's programs on the diamond ahead of the 2022 CAA schedule that'll be streamed throughout the season on FloSoftball.
NOTE: All records and statistics are updated as of Tuesday night.
Hofstra Pride
The record: 3-13
The lowdown: A former NCAA Tournament mainstay that once made 15 Regional appearances from 1999-2018 under stadium namesake Bill Edwards and now-Missouri coach Larissa Anderson, Hofstra needs a lot of help this time around. The Pride simply can't score, being held to a run or less 10 times in 16 games as they currently hold bottom-ranking numbers across the league in batting average (.203), runs (31), home runs (1) and total bases (97).
The pitching is OK and has put up a share of decent performances—only allowing three runs to defending Women's College World Series runner-up Florida State on Feb. 25 was pretty impressive—but the lack of hitting behind it rarely puts Hofstra in a winning position. Junior utility player Chelsea Manto (.389 avg.) is by far the main driver of offense on the roster—with no other teammate currently even hitting above .225—while sophomore left-hander Julia Apsel (2.45 ERA in 48⅔ innings) has been a solid first-choice option on the mound. But options get thin from there, and the Pride are feeling the consequences.
College Of Charleston Cougars
The record: 5-15
The lowdown: Much like Hofstra, C of C just struggles to get the bats hot at the right times in games, which is a shame because the Cougars have a really fun pitching rotation that could do damage across the CAA this season. Right-handed junior Carli McCants has been particularly impressive on the bump, posting a 1.88 ERA to go with 31 strikeouts in 48⅓ innings, while two other pitchers on staff (McKenna Kelly and Peyton Lemire) also hold ERAs under 2.50.
But the Cougars' current team batting average of .214 isn't going to cut it for long, though it is interestingly leaning toward a small-ball strategy in which C of C is the Colonial's leader by far in sacrifice hits (15). Senior catcher Jenna Helberg (.317 avg., 10 RBI) is the Cougars' leader in driving those runs in, but they still hold the joint second-lowest mark in the CAA with just 50 total on the season. On the bright side, things are only going up in 2022 for Charleston, which finished last season rock-bottom of the CAA with an abysmal 6-35 record.
Towson Tigers
The record: 6-12
The lowdown: The record looks concerning, but Towson could actually be turning a corner based on its play as of late. It's not a bad time to do it, either, with the conference grind coming up later in March. The Tigers are currently on a four-game winning streak that includes a five-inning win over Coppin State and a 3-1 record in its own tournament, the DeMarini Invite, earlier this month.
But there are still obvious problems, and those start with a pitching rotation that has a 5.09 ERA, the worst in the CAA. Opposing hitters figure out Towson's pitchers often—evidenced by the .301 batting average the unit has allowed—but what's more alarming is that this has now been a multi-season problem for the Tigers after they finished with a nearly-identical ERA (5.10) last year. Despite that, a hitting lineup that's been middle of the road so far among league foes will win them some CAA games. Sophomore shortstop Mackenzie Lake and junior outfielder Briana Ramirez are currently tied for the team lead with a .365 batting average, with freshman third baseman Sydni Byers (.348) close behind while toting a team-high 10 RBI thus far.
James Madison Dukes
The record: 6-10
The lowdown: Life came at the Dukes fast. JMU had probably the greatest season in CAA softball history in 2021, finishing 41-4 overall while making a legendary run to the Women's College World Series semifinal, losing to eventual national champion Oklahoma twice for a spot in the title series after the Dukes won their opening WCWS game against the Sooners. With that hype in tow, JMU was picked in the preseason by the league's coaches to be the favorites to win a fifth consecutive CAA title. Alas, there are no guarantees in sports.
The Dukes have struggled to find the replacement to now-graduated All-American Odicci Alexander on the mound—who was one of seven starters that left from that historic adventure in Oklahoma City—as JMU currently holds the second-highest ERA in the CAA at 4.66. The door's been left open for new stars to emerge, and players like redshirt junior first baseman Hannah Shifflett (.354 avg., five home runs, 11 RBI) have responded well. Some of the Dukes' troubles could be attributed to a tough non-conference schedule that included Florida, Ole Miss and Notre Dame, but there's a CAA reign in Harrisonburg that JMU has pressure to defend. Will it be able to do so?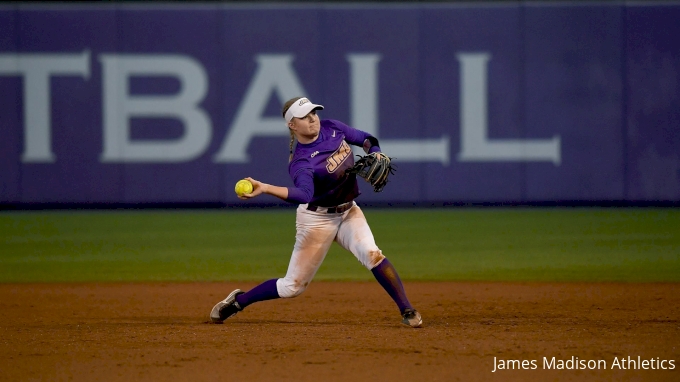 Elon Phoenix
The record: 13-11
The lowdown: Only one CAA school could claim that they beat James Madison last season. That distinction goes to Elon, which did so in the latter leg of a doubleheader in March of last year. The Phoenix didn't use that momentum for much good—finishing under .500 while being knocked out of the CAA Tournament by Delaware—but it indicated that Elon does indeed have the talent to compete with the top teams in the Colonial.
Second Team All-CAA selections Megan Grant and Rebecca Murray returned and feature as the current top-two batting averages in the Phoenix's lineup, but sophomore third baseman Gabi Schaal—an All-CAA Rookie Team pick a year ago—has come alive in her second year, already equaling her 2021 RBI total (22) through just 24 games this season. Elon pitching has been one of the better units in the CAA, as well, especially through the performances of redshirt senior McKenzie Weber and her 1.53 ERA through 36⅔ innings in nine appearances this campaign. Elon has a lot of things to like, and if they combine to produce consistent winning softball, expect the Phoenix to rise toward the top of the league standings.
Drexel Dragons
The record: 7-5
The lowdown: There's a new leader at Drexel in coach Katie Jansson, who spent three years coaching Iona before going about two hours south on Interstate 95 to Philadelphia in the offseason. So far, the Dragons haven't had many chances this year to show off their new coach's strategies, but are showing some positive signs that could set it up for a solid year in the Colonial. Drexel getting back both of its First Team All-CAA nods from last season despite the coaching change certainly helped Jansson's adjustment to her new digs.
One of them, graduate first baseman Kristi DiMeo, hit .429 last season and looks well on-pace to do so again, currently posting a .485 average with a team-high .697 slugging percentage. The other nominee was ace pitcher and grad student Brooklyn Daly, a veteran of the program who's thrown three no-hitters in her career and has earned the right to be in the conversation as potentially the Colonial's best arm. The Dragons are a mystery until the league season comes around, but considering the two aforementioned players were cornerstones of a 29-12 team in 2021, good things could very well be ahead.
Delaware Blue Hens
The record: 13-7
The lowdown: With all the hype James Madison (deservedly) got last season, Delaware also ended its 2021 season with single-digit defeats and had plenty to be proud about, including making its first appearance in the CAA Tournament championship since 2004. With plenty of returners from that team back—and the Dukes going through some early-season struggles—the Blue Hens may have a clear path to the league-lead.
Delaware's three main contributors from last season (First Team All-CAA outfielder Hanna Garber and Second Team picks Brittney Mendoza and Brooke Glanden) all returned for 2022 and all have hit the ground running as the top-three hitters in the Blue Hens' solid start to the year. Pitching is good enough to save the lineup on some off nights, particularly when junior Emily Winburn or freshman Graceyn Frost (both of which hold 3.05 ERAs) appear in the circle. Delaware has a chip on its shoulder after a spot in the NCAA Tournament was denied last year following JMU's 17-0 demolition of it in the conference tourney title game. A year later, the Blue Hens might be in one of the best spots possible to absolve themselves of their demons.
UNCW Seahawks
The record: 17-3
The lowdown: A 2021 James Madison-like season can't happen again in the CAA just a year after what the Dukes did … can it? Well, if it isn't JMU doing it again, it might just be the Seahawks' turn. UNCW has firepower all over the field, leading the CAA in both batting average (.306) and ERA (1.96), and plays a fast and furious style that features by far the most stolen bases (38) on the most attempts (43) in the league. Yes, the strength of schedule may be a little suspect—Toledo, Marist and Bucknell aren't exactly the elites of the college softball universe—but remaining non-conference tests against solid in-state foes North Carolina, East Carolina and NC State throughout March remain as chances for the Seahawks to bump up their resume.
Also, if you like good softball, you've got to watch two-way senior Janel Gamache sometime. A veteran who has started in all but four games in her UNCW career, the Rhode Islander already has 23 RBI on a .379 average at the plate, plus a 1.05 ERA in 25⅔ innings on the circle this season as one of the Seahawks' most important players. But freshman right-hander Emily Winstead is the true ace on the roster, lighting up hitters with 53 strikeouts in just 39 innings thus far to go along with a 2.08 ERA. If UNCW keeps the pace up, the CAA could be in some trouble—and after JMU set the bar nationally for Colonial schools last season, who knows?