2022 THE Spring Games
After Magical Run, UW-Oshkosh Turns To New Beginnings In 2022
After Magical Run, UW-Oshkosh Turns To New Beginnings In 2022
UW-Oshkosh finished 2021 at 29-13 overall and 10-4 mark in the WIAC. They shared the regular season title and captured the league postseason championship
Mar 16, 2022
by Stephen Kerr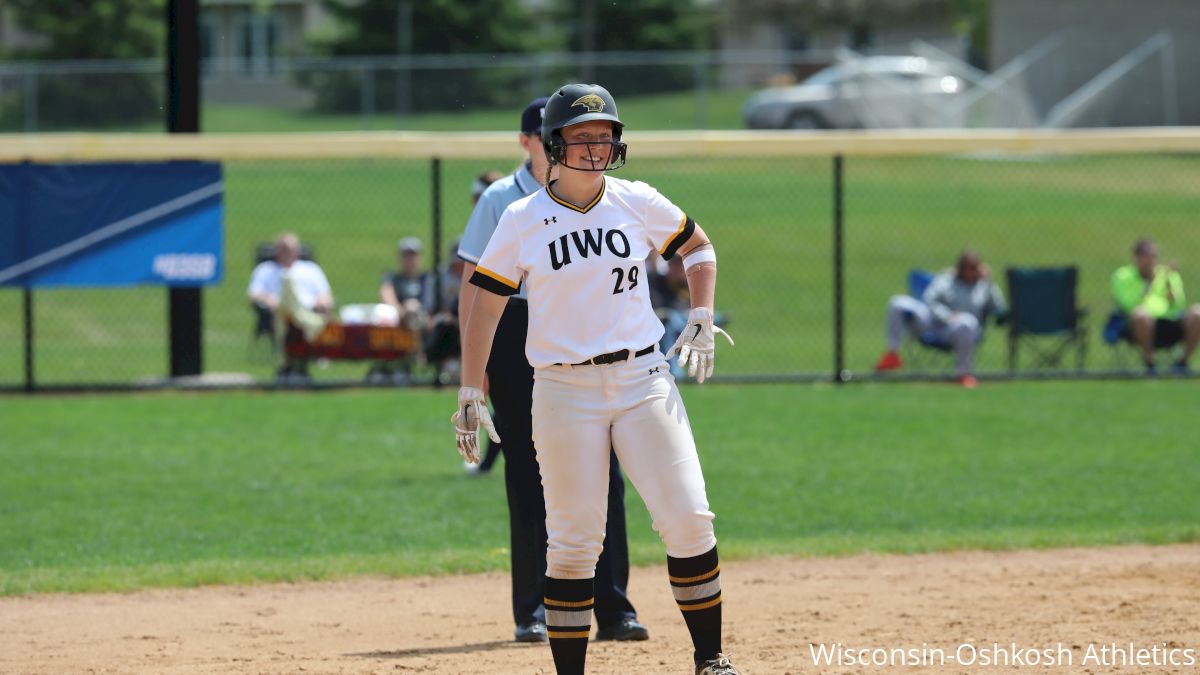 Before last season, the University of Wisconsin-Oshkosh softball program had not made a trip to the Division III College World Series since 1988. Ronald Reagan was still President, "Who Framed Roger Rabbit" was the top-grossing movie, and current head coach Scott Beyer was just six years old.
But the Titans' run to a fifth-place finish in the 2021 World Series was magical for other reasons besides the 33-year absence. It came following a 2020 campaign that saw the team play just six games, going 5-1 before COVID-19 put an end to the season. The program also picked up the first World Series win in its history, a 7-1 victory over Tufts University following a loss in their opening game.
Perhaps the most gratifying aspect of last season for Beyer was the opportunity for seniors to have another chance after the shortened 2020 season, and they made the most of it.
"To see them be able to end their careers the way they wanted to and have a say in it was a really special thing for me because they did come back and sacrifice a lot to do that," explained Beyer, who is in his ninth season as Titans head coach.
"To see (the season) end the way it did was a special thing."
UW-Oshkosh finished 2021 with a 29-13 overall record and 10-4 mark in the Wisconsin Intercollegiate Athletic Conference (WIAC). They earned a share of the regular season title and captured the league postseason championship at home before sweeping the Eau Claire Regional. The World Series win over Tufts was followed by a tough 2-1 loss to Birmingham-Southern College to end the season. Beyer, along with assistant coaches Alyssa Doomis and Kaitlyn Krol, were named the WIAC Coaching Staff of the Year.
Titans ace Maddie Fink pitched every inning of the Titans' last eight games, finishing 21-5 with a 1.89 ERA, two saves, 20 complete games, six shutouts and 123 strikeouts in 170.1 innings. Her 21 victories were the second-most in program history, and she was named WIAC Pitcher of the Year.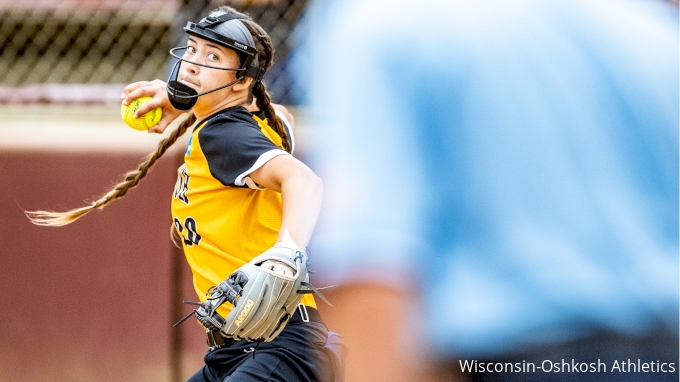 "As a pitcher, I love the opportunity to be in the circle for my team," said the 5-10 junior righthander from Stevens Point, Wisconsin.
"Their support and performance around me carried me and gave me that motivation to keep going. They kept me up and worked hard for me so I wanted to continue to work hard for them."
Beyer played one season of football at UW-Eau Claire where he also played for the club baseball team before earning his bachelor's degree in 2006. He played softball in New Zealand, leading the 2008 Kapiti Softball Club to a top-five finish at the New Zealand national tournament. He also competed in several tournaments in the International Softball Congress, American Softball Association and North American Fastpitch Association.
Beyer came to UW-Oshkosh after serving as a hitting coach at Division I Wisconsin-Green Bay. His wife, Laura Van Abel, was an All-WIAC shortstop at UW-Stevens Point, and her sister Maria was a starting outfielder for the University of Wisconsin.
Beyer is a self-described player's coach with an easygoing personality, always quick with a joke. He believes in complete transparency with his players and expects the same from them. His down-to-earth approach is one of the biggest reasons NFCA Third Team All-American Hannah Ritter feels she has become a better player, especially as a hitter.
"It's taught me to not be so serious," said Ritter, a junior from Marengo, Illinois, who led the team with a .469 average, .497 on-base percentage, .566 slugging percentage and a school-record 67 hits.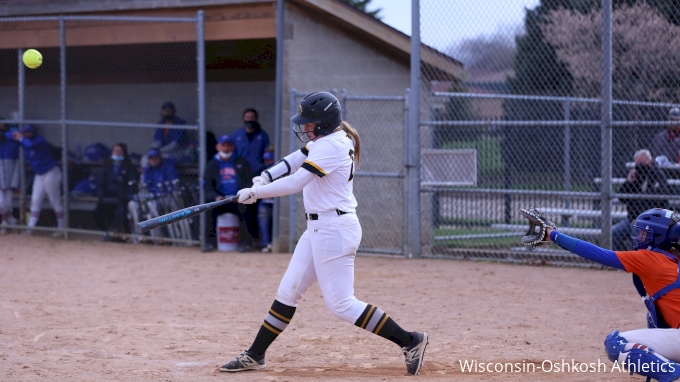 "Yes, I want to go up and compete, I want to try hard. But I'm pretty relaxed in my hitting approach, not putting too much pressure on myself. When I do get in a bind at the plate, I visualize our home field. I hit my best in practice, so that grounds me back in the batter's box."
Even magical seasons sometimes hit bumps along the way. During one stretch, the Titans lost three straight games: one to UW-River Falls and two to UW-Whitewater. Beyer decided it was time for a gut-check.
"I had some higher expectations than what I was seeing on the field," he recalled.
"With a mature team, I felt we should have started the season a bit stronger. We played some really good competition and lost some close games. (But) I thought we had a little bit more left on the table. I knew with the COVID restrictions, the NCAA Tournament was going to change and they weren't going to take the same at-large bids, so we would have to win a lot of those close games or ultimately our conference tournament."
Which is exactly what happened. The Titans shared the regular season title with UW-Whitewater but beat them 4-0 to take the postseason championship. After sweeping the Eau Claire Regional, UW-Oshkosh dropped the World Series opener 2-1 to DePauw Indiana before getting their first CWS victory in program history over Tufts.
In the final game against Birmingham-Southern College, the Titans gave up single runs in the first and fourth innings, and managed just one run in their half of the fourth for a 2-1 loss. In the first inning, Panthers leadoff batter Morgan McGuire reached first after swinging and hitting Ritter—who was the catcher last season—in the elbow. McGuire eventually came around to score Birmingham-Southern's first run. Despite a bruise on her elbow, Ritter stayed in the game.
"She was a lefty hitter and in the back of the box," Ritter said.
"She was a smaller girl so I figured she'd move away from me as she started to slap. But she swung and unfortunately it was my glove arm, so when I reached up to catch the ball, she got me in the elbow in my right arm."
Despite the way the season ended, Beyer was proud of all his team had accomplished.
"There were tears and we were a little upset as we finished that last game," he said.
"However, I wanted to make sure they held their heads high because of what they just accomplished. They set school records and had an amazing run."
The Titans are 5-3 through their first eight games this season. Beyer picked up his 200th career victory in a 9-0, five-inning shutout over the College of St. Scholastica. He wasn't even aware of the milestone until someone in the social media department pointed it out. His wife Laura presented him with cookies after the game, and the team formed a huddle.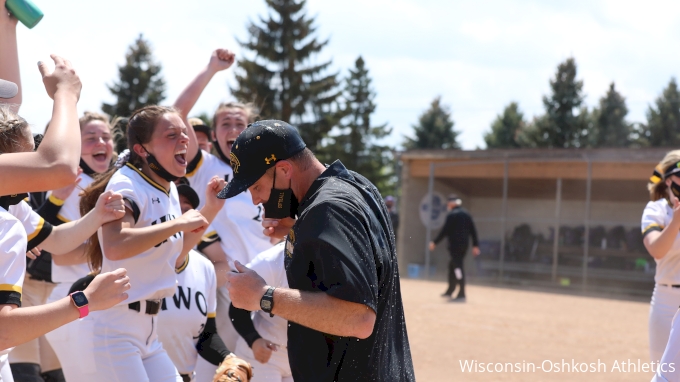 "They kind of stared at me and then started clapping," Beyer said with a chuckle.
Fink is 2-2 with a 1.66 ERA and 23 strikeouts in 25.1 innings. Ritter, who switched to first base, is hitting .538 with four RBI and two runs scored.
The Titans also return junior outfielder Gabby Buikema, junior outfielder/first baseman Emily Cliver, sophomore pitcher Mia Crotty and junior infielder/pitcher Ana Iliopoulos. It's a younger roster than last year's World Series team. Beyer's theme to mark this season is the symbol of a fern that grows in New Zealand called koru, which indicates an unfurling of new beginnings. He remembered it from his softball-playing days with Kapiti.
"This is a new beginning for us," he explained.
"We're starting over because last year was last year, and that's done. This year is unique to itself. We don't have to put the pressure on us that we did last year. We're going to have a big target on our back, but we can't think about that. We have to remember that we're young and we are going to move forward slowly."
Fink is excited about the infusion of young talent to complement the upperclassmen.
"There is no lack of energy," she said.
"We're always showing up to practice with every intention to get better. It's actually nice coming from an older team (to) a group of bright-eyed, energetic young ones who are here to have a good time. It's a breath of fresh air."