C-USA
Sports May Never See Another Joan Joyce
Sports May Never See Another Joan Joyce
Joyce set a standard for pitchers and blazed the trail that generations have followed.
Mar 29, 2022
by Kyle Kensing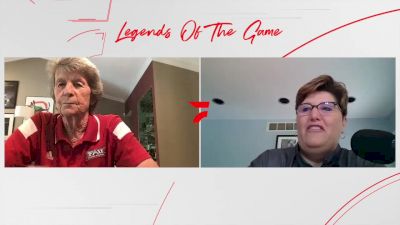 Sports fans love debating who can be the "next" in the footprint of legends. But the world may never see another athlete quite like Joan Joyce.
Before becoming the head coach of Florida Atlantic softball in 1994—a position she held into the 2022 season before her March 26 death at age 81—Joyce gained acclaim as the sport's greatest pitcher.
Joyce set a standard for pitchers and blazed the trail that generations have followed. She went 753-42 in a two-decade career with 152-plus no-hitters thrown and 50 perfect games.
For perspective, Joyce ended her pitching career with more than double the amount of perfect games there have been in the history of Major League Baseball (23).
Two different sports, yes, but Joyce's dominance carried over against MLB legends on a few occasions. Seven years before Billie Jean King beat Bobby Riggs in Houston's Astrodome in front of a television audience of 50 million, Joyce struck out Ted Williams at Municipal Stadium in Waterbury, Connecticut.
Twelve years after mowing down the greatest hitter in Major League history, Joyce faced—and fanned—Hank Aaron, at Hall High Field in West Hartford. The showdown between softball's premier pitcher and baseball's home-run king was part of a charity game organized by Syd Conn.
In the Hartford Courant preview, columnist Bill Lee noted the long list of marquee names Conn brought to the softball event in the past: Muhammad Ali, Rick Barry, Oscar Robertson, even names outside of the sports world like Phyllis Diller.
But the association with celebrity that came with Joyce's exceptional athleticism isn't what drove her. Hardly.
"I can't stand being a showman. I could never stand in front of a crowd and put on a show," Joyce told UPI journalist Fred McMane in a February 1975 article. "I'm a competitor."
Competition drove Joyce not only on the softball diamond, but the golf course and basketball court, as well.
Decades before Bo Knows, it was Joan Knows: Joan knows softball, Joan knows golf and Joan knows hoops. In the 1960s, she played for the U.S. Women's Basketball Team. A Connecticut Magazine profile from 2019 recounts Joyce putting up 67 points for the national team in a 1964 competition.
In 1977, one year before pitching to Hank Aaron, she debuted on the LPGA Tour.
Joyce finished among the winners in her first-ever LPGA event at the American Cancer tournament. Her winnings from that competition totaled $400, which might seem paltry compared to the earnings offered up today, but the opportunities for womens athletes today were forged in the generations that Joyce and others led.
To wit, that $400 payday was more than Joyce earned pitching for much of her career. Financial opportunities came through spectacles, like the "Superstars" competition on ABC in the 1970s.
"Many people feel that I should be angry that I have never made any money from my talent," Joyce said to McMane.
"But I don't feel that way about it. If the money were there, it would be nice. But it isn't, so it doesn't bother me."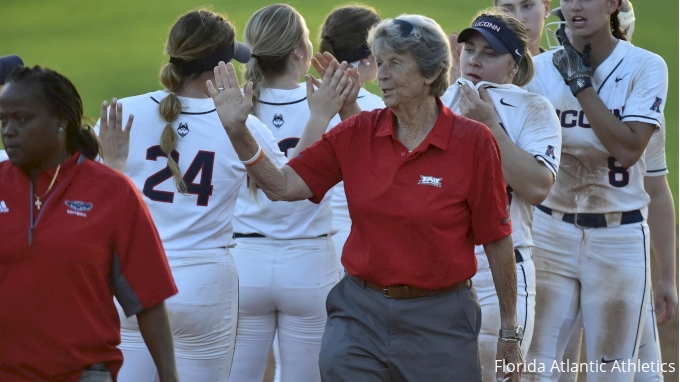 To that end, Joan Joyce truly embodied the spirit of playing for love of the game. Thus, it's only fitting that she remained in softball throughout her life.
As a coach, Joyce built FAU softball from the ground up, much like another legendary figure, Howard Schnellenberger, did for Owls football. Joyce died almost one year to the day of Schnellenberger's death, March 27, 2021.
In her time at FAU, Joyce coached nine NCAA Tournament teams and led three 50-plus-game-winners.
Through the last of Joyce's postseason qualifiers—the 51-9 team in 2016—her ability to impart the knowledge she gained in a legendary playing career was evident in Conference USA Pitcher of the Year Kaylee Hanson.
"I came in [to college softball] thinking I was going to blow people away," she told the South Florida Sentinel.
"I thought I was going to be just as effective as I was in high school, which was not the case. I had to make a lot of adjustments."
Not often can the best athletes translate their physical abilities to coaching. In teaching countless pitchers including Hanson, Joyce continued to set herself apart.
Just as she did for nearly 70 years in her sporting life.